Was ist Supportbench?
Eine Kundenmanagement-Suite, die von der Kundenbetreuung für die Kundenbetreuung entwickelt wurde. Das Unternehmen hat die Art und Weise, wie Unternehmen wie du Kundschaft verwalten, vereinfacht und alle Tools, die du benötigst, in einer einzigen Plattform zusammengefasst. Das Unternehmen macht dein Leben einfacher, dein Team schlanker und besser informiert und bieten deiner Kundschaft ein einheitliches Erlebnis, weshalb sich Fortune-500-Unternehmen wie 3M für diese Lösung entschieden haben, um ihre Kundschaft zu verwalten. Denn sobald du deine geschätzten Kunden hast, ist es die Aufgabe des Unternehmens, dafür zu sorgen, dass du sie behältst.
Wer verwendet Supportbench?
Das Unternehmen betreut große und kleine Unternehmen, von Fortune-500-Unternehmen, MSPs, bis hin zu Start-ups, die die Kraft benötigen, mit ihren Konkurrenten zu konkurrieren, schnell zu skalieren und einen außergewöhnlichen Kundenservice zu bieten.
Wo kann Supportbench bereitgestellt werden?
Cloud, SaaS, webbasiert, Mac (Desktop), Windows (Desktop), Linux (Desktop), Android (mobil), iPhone (mobil), iPad (mobil)
Über den Anbieter
Supportbench Services
Ansässig in Vancouver, Kanada
2015 gegründet
Telefon-Support
Chat
Erhältlich in diesen Ländern
Kanada, Vereinigte Staaten
Über den Anbieter
Supportbench Services
Ansässig in Vancouver, Kanada
2015 gegründet
Telefon-Support
Chat
Erhältlich in diesen Ländern
Kanada, Vereinigte Staaten
Supportbench – Videos und Bilder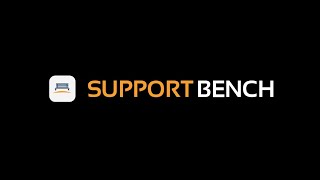 Kosten ähnlicher Produkte wie Supportbench vergleichen
Supportbench Funktionen
Aktivitäts-Dashboard
Alarmfunktion / Benachrichtigungen
Anpassbare Vorlagen
Aufgabenmanagement
Automatisiertes Routing
Berichterstattung / Analyse
CRM
Chatbot
Content-Management
Dashboard
Datei-Verwaltung
Diskussionen / Foren
Drittanbieter-Integration
E-Mail-Management
Feedback-Management
Inhalt-Bibliothek
Katalogisierung / Kategorisierung
Kommentare / Notizen
Kontakt-Datenbank
Kontaktmanagement
Kundendatenbank
Kundenspezifisches Branding
Leistungskennzahlen
Live-Chat
Makros/Antwortvorlagen
Mehrsprachig
Multi-Channel-Kommunikation
Priorisierung
Problem-Nachverfolgung
Routing
Self-Service Portal
Service Level Agreement (SLA) Management
Supportticket-Management
Terminverwaltung
Textbearbeitung
Ticket-Management
Verfolgung von Interaktionen
Volltextsuche
Warnungen / Eskalation
Warteschlangenmanagement
Werkzeuge zur Zusammenarbeit
Widgets
Wissensbasis-Management
Workflow-Konfiguration
Workflow-Management
Zugriffskontrollen / Berechtigungen
Überprüfung von Vorfällen
Alternativen für Supportbench
Bewertungen über Supportbench
Kevin
Business Analyst in Kanada
Verifizierter Nutzer auf LinkedIn
Finanzdienstleistungen, 51-200 Mitarbeiter
Verwendete die Software für: 6-12 Monate
Transitioned from Salesforce Service Cloud, and are never looking back!
Kommentare: Better workflow in less time, with quicker results. Simply an amazing product, and am excited to see what features are coming down the pipeline.
Vorteile:
Supportbench was made for and by someone who knows how to support customers, and isn't just a product bolted on top of a sales platform. The workflows presented for support agents is very intuitive, and the ability to log multiple touch points from different platforms is incredible. It has an incredibly bright, visual interface which informs an agent's workflow, not just showing them a backlog of cases or tickets to work on.
Nachteile:
Supportbench has an abundance of features, with more being added seemingly daily. While you can easily get setup quickly, it can take some time to activate some of the more powerful features, such as workflows/automation; however, with Supportbench's amazing support team, these cons are easily overcome.
Jason
Supply Chain Development Manager in Kanada
Groߟhandel, 1.001-5.000 Mitarbeiter
Verwendete die Software für: 6-12 Monate
Support Bench - Case Management
Kommentare: Support Bench does a great job and consolidating cases (emails in regards to my companies data). It allows the teams to understand what cases require immediate actions and what cases are less important. (prioritization). And this prioritization is very flexible and can be tuned to our specific company and team on the platform.
Vorteile:
Very flexible - Support Bench can be tuned to work the way I want it to. There are different teams within my organization that use Support Bench and they have different needs. We are able to customize workflows based on each teams' needs. The interface is clean and can be modified to suit each user. There are many functions that allow quick handling of cases. Cases are grouped together to keep things clean and concise and saves time when questions arise. The environment is highly collaborative and has allowed the teams to work closer together now than ever before. This has also allowed the teams to provide faster and better support. We can very quickly and easily expand the use of Support Bench within the organization. It is incredibly scalable and there are no concerns about adding users or teams.
Nachteile:
The learning curve can be a bit high. I think this depends on what you want to accomplish. Because Support Bench is so configurable, it can be easy to add complexity. There was no 'manual' to explain the basics. This would be helpful when getting onto the platform. However, it is a fairly easy system so this is not a big deal.
Maximiliano
Support team in Argentinien
Informationstechnologie & -dienste, 11-50 Mitarbeiter
Verwendete die Software für: 1-5 Monate
Good for sharing data sent to a distribution list
Kommentare: Not much, just having all support requests stored in the same place and shared between all team memebers
Vorteile:
It allows us to see what is going on with all requests sent to our support DL. We stopped relying on emails
Nachteile:
You can miss replies to already existing cases. Notifications are not good enough. Cases get insanely duplicated
Antwort von Supportbench Services
vor 4 Jahren
Thank you Maximiliano for the valuable feedback as your happiness is our top priority. There are different ways to receive and deal with notifications and we will be reaching out to ensure that your system is optimized and your experiences are resolved.
Eilis
Customer Service & Process Improvement Manager in USA
Groߟhandel, 1.001-5.000 Mitarbeiter
Verwendete die Software für: 6-12 Monate
In Betracht gezogene Alternativen:
Working with Supportbench is a partnership
Kommentare: Supportbench is helping us support our customers as we always have done, but it is now giving us the ability to move to giving our customers a better service as we now have a better understanding of what they need through analytics and data rather then the 'gut feel'. The biggest asset Supportbench has is their team, they are responsive, they want to understand how your business works, and are continuously looking to add value to what they are offering so you in turn can offer more to your customer. When working with the Supportbench team it is a partnership, we are all working together to get the best for our customers and teams.
Vorteile:
1. The ability to view what types of communications are coming into my team, allowing for more specific and valuable coaching and training of the team. 2. Supportbench allows each 'case' to stay together, by that I mean all emails, phone calls, notes are all in one place, if you want the information you just have to go to one case, instead of looking at multiple emails, notes etc. This is a game changer for my team. 3. the ability to use specific words within the content of an email to prioritize or direct that case to specific team members 4.Ease of customization of the screens, drop downs, create mandatory fields etc 4.Detailed reporting of KPI's for the team, but also specific customer details, reasons for contact, number of contacts, time taken to respond etc.
Nachteile:
Initially my team were a little resistant to the change, having just used MS Outlook, but with the Supportbench team's support we were able to implement changes that made it more tuned into my teams needs and made it more 'comfortable' for them to use.
Marketing & Werbung, 51-200 Mitarbeiter
Verwendete die Software für: 6-12 Monate
In Betracht gezogene Alternativen:
Amazing tool - all in one but also specialized. Super easy to use, MUCH better performance.
Kommentare: Amazing, I'd highly recommend it if you want a quick turnaround and solid immediate results!
Vorteile:
What an amazing tool! I've gone through some of the other solutions like Zendesk, Freshdesk, and others, but none offers the intuitive use and design like SupportBench. It's super easy to set up, made a big difference for team performance and customer retention right out the gate (23% increased customer retention!), and unlike the others: the tool hasn't let us down since. Put together it's also much cheaper, so it's a clear win-win-win, while retaining flexibility to integrate with other tools out there. If you are looking for an easy-to-use system that performs better than any other, yet still has the depth needed to expand its use to multiple areas, look no further! Save some money while you're at it!
Nachteile:
Honestly, I can't think of much! There was some minor dashboard confusion upfront that turned out to be a small user error that was resolved in a minute. Cause that's it, you get great service too.