Was ist Provar?
Spezialisierte Testautomatisierung für den Vertrieb mit umfassender Kompatibilität für Vertriebsfunktionen. Das spezielle Tool kann erweiterte Funktionen testen und dabei die Testsuite der Kunden frei von Code und wartungsarm halten.
Wer verwendet Provar?
Provar unterstützt Enterprise-Vertriebskunden in Salesforce-, Force.com- und Partneranwendungen.
Wo kann Provar bereitgestellt werden?
Mac (Desktop), Windows (Desktop)
Über den Anbieter
Provar Testing
2011 gegründet
Chat
Erhältlich in diesen Ländern
Vereinigtes Königreich
Sprachen
Nicht vom Anbieter bereitgestellt
Über den Anbieter
Provar Testing
2011 gegründet
Chat
Erhältlich in diesen Ländern
Vereinigtes Königreich
Sprachen
Nicht vom Anbieter bereitgestellt
Provar – Videos und Bilder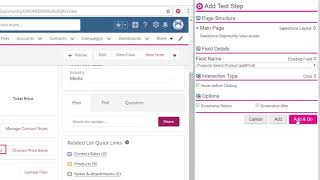 Kosten ähnlicher Produkte wie Provar vergleichen
Provar Funktionen
Anforderungsbasiertes Testen
Anforderungsmanagement
Parametrisierte Tests
Unterstützt parallele Ausführung
Verschieben und kopieren
hierarchische Ansicht
Verifizierter Rezensent
Konsultant Salesforce in Polen
Verifizierter Nutzer auf LinkedIn
201-500 Mitarbeiter
Verwendete die Software für: 6-12 Monate
Senior Test Specialist working on Salesforce test automation (over 250 test cases on daily runs)
Vorteile:
- Easy to use tool - No coding needed at the beginning (later on, Xpaths may be required) - Friendly and easy UI (based on Eclipse) - Great support response time - Easy to cover multiple and complicated business paths on several sandboxes (tests were ran of 4 test environments) - Provar, Ant, Jenkins na TFS works like a charm - API testing, SOQL and Global variables are really helpful - Data Driven Testing is covered (Data Bases and Excel file) - Login-as covered (no need to maintain multiple users after refresh) - Easy to add custom components coverage (Page Object Java classes) - Application is updated with new features on regular basis
Nachteile:
- Metadata and workspace needs to be refresh often (sometimes compilation error are displayed out of nowhere - all data must be refreshed)
Mallikarjun G.
Test Lead in Indien
Informationstechnologie & -dienste, 10.000+ Mitarbeiter
Verwendete die Software für: Mehr als 1 Jahr
It's a best automation testing tool for Salesforce compared to other tools in the market.
Vorteile:
Initially we were using Selenium with Java for automating our regression test suite for one of the retail salesforce application and facing lot of challenges as we have custom application developed on Force.com. Facing problems to identify the elements and verifying the email trigger and verifying the PDF contents. Also, it took long time to build the regression suite and maintenance was tough like running on different sandbox like UAT and making the changes. We went for Provar and within small duration we build all the existing regression suite in Provar with functional resource and also found its very compatible to run on different browsers, sandbox and maintenance is very easy. After we provide first demo to our client , he was very impressed with ease of developing and running the script. Even we achieved email trigger and PDF verification with very less effort. As a Test lead it's very easy for me to manage both functional and automation testing with functional resources instead of going for highly technical automation / development resource. Provar Team is very supportive and provide support/solution immediately as and when we approached. As a Test lead and after managing project with different automation tools, I recommend Provar as a Best tool for salesforce Automation testing .
Nachteile:
It consumes most of the memory when you installed on your local machine. So it requires dedicated machines as even we have dedicated VMs for Provar tool.
Avinash D.
Associates in
Verifizierter Nutzer auf LinkedIn
Verwendete die Software für: 6-12 Monate
Provar is a very good Code free tool for Automating the Web application without writing any code
Vorteile:
Provar is a very good automation tool for the people who don't have any knowledge about automation and also who don't have much technical knowledge. It is very easy to learn the Provar. Everything is integrated into the Provar especially the inbuilt API's which I liked most. Test cases are highly maintainable since no code required.It supports both Classic and Lightning versions of Salesforce. The best feature of Provar is Point and click test creation 100+ inbuilt APIs and functions Support DevOps with Continuous Integration (Jenkins, ANT) End to End Testing for Integration Report Testing (PDF verification) Provar has Capabilities like Cross-browser Testing, Data Driven Testing, Database Testing, HP-ALM Integration, Web Services Testing, Custom API's, Email Validation, Screenshot before and after each Test step. The best feature of Provar is Reliable field locator since its integrated to Salesforce. Test runs in any environment (Dev, SIT or UAT). It supports Messaging . The tool has in-built knowledge of standard elements. It supports multi column model or Tabular Form. Tests built in classic are compatible to run with Lightening. Provar generates the Java code in the backend automatically . It can generate the test case and export in pdf and CSV Format.
Nachteile:
Since the Provar tool is very heavy due to integrated in built functionality some times it is very slow or the tool or the machine will get hanged while downloading the Metadata. There is no Demo Version of the tool if the person wants to explore the tool before the purchasing the tool from the Vendor. If Provar is running in the machine cant able to focus on other tasks until script gets executed it will make machine very slow Major Concern is the System Memory. Once Provar is launched 70% of memory will be consumed by the Provar, from this the machine becomes very slow.
Computer-Software, 11-50 Mitarbeiter
Verwendete die Software für: Mehr als 1 Jahr
Provar Becomes A Key Part Of Our Core Development Process
Kommentare: As a software product house, Provar was brought in to allow us to automatically test our full business use cases in a complex multi-tiered environment. We have achieved complete coverage of our product running automated testing every day across the whole suite driving higher quality, more reliable and and overall a better product.
Vorteile:
The ability to automate and track the automated testing of a complex multi product environment to create a reliable product was key for us. Provar provides the tools and capabilities to test both on Salesforce and on Heroku giving us real business use case coverage across both interrelated platforms from our web front ends on Nodejs to our backend in Apex on Salesforce.
Nachteile:
Takes a little bit of time to bring the team up to speed and get the automation in place, but the time invested has provided a startling ROI
Verifizierter Rezensent
Salesforce QA Engineer in USA
Verifizierter Nutzer auf LinkedIn
Computer-Software, 1.001-5.000 Mitarbeiter
Verwendete die Software für: Mehr als 1 Jahr
Automation Tool - Provar Review
Kommentare: The tool has really come off age in the past one year and being able to up the standard and maintain it give us lot of confidence about Provar Team commitment and tool sustainability
Vorteile:
1. Quick and easy to build Scripts without a need to learn any Programming language 2. Minimal Maintenance and works great for both New functionality and Regression Testing. 3. User friendly and Readable Test case makes it easier for Manual Tester 4. Integration with Tool like Jenkins, Github and ALM etc gives a lot of credibility to the Provar.
Nachteile:
Reporting can be improved. I know they have come up with the manage package reporting but Reporting on the test failure can be better.