Was ist SPS Commerce?
Mit SPS Commerce Fulfillment hast du ein ganzes Team von vertrauenswürdigen Beratern hinter dir, die dir dabei helfen, mehr aus deinem EDI herauszuholen, eine 100%ige Konformität zu erreichen und einen anhaltenden Erfolg bei deinen Handelspartnern im Einzelhandel, Lebensmittelhandel und Vertrieb zu erzielen. Die Lösung ist schnell, zuverlässig und skalierbar und kann deine komplexesten Erfüllungsanforderungen für jeden Handelspartner, über alle Kanäle, einschließlich Geschäfte, E-Commerce und Marktplätze erfüllen.
Wer verwendet SPS Commerce?
SPS Commerce ist bereits für Zehntausende von Einzelhandelsgeschäften vorkonfiguriert, sodass du dich schnell mit den Partnern verbinden kannst, die dir jetzt und in Zukunft wichtig sind.
SPS Commerce – Details
SPS Commerce
1987 gegründet
SPS Commerce – Details
SPS Commerce
1987 gegründet
SPS Commerce – Videos und Bilder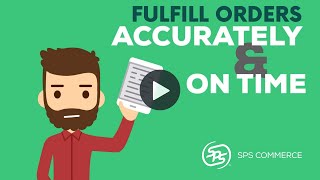 Kosten ähnlicher Produkte wie SPS Commerce vergleichen
Startpreis
Nicht verfügbar
Nicht verfügbar
99,00 $/Monat
99,00 $/Monat
SPS Commerce – Bereitstellung und Support
Kundenbetreuung
E-Mail/Helpdesk
FAQ/Forum
Wissensdatenbank
Telefon-Support
24/7 Live-Support
Chat
Einsatz
Cloud, SaaS, webbasiert
Android (mobil)
iPhone (mobil)
iPad (mobil)
Training
Persönlich
Live Online
Webinare
Dokumentation
Videos
Funktionen von SPS Commerce
API
AS2-Protokoll
Aktivitäts-Dashboard
Aktivitäts-Verfolgung
Alarmfunktion / Benachrichtigungen
Anwendungsmanagement
Archivierung & Aufbewahrung
Auftragserfassung
Auftragsmanagement
Auftragsverfolgung
Automatisierte Terminplanung
Benutzer-Management
Berichterstattung / Analyse
Berichterstattung und Statistik
CRM
Compliance Management
Data Mapping
Dateitransfer
Daten-Connectors
Daten-Import / -Export
Datenbank-Unterstützung
Datensynchronisation
Datentransformation
Dokumentenmanagement
Drag-and-Drop
Drittanbieter-Integration
E-Mail-Management
ERP
Echtzeit-Analytik
Echtzeit-Daten
Echtzeitüberwachung
Elektronischer Datenaustausch
Etikettendruck
Etikettierung
Integration in QuickBooks
Integration in die Buchhaltung
Inventarverwaltung
Kommunikationsmanagement
Management by Exception
Mehrfache Datenquellen
Mehrfache Format-Unterstützung
Rechnungsmanagement
Retourenmanagement
SSL-Sicherheit
Versand-Management
Versandetiketten
Warnungen / Eskalation
Workflow-Management
Workflow-Planer
Überwachung
Siehe die vollständige EDI-Software (Electronic Data Interchange) Liste
Tanya T.
Head of Technology & Customer Experience in USA
Verifizierter Nutzer auf LinkedIn
Konsumgüter, 51-200 Mitarbeiter
Verwendete die Software für: Mehr als 2 Jahre
In Betracht gezogene Alternativen:
Solid Technology & Excellent Service
Kommentare: With SPS Commerce Fulfillment, we are able to react quickly to our retailer needs. The product is consistent and reliable.
Vorteile:
The ability to simply and effectively manage administration of orders with retailers is paramount. SPS offers multiple ways to accomplish this, whether integrated or not, via its Fulfillment platform. Additionally, the data insights from Analytics provide suppliers with valued data in a comprehensive and thorough way.
Nachteile:
In my experience, integration can be a bit difficult to manage with limited resources. The teams at SPS are highly capable and provide valuable insights and tips for moving through an integration seamlessly, however, without enough resources on our side it was a little bumpy trying to manage all of the necessary elements.
Steven C.
Operations Coordinator in USA
Lebensmittelproduktion, 11-50 Mitarbeiter
Verwendete die Software für: 6-12 Monate
CPG Industry-Fueled EDI Fulfillment Brilliantly Simplified
Kommentare: Triple-grade A, top-notch overall experience: EDI enables the timely acknowledgment of PO's (sales opportunities) to be serviced in as timely a manner as possible with the help of SPS Commerce...in the CPG industry, EDI is an absolute must and this platform affords our organization the ease of access with our various national and regional retail partners to conduct seamless and streamlined transactions. I recommend this service to small and medium-sized enterprises that only seek the finest tools in their respective trades and fields to get the job done right.
Vorteile:
Seamless integration with varied retail partners through EDI link up, real-time receipt of digital documents from party to party, ability to accept or reject PO revisions with select retail partners, endless types of transactions to conduct business through in the software platform (from initial PO receipt up to freight/logistics servicing and finally to the sought after finish line with the fulfillment/invoicing of PO's), back-end deduction claims management, debit-credit adjustments and remittance advices simplified...and then some.
Nachteile:
Manual inputting of data points for all of our PO's serviced via our various national/regional retail partners...has to be a workaround to digitally uplink fulfillments and invoices from ERP platform (NetSuite). At least in my experience, it has all been manual submissions but otherwise, the above reviews would be flawless. Perhaps, the same rule of thought could apply to advance shipment notices for uploading signed BOL's but not as much of a hindrance compared to our constant billing cycle to maintain.
Jesse G.
Sales Spacialist in USA
Essen & Trinken, 51-200 Mitarbeiter
Verwendete die Software für: Mehr als 2 Jahre
Nafta's experience with SPS Commerce
Kommentare: Very satisfied with SPS
Vorteile:
it allows us to stay on top of our orders and know at the touch of a button what each one of our business partners are ordering. this allows us to forecast and be prepared with product at all times.
Nachteile:
There really isn't anything that the system lacks, our business model was fits perfectly with the functionality of this software.
Verifizierter Rezensent
IT Manager in USA
Verifizierter Nutzer auf LinkedIn
Telekommunikation, 51-200 Mitarbeiter
Verwendete die Software für: 6-12 Monate
Quelle: GetApp
Totally mislead and total incompetence
Kommentare: Pretty much the worst company I've ever worked with. They tell you what ever you want to hear but they don't follow through on anything. You ask to talk to supervisors and never hear from them. You just kep paying and paying with no ROI
Vorteile:
As sold it was a no brainer, they already had the connectors for all these companies, there would be almost no setup time.
Nachteile:
Totally mislead at every step. 6 months into this project we are still not setup, the communications is almost zero, they have no idea what they are doing and n top of it, you pay for all the EDI documents you signed up for each month even if there is no use or even not even setup.
Einzelhandel, Selbstständig
Verwendete die Software für: Mehr als 1 Jahr
This Product is a 5 Star for me! It has really made me see how my business grows in one page.
Kommentare: Generally I will recommend this piece. I have used it for over a year
Vorteile:
I like the fact that is is very user friendly and you can easily complete the sheets without necessarily taking a course on how to use it. The UI is also smooth and beautiful. It has more advanced features than other conventional apps
Nachteile:
It fails to save and export work some times