Was ist Freshsales?
Freshsales ist eine vollwertiges CRM & Lead Management Software für Hochgeschwindigkeits-Sales-Teams, vollgepackt mit Features wie integriertem Telefon, integrierte E-Mail, Benutzerverhalten-Tracking, Deal-Management, Reporting und vieles mehr.
Wer verwendet Freshsales?
Technologie, professionelle Dienstleister, Bildung, Immobilien, Gastgewerbe, Gesundheitswesen, E-Commerce, Einzelhandel, Unterhaltungselektronik, Telekommunikation, Finanzen und Buchhaltung, Versicherung.
Wo kann Freshsales bereitgestellt werden?
Cloud, SaaS, webbasiert, Mac (Desktop), Windows (Desktop), Android (mobil), iPhone (mobil), iPad (mobil)
Über den Anbieter
Freshworks
Ansässig in San Mateo, USA
2011 gegründet
Telefon-Support
24/7 Live-Support
Freshsales Kosten
Startpreis:
15,00 $/Monat
Ja, kostenloser Test verfügbar
Ja, Gratisversion verfügbar
Freshsales bietet eine Gratisversion und eine kostenlose Testversion. Die kostenpflichtige Version von Freshsales ist ab 15,00 $/Monat verfügbar.
Preismodelle
Kostenlose Testversion
Über den Anbieter
Freshworks
Ansässig in San Mateo, USA
2011 gegründet
Telefon-Support
24/7 Live-Support
Freshsales – Videos und Bilder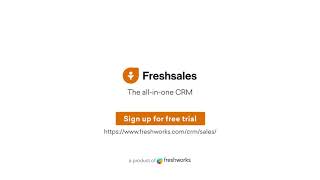 Freshsales Funktionen
AB-Tests
Abonnenten-Management
Aktivitäts-Dashboard
Aktivitäts-Verfolgung
Alarmfunktion / Benachrichtigungen
Anpassbare Berichte
Anpassbare Felder
Aufgabenmanagement
Berichterstattung / Analyse
Berichterstattung und Statistik
Budgetierung/Prognosen
CAN SPAM-Compliance
CRM
Chancenmanagement
Dashboard
Daten-Import / -Export
Datenvisualisierung
Dokumentenmanagement
Dokumentenspeicher
Drag-and-Drop
Drip-Kampagnen
Drittanbieter-Integration
E-Mail Marketing
E-Mail-Management
E-Mail-Vorlagen
Echtzeit-Benachrichtigungen
Email-Kampagnen-Management
Ereignisgesteuerte Aktionen
Fall-Aufzeichnungen
Für Finanzinstitutionen
Für Immobilien
Für Startups
Für Vertriebsteams/ -organisationen
Für iPad-Geräte
Gebietsmanagement
Gemeinsame Kontakte
Kalender-/Erinnerungssystem
Kalenderverwaltung
Kampagnenmanagement
Kontakt-Datenbank
Kontaktmanagement
Kundendatenbank
Kundenmanagement
Lead Segmentierung
Lead-Erfassung
Lead-Pflege
Lead-Qualifizierung
Leadmanagement
Leistungskennzahlen
Leistungsmanagement
Listen-Management
Management der Anruflisten
Marketing-Automatisierung
Mobil-ootimierte E-Mails
Mobiler Zugriff
Multi-Channel-Kommunikation
Multichannel-Marketing
Multivariate Tests
Pipeline-Management
Planungs-Tools
Prädiktive Analytik
ROI-Tracking
Risikokarten
Sales-Pipeline-Management
Segmentierung
Split-Tests
Statistische Analyse
Suchen / filtern
Team-Management
Terminplanung
Verfolgung von Interaktionen
Verhaltens-Tracking
Verhaltensbezogene Analysen
Vertriebsaktivitätsmanagement
Visuelle Analytik
Visueller Editor
Vorlagen-Management
WYSIWYG-Editor
Website-Analytik
Websitebesucher-Nachverfolgung
Werkzeuge zur Zusammenarbeit
Wichtige Leistungsindikatoren (KPI)
Workflow-Management
Zeitverfolgung
Zielgruppen-Targeting
Zielseiten / Web-Formulare
Zugriffsquellen-Verfolgung
Alternativen für Freshsales
Bewertungen über Freshsales
Paul W.
Chief Product Officer in USA
Verifizierter Nutzer auf LinkedIn
Computer-Software, 11-50 Mitarbeiter
Verwendete die Software für: 1-5 Monate
Easy On-boarding and setup, fast support.
Kommentare: We are too big for no CRM, but not big enough to implement the HubSpot and Salesforce CRMs of the world. We tried those systems thinking we needed the features and analytics, but the spend and maintenance for those systems are too high. Freshsales, Freshchat, Freshmarketer, and Freshdesk make a seriously well priced and powerful system full of the features we need to produce the right results: a good relationship with customers. Freshworks' customer support is spot on. It seems no matter when I need help, they are less than a few minutes away from a solution. Freshchat is king! We've even deployed the same support structure on our website (Freshchat) and lead conversion has gone way up. It's nice to see a company have a product good enough to use themselves. I also like being able to achieve the same results for my customers as Freshworks has produced for me without major customizations.
Vorteile:
I was able to easily onboard to this system from HubSpot and Salesforce. The features in this system just work. You expect something to operate in a certain way, and it just does. Mail and calendar integration is super easy and really responsive (I used both Office 365 and Google Integrations). I love email templates and sales campaigns, they make working with leads and customers so easy and are not tucked away in a corner. The UX is much better than other systems, which means my salespeople are more likely to use the CRM, which is a common problem among salespeople and CRM systems.
Nachteile:
Freshsales is right-sized for us. It lacks some of the major enterprise features of bigger CRMs; but you also don't have too many features right in the way. I'm not a huge fan of the field paging UI on leads, deals, accounts, and contacts. I get that it makes it so you can add as many fields as you want, but it's hard to navigate and organize my screen just the way I like it. I resorted to using the Edit screen though, even when I'm not necessarily editing and that works well enough. Definitely not a big deal compare to all the other awesome features.
Devyani S.
Customer Relationship Associate in Indien
Verifizierter Nutzer auf LinkedIn
Bankwesen, 1.001-5.000 Mitarbeiter
Verwendete die Software für: Mehr als 1 Jahr
Best high end software for sales manager and their team working in startups
Kommentare: There are many alternative sales tools out there but freshsales helped me in my initial days of lead generation, hence I will recommend this tool to those who have just started into marketing & sales department.
Vorteile:
I was using this software for 1 and half year, I started with just live real-time chat service and now I have started using its premium features to manage my leads and sending them sales pitch and updates with easy campaign manager. I loved the user interface which takes no brains to understand the features that you need to solve your purpose. I have used their reporting tools that helps me make decisions based on results I have got from campaigns.
Nachteile:
I would love this tool if they provide integration with social networks too like Instagram and Facebook messages along with LinkedIn. Currently they have limited integration modules. Also importing files takes much time then managing and sending them sometimes it got stuck and I need to reiterate everything again.
In Betracht gezogene Alternativen: Zoho Mail und Zendesk
Warum Freshsales gewählt wurde: tawk.to is much easier tool but its not beneficial for lead generation, its mostly useful for customer support or after sales service. Freshasales is all round tool that made me choose this software.
Zuvor genutzte Software: tawk.to
Verifizierter Rezensent
VP, Sales in USA
Verifizierter Nutzer auf LinkedIn
Computer-Software, 11-50 Mitarbeiter
Verwendete die Software für: 1-5 Monate
Legitimately the Worst CRM I've Ever Used
Kommentare: Our experiences have been lots of problems, no solutions.
Vorteile:
They always remember to say "thank you for your patience" when telling us our support tickets haven't been resolved yet.
Nachteile:
Off the top of my head: The program will randomly delete calendar events, sending cancellations to prospects but not alerting the user. Multiple meetings were missed because of this. It's been 3 months since we reported it and no fix has been offered. Subsequently all the calendaring has to be done manually. The email editor will randomly delete the line ahead when hitting the backspace key or the space behind when hitting the delete key. To make it interesting it will sometimes do nothing when you hit either key. We have a report in the system showing overdue tasks. This report keeps pulling tasks that have actually been deleted from the system. There's no way to clean up the reports because you can't access the deleted tasks they are listing. We just switched credit cards for the account because the previous was expiring. This came at the same time that they've extended us a credit because of all the problems we've had with the system. The result is that the invoice due is less than the minimum charge level on the card ($0.01 due, $0.50 card minimum). As a result they haven't been able to add the card and we keep getting a banner stating access is cut off in 2 days. They've stated this has been fixed but the banner is still there. Those are just a few things... did I mention that if you take notes in the Notes section of a Calendar event the system will randomly forward those to the other party? Found out about that one the hard way...
Sheldon B.
Founder/CEO in Kanada
Finanzdienstleistungen, 11-50 Mitarbeiter
Verwendete die Software für: 6-12 Monate
Reasonable pricing, gesture for start ups, strong customer service response time
Kommentare: Overall super happy with the experience so far. Feels like value for our money and gives us quick answers on how to use the product. Great user friendliness which is key.
Vorteile:
The clean look, and easy ability to quickly navigate Decent integrations out there, and of course through Zapier, hopefully they continue here with more Many good, easy to tweak features, but doesn't feel like overload of bells and whistles. Reasonable pricing versus what you see at Hubspot, yet mostly same features.
Nachteile:
The email marketing is sufficient but they se a generic out of the box email marketing creator they use that many use I think, so could be better.
Kosmetik, 11-50 Mitarbeiter
Verwendete die Software für: Mehr als 1 Jahr
If you need support, look elsewhere
Kommentare: In short, great app, downright awful support
Vorteile:
Very easy to implement. Currently using FreshDesk, FreshCaller and FreshSales. Great integration, everything works quite well.
Nachteile:
As long as you do not need help from support, you will be fine. Every time that I have contacted support it has unfortunately been very disappointing. Even the most basic question takes an inordinate amount of time to get a response. Specific issue on FreshSales that really was upsetting is the fact that under the blossom program you get absolutely no reports, zero. In order to get reports, you have to upgrade to the next plan, garden. The cost per user goes from 12 to 25 if you are on the annual plan or 19 to 35 on the monthly. It is really hard to understand why some basic reports were not provided under blossom. Yes, the app is very useable without reports, however, if you are managing a team and want to see data across users, forget about it. You need reports and will have to migrate to the next plan up. I cannot stress the fact that the support is just simply not a priority for them, for many folks this could be the one thing that will force them to look somewhere else.
In Betracht gezogene Alternativen: Salesforce Platform und Zendesk
Gründe für den Wechsel zu Freshsales: The decision to choose freshworks was for most part driving by cost.