Was ist ProShop?
Ein umfassendes, webbasiertes und zu 100 % papierloses Shop-Management-System für kleine bis mittelgroße Fertigungsunternehmen. Entwickelt, um die komplexe Produktionsumgebung gut zu verwalten. Ein führendes System für umfangreichen Einblick in jedes Detail deines Fertigungsunternehmens. ProShop ist zu 100 % eine papierlose ERP-/MES- und QMS-Software. In der Regel ersetzt die Lösung 3 bis 6 andere Softwaresysteme durch ProShop für die Verwaltung deines gesamten Unternehmens.
Wer verwendet ProShop?
Kleine bis mittelgroße Maschinenwerkstätten, Stanzereien, Verbundwerkstoffe, Montage, in regulierten Branchen nach ISO-9000, AS9100, API, 13485 oder anderen Zertifizierungen.
Wo kann ProShop bereitgestellt werden?
Cloud, SaaS, webbasiert, Mac (Desktop), Windows (Desktop), Linux (Desktop), Windows (On-Premise), Linux (On-Premise), Chromebook (Desktop)
Über den Anbieter
Adion Systems
Ansässig in Vancouver, Kanada
2008 gegründet
Telefon-Support
Chat
Erhältlich in diesen Ländern
Australien, Deutschland, Kanada, Vereinigte Staaten, Vereinigtes Königreich
Über den Anbieter
Adion Systems
Ansässig in Vancouver, Kanada
2008 gegründet
Telefon-Support
Chat
Erhältlich in diesen Ländern
Australien, Deutschland, Kanada, Vereinigte Staaten, Vereinigtes Königreich
ProShop – Videos und Bilder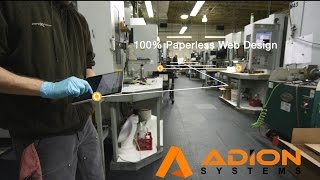 Kosten ähnlicher Produkte wie ProShop vergleichen
ProShop Funktionen
Angebote / Schätzungen
Auftragskostenrechnung
Auftragsmanagement
Automatisierte Terminplanung
Berichterstattung / Analyse
Beschwerdemanagement
Bestell-Management
CRM
Compliance Management
Corrective and Preventive Action (CAPA)
Dokumentenmanagement
Dokumentkodierung & -kontrolle
ERP
Echtzeitüberwachung
Fertigungsplanung
Finanzmanagement
Geräte-Management
Instandhaltungsmanagement
Integration in die Buchhaltung
Integrierter Geschäftsbetrieb
Inventarverwaltung
Kapazitätsmanagement
Kapazitätsplanung
Kommunikationsmanagement
Lagerhaus-Management
Leistungskennzahlen
LieferantenQualitätskontrolle
Material-Rechnung
Personalmanagement
Planung von Materialanforderungen
Produktionsplanung
Prognose
Qualitätsmanagement
Risikomanagement
Rückverfolgbarkeit
Supply-Chain-Management
Terminplanung
Trainingsmanagement
Unternehmens-Vermögensmanagement
Verfolgung von Ausfallzeiten
Veränderungsmanagement
Was-wäre-wenn-Analyse
Wirtschaftsprüfung-Management
Phil S.
President in USA
Verifizierter Nutzer auf LinkedIn
Maschinerie, 11-50 Mitarbeiter
Verwendete die Software für: Mehr als 2 Jahre
THE Best ERP System on the Market - Period
Kommentare: Very smooth and easy implementation, our ProShop trainer/implementor was great to work with and implementation went VERY quickly, we were live on estimating and quoting in the first 2 weeks, were able to see our quoting get more accurate (You can measure that in the system when you win business) and for us to be able to handle 3x the number of quotes with the same staff. The team at ProShop are always there for us, a great group of professionals that support us exceptionally well
Vorteile:
We replaced a lot of highly customized spreadsheets and white boards with ProShop, I have written ERP packages for a living, implemented SAP and Oracle as well as some mid range ERP's and ProShop is hands down THE BEST I have ever come across. We ran an extensive review process of everything out there and nothing came close in the demo's to ProShops capabilities and ease of use. It's just intuative, our team picked it up very quickly and I cannot imagine running our business without it. We implemented the ProShop system and were certified for the first time as a business to ISO9001:2015 in 6 months - we could not have done that without ProShop ! From estimating new parts through to invoicing ProShop does it all well, and everything is easy to find as all the data is linked. We utilize the estimating templates, which we have customized for our specific needs, to create accurate estimates in less time than before we had the system, moving an estimate to a quote takes a couple of mouse clicks, when a customer PO comes in creating a Work Order is another couple of mouse clicks, the same to create packing lists and invoices from the Work Order.
Nachteile:
No Cons Whatsoever - I'd take the exact same decision to implement ProShop in a heartbeat without hesitation as it revolutionized our business - allowing us to do 3x the work with the same staff
Jared V.
President in USA
Verifizierter Nutzer auf LinkedIn
Verteidigung & Raumfahrt, 11-50 Mitarbeiter
Verwendete die Software für: Mehr als 1 Jahr
In Betracht gezogene Alternativen:
ProShop: integral to our growth
Kommentare: It sounds like a line from a trade journal article, but ProShop is the 3rd ERP system our company has implemented. After 18 months of use, we can honestly say this is the best ERP solution our team has ever used.
Vorteile:
As many ERP systems should do, ProShop puts organizational, operational, project and part information in a central repository. One of ProShop's strengths is 'process workflows' that really work.
Nachteile:
ProShop is continuing to improve the online help files. However, the guided implementation process and support (email, video conference, phone, etc.) are the best we've found in the complex software world.
Antwort von Adion Systems
vor 2 Jahren
Jared, It's been an honor and a pleasure to work with you and your team. Thank you so much for your review. It's feedback like this that makes our work meaningful and excited to go to work every day. We'll share this with our whole team and toast you at our next virtual happy hour! Cheers and thank you again! The ProShop Team
Verteidigung & Raumfahrt, 2-10 Mitarbeiter
Verwendete die Software für: Mehr als 1 Jahr
ProShop: Our Competitive Advantage
Kommentare: The product is fantastic, and the support is even better. The sheer depth of ProShop and it's ability to handle complex manufacturing situations is amazing. They seem to have thought of everything.
Vorteile:
ProShop is the basis on which our company is built. From Day One, RXI implemented Proshop to help us obtain and maintain ISO:9000, AS9100 and ISO:13485 working standards and certification. The way ProShop works for our business is definitely our competitive advantage. We know EXACTLY what it is going to cost us to make the customer's product and we can decide, based on several factors, how we want to price the work. When it's all done, we know how well we did.
Nachteile:
It would be nice to have a CRM built in.
Automotive, 2-10 Mitarbeiter
Verwendete die Software für: Mehr als 1 Jahr
Quelle: SoftwareAdvice
Regret
Kommentare: Not satisfied and frustrated.
Vorteile:
The software includes many features that are difficult to navigate.
Nachteile:
Proshop is complicated to implement. It is not intuitive. Support has gone drastically downhill since we purchased 18 months ago. Easy tasks take way too long to accomplish. Training new employees is very time consuming and frustrating for everyone involved. The help menu is almost worthless. The software has many glitches you have to learn to deal with.
Jeff F.
Director of Sales and Marketing in USA
Verifizierter Nutzer auf LinkedIn
Fluggesellschaften/Luftfahrt, 11-50 Mitarbeiter
Verwendete die Software für: 1-5 Monate
ProShop Software
Kommentare: Overall experience has been positive. I would highly recommend this software to any company small or large who want an easy to use software the will make them more efficient and better.
Vorteile:
The software is very user friendly for people at all levels of the organization. The single software manages all aspects of our manufacturing company beginning with estimating and ending with invoicing. It is completely paperless and eliminates many unneeded man hours for tasks like data entry or collecting out of rev prints from the shop floor. It also manages our entire QMS to ensure compliance with AS9100 and incorporates the requirements of the QMS into standard workflows for all employees. This makes audits very easy to prepare for. It also integrates easily with Quickbooks for ease of accounting functions. Finally, the cloud based approach makes the IT aspects so simple and worry free, plus I can easily access the software when I'm away from the shop! So many additional positives to list, I could go on and on.....
Nachteile:
I really don't have any cons to list. If I had to list one thing for improvement it would be to have just a little more flexibility of category fields in the estimating module so I could adopt costing for the composites industry easier. That being said, my implementation specialist was able to help me come up with some work arounds to accomplish what I need.
Antwort von Adion Systems
vor 2 Jahren
Hi Jeff, You've made our day over here in the office! Thank you for this great review. Helping companies like yours is exactly why we're so excited to come to work every day. It's our mission and our passion to lift up manufacturers like Fort Ord Works - the backbone of our economy. You'll be excited about some new features we're coming out with this year specifically for composites companies. Stay tuned. And we'd love to get your feedback on them and how to make them better. Cheers and thanks again! The ProShop Team