Was ist ACE Retail POS?
Suchst du nach einer umfassenden Bestandsverwaltungssoftware mit integriertem POS? Das ACE-System ist eine installierte Software für Windows-Nutzer mit integrierter Bestands-, Kunden- und Einkaufsverwaltung. Konzipiert für Einzelhändler oder Großhändler mit vollständiger Offline-Fähigkeit. Einmalige Kosten ohne monatliche Lizenzgebühren. Webbasiertes mobiles Berichterstattungstool verfügbar. Lässt sich in Sage50, QuickBooks, Shopify, Magento, OSCommerce, MailChimp, Vantiv, Chase, Global, Elavon, Moneris, FirstData und TD integrieren.
Wer verwendet ACE Retail POS?
Kleine oder mittlere Einzelhändler/Großhändler, die robuste Funktionen für Bestands-, Kunden- und Buchhaltungsverwaltung benötigen, die vollständig in ihren Point of Sale integriert sind.
Wo kann ACE Retail POS bereitgestellt werden?
Windows (Desktop), Windows (On-Premise), Linux (On-Premise)
Über den Anbieter
ACE POS Solutions
Ansässig in Toronto, Kanada
1981 gegründet
Telefon-Support
24/7 Live-Support
Chat
Erhältlich in diesen Ländern
Kanada, Vereinigte Staaten
Über den Anbieter
ACE POS Solutions
Ansässig in Toronto, Kanada
1981 gegründet
Telefon-Support
24/7 Live-Support
Chat
Erhältlich in diesen Ländern
Kanada, Vereinigte Staaten
ACE Retail POS – Videos und Bilder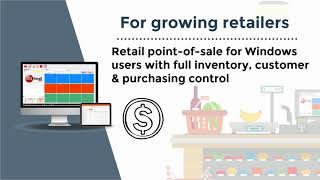 Kosten ähnlicher Produkte wie ACE Retail POS vergleichen
ACE Retail POS Funktionen
Barcode / RFID
Barcode / Tickets scannen
Berichterstattung / Analyse
Bestell-Management
CRM
Daten-Import / -Export
Drittanbieter-Integration
E-Commerce-Management
Einzelhandel-Lagerverwaltung
Einzelhandel-Management
Elektronische Unterschrift
Geschenkkarten-Management
Integration in die Buchhaltung
Inventarverwaltung
Kundenkonten
Lieferanten-Management
Mehrere Standorte
Preismanagement
Rabattmanagement
Retourenmanagement
Rückgaben nachverfolgen
Touch-Screen
Verkaufsberichte
Verkaufspunkt POS
Zahlungsabwicklung
für den Einzelhandel
Alternativen für ACE Retail POS
Bewertungen über ACE Retail POS
Lawrence C.
Kent State University Hotel & Conference Center Asset Manager in USA
Verifizierter Nutzer auf LinkedIn
Hochschulbildung, 2-10 Mitarbeiter
Verwendete die Software für: Mehr als 2 Jahre
Impeccable Service
Kommentare: ACE has allowed me to streamline my customer tracking, manage my free bag program, manage inventory and the reporting is robust, allowing me to analyze my business with the click of a few keys.
Vorteile:
The software provides all the functions I need at an affordable price. Perfect for my small business. The best part for me is the staff at ACE who are always available, professional, knowledgeable, thorough, and friendly.
Nachteile:
I really do not have much to say here.
Antwort von ACE POS Solutions
vor 3 Jahren
Lawrence, thank you for taking the time to give us your feedback. We're here to help you grow your business.
Baumaterial, 2-10 Mitarbeiter
Verwendete die Software für: Mehr als 2 Jahre
Quelle: SoftwareAdvice
It's ok but...
Kommentare: I've used this software in three businesses since 2009, seems the company changed hands a couple times. For those who see no reason the renew your yearly license make sure that if you have an install file, that when you install it, its fully functions especially the reports as with a couple years back the version they gave you to install had the reports feature broken and you needed to contact them for the update file. This worked for some time as you could install previous update files without a valid support license but then the system changed and you had to get a pr authorization for updates. I'd still recommend this software but if you buy software you expect it to be 100% functional and re-install able to 100% functioning even with out a support license.
Vorteile:
Pretty easy to use Easy to set up up Easy to configure Good reporting features for sales and tax Lots of options
Nachteile:
Never any updates to the software, there use to be until they changed the system. At least as of a couple years back demo install file had bugs in it or on purpose so if your license expired and you have to reload the software once you imported the back up DB the reports wouldn't work. You have to contact them to get an update but since your support license is expired you couldn't get help unless you renewed for another year.. Lots of GUI bugs that have been around for years and have been reported on several times.
Antwort von ACE POS Solutions
vor 3 Jahren
Thank you for your feedback Arek. Yes, we are a different company now and we have invested in updating and maintaining the software so many of the bugs that were in the older versions supported by the last company have been fixed for the past several years now. We have also spent a lot of internal resources to develop and maintain new built-in and optional add-on features to help customers which is why updates are part of paid support plans. But rest assured, customers who are using versions of ACE maintained by our company can continue to use their software without an active support plan.
Mateo C.
Informations Systems Coordinator in Kanada
Verifizierter Nutzer auf LinkedIn
11-50 Mitarbeiter
Verwendete die Software für: Mehr als 2 Jahre
The software gets the job done.
Kommentare: It helps us keep track of our transactions and monitor our register.
Vorteile:
It's been reliable. The software works as it should in the sense that every action is clearly labelled, and I don't think I've ever seen it crash.
Nachteile:
It could be designed a bit better, but no complaints necessarily. Also, there are moments when finding certain transactions could easier.
Antwort von ACE POS Solutions
vor 4 Jahren
Thank you for your feedback Mateo! We will continue to improve ACE so that we can earn the remaining stars from you ;)
Verwendete die Software für: Mehr als 2 Jahre
Excellent support provided by ACE
Vorteile:
We have been using ACE POS since 2009. Since day one ACE has provided excellent support with the initial setup and continued maintenance of our systems. I like that ACE provides seamless integration with our accounting software. The ACE Sales screen and inventory accounts are easy to use for any level of staff. We also maintain our Customer accounts and email lists within ACE. We have been using the webstore integration feature since 2011. ACE will upload items directly to our website, including adding the pictures and descriptions that are included in ACE. We have recently upgraded our website to Shopify. ACE will automatically adjust inventory quantities within Shopify which has saved us a lot of time. The active support that they provided during our transition to Shopify was unbelievable. Don provided a hands-on approach and provided quick responses to my many questions. I would recommend ACE for any retail business environment.
Nachteile:
There are only minor issues that I can name as our overall experience has been positive. It would be great if there was a fast way to transfer inventory quantities between items. For example, if we have 1 PLU made up of a set of 4 widgets and I want to break this up into 4 individual PLUs, we are having to post this through the Purchasing/Receiving System so that the inventory cost values follow. Also, it would be nice in the Receiving system if backorders would automatically be shown for every item with zero items received. Right now we are having to scroll through each item in the purchase order so that the backorder number shows.
Antwort von ACE POS Solutions
vor 4 Jahren
Thank you for your kind words and support Joe! From our ticketing system we can see that one of our specialists has already been in contact with you regarding back-orders and how to utilize the built-in packbreak function within ACE Premium to break-up items that are sold as a combo and also individually.
Andrea M.
Owner in Kanada
Einzelhandel, 2-10 Mitarbeiter
Verwendete die Software für: Mehr als 2 Jahre
Great System, good customer service, Nine years and counting...
Kommentare: The main benefit was easing my accounting burden! That was my initial reason for searching for a POS system.
Vorteile:
I like how user friendly the sales screen is. Very quick to train someone to run the cash register, even someone who is not computer savvy. I like being able to block employees from different areas of the software, so they can only access what I allow them to. The reports are flexible and are great for assistance with re-ordering based on sales(if you don't already use the min/max qty option). Being able to quickly see which vendors products are selling the best is a huge asset to me. The easy connection with Quickbooks saves me a LOT of time in my bookkeeping. The customer service is good (and if for some reason you get someone who you may think is in training, they're honest and get someone else to fix the problem and do it in a timely manner). I have been enjoying this software for nine years.
Nachteile:
I find it time consuming to find some of the features that I likely should be using but are not utilizing because I can't find it or I can't remember where to find it. I would prefer the Help/user manual be part of the software not just online. When you don't have internet access on a computer that your employees are using, the help feature is inaccessible. The yearly updates are a bit more expensive than I feel they should be. I don't need new features and any "fixes" should come with the original purchase of the product, but if I want it to continue to run on newer computer systems and likely need it reloaded on a different computer down the line (ie. changing from windows xp to 7 or 10), I would otherwise have to pay the whole amount up front a second time( and third time etc...).
Antwort von ACE POS Solutions
vor 4 Jahren
Andrea, thanks for taking the time to give us your feedback. We understand your wanting to have access to certain resources offline. We made the decision to move to online training resources as this way, we can maintain documentation more easily for customers. It also allows you to be aware of any updates. Besides new features, we need to maintain a development team to keep the software up-to-date for security reasons - e.g. Windows updates, PINpad upgrades, integrated solution updates. This is why updates are always included with annual support plans and include phone calls that you can use for support or training. We know that you don't always need the assistance but we have tried our best to keep our annual support plan pricing steady even though our costs of maintaining live support assistance around the clock and development in Canada continue to increase. Thanks again for your continued support!!