Was ist Dundas BI?
Dundas BI ist eine Business-Intelligence- und Datenanalyseplattform für Unternehmen. Die vollständig anpassbare BI-Plattform bietet dir sofortigen Zugriff auf Echtzeitdaten und -informationen aus deinem gesamten Unternehmen, sodass du sie in interaktive Dashboards und Berichte umwandeln kannst, um einen schnelleren Einblick in dein gesamtes Unternehmen zu erhalten. Dundas BI wurde so konzipiert, dass es in deine bestehenden Systeme und Anwendungen eingebettet werden kann, um eine großartige Nutzererfahrung zu ermöglichen. Kostenlose Testversion, vollständiger Download oder Live-Demo verfügbar.
Wer verwendet Dundas BI?
Unternehmenskunden – Nutzer aus Wirtschaft und Technik Software-Firmen (ISVs und OEMs), die Analysen in ihre eigene Software einbetten/integrieren müssen
Wo kann Dundas BI bereitgestellt werden?
Cloud, SaaS, webbasiert, Mac (Desktop), Windows (Desktop), Linux (Desktop), Windows (On-Premise), Linux (On-Premise)
Über den Anbieter
Dundas Data Visualization
Ansässig in Toronto, Kanada
1992 gegründet
Telefon-Support
Chat
Dundas BI Kosten
Startpreis:
Nicht vom Anbieter bereitgestellt
Ja, kostenloser Test verfügbar
Keine Gratisversion
Dundas BI bietet keine Gratisversion, aber eine kostenlose Testversion.
Preismodelle
Kostenlose Testversion
Über den Anbieter
Dundas Data Visualization
Ansässig in Toronto, Kanada
1992 gegründet
Telefon-Support
Chat
Dundas BI – Videos und Bilder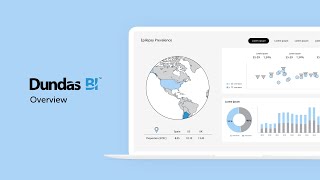 Dundas BI Funktionen
API
Ad-hoc-Anfrage
Ad-hoc-Berichterstattung
Aktivitäts-Dashboard
Alarmfunktion / Benachrichtigungen
Anpassbare Berichte
Anpassbare Vorlagen
Anpassbares Dashboard
Benchmarking
Berichterstattung / Analyse
Berichterstattung und Statistik
Dashboard
Dashboard-Erstellung
Data Mapping
Daten-Connectors
Daten-Identifizierung
Daten-Import / -Export
Daten-Vermischung
Datenbereinigung
Datenerfassung und Übertragung
Datenextraktion
Datensynchronisation
Datenvisualisierung
Datenvorbereitung in Selbstbedienung
Drag-and-Drop
Drittanbieter-Integration
Echtzeit-Analytik
Echtzeit-Daten
Geplante / automatisierte Berichte
Integration in Anwendungen von Drittanbietern
Interaktive Berichterstattung
Leistungskennzahlen
Mehrfache Datenquellen
Metadata-Management
Mobile Berichterstattung
Prognose
Prädiktive Analytik
Self-Service-Analysen
Strategische Planung
Suchen / filtern
Trend-Analysen
Verarbeitung von hohen Volumen
Veröffentlichung / Teilen
Visual Workflow Management
Visuelle Analytik
Visuelle Entdeckung
Werkzeuge zur Zusammenarbeit
Wichtige Leistungsindikatoren (KPI)
Widgets
Zugriffskontrollen / Berechtigungen
Alternativen für Dundas BI
Bewertungen über Dundas BI
Christopher
Director of Manufacturing Strategy in USA
Verifizierter Nutzer auf LinkedIn
Automotive, 10.000+ Mitarbeiter
Verwendete die Software für: 6-12 Monate
Affordable, flexible solution for manufacturing operations BI
Kommentare: We needed a self-service BI solution that would cover manufacturing operations dashboards and use cases. We wanted a tool that would allow for the distribution of centralized common dashboards but also allow for self-service customization. It needed to connect to multiple disparate data sources, and provide native ETL. It also needed to allow for real-time refresh capability. Finally, it needed to be affordable and scalable to our global operations footprint. DundasBI was the only solution that checked all of these boxes, and so far the tool has been a great help to reducing external spend and internal, custom-coded solutions.
Vorteile:
-Real-time dashboard refresh capability -Built-in ETL -Flexible seat types and affordable licensing -Superior flexibility and customization, without the need for coding -Out of the box performance and usage tracking
Nachteile:
Customization and flexibility come at the cost of a steeper learning curve compared to other solutions.
In Betracht gezogene Alternativen: Sisense, Qlik Sense, Tableau und Microsoft Power BI
Gründe für den Wechsel zu Dundas BI: The other products did not meet one or more of the main requirements we had for our BI solution. DundasBI met all of them.
Verifizierter Rezensent
Software Engineer in USA
Verifizierter Nutzer auf LinkedIn
Maschinerie, 51-200 Mitarbeiter
Verwendete die Software für: 1-5 Monate
Amazing Experience for Your Dashboard's Users
Kommentare: The Creation GUI is very quirky, but the results are well worth putting up with it.
I have never had an idea that I could not eventually create (sometimes, some java script is needed).
The fact that they expose all of their API tools to the end user is amazing, and allows you to create some awesome things.
Vorteile:
- Support team is very helpful with basic use cases. - After a dashboard has been created, it looks great and works well for the end user. - People with zero programming experience are able to create dashboards.
Nachteile:
(All very minor things, which might be addressed in future updates) - Data cube creation, metric sets, and dashboards must be created using their GUI- they cannot be generated using scripts or edited as script. - You cannot copy and paste sections of one dashboard or datacube to another. - Data cube nodes cannot be copied. - All programming scripts are stored in an sql database, which means you cannot use version control systems (such as Git Hub).
Aditya
Sr.Application Developer in Indien
Informationstechnologie & -dienste, 10.000+ Mitarbeiter
Verwendete die Software für: Mehr als 2 Jahre
Quelle: SoftwareAdvice
Dundas BI Dashboarding / visualization review after using it for 3+ years
Kommentare: Overall the experience is mixed but I would say when you compare it with its peers and when you look at the cost and other factors like features which the tool provides it is very useful and can be considered for your BI and reporting. It supports almost all the features of a basic BI tool.
Vorteile:
Dundas is a powerful BI tool . We have migrated our reports to Dundas . It has powerful Dash boarding capabilities. I personally like layering feature in dashboard, it makes life easier to show hide stuffs. Also the exporting feature to PPT and PDF is also helpful for our users to present the dashboard to their up-line team. It is also cost effective as compared to the other major players/tools in the BI space. Security feature using custom attribute is also a very useful and powerful feature.
Nachteile:
I believe we have limited support material available online for Dundas in the web. We have to rely only on the cube community or the support team of Dundas which sometimes make life difficult if you are stuck. We also struggled to build or Cube in the form of star schema model which is basic for any warehousing / BI requirement and we could not figure out a way as the cube brings everything in a form of process result which is ONE de-normalized table and star schema model fails in that approach.
John-Arne
Solution architect and operation support in
Versorgungsunternehmen, 10.000+ Mitarbeiter
Verwendete die Software für: Mehr als 2 Jahre
Quelle: SoftwareAdvice
Promising, good and high potential but not there yet
Kommentare: Dundas BI is a very good contender in the BI segment and has great potential. At the moment it is a tool for developers proficient with JavaScript and not recommended for end users. There are great potential with DBI. Unfortunately v4 got the wrong focus on non-essential upgrades thus put the bar high for version 5. To compete with Power BI, Tableau and QlikView DBI need much improvement on user-friendliness. If DBI can be really improved on administration and formatting and keeping the flexibility it will surpass most of it's competitors.
Vorteile:
Relatively easy to get started and creating visualizations and dashboards. The scorecard, which is a kind of repeating panel is brilliant and undervalued. The report is a great addition which makes DBI an all-in-one BI tool. Dashboard layers and pop-ups enhances the experience. Data driven notification adds to a useful experience. ETL cube with data warehouse has powerful transformations and much capabilities. The open API with JavaScript makes it flexible beyond expectations.
Nachteile:
Project and file and content management is amongst the worst in class! This need to be completely changed in v5! It's a frustrating experience to organize content. Auto save is okay, but need to be able to decide where. Check in /out is over-used and add frustration to developing dashboards. Poor cube management; need option to process multiple cubes and have incremential processing as option. Need an equation writer for those who is not proficient in JavaScript. Need more formulas for metric sets. Hidden metric sets in dashboards are a bad idea. Properties tab need complete re-organization.
Ken
Data Scientist in USA
Informationstechnologie & -dienste, 51-200 Mitarbeiter
Verwendete die Software für: 6-12 Monate
Quelle: SoftwareAdvice
Powerful tool with higher overhead
Kommentare: Dundas is a fantastic company that really seems to care about their product and their customers.
Vorteile:
The tool can do anything you want. I don't think I've gotten one "no" since I started asking about capabilities.
Nachteile:
The time needed to implement some features is high. And if you need to make changes to it later, you typically have to re-do a decent number of steps in the middle of the process (not on the dashboards, but in the data cubes that underlie them).
In Betracht gezogene Alternativen: Sigma Computing, Looker und Google Data Studio
Warum Dundas BI gewählt wurde: It did not have a lot of the functionality we needed
Zuvor genutzte Software: Looker
Gründe für den Wechsel zu Dundas BI: Functionality. As above, its power makes it very attractive as a BI tool that can extend far beyond graphs and charts.