Was ist Office Timeline?
Office Timeline ist ein Gantt-Diagramm- und Zeitleistenersteller für PowerPoint, mit dem du ansprechende Projektvisualisierungen für wichtige Präsentationen erstellen kannst. Importiere Daten aus Excel oder deinen bevorzugten PM-Tools, um innerhalb weniger Minuten Zeitpläne zu erstellen und deine Projektdetails in einer einfachen, vertrauten Art und Weise zu kommunizieren, der Kunden, Führungskräfte und technisch nicht versierte Zielgruppen leicht folgen können.
Wer verwendet Office Timeline?
Führungskräfte, Projektmanagende, Programmmanagende und Wissensarbeitende, die dem Team Projekt-Roadmaps oder Projektpläne im Rahmen von Vorstandssitzungen präsentieren müssen.
Office Timeline – Details
Office Timeline
2010 gegründet
Office Timeline – Details
Office Timeline
2010 gegründet
Office Timeline – Videos und Bilder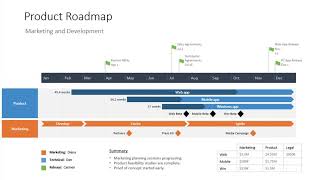 Kosten ähnlicher Produkte wie Office Timeline vergleichen
Startpreis
59,00 $/Monat
13,49 $/Monat
Nicht verfügbar
20,00 $/Monat
Office Timeline – Bereitstellung und Support
Kundenbetreuung
E-Mail/Helpdesk
FAQ/Forum
Wissensdatenbank
Telefon-Support
Chat
Einsatz
Cloud, SaaS, webbasiert
Windows (Desktop)
Windows (On-Premise)
Linux (On-Premise)
Training
Webinare
Dokumentation
Videos
Funktionen von Office Timeline
Rick B.
Senior Engineer: Rocket Motors and Warheads in Südafrika
Verifizierter Nutzer auf LinkedIn
Verwendete die Software für: Mehr als 2 Jahre
Making Timelines of Important data has never been this easy! A few clicks, population, done!
Kommentare: The software made it so much easier to present detailed, informative, and engaging Timelines to customers, as well as to other stakeholders in the projects in which I am involved. It allowed me to pull the audience into the detail without risking boredom. The number of themes available for different types of timelines, as well as the small details that can be customised right out of the box are really great.
Vorteile:
The software being integrated directly with Microsoft PowerPoint makes life so much easier as it adds your timeline directly to a slide you're using. The timeline is made up of shapes and objects commonly available in MS PowerPoint, but there is a lot of intelligence built into it. The object created is not static, but can be edited to change details afterwards by using the simple User Interface provided. The Interface follows the design of PowerPoint and almost seems to be a standard part of the package. Really great software for any level of user.
Nachteile:
The software does not create a grouped object on your slide, but a huge quantity of loose objects. If you move an object around, it will move, unless you edit your timeline through the UI. Whilst this is a nice feature to allow for unique customisation, it adds an element of complexity that not all users will appreciate. (The only reason Ease of Use loses a star.)
Antwort von Office Timeline
vor 4 Jahren
Hi, Rick! Thank you for reviewing Office Timeline! It¿s great to hear that you are overall pleased with the add-in¿s performance and output. When manually changing the elements of your timeline, please click the Accept button on the Office Timeline ribbon. The add-in can handle a variety of custom changes, but there are some that it doesn't support. When clicking Accept, the manual edits that are supported will be saved, while any formatting that is not supported will be reset to default. A solution for the latter case is to make these unsupported manual changes right at the end, after you've finished editing your graphic. Also, to group multiple tasks on a single row, the Tasks-in-a-row functionality may be helpful. You can learn more about it here: https://support.officetimeline.com/hc/en-us/articles/360000299847-How-to-show-multiple-tasks-on-one-row For further assistance, please contact us at support[at]officetimeline.com. Best wishes, S. Stingu - Head of Marketing
Verwendete die Software für: Nicht angeboten
Valuable time-saving tool
Kommentare: This is a great piece of software that has saved me a boatload of time. I create project slides frequently and have been doing so for the past several years. They are primarily used for recurring reviews with my managers. In each review I needed to update the original slide as dates and progress on my project inevitably change month over month. This process was brittle, fiddly, time consuming and just painful.
Office Timeline automatically does this for me which has been a huge time-saver. Since it is a PowerPoint add-in I found it very easy and familiar to create my project slides, but the real value for me is when I need to update or change them. This now happens instantly and my mangers and team seem to love the visuals it creates.
With regard to the functionality, although it is a visual tool, I have also found it quite useful in handling smaller projects. I had used MS Project to plan these projects but it is just too complex for small efforts. This tool has worked really well for that because it is simple to use and very easy to share project slides. The MS Excel and .mpp import and synchronization feature are very good and it leaves me wishing the software had actual PM functionality in the tool itself things like some WBS and some resourcing and cost reporting. Overall I have been extremely pleased with it.
Vorteile:
1. Integrates natively with PowerPoint and makes very nice looking Gantt charts and timelines. 2. I can import existing data from Excel or Microsoft Project and it instantly turns them into nice slides; I can synchronize these slides when my Excel or mpp data changes. 3. The slides it makes are native PowerPoint slides so they are easy to put into presentations, share with clients and managers and easy to edit. They are familiar for everyone else which is good.
Nachteile:
1. Would really like to see more Project Management types of services, like resource tracking and budgeting. 2. Would like to see an adjacent online service for storing and managing my slides and any templates I build.
Simisara J.
Project Coordinator and Analyst in Indien
Verifizierter Nutzer auf LinkedIn
Informationstechnologie & -dienste, 201-500 Mitarbeiter
Verwendete die Software für: Mehr als 1 Jahr
Good plugin within Powerpoint to create stunning timeplans
Kommentare: Easy integration with Powerpoint makes it easy to convert to any format as needed and exported.
Vorteile:
Easy to create time-plans and Gantt charts for project management. Can be edited and customised quickly. Ready made templates are available.
Nachteile:
The product offers fixed time splitting - in case the splits could be more controllable by user, would have added to the feature as sprints can be either a one week or two week deliverable which is based on tasks.
Antwort von Office Timeline
vor 2 Jahren
Hi, Simisara! Thank you for using Office Timeline and for taking the time to review it. We're happy to learn that you consider the add-in to be a quality, well-integrated project management tool that allows you to easily create and customize timelines and Gantt charts with which you are pleased. With regards to a more varied timescale segmentation, I'm excited to inform you that our dev team is working on providing users with more control over that aspect. Although I don't have an exact release date for it, any new functionality or enhancement added is announced through notifications. So please make sure you update your app when notified so you can enjoy its latest improvements. Best wishes, Sebastian Stingu - Head of Marketing
Nick C.
Clinical Director in USA
Psychische Gesundheitsfürsorge, 11-50 Mitarbeiter
Verwendete die Software für: 6-12 Monate
Value and Versatility
Kommentare: Office Timeline has given us an edge on other similar businesses. Our donors have frequently commended us on the professionalism of our reports and presentations. Being able to reach new supporters and maintain satisfaction with our current supporters through the functions that Timeline provides has allowed us to start new projects and has given us the security of knowing that our current supporters will continue investing in us.
Vorteile:
Office Timeline has given us the ability to provide our donors and stakeholders with a dynamic view of the projects that we are engaged in. It adds a level of professionalism to our PowerPoint presentations that we had previously been unable to achieve. Rather than generic charts and reports, our donors and stakeholders are able to see graphic representations of exactly where their money and resources are going.
Nachteile:
The software requires the operator to have access to significant amounts of information to be able to provide the best outcomes. This has prevented us from being able to roll out its use to our entire staff.
Antwort von Office Timeline
vor 3 Monaten
Thank you, Nick, for choosing Office Timeline and for your great feedback on the add-in's functionality and output. We are thrilled to hear that the tool has helped you and your team create professionally-looking and dynamic charts, reports and presentations which gained your stakeholders and donors' appreciation, and that it has brought value to your work. As for enabling the rest of the staff in our organization to master the add-in and get optimal outcomes when using it, we have created a support center where clear support articles and step-by-step video tutorials can be found: https://support.officetimeline.com/hc/en-us/categories/200131758-How-to-articles-and-videos I hope these help. Moreover, our support representatives are at your service whenever you need assistance with the Office Timeline add-in. Simply contact us at support[at]officetimeline.com with any product-related query you might have. Best wishes, Sebastian Stingu Head of Marketing
Jose A.
Ayudante Tecnico del Departamento de Informatica in Venezuela
Verifizierter Nutzer auf LinkedIn
Verwendete die Software für: Nicht angeboten
The tool is very good facilitates the creation of Gantt graphics
Vorteile:
I found this software in its free trial version when we studied the Gantt charts for the organization and management of projects, I was looking for a tool that will facilitate the design and allow me to assemble the graphic in an easy and understandable way for the rest of my colleagues, What I liked about the application was that it works directly with PowerPoint and it includes templates that make it much faster to prepare them.
Nachteile:
Account only with versions for computers would be good to implement an online version and existing versions are more compatible with each other.
Antwort von Office Timeline
vor 4 Jahren
Thank you, Jose, for your review of Office Timeline! We¿re glad to hear that the tool has helped you create Gantt charts that are easily understandable for your audience. It is with great pleasure that I inform you there is a web-based version of this application called Pincello, which allows you to create timelines right from your browser. To learn more about the free online version of Office Timeline, please visit this link: https://www.officetimeline.com/pincello Best wishes, Sebastian Stingu ¿ Head of Marketing