Was ist CRIO ONLINE?
Einfaches und leicht zu bedienendes (doch vollständiges) Online-Pferde-Management-System, das alle Anforderungen einer Zucht, Ausbildung, Boardingbusiness abdeckt oder einfach alle Informationen über Dein Pferdes an einem Ort bietet. Hervorragende Unterstützung und wirklich offen, um das System an die Bedürfnisse der Nutzer anzupassen. Registriere dich für eine kostenlose 30 Tage-Testversion!
Wer verwendet CRIO ONLINE?
Zuchtanlagen, Pferdetrainer, Züchter, Pferderanch und von genutzt von Tierärzten in den Pferde-Unternehmen. Auch: Bildung und Zuchtverband-Ausgaben.
Wo kann CRIO ONLINE bereitgestellt werden?
Cloud, SaaS, webbasiert, Android (mobil), iPhone (mobil), iPad (mobil)
Über den Anbieter
CRIO Equine Software
Ansässig in Bogotà, Kolumbien
2004 gegründet
Telefon-Support
24/7 Live-Support
Chat
Sprachen
Englisch, Portugiesisch, Spanisch
CRIO ONLINE Kosten
Startpreis:
9,90 $/Monat
Ja, kostenloser Test verfügbar
Keine Gratisversion
CRIO ONLINE bietet keine Gratisversion, aber eine kostenlose Testversion. Die kostenpflichtige Version von CRIO ONLINE ist ab 9,90 $/Monat verfügbar.
Preismodelle
Kostenlose Testversion
Über den Anbieter
CRIO Equine Software
Ansässig in Bogotà, Kolumbien
2004 gegründet
Telefon-Support
24/7 Live-Support
Chat
Sprachen
Englisch, Portugiesisch, Spanisch
CRIO ONLINE – Videos und Bilder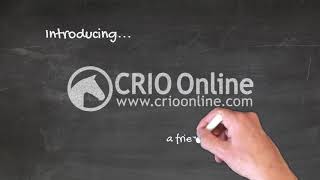 CRIO ONLINE Funktionen
Abrechnung & Rechnungsstellung
Erinnerungen
Kontaktmanagement
Kostenverfolgung
Pferde-Datenbank
Terminplanung
Versorgungs-Management
Alternativen für CRIO ONLINE
Bewertungen über CRIO ONLINE
Verifizierter Rezensent
Barn Manager in USA
Verifizierter Nutzer auf LinkedIn
Viehwirtschaft, 2-10 Mitarbeiter
Verwendete die Software für: 1-5 Monate
Using the Professional Plan to Manage a Breeding Farm
Kommentare: Managing the breeding farm is now efficient and doesn't have a paper trail. I love CRIO. P.S. If you have any trouble at all or questions about the program, they get back to you right away! I messaged the company about a problem that I was having, I received their initial reply within 5 minutes. 15 minutes later, my problem was solved and I'm still smiling about their customer service.
Vorteile:
Incorporating tech into the barn is intimidating. During my search for a barn management app, I went back and forth between apps comparing features and prices. FYI, CRIO has the most features and the best price. As for features, logging and tracking breeding services was my primary concern. CRIO is one of the few that has comprehensive breeding documentation! In addition to that, the software will generate reports for you. My most helpful chart; Mares that still need to be CIF (certified in foal).
Nachteile:
For every equine professional that doesn't have time to sit down and plug in all the data, just do it. It's tedious at first but once everything is scheduled, it's easy peasy! CRIO will send you notifications for coggins renewals, vaccinations, de worming and much more! The big flaw for me is that a mobile app doesn't exist yet (Keyword being yet). The team at CRIO has been working on an app that will hopefully be released by the end of this year (2019).
Antwort von CRIO Equine Software
vor 3 Jahren
Thanks for your words! It really motivates us to maintain the level of service! Thanks for trusting us!!
Landwirtschaft, Selbstständig
Verwendete die Software für: 1-5 Monate
Ton of features A+ Support
Kommentare: I've been on the hunt for a barn management app that was geared towards breeding farm. THIS IS IT! Tons of customization, record keeping, reference horses, detailed Info for stallions and mares. They've been expending with things like boarding, invoicing, training, competitions and more. REALLY fast friendly support if something hiccups too. I can't say enough good about this software. Looking forward to a mobile app in the future to make it even better!
Vorteile:
Aimed for breeding barns and sales. Still learning all the features and this software has met almost every want.
Nachteile:
Waiting for a mobile app. The feed section is complicated. Was hoping for something where I could print a stall card for each horse that had their feed, meds, turnout, information on it.
In Betracht gezogene Alternativen: BarnManager und Stable Secretary
Warum CRIO ONLINE gewählt wurde: Needed software that had better support and database backups. Something that wasn't going to go away overnight.
Zuvor genutzte Software: Rendaivu
Gründe für den Wechsel zu CRIO ONLINE: Number of years in service, ease of use, heavy breeder barn management. Love the new additions of boarding, training and invoicing.
Antwort von CRIO Equine Software
vor 3 Jahren
Thanks Lindsay! About the STALL CARD, we already have that feature. We will contact you to help you set it up. It includes Diet you can print a QR to display information on your phone. The iOS App is in development.
Viehwirtschaft, 2-10 Mitarbeiter
Verwendete die Software für: Mehr als 1 Jahr
Review
Kommentare: I've been overall happy with it. Customer service is excellent.
Vorteile:
Easy to use, good price. I like the barn set up, horse tab, and the expenses tab.
Nachteile:
Although it's easy to use. Configuration is difficult. Many of the tabs are useless to us. Few instructions. I'm still finding features I didn't know it had. Boarding tab is useless for us, even that's our main part of what we do. Invoicing is ok but need a way to delete them.
Niki
Administrator in Australien
Sport, 2-10 Mitarbeiter
Verwendete die Software für: 1-5 Monate
Great horse records software
Kommentare: We use this software to keep records for over 100 horses on a breeding and competition farm, horses range from mares, stallions, foals, young horses, through to our competition team. We find the software intuitive and comprehensive, and importantly, cost effective. We can track all the things we are interested in and the dashboard is a great quick visual. Right now we are using it to record basic horse info such as name, pedigree, DOB, colour, sex, location, owner, etc, we also record breeding info, health records, competition results, horse movements, contacts, various information in the notes section, reporting, and for keeping track of horses for sale and their sold status. There is so much more we can do with CRIO (invoicing and tracking costs for horses for example) and are working towards using more features. Of course there are things we would change and enhance, nothing comes out of the box and fits everyones needs, but the support has been really great and some changes have already been made to better suit our needs. Like any records system, this software is only is good as the information entered, we think its worth the effort.
Vorteile:
Its intuitive, it was very easy to add horses and start using it effectively, it allows us to record all of the information that we are interested in for our horses. The visuals are great and easy for all stakeholders to see the information they want, love the Dashboard. Dynamic Groups are great for automatically putting horses in meaningful groups and displaying them on the dashboard In terms of horse information, there really isn't anything missing and most of the various sections can be customised to fit our requirements. Being able to add notes and pull those notes up easily via a report is also a great feature. We also love the fact that that the system will automatically show us things like siblings and offspring and we can download all information onto spreadsheets or run reports.
Nachteile:
Nothing much and in our experience, there are ongoing enhancements. The main one would be that it needs an App, the system is responsive but difficult to use from a small screen such as a mobile phone. My understanding is that an App is being developed. Would also like to see enhancements to reporting and more ability to customise reports.
Viehwirtschaft, 2-10 Mitarbeiter
Verwendete die Software für: Mehr als 1 Jahr
5 stars for Crio Online
Kommentare: Inventory has been a lot easier with Crio as well as recording and remembering key important dates in one central location.
Vorteile:
Almost everything, I like being able to track health and vaccine records, diets, training records is a big one too! I like the breeding portion of it to manage broodmares. It is very helpful if, like us, you have broodmares, training horses and horses competing to track each horse to its individual needs. Very easy to use at an affordable price!
Nachteile:
Only snag I really don't like is the boarding feature is difficult to customize. Once a horse is boarded for a couple months and then canceled that horse cannot be reinstated into boarding later if he returns and he cannot be reactivated.
In Betracht gezogene Alternativen: Stable Secretary
Gründe für den Wechsel zu CRIO ONLINE: Price and features