Was ist Zigaflow?
Erstelle in Sekundenschnelle attraktive und professionelle Angebote. Füge Bilder, zusätzliche Details, Geschäftsbedingungen und mehr hinzu.
Automatisiere deine Prozesse mit geplanten Follow-up-E-Mails, um deinen Kunden an dein Angebot zu erinnern.
Integrierte digitale Signatur und optionale Kreditkartenzahlung machen das Erlebnis deiner Kundschaft vom Angebot bis zur Bestellung zu einem nahtlosen und einfachen Prozess.
Erstelle und verwalte Bestellungen, Rechnungen, Lieferscheine und POs optional.
Wer verwendet Zigaflow?
Wenn dich langsame und inkonsistente Geschäftsprozesse zurückhalten, wird Quikflw deine Prozesse rationalisieren und verbessern, damit du dein Geschäft ausbauen kannst.
Wo kann Zigaflow bereitgestellt werden?
Cloud, SaaS, webbasiert, Mac (Desktop), Windows (Desktop), Linux (Desktop), Chromebook (Desktop)
Über den Anbieter
Zigaflow.com
Ansässig in London, UK
1999 gegründet
Erhältlich in diesen Ländern
Vereinigtes Königreich
Sprachen
Nicht vom Anbieter bereitgestellt
Über den Anbieter
Zigaflow.com
Ansässig in London, UK
1999 gegründet
Erhältlich in diesen Ländern
Vereinigtes Königreich
Sprachen
Nicht vom Anbieter bereitgestellt
Zigaflow – Videos und Bilder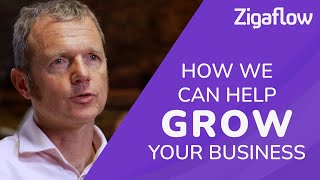 Kosten ähnlicher Produkte wie Zigaflow vergleichen
Zigaflow Funktionen
Abrechnung & Rechnungsstellung
Alarmfunktion / Benachrichtigungen
Angebote / Schätzungen
Angebotserstellung
Anpassbare Felder
Anpassbare Rechnungen
Anpassbare Vorlagen
Aufgaben-Fortschrittsverfolgung
Aufgabenbearbeitung / -aktualisierung
Aufgabenmanagement
Aufgabenplanung
Auftragsabwicklung
Auftragserfassung
Auftragsmanagement
Auftragsverfolgung
Ausgabenmanagement
Automatisierte Angebotserstellung
Bedarfsmanagement
Berichterstattung / Analyse
Beschaffungsmanagement
Bestell-Management
Budgetierung/Prognosen
Budgetmanagement
CRM
Daten-Import / -Export
Dokumentenmanagement
Drag-and-Drop
Drittanbieter-Integration
Einkaufsberichte
Elektronische Unterschrift
Elektronische Zahlungen
Erinnerungen
Filesharing
Gantt-/Zeitstrahlansicht
Ideenmanagement
Integration in die Buchhaltung
Inventarverwaltung
Kalender-/Erinnerungssystem
Katalogisierung / Kategorisierung
Kontakt-Datenbank
Kontaktmanagement
Kontrolle des Genehmigungsprozesses
Kundenspezifisches Branding
Leistungskennzahlen
Lieferanten-Management
Liefernachweis
Mitarbeitermanagement
Mobile Unterschriftenerfassung
Mobiler Zugriff
Online-Abrechnung
Preis- / Margen-Management
Preismanagement
Projektplanung/Terminierung
Rabattmanagement
Rechnungserstellung
Rechnungshistorie
Rechnungsverarbeitung
Ressourcenmanagement
Rückstandsverwaltung
Schätzung
Segmentierung
Sendungsverfolgung
Steuerrechner
Suchen / filtern
Terminplanung
Ticket-Management
Verfolgung von Interaktionen
Versand-Management
Versandmanagement
Vertrags-/Lizenz-Management
Vertrags-Lifecycle-Management
Vertragsgestaltung
Vorgefertigte Vorlagen
Vorlagen-Management
Warnungen / Eskalation
Wiederkehrende Bestellungen
Workflow-Konfiguration
Workflow-Management
Zeit & Kosten Verfolgung
Zugriffskontrollen / Berechtigungen
Alternativen für Zigaflow
Bewertungen über Zigaflow
Dean
Managing Director in UK
Verifizierter Nutzer auf LinkedIn
Informationstechnologie & -dienste, 11-50 Mitarbeiter
Verwendete die Software für: Mehr als 1 Jahr
In Betracht gezogene Alternativen:
Quikflw is a game changer for us
Kommentare: In my experience no software has everything out of the box ready to go, I have trialled almost every CRM and/or quote application out there, but while they may excel in one area they are let down in others. Ive been using Quikflw for 2 years and the features and updates they have made in that period just demonstrate how committed they are in providing the best end to end CRM/Quote/Job/Invoice application out there.
Vorteile:
I love how easy it is to use and how clean the pages are, you can control what information you see so clutter is not an issue. Everything is linked, quotes > jobs > purchase orders > delivery notes > invoices, you can see the full life cycle of a sale from start to finish and you can easily track each step. The quoting system is very simple but the end result is beautiful, you can do a quick one page quote or a full professional proposal or tender in literally less than 5 minutes (obviously once you have your designs set up). The quotation designs use Microsoft Word, so whatever look you can create in Word is how your end proposal will look - just uses template tags, you dont have to mess around with HTML/CSS like other software I have used in the past. You can customise every single document in Word, very important to me as I think a smart and professional looking proposal is important to give to clients as it demonstrates your attention to detail. The software is very progressive and is being updated on a very regular basis, again something I think is important. The new automation feature saves us even more time and can create documents for you automatically.
Nachteile:
There is nothing I dislike about this software, the support is second to none and they take any suggestions you have seriously.
Richard
Opertation Manager in UK
Automotive, 51-200 Mitarbeiter
Verwendete die Software für: 6-12 Monate
In Betracht gezogene Alternativen:
Quikflw
Kommentare: Any issues are quickly resolved by the provider. the are responsive adaptable and personable.
Vorteile:
This Software is very quick and easy to setup to get branded quote management implemented. Within 1 hour, we had loaded all our data into it, my team had already figured out how to use it and were sending quotes to customers. We now have a tracker and reporting as well as being able to search through quotes history and content quickly which you could not do with word.
Nachteile:
minor point regarding speed when searching and moving between quotes. Also cannot mass download all pdf / quotes created, but again no big issue.
Elektrische/elektronische Fertigung, 11-50 Mitarbeiter
Verwendete die Software für: Mehr als 1 Jahr
Quick and Easy using Quikflw
Kommentare: It is very easy and quick to create a quotation and calculate the working labour hours using Quikflw.
I have used many quotation products and this is proving to be the best.
Vorteile:
Create custom reports is very easy. The software is easy to use. Very cost effective. Software is web-based, so it can operate on MacOS or Windows. I can create a quote very quickly.
Nachteile:
The functionality of creating and copying "Kits" can be improved
Deborah
Customer Care Manager in UK
Baumaterial, 11-50 Mitarbeiter
Verwendete die Software für: 1-5 Monate
Quikflw - Excellent for projects with multiple contractor bids.
Kommentare: With a national sales force, we needed software that can be accessed by everyone. The sales managers all raise the quotations, and they are signed off and sent by the admin staff at HQ, so we can ensure the correct components have been added and the quote is technically sound. We have reduced the requirement for additional admin staff as the quote is submitted as a request and then checked, rather that the sales force requesting a quote to be raised. I can see at a glance what the profit margin is on each quotation, I can also combine a couple of options onto one quotation by using sections, which reduces the amount of duplicate projects on the system. Finally, the search function on the software is excellent; if I need to see all the quotes with a certain product on it this can be done in a matter of seconds without having to export to excel. Overall, I believe the implementation of this software has streamlined the quotation process, and freed up time which would normally be spend on quotations to other areas of the business.
Vorteile:
I really like the versatility of this product, and the way I am export all the information so I can interrogate it to extract the volume of key products quoted. I can also see the total value of projects quoted at a glance, and with minimal filtering I can get this information by sales person in a certain time frame, by project. In fact, I've yet to come across a piece of information I cannot find with minimal effort! The software is very versatile, and can be tailored to your own needs. The product support we've received from rep is exemplary, He has always managed to find a way to deliver the changes we have needed in the software to make day to day functionality easier. The quotation templates are excellent, and with the option of being able to add technical specification attachments to items, it means we can consistently deliver a full technical submission without time consuming collecting data each time a quote is raised. I'm really happy with the product, it has reduced the time taken for admin staff to raise quotations, and there is full traceability on each quotation, so there is a full history of who has done what. I've still not completely explored the full functionality of the software, but with handy updates posted on the Dashboard, I can see whats new with the software, and I often incorporate the advances into my operation and making quotation raising even more efficient and also add value to my customer's experience.
Nachteile:
I've yet to find something that I'm not happy with. Everytime I have a query, rep can normally make it so.
Bau, 51-200 Mitarbeiter
Verwendete die Software für: Mehr als 2 Jahre
Covers all your business admin.
Kommentare: Started using quikflw about 2 years ago, it's made may everyday business processes structured and organised. It has the ability to be flexible to cater to everyone's business needs and branding.
The support staff are exceptional.
I've been waiting a long time for a proposal software that works the way you want to work.
Vorteile:
- Ability to create many styles of proposal/invoice/Purchase order templates. - So much Flexibility and customisation - Items list / Catalogue - Ability to keep track of all your quotes/purchase orders/invoices and delivery notes in one place. - Plan/project manage your Jobs - The software is always improving
Nachteile:
Would be nice to be able to batch edit your product items - I believe this may be in development.