Was ist Keela?
All-in-one-Software, die deine gemeinnützige Organisation zu einem erschwinglichen Preis fördert. Die intuitive Plattform von Keela bietet gemeinnützigen Organisationen die Möglichkeit, Spender zu verwalten und Beziehungen zu pflegen, Spendenseiten in Websites einzubetten, Spenden online zu erhalten, E-Mail-Marketing zu versenden, nutzerdefinierte Berichte zu erstellen und vieles mehr.
Keela ist schnell zu erlernen, einfach zu bedienen und bietet eine durchgängige Lösung für alle Managementanforderungen deiner gemeinnützigen Organisation. Keela wurde speziell für gemeinnützige Organisationen von Expert*innen auf dem Gebiet entwickelt.
Wer verwendet Keela?
Die Software ist ideal für kleine und mittlere gemeinnützige Organisationen, die Spender*innen verwalten und pflegen, Spenden überwachen, sie auf einfache Weise und zu einem erschwinglichen Preis empfangen möchten.
Keela – Details
Keela
2013 gegründet
Keela – Details
Keela
2013 gegründet
Keela – Videos und Bilder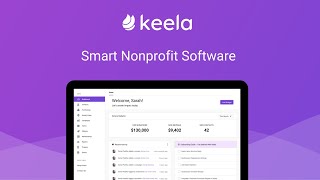 Kosten ähnlicher Produkte wie Keela vergleichen
Startpreis
89,00 $/Monat
Nicht verfügbar
19,00 $/Monat
99,00 $/Monat
Keela – Bereitstellung und Support
Kundenbetreuung
E-Mail/Helpdesk
FAQ/Forum
Wissensdatenbank
Telefon-Support
Chat
Training
Live Online
Webinare
Dokumentation
Videos
Leigh S.
Principal in Kanada
Verifizierter Nutzer auf LinkedIn
Verwendete die Software für: Mehr als 1 Jahr
Keela has been highly responsive and quick to evolve to meet the practical needs of its customers.
Vorteile:
I like the simplicity of Keela however, it's important to point out that the simplicity doesn't compromise how useful the tool is. They've stripped down the CRM model to make it exactly what fundraisers at small and medium size charity need and got rid of all the extra widgets that just make tracking donor data unnecessarily complicated. We have also greatly appreciated the quick response time of the support team. Multiple features that we have suggested would be useful have shown up in new iterations of the product and the team regularly checks in with us to make sure that we are happy.
Nachteile:
The dashboard isn't the best. I would appreciate being able to customize it to be able to see the information that is important to you at a glance.
Antwort von Networks for Change
vor 4 Jahren
Thanks for your feedback! We are planning to make some improvements to the dashboard and we'd love to hear your ideas. Please get in touch with us here: http://bit.ly/2H0UvvM
Laura W.
Resource Developer in Kanada
Non-Profit-Organisation Management, 2-10 Mitarbeiter
Verwendete die Software für: 6-12 Monate
In Betracht gezogene Alternativen:
Very happy with our experience!
Kommentare: Overall we are very happy. Keela is easy to use and has helped us improve our donor experience. Our staff can now check donor accounts and see all relationship details at a glance.
Vorteile:
As a smaller charity we are most impressed with the integrated features on Keela. Being able to direct our donors to give online and know that they will automatically receive a tax receipt and thank you makes us very happy. Tax receipts are now branded and our charity is listed on our donors credit card bill. This helps tremendously with brand recognition! We are now able to save a lot in administration costs by no longer having to be dependant on third party processors. More importantly than money saved is the improved donor experience that we can now provide. We never have to direct our supporters to a third party to resend tax receipts, update credit card information, stop or increase monthly donation, etc. The BCC and FWD email features are a real time saver as well!
Nachteile:
There are some features that need improvement to completely satisfy our needs but we find Keela always makes the effort to continually improve their product and is open to suggestions through their Ideas Portal. At the moment our biggest challenges with the software are: limitations in reporting, e-blast design features are limited and donor interactions are not able to be imported.
Antwort von Keela
vor 5 Monaten
Oh, hello Laura! Thank you for taking the time to share this wonderful feedback. Firstly, let me just say that the Customer Care team think you are great, too! Your feedback over the last 9 months (Wow, has it really been that long?) has been absolutely integral to our Product Road Map. I'm very happy to share that enhancements to Reporting and E-blasts as well as the ability to import Interactions are on all on there! Keep an eye out for communications about each improvement as they're made in the system. Thanks again - we really appreciate you!
Rafael D.
Marketing & Fundraising Manager in Australien
Philanthropie, 51-200 Mitarbeiter
Verwendete die Software für: 6-12 Monate
In Betracht gezogene Alternativen:
A reasanably good software, with usability downfalls
Kommentare: It is positive, but definetely not ideal. The platform was sold to us as basic but powerful, in reality it is basic and need a lot of work, in some instances to get the basics correct (i.e. invoices, integration with payment gateways etc.). Keela lacks a lot of key features we already provided feedback on. We do feel that Keela priority has been in functionalities that are tertiary and not a necessity (i.e. have details of transactions going to stripe description, invoices being more customisable, being able to edit recuring donor accounts without having to recreate them etc ). Those can be very frustrating and we had went backwards in our internal processes, specially with accounts, due to the platform lack of basic business customisation, things we had in our previous software.
Vorteile:
Keela is happy to listen to customers. They are quick to provide support and the platform offer the basics needed.
Nachteile:
The basics are not well polished. Usability is a big issue and the navigation is clunky - we find ourselves going back and forwards a lot, some would be easily fixed with a simple "right click to open in new window" but that is not available. We end up using the export feature way more often than we should in order to get the data we need. We have provided a list of cons in the past.
Antwort von Keela
vor 9 Monaten
Thank you for your review Rafael, we appreciate the transparent feedback. Over the past year, you and your team have provided our Product Team with really insightful feedback and have suggested really great features to enhance the system. These absolutely do not go unnoticed! Our team is working super hard to make sure we continue to build a system that meets the needs of our users. While some features may take longer than others to build out based on the level of complexity, know that your ideas are being heard and discussed amongst our Product Team. We look forward to you and your team continuing to share innovative ideas with us to support us in building an even better system. Thanks for joining us along the innovation journey :)
Cheri B.
Director of Finance in Kanada
Non-Profit-Organisation Management, 11-50 Mitarbeiter
Verwendete die Software für: 1-5 Monate
Excellent experience with Keela!
Kommentare: We had excellent direction from the Keela team members who walked us through the process. They have gone above and beyond their duties to help.
They cleaned up and imported our data into the Keela system in just seven days!
Our questions were answered quickly and professionally.
We were able to schedule training immediately.
We were up and running on Keela within three weeks and our team is finding Keela to be very user-friendly!
Vorteile:
Integration with our current business was seamless! We were up and running on Keela in less than three weeks. Keela offers all the functionality necessary for nonprofit management.
Nachteile:
The only feature missing is a built-in events platform however, EventBrite integrates with Keela. We did not find any other software that offered all the functionality in one place.
Antwort von Keela
vor 3 Monaten
Oh Cheri - this is absolutely wonderful to read and I want you to know that the feelings are mutual! We are so happy to have been able to give you such an excellent experience and I look forward to lots more interactions in the future! Thank you again for this fantastic feedback.
Douglas L.
President in USA
Non-Profit-Organisation Management, 201-500 Mitarbeiter
Verwendete die Software für: 1-5 Monate
Keela "Thinks" Like We "Think"
Kommentare: I'm sorry that, when a person reads the "cons," it probably sounds like I'm "dissing" the software. But the truth is - it's the best we could find. And there's something else: They (the entire team) seem to have such a customer service orientation that they LISTEN! And they aren't afraid to admit that something needs to change. For example, see above when I mentioned the problem with state abbreviations. After I submitted the idea into the idea portal and copied the customer support email, they wrote me back a personal email and admitted that they should have caught this earlier. The fast-tracked the fix and -- I'm serious - they rolled out the fix within like... maybe three weeks max. (As fast as we would have wanted them to make a fix, test it, and releast it.) In fact, they've listened every time - and they've begun implementing changes based on sincere user feedback. Last week (I'm not making this up), they arranged a call with the [SENSITIVE CONTENT HIDDEN] and the [SENSITIVE CONTENT HIDDEN]-- both on a Zoom call with the customer support specialist that they assigned to us. Their main purpose seemed singlefold: To listen. They never became defensive... not once. They basically said, "Make a list of your 'pain points,' and give ALL of them to us." No software vendor had EVER done that for me before (even though I've been equally forthright with ALL of them). The pricing is fair for what we get. Imagine - we sent out 9800 emails. Keela did GREAT. There's so much more I could say. Love it.
Vorteile:
Keela's pricing structure was straightforward and fair. They didn't charge "by the user," like some vendors do. Yes, there's a sliding scale based on the range of contacts, but for our org, the scale seemed fair. We had tried numerous (I forget how many) products previously. I'm ashamed to admit we rarely stayed with one product longer than a year. DonorPerfect. CiviCRM. Salesforce. Blackbaud. Bloomerang. Salsa CRM/Engage. The list goes on. Not sure why - but when we found Keela (I'm not kidding), it was like finding "the one." For one thing, they didn't make me make an appointment with some sales rep that would do a 30-minute demo, then ask me if I had questions, even though I had already watched everything in her/his demo in dozens of YouTube reviews. (That's a crazy system, if you stop and think about it.) Keela let me open the account, set everything up, do my first imports, and start using the program all without having to wait on ANYONE in ANY time zone. (It's not that I'm anti-social. I just wanted to experiment with it on my OWN.) They advertised some outlandish increase we should expect in fundraising. I remember thinking, "Now how could they know that?" But I'm serious - from the day we first installed until the first email campaign, it was under 90 days. And our first email/printed mail campaign has just topped (you're going to think the company hired me to say this - but they didn't) $100,000 in income. Our typical email campaigns had been $10,000 or $12,000prior
Nachteile:
I need a bigger box. (haha) I didn't like the way they seemed to want to hide certain fields from me - like, they were afraid it would make the software seem too complex. The reporting module seemed sooooo basic. I just wanted them to give me a "field picker" for every field and let me choose exactly which fields I wanted. Instead, someone in their product development team had apparently decided which fields that he or she thought were important enough to include in a report. What's so hard about giving us a dropdown box with choices -- ALL choices?! States and Canadian provinces were listed in a dropdown - but I had imported thousands of records with state abbreviations -- and, strangely, it wasn't an option to search for those. (?????) Again, it was like they were trying to make the program so friendly that they prevented us from graduating to more of a "power user" posture. The software was fast (I mean - we have 17,000 contacts and it seemingly always finds the desired contact within 1 second - seriously), but some of the clicks and steps between functions are dreadfully filled with twists and turns and dead ends. Too many clicks. They allow the user to manage importing - and they have documented it well - but I can't designate a "key field" that I want to use as the key. They have their own Keela index - but it's hard to assign multiple keys. They DO keep an "external index" and they use it - but sometimes I'm not clear how to mesh the two.
Antwort von Keela
vor 9 Monaten
Doug! We've said it before and we'll say it again - thank you from the bottom of our hearts for your enthusiasm, your passion and most of all your willingness to work with us to make the system better. Keela is on a rocket journey to the moon and we're so glad to have you onboard! Thanks always, the Keela Customer Care team (and every single team member t Keela if I'm being honest - we are all BIG fans!)