Was ist Uplisting?
Uplisting ist die Komplettlösung ‒ gerade bei Kurzzeitmieten. Es ist intuitiv und zuverlässig und kann schon 30 Minuten nach Beginn deiner 14-tägigen kostenlosen Testversion einen Mehrwert für dein Unternehmen generieren. Importiere deine Einträge automatisch und direkt von Airbnb und verbinde dich mit Booking.com und anderen Anbietern in wenigen Minuten. Synchronisiere deine Buchungen, Preise und Verfügbarkeiten sofort ‒ ohne Provision, Setup-Kosten und versteckte Gebühren. Spare jede Woche mehrere Stunden mit automatischen Nachrichten, intelligenten Tarifen und vielem mehr.
Wer verwendet Uplisting?
Kurzzeitvermietungseigentümer, Betreiber und Manager, die zwischen fünf und über 1.500 Kurzzeitmietobjekte verwalten.
Wo kann Uplisting bereitgestellt werden?
Cloud, SaaS, webbasiert, Android (mobil), iPhone (mobil)
Über den Anbieter
Uplisting
Ansässig in Otley, UK
2016 gegründet
Telefon-Support
24/7 Live-Support
Chat
Erhältlich in diesen Ländern
Afghanistan, Albanien, Algerien, Amerikanisch-Samoa, Amerikanische Jungferninseln und 116 weitere
Uplisting Kosten
Startpreis:
100,00 $/Monat
Ja, kostenloser Test verfügbar
Keine Gratisversion
Uplisting bietet keine Gratisversion, aber eine kostenlose Testversion. Die kostenpflichtige Version von Uplisting ist ab 100,00 $/Monat verfügbar.
Preismodelle
Kostenlose Testversion
Über den Anbieter
Uplisting
Ansässig in Otley, UK
2016 gegründet
Telefon-Support
24/7 Live-Support
Chat
Erhältlich in diesen Ländern
Afghanistan, Albanien, Algerien, Amerikanisch-Samoa, Amerikanische Jungferninseln und 116 weitere
Uplisting – Videos und Bilder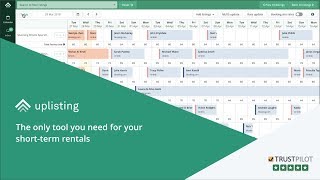 Uplisting Funktionen
Abrechnung & Rechnungsstellung
Arbeitsauftragsverwaltung
Berichterstattung / Analyse
Berichterstattung und Statistik
Bestandskontrolle
CRM
Drittanbieter-Integration
Eigentümer-Aussagen
Front Desk Management
Für die Ferienvermietung
GDS-/OTA-Integration
Gasterlebnis-Management
Gästekommunikation
Haushaltungsmanagement
Kanalmanagement
Kontaktmanagement
Leadmanagement
Lieferanten-Management
Marketing-Automatisierung
Mitarbeitermanagement
Online-Buchung
Partnermanagement
Raten-Management
Reservierung-Management
Zahlungsabwicklung
Alternativen für Uplisting
Bewertungen über Uplisting
Miguel L.
CEO in Kanada
Verifizierter Nutzer auf LinkedIn
Gastgewerbe, 2-10 Mitarbeiter
Verwendete die Software für: 1-5 Monate
The Best I've Found
Kommentare: Phenomenal, I won't be going anywhere, they have really proved themselves to vacation property managers that they put us first. They are slowly trying to master each new feature without comprising the overall use of what makes them great.
Vorteile:
I love how uplisting connects with AirBnB & Booking seamlessly, the integrated all in one inbox absolutely amazing as well makes it easier for my team to access everything in one area. I'm happy with the support as of now, the team is always on it and from the start [SENSITIVE CONTENT HIDDEN] has helped our team from the beginning, to onboarding, questions, and any difficulties we've had. I've worked with so many other PMS/Channel managers and have been hopping around with massive frustration, I'm glad I can finally end the headache of timewasting of switching every 6 months to a new PMS with one I can finally call home. Thanks [SENSITIVE CONTENT HIDDEN].
Nachteile:
The onboarding with VRBO is slow but this is mostly issues with Homeaway rather than uplisting, also some third party pricing tools have to be tweaked around to be able to customized with uplisting so you don't get the full ability of some apps, also they don't have a widget for direct bookings on website (their new link payment makes up for this in some way but not if your a marketer wanting to send traffic) however, the [SENSITIVE CONTENT HIDDEN] has mentioned that this it is something that will be coming out soon so Im looking forward to seeing that and their app in action.
In Betracht gezogene Alternativen: Avantio
Gründe für den Wechsel zu Uplisting: integrated inbox, pricing, support, and the temptation of future new features like the app, and website widget.
Gastgewerbe, 2-10 Mitarbeiter
Verwendete die Software für: 1-5 Monate
The Best PMS!
Kommentare: Automation, collection of guests details. My workload in dealing with guests and new bookings has decreased by 2 thirds. Allowing me to crack on with running my business.
Vorteile:
I have been doing serviced apartments for nearly 3 years now. I am still new, still learning and adapting. I have been with 2 other PMS's. I left the first one because they started off well, but kept taking away features and adding them as an add-ons, and the UX/UI kept changing- I felt like I had to keep re-learning how to use it. The second one, they promised me the world and hyped up their software, but in reality it was just no good. Uplisting was recommended to me as easy-to-use and alot of features. I'm happy I was sent in the direction of Uplisting. The ease of use of the software couldn't be easier. The features included are excellent. They are always adding new stuff. The customer service team actually work for Uplisting and aren't a hired team reading a screen. As long as Uplisting stay on this path, I'm not going anywhere. Very happy! Keep up the excellent work guys!
Nachteile:
I can't comment on cons. The reason being because there's nothing that comes to mind. The team are always implementing new features. And they listen and work on other features. It's not about "cons" and what's least to like, it's about how the team deal with it. And for that, I have no negative comments.
In Betracht gezogene Alternativen: Guesty
Warum Uplisting gewählt wurde: My website developer couldn't integrate with Little Hotelier due to the lack of API integration. I had to make a swift change. At the time it was low on my priority list as I was making live 5 units. But it had to be dealt with there and then. Within a week I went from learning I have to change PMS to going live with all units on Uplisting. My website is now integrated.
Zuvor genutzte Software: Tokeet und Little Hotelier
Gründe für den Wechsel zu Uplisting: 2 reasons: 1) Guesty was very expensive 2) Guesty looked like I needed a diploma to use it
Steven B.
Managing Director in USA
Immobilien, 2-10 Mitarbeiter
Verwendete die Software für: Mehr als 1 Jahr
Uplisting Review
Kommentare: Customer Service was hit or miss.
Vorteile:
The value of the product is great for anyone with 10 or less units.
Nachteile:
The lack of growth and features needed to grow our property management company wasn't there, forcing us to seek another company.
Antwort von Uplisting
letztes Jahr
Ah, this is our first semi-negative review! To cover a couple of the points raised: - Most of our members are in the 20 to 50 listing range, however, we have many with smaller numbers and many with to 200+. - Lack of growth and features We are one of the most active platforms in the market - in terms of feature releases. We release features almost every other week. Recent features include a powerful direct booking engine (already processing $300k worth of bookings monthly!), mobile app, guest payment plans, guest identify verification (very few platforms, if any, offer this natively and included in our price), custom tags for automated messages, and automated reviews.
Cory H.
Real Estate Property Manager in Italien
Immobilien, 2-10 Mitarbeiter
Verwendete die Software für: 1-5 Monate
Exactly what I was looking for...
Kommentare: My overall experience has been very positive and I truly feel that I am good hands with the Uplisting team.
Vorteile:
After nearly 10 years with one of the largest channel managers on the market and then a bumpy 6 month run with another provider over promising and under delivering, I was so relieved when I stumbled upon Uplisting by chance in a Google search. It is exactly what I was looking for - as if it were designed by property managers like myself. The customer service is outstanding and the Uplisting team is willing to listen and implement customer feature requests.
Nachteile:
If I had to find one flaw, I would say not having the ability to edit reservation line items (costs and fees) and in turn the automatically calculated owner payout totals is probably the most important issue that needs to be addressed. However, after suggesting some ideas, the team is working on making this feature available.
In Betracht gezogene Alternativen: Smoobu, Lodgify und inReception
Warum Uplisting gewählt wurde: I switched from KIGO because the core user interface is run on outdated technology and instead of recreating a new platform KIGO has continued adding to an outdated system which caused so many errors and issues. After a long run with KIGO, it was just time for a change.I switched from Direct because ultimately it was more common to see an error page when navigating the system than an actual functioning page - although I was always happy with the implementation manager, [SENSITIVE CONTENT HIDDEN], as well as the [SENSITIVE CONTENT HIDDEN]. It is a good product but has a long ways to go and unfortunately I couldn't be patient any longer.
Zuvor genutzte Software: Kigo
Gründe für den Wechsel zu Uplisting: Uplisting offers quick customer service which is extremely important to me. It also offers an easy to use platform that is constantly offering more and more features without causing problems with the core features.
Holly W.
Director in Australien
Immobilien, 2-10 Mitarbeiter
Verwendete die Software für: 6-12 Monate
Make your life easier- give uplisting a go!
Kommentare: We changed from using guesty which we were struggling with on the support side of things. We were not getting answers for sometimes days meaning lost bookings and upset guests... since changing to uplisting we have had such a positive experience in particular with the support. It is excellent! Having a real human get back to you on an important issue is so incredibly important and often it is [SENSITIVE CONTENT HIDDEN] himself which speaks volume for how much he is invested into the software and its development. Do yourself a favour and give uplisting a try. The interface is very user friendly, it's is continually improving and evolving and they really listen to the clients and their feedback. They have a great Facebook support group also- it is very affordable no will save you hours in so many ways- from automated messaging to bulk pricing, to identity check links etc
Vorteile:
What a breath of fresh air- support from real humans in real time! Uplisting listen to all feedback and are excellent in the support department! This has got to be the number one factor for trying any new software.
Nachteile:
The software is constantly evolving and the developers are hands on- listening and improving features all the time. I can really only say that the one negative is that currently you can't view the entire month at once.. however knowing [SENSITIVE CONTENT HIDDEN] and his team I'm sure it is in the pipeline along with so many other exciting improvements.