Was ist Protean?
Protean Software ist ein Außendienstmanagementsystem in Großbritannien, das dein Unternehmen effizienter, profitabler und wettbewerbsfähiger macht. Die innovative und nutzerfreundliche Oberfläche bietet dir jederzeit und überall Echtzeitzugriff auf Mitarbeiter- und Vertragsinformationen. Eliminiere Papierarbeit, befähige deine Mitarbeiter und triff wichtige Geschäftsentscheidungen mit diesen Funktionen zur Nachverfolgung, Planung und Zusammenarbeit. Starte mit deiner kostenlosen Demo.
Wer verwendet Protean?
Protean verwandelt jedes Außendienstmanagement-Unternehmen – mechanische Handhabung, HLK, medizinische Ausrüstung, Aufzüge, Hebebühnen, Kompressoren, Catering-Ausrüstung, Brandschutz und Sicherheit und vieles mehr.
Wo kann Protean bereitgestellt werden?
Cloud, SaaS, webbasiert, Windows (Desktop), Android (mobil), iPhone (mobil), iPad (mobil)
Über den Anbieter
Protean Software
Ansässig in Coventry, UK
1999 gegründet
Telefon-Support
Chat
Erhältlich in diesen Ländern
Irland, Vereinigte Staaten, Vereinigtes Königreich
Sprachen
Nicht vom Anbieter bereitgestellt
Über den Anbieter
Protean Software
Ansässig in Coventry, UK
1999 gegründet
Telefon-Support
Chat
Erhältlich in diesen Ländern
Irland, Vereinigte Staaten, Vereinigtes Königreich
Sprachen
Nicht vom Anbieter bereitgestellt
Protean – Videos und Bilder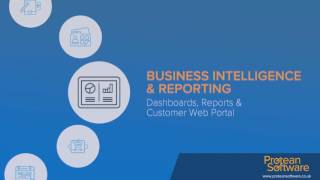 Kosten ähnlicher Produkte wie Protean vergleichen
Protean Funktionen
Abrechnung & Rechnungsstellung
Alarmfunktion / Benachrichtigungen
Angebote / Schätzungen
Arbeitsauftragsverwaltung
Berichterstattung / Analyse
Bestandskontrolle
Drittanbieter-Integration
Elektronische Unterschrift
Für mechanische Ausrüstung
Gerätenachverfolgung
Integration in die Buchhaltung
Inventarverwaltung
Job-Management
Kontakt-Datenbank
Kundendatenbank
Kundendienst-Historie
Mobile App
Mobiler Zugriff
Online-Zeiterfassung
Techniker-Management
Terminplanung
Verfolgen von Vermögensanlagen
Versandmanagement
Vorbeugende Wartung
Wartungsplanung
Zahlungsabwicklung
Zahlungseinzug im Außendienst
Matthew
Operations Director in UK
Maschinerie, 51-200 Mitarbeiter
Verwendete die Software für: Mehr als 2 Jahre
In Betracht gezogene Alternativen:
Software
Vorteile:
I love what (Sensitive Content Hidden) are doing with Protean. For us Protean is not just a piece of software we use everyday. It is central to our business operating and performing and the team at Protean understand this. We feel valued as a customer, it is a personal relationship and every staff member at Protean cares about Bennie and our success, which is phenomenal. As a Group we have many many software suppliers and Protean rank at the very top. Protean is more than a software company, they are a business Partner of Bennie.
Nachteile:
I still looks a bit legacy, and has a couple of quirks. But Protean are engaging with customers on the roadmap and we know this is changing, so we are looking forward to the future.
Hausmeisterservice, 2-10 Mitarbeiter
Verwendete die Software für: Mehr als 1 Jahr
Quelle: SoftwareAdvice
In Betracht gezogene Alternativen:
Organize and prioritize experts
Kommentare: I have been on since day one contact in integrating their software and our business and have to say they are really responsive and we have a dedicated rep that is there and responds quickly and efficiently. If there is something I have a question on he answers promptly or if he is unsure he gets back usually same day if not within the hour. Great software, Customer service, Excellent product.
Vorteile:
This software can help track jobs customers invoices paid and past due balances and you can even set past due balance limits that when your customer owes more than $100 for example it won't let you schedule service. Good way to keep track of invoices paid and unpaid. also keep tabs on expenses milage and many many more features already recommended to mechanics delivery drivers and other service professionals that are sole proprietors. I feel this software can work for hvac, maintenance companies, cleaning services, if you have customers and contractor or employees, this will work for you.
Nachteile:
Haven't found any down side yet and I'm going on 2yrs of daily usage.
Laura
Service Admin Manager in UK
Maschinenbau oder Wirtschaftsingenieurwesen, 11-50 Mitarbeiter
Verwendete die Software für: Mehr als 2 Jahre
Great Maintenance Management
Vorteile:
As a company who have a high volume of preventative maintenance contracts, Protean have a great system for programming and maintaining these. Protean offer a web portal for our customers to access their job reports/invoicing 24/7 which is a big plus for our company. Great features for attributes. I also like the mapping feature to see where our engineers are in real time, but also travel history is very useful. There is also scope for personalisation to suit our company's reporting and formatting.
Nachteile:
Tablet issues with our mobile engineers can be tiresome but Protean do have a support team available during normal working hours to help. There can be a lack of feedback/knowledge on what caused the errors. There can also be long wait times for the development team to address faults within the system.
Rachael
Accounts Team Leader & Operations Manager in UK
Hausmeisterservice, 11-50 Mitarbeiter
Verwendete die Software für: Mehr als 2 Jahre
Great CRM and core business system
Kommentare: When we looked at the initial implementation of the system we were allocated our own project manager from Protean, to understand our business functions and agree the data to be migrated from existing system and the configuration requirements for Protean to provide the functions and more for the day-to-day tasks of our business. Once implementation complete, they have a Support team on had to assist and a technical team for escalations to be made to. They are always open to improvement ideas for potention future development into the system. There is a comprehensive reporting database and a specalist team on hand to provide bespoke reports if needed.
Vorteile:
The data flows and links throughout the entire system, CRM, job management, equipment records, regular servicing schedules, stock control, purchase and sales invoicing and ultimately integrates the financial aspects with Sage 50 Accounts
Nachteile:
Any areas identified for improvement or change are passed to the developent team to be considered for future updates
Nick
General Manager in UK
Maschinerie, 11-50 Mitarbeiter
Verwendete die Software für: Mehr als 2 Jahre
Protean - Solid, reliable & dependable after 6 years of using it
Kommentare: We supply and service commercial and industrial cleaning machines and we use Protean for:
Job management
Stock management
Order management,
Machine fleet management,
Maintenance contract management
Hire contract management The job and stock management modules have absolutely transformed our business.
It has automated so many processes within our company, helping us provide a better service to our clients and improve operational efficiencies
Vorteile:
- The engineer interface is simple and straight forward to use which was one of the key reasons we went with Protean. - The ability to bulk import and amend data was very important to us and Protean handles this very well. - Technical support is very good, they seem to have an efficient team there. - The client portal is particularly useful, clients being able to log in online to get live updates on jobs. - Automatic job reports being sent to our clients on job completion are very well received, also saving us a great deal of time needing to provide those update. - History of clients, jobs, parts fitted, etc is easily accessible -The most important feature for us is how reliable the software has been. Protean has been really solid for us with zero downtime in almost 6 years! The data always add up too which is of course vital.
Nachteile:
It could do with some additional user access rights options, being able to restrict certain users from amending parts of the system. I understand this is currently being developed. We also don't use the CRM side of the software as this didn't match our needs, granted this was a number of years ago so it may have been updated.