Was ist Glider?
Glider AI Recruitment Software is used by businesses for hiring process automation and candidate tracking using AI-powered conversational chatbots, AI proctoring-enabled interactive coding tests, real-world job simulations, and virtual interviews. This AI-powered Talent Quality Platform allows enterprises and staffing firms to hire quality talent in an unbiased and DE&I-friendly way by basing hiring decisions on skill tests, competency and data.
Wer verwendet Glider?
Recruitment Software for all businesses for contingent and full-time hiring. Global brands like Intuit, PwC, Amazon, Capital One, and FINRA use Glider AI to evaluate talent quality, fit, and skill.
Wo kann Glider bereitgestellt werden?
Cloud, SaaS, webbasiert
Über den Anbieter
GLIDER.ai
2015 gegründet
Telefon-Support
Chat
Erhältlich in diesen Ländern
Vereinigte Staaten
Über den Anbieter
GLIDER.ai
2015 gegründet
Telefon-Support
Chat
Erhältlich in diesen Ländern
Vereinigte Staaten
Glider – Videos und Bilder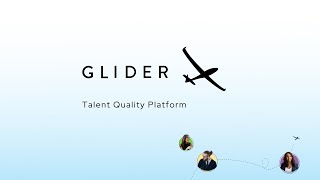 Kosten ähnlicher Produkte wie Glider vergleichen
Glider Funktionen
Aufgabenmanagement
Automatische Einstufung
Berichterstattung / Analyse
Beurteilung der Kompetenzen
Beurteilung-Management
Bewerber-Management
Eignungs-Test
Für Personalvermittlungen
Interview-Management
Lebenslauf-Analyse
Lebenslauf-Suche
Online-Tests
Persönlichkeitstest
Test-/Quizerstellung
Tests/Bewertungen
Vorgefertigte Testbibliothek
Werkzeuge zur Zusammenarbeit
Wertung
Workflow-Management
Harmeet
Director Talent Acquisition in Indien
Verifizierter Nutzer auf LinkedIn
Informationstechnologie & -dienste, 501-1.000 Mitarbeiter
Verwendete die Software für: Mehr als 1 Jahr
Nice Product
Vorteile:
Ease of use and customization. Good test library
Nachteile:
Direct Bulk registration of candidates.
Dhruv
Account Manager in USA
Informationstechnologie & -dienste, 1.001-5.000 Mitarbeiter
Verwendete die Software für: Mehr als 1 Jahr
In Betracht gezogene Alternativen:
Excellent - AI Powered tool for candidate assessment
Kommentare: Excellent ! We have been able to weed out mediocre candidates and it helps us in presenting the right talent to our clients. This also helps in shortening the hiring cycle for our clients.
Vorteile:
All the features ranging from Assessments, Screening Bot as well as Screening helper tool, Interview tool. Ability to build and customize tests for IT as well as behavioral skills. The in-built artificial intelligence of the tool that captures every minute detail wherever there is any red flag. Proctoring capabilities, candidate search capabilities, integration with Job Diva which is our ATS as well as assessment ranking capabilities and the way Glider displays the report which is short but very useful.
Nachteile:
If there can be a helper bot added for first time users which helps with navigation of the platform.
Richard
Date Engineer in USA
Computer-Software, 2-10 Mitarbeiter
Verwendete die Software für: Kostenlose Testversion
A 19th Century understanding of software and what were they thinking?
Kommentare: Horrified.
Vorteile:
Some of the ideas that the company has about debugging a complex algorithm may be quite good. But the test is broken. First the 3rd question enables people to actually put programming commands into the interpreter. However questions 1 and 2 do not. Although starting with question 4, we are supposed to type into gliders make-shift "IDE" question 1 gives the user the impression that it is not about programming at all, but about reading someone else's complex lambda expression. Question 1 slaps the user on the wrist if they open a terminal window and try to type into it. It then shuts down. 10 points off. Question 2 comes up. It has a set of illegal syntax that looks like this 1. "x = X(); Of course this is an illegal statement. Why wouldn't it be? No statement is going to start with a double quote. But yet the question expects someone to actually have an answer. What was the point? In Question 1 we aren't allowed to program. In Question 2 we are given a program that makes no sense and then asked questions about it. I skipped it. Then came question 3 which was a very short simple "Double jeapordy " style "do you know this" kind of question. Finally after 2 nonsense questions and a trivial pursuit THEN glider suddenly says "great... now get out your coding pencil and figure out how I glider messed up this tree algorithm." Forget it.
Nachteile:
It was designed by a software illiterate to ask programming questions and in one case A) not let the programmer run the code B) in another require that they DO run the code, and C) in a 3rd feed someone garbled nonsense.
Selena
Delivery Coordinator in USA
Informationstechnologie & -dienste, 11-50 Mitarbeiter
Verwendete die Software für: 6-12 Monate
One of the best decisions we've made
Kommentare: Overall, our business loves using Glider.AI and we plan on continuing such usage moving forward.
Vorteile:
The ability to cross check identities and watch the assessment playbacks has proven incredibly useful. We have caught multiple bait and switch candidates, which would have been otherwise overlooked. By having this feature, we have saved our company quite a good amount of money. The overall program is very user friendly.
Nachteile:
I feel that while this software is user friendly, there are multiple times we run into errors with certain question types we need or tools that cannot be implemented or added into our assessments, but they clearly have them listed as possible options to pick from...
Verifizierter Rezensent
Assistant Manager- TA in Indien
Verifizierter Nutzer auf LinkedIn
Computer-Software, 51-200 Mitarbeiter
Verwendete die Software für: 6-12 Monate
Glider is one of the best product to use.
Kommentare: It's easier to filter the candidate need to call them to office has reduced. Need to for question bank is gone they have taken all the pain to keep adding questions.
Vorteile:
Question Bank is what you can look at any time for any skills, they keep adding question and the AI make it sure that the questions are set according to the level set(Easy, medium and Hard). Simulator is one of the function to have. Wonderful support team they are approachable anytime for help. Of course the cost for using it doesn't burn your pocket.
Nachteile:
The User interface need to be improved,for a first time user its might be difficult to use. Help section where we can refer what to do if stuck so that we don't contact support for each issue.