Was ist Linga rOS System?
Linga POS ist ein cloudbasierter iPad-POS für Restaurants und Bars. Linga iPad-POS ist für alle Arten von Restaurant geeignet, vom Schnellimbiss über Pizzerien und Franchiseunternehmen bis zu feinen Restaurants und Verkostung in Sportstadien. Linga verfügt über ein innovatives Set an Funktionen einschließlich Anklopfen für Anrufer, Reservierungen, Anrufer-ID, zentraler Küche und Lager, Bestandsverwaltung und Lebensmittelkostenverfolgung bis auf Zutatenebene, Marketing- und Kundenloyalitätsmanagement, Kioske, Callcenter-Integration und vieles mehr.
Wer verwendet Linga rOS System?
Linga POS verfügt über ein breites Set an Funktionen, das für Schnellimbisse, Full-Service Restaurants, Bars, Pizzerien und Franchiseunternehmen entwickelt wurde. Ideal sind Schnellimbisse mit mehr als 10 Standorten.
Wo kann Linga rOS System bereitgestellt werden?
Cloud, SaaS, webbasiert, Windows (Desktop), Android (mobil), iPhone (mobil), iPad (mobil)
Über den Anbieter
Linga rOS
Ansässig in Naples, USA
2004 gegründet
Telefon-Support
24/7 Live-Support
Chat
Erhältlich in diesen Ländern
Vereinigte Staaten
Über den Anbieter
Linga rOS
Ansässig in Naples, USA
2004 gegründet
Telefon-Support
24/7 Live-Support
Chat
Erhältlich in diesen Ländern
Vereinigte Staaten
Linga rOS System – Videos und Bilder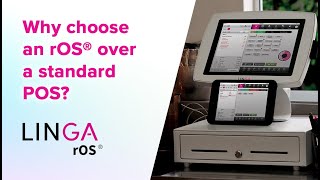 Kosten ähnlicher Produkte wie Linga rOS System vergleichen
Linga rOS System Funktionen
Aktivitäts-Dashboard
Alarmfunktion / Benachrichtigungen
Angebotsmanagement
Auftragsmanagement
Auftragsverfolgung
Belegmanagement
Berichterstattung / Analyse
Berichterstattung und Statistik
Bestandskontrolle
Bestell-Management
Cash Management
Einzelhandel-Lagerverwaltung
Elektronische Zahlungen
Geschenkkarten-Management
Getrennte Kontrollen
Inventarverwaltung
Kontrollen aufteilen
Kreditkartenbearbeitung
Küchen- / Menü-Management
Lebensmittellieferung
Liefermanagement
Mehrere Standorte
Mitarbeitermanagement
Mobiler Zugriff
Online-Bestellung
Preismanagement
Rabattmanagement
Restaurant-POS
Routing
Tabellenverwaltung
Treueprogramm
Trinkgeld-Management
Verkaufsberichte
Verkaufspunkt POS
Zugriffskontrollen / Berechtigungen
für Restaurants
Alternativen für Linga rOS System
Bewertungen über Linga rOS System
Rebecca
COO in USA
Verifizierter Nutzer auf LinkedIn
Essen & Trinken, 11-50 Mitarbeiter
Verwendete die Software für: Mehr als 1 Jahr
Most Affordable, Efficient and Advanced POS System
Kommentare: I was initially concerned about switching to a cloud based system, being based in Australia but the technology has been amazing. This is not just a POS, it is a full package to run a business from data analytics to marketing.
Vorteile:
I loved that I could pull real time reports at anytime from anywhere. Full inventory package. I could add/remove menu items instantly. Built in online ordering and loyalty!
Nachteile:
I didn't have any issues, so no complaints.
Antwort von Linga rOS
letztes Jahr
Thank you, Rebecca! We appreciate your ongoing feedback.
Essen & Trinken, 11-50 Mitarbeiter
Verwendete die Software für: 1-5 Monate
The Best iPad Cloud POS in the Marketplace and it is Free to Start.
Kommentare: Journey of finding a decent tablet pos has been really hard, bunch of companies and options out there, all of them claim that they are able to support restaurant requirements like, modifying Menu items, being able to charge extra for bigger size portions and calculating the food cost of all these modifiers, Purchase orders, Happy Hours etc. After starting with Shopkeep, I quickly realize it is not for full service restaurants, then I bought Touch bistro, great look and feel but I quickly realize it was not a cloud based system, I was not able to make changes to my menu items or run reports remotely. Then I heard the buzz about Revel, after spending $3000 on one full iPad unit, the service issues and the bugs was not covering the $119 a month I was paying. Then I kept googling and ran into few more systems and decided on Linga POS, I downloaded on my iPad which automatically gave me Pro Plan with Inventory management and table service. I was so impressed after few weeks of testing, it reminded me of my Aloha system which I dumped for Shopkeep because I needed a cloud pos, which was a bad decision on my part, from everything I have looked at This is the only cloud based pos have the functionality and robustness of ALOHA pos. Even better than the NCR's own cloud based system Silver.
Vorteile:
Ease of use, literally took me 5 min to learnt he front of the house and Back office was a breeze after I go through few videos on menu programming. It is Fast and supports all the functionalities of a real restaurant POS, Happy Hours, Purchase Order, Time Clock, Recipe Costing, Inventory management, Auto creation of PO from low stock items.
Nachteile:
Linga has its own Bluetooth printer, I had to change my BT printer to their brand which is fast but it was expensive.
Essen & Trinken, 2-10 Mitarbeiter
Verwendete die Software für: Mehr als 2 Jahre
Owner/Manager
Kommentare: The software is obviously for a restaurant business, and we are a smoothie shop, so it wasn't a perfect fit.... however it is complex and difficult to set up and maintain and the training was almost non-existent. The willingness to customize the software
Vorteile:
There were assurances made (by the sales agent) of having Quickbooks import working, support for 2 cash drawers, compatibility with Telequip change dispenser. There seemed to be a willingness to customize the software... at least from the salesperson's intimations.
Nachteile:
The database has frequently failed to produce reports, had daily sales numbers mixed/added to other days. Many issues that customer service was willing to help with, but never should have been an issue.
Essen & Trinken, 2-10 Mitarbeiter
Verwendete die Software für: Mehr als 2 Jahre
Good Pos Great Price
Kommentare: The Bevo system has some issues and the one thing I would like is inventory control.
Vorteile:
The price for the system is great, financial help is also offered.
Nachteile:
Customer service in the after hours time frame are hard to understand and really seem to careless sometimes, if you call in the regular hours the American operators are great.
Antwort von Benseron POS Systems
vor 4 Jahren
Sammy, Thanks for sharing your review. We have recently added additional night shift support hours for our primary tech support team based in our Naples, USA headquarters, and continue to maintain 24-hour support globally. In the last month we have added a new industry veteran as Director of Customer Success, focused on quick and thorough responses to customer support needs. Your best option may be to upgrade to our flagship product, Linga POS, which includes Inventory Control as standard. To help you get the best deal, we are offering special upgrade discounts to our loyal customers. Linga provides a 360-degree platform with many bells and whistles to suit your needs, as well as stand along management apps for monitoring sales reports from anywhere. www.lingapos.com. We look forward to continued service and providing the best value POS options in the market. Benseron Hospitality Team
Lynn
Restaurant Consultant in USA
Gastgewerbe, 11-50 Mitarbeiter
Verwendete die Software für: 6-12 Monate
Quelle: SoftwareAdvice
Excellent technology, great support staff.
Kommentare: [SENSITIVE CONTENT] in the Support team are fantastic.
Vorteile:
The complete list of features available to help create visibility to the front of the house and restaurant management. Online ordering and delivery.
Nachteile:
I was surprised at how the time it takes to transition from one POS system to another.