Wir helfen Unternehmen in Deutschland
seit 15 Jahren bei der Softwareauswahl
Was ist Visme?
Visme transformiert die Art, wie du interessante Präsentationen erstellst und teilst. Das einzige System kombiniert einen intuitiven, einfach zu verwendenden Presentation-Builder mit Tausenden von Assets und vollständig anpassbaren Vorlagen mit leistungsstarken Funktionen für Zusammenarbeit, Analyse und Bereitstellung in einer benutzerfreundlichen Cloud-basierten App. Arbeite einzeln oder als Team. Veröffentliche online, binde es in deine Website ein oder lade es herunter, um es offline zu verwenden.
Wer verwendet Visme?
Kleine und große Unternehmen, gemeinnützige Organisationen und Bildungseinrichtungen.
Wo kann Visme bereitgestellt werden?
Cloudbasiert
On-Premise (vor Ort)
---
Über den Anbieter
Visme
Ansässig in Rockville, USA
2012 gegründet
Support für Visme
Telefon-Support
24/7 Live-Support
Chat
Visme Kosten
Startpreis:
29,00 $/Monat
Ja, kostenloser Test verfügbar
Ja, Gratisversion verfügbar
Visme bietet eine Gratisversion und eine kostenlose Testversion. Die kostenpflichtige Version von Visme ist ab 29,00 $/Monat verfügbar.
Über den Anbieter
Visme
Ansässig in Rockville, USA
2012 gegründet
Support für Visme
Telefon-Support
24/7 Live-Support
Chat
Visme – Videos und Bilder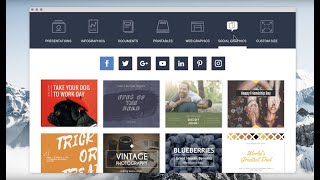 Visme Funktionen
Aktivitäts-Dashboard
Aktivitäts-Verfolgung
Animation
Anpassbare Vorlagen
Anpassbares Dashboard
Audiodatei-Management
Berichterstattung / Analyse
Berichterstattung und Statistik
Bildbearbeitung
CAD-Werkzeuge
Content Delivery
Content-Management
Daten-Import / -Export
Datenmanagement
Datenvisualisierung
Designvorlagen
Dokumentenmanagement
Drag-and-Drop
Drittanbieter-Integration
Für Vertriebsteams/ -organisationen
Inhalt-Bibliothek
Kontaktmanagement
Leadmanagement
Leistungsmanagement
Medienbibliothek
Offline-Präsentation
Suchen / filtern
Textbearbeitung
Video-Unterstützung
Visuelle Analytik
Werkzeuge zur Zusammenarbeit
Zugriffskontrollen / Berechtigungen
Casey
Volunteer in USA
Verifizierter Nutzer auf LinkedIn
Non-Profit-Organisation Management, 11–50 Mitarbeiter
Verwendete die Software für: 1-5 Monate
Herkunft der Bewertung
Perfect for any graphic design experience level - even complete beginners!
Kommentare: I am a volunteer for a non-profit animal rescue organization. We had a very successful past year and had been looking for a way to visually show all of the data from it, but didn't quite know how. Before working with Visme, we had no idea how beneficial it would be to have this data visually represented in a beautiful infographic. The results were eye-catching, easy to read/interpret and perfect to share on both social media and in print. We were able to take a closer look at our metrics and determine specific data we should be keeping track of- and we will be able to use these findings as a benchmark for years to come. Thank you Visme, for providing a tool to not only create an aesthetically pleasing infographic, but a tool that opened our eyes to our own various analytics that we can monitor and share with our supporters.
Vorteile:
Visme is very easy to use, even for someone with no graphic design/technical experience. I created a stunning infographic to display all of my organization's "year in review statistics" without any frustration or confusion. I was able to create a proof of the design and export it to a JPEG file for review. When layout/aesthetic decisions were finalized, I purchased a membership to have access to down a PDF version of the design. I ended up sending the same PDF file to a local print shop where it was printed on a 24x36 foam board - which still appeared in the highest quality that was displayed in my browser. You can't have a high quality print without a high quality file to print from. The first of many great experiences!
Nachteile:
Although it was nice to be able to size the canvas based on a ratio of pixels, it would have been nice to have an additional or alternative a way to size the canvas based on inches/centimeters for easy printing. If there is in fact already a way to do this, I would recommend having the options associated with the 'canvas size' feature.
In Betracht gezogene Alternativen: Infogram, Canva, Adobe Illustrator und Adobe Creative Cloud Express
Gründe für den Wechsel zu Visme: The ability to play around with the software and use almost all of the features before having to commit to purchasing a plan was the deal breaker for me. The icing on the cake was the ability to create/download an actual proof of the design as a JPEG before purchasing. Although the JPEG was lower quality, it made perfect sense that the higher quality versions of files to download were part of the paid plan which I thought was very reasonable.
Fidelis
Director in Kenia
Umweltdienstleistungen, 201–500 Mitarbeiter
Verwendete die Software für: Mehr als 2 Jahre
Herkunft der Bewertung
Heartwarming deals with Visme. Recommended.
Kommentare: This is the best when creating presentations, because it is quite easy to use and it gives us control to customize their tools.It is good for content creation because of its phenomenal features.
Vorteile:
This transforms the normal way of creating presentations into something great.We can share our stories and translate that boring information to something interesting.You can publish online or download for offline use.
Nachteile:
Everything about this software is very good.No cons.
Verifizierter Rezensent
Verifizierter Nutzer auf LinkedIn
Luft- & Raumfahrt, 51–200 Mitarbeiter
Verwendete die Software für: 1-5 Monate
Herkunft der Bewertung
Great Promise, Disappointing Execution: Buyer Beware
Kommentare: This experience left us genuinely concerned about Visme's misrepresentation of their system's capabilities and their lack of willingness to provide a reasonable refund when their software failed to work as advertised, despite our best efforts.While Visme may have garnered positive reviews from other users, my own experience was far from pleasant. The lack of functionality, the unsatisfactory support, and the strict enforcement of a no-refund policy left a sour taste in my mouth. I urge potential buyers to approach with caution, as the system's capabilities may not live up to the enticing promises made by Visme's marketing materials.
Vorteile:
I recently had the opportunity to try out Visme, a software that promised to simplify my marketing efforts with its turnkey approach and compelling features in the Pro package. Initially, I was enticed by the great marketing and the impressive array of tools, such as the 'Brand Kit,' video and GIF creation, and a wide selection of templates for infographics, brochures, presentations, and more.The software did an excellent job of showcasing branded templates being effortlessly created, and the variety of templates available seemed endless. This gave me high hopes for the Pro package, as it appeared to be well worth the investment.
Nachteile:
my enthusiasm quickly turned into great disappointment after I purchased the non-refundable Pro package. To my surprise, it was essentially identical to the free version, with the all-important 'Brand Kit' section non-functional. Despite being advertised as a feature of the Pro package, it simply did not work as expected.In an attempt to resolve the issue, I reached out to the support team. Their initial suggestion was to log out, clear my cache, and try using multiple browsers, including Chrome. Oddly enough, Chrome was already my preferred browser, so this advice seemed redundant.When the issue persisted, I informed support that the branded templates were not being generated, even though they had already been created during the conversion to the Pro account. Their response was unexpected: I was informed that the templates could only be generated by running an automatic branding tool based on a website URL. We followed this process, but Visme only correctly identified our logo while getting the brand colors and fonts completely wrong. Despite this incorrect information, the branded templates still failed to populate.Frustratingly, after spending two hours troubleshooting in Visme, it became apparent that the Pro account, for which we had prepaid for a year, simply did not work. Upon requesting a refund, we were met with a disappointing response: there were no refunds, regardless of the software's functionality or lack thereof.
In Betracht gezogene Alternativen: Venngage, Canva und Prezi
Gründe für den Wechsel zu Visme: Claimed features, functionality, and pricing value that did not end up being experienced.
Mwangi
Marketing Content Writer in Kenia
Informationstechnologie & -dienste, 2–10 Mitarbeiter
Verwendete die Software für: 1-5 Monate
Herkunft der Bewertung
Reliable tool for creating and manipulating visual marketing content
Kommentare: Visme provides innovative features to create attractive marketing images. It is relatively easy to use for anyone who has used similar tools before. It has a library of attractive templates you can use to create marketing content. However, you need to subscribe to enjoy full benefits and eliminate the watermark from your content.
Vorteile:
Creating marketing content requires using a feature-rich tool to capture the attention of the target clients. Visme provides professional templates that you can customize using simple drag and drop function. It creates captivating infographics for sharing on social media, websites, and marketing emails. The free version is enticing and ensures you get used before upgrading to the paid version.
Nachteile:
The free version comes with a watermark, which makes the visual content look unprofessional. Also, it has simple templates which limit what you can do prompting you to consider paying to enjoy full benefits. Although it has an intuitive design, new users generally need to learn and practice to create realistic infographics or adverts for social media.
Jaden
Technical Marketing Specialist in USA
E-Learning, 51–200 Mitarbeiter
Verwendete die Software für: 1-5 Monate
Herkunft der Bewertung
Overall satisfied with minor issues.
Kommentare: Overall we are very satisfied with Visme. We've been able to create engaging sections within our website, fine-tuned infographics showcasing graphs and growth, and presentations full of animations, making each Visme engaging and fun, all while still being informative and professional.
Vorteile:
Visme is easy to use and I feel the value is fairly inexpensive, especially compared to some other platforms on the market. The integrating is straightforward and the "Visme" created looks well within the website. The creative liberties Visme offers are worth the price and allow for a more engaging experience.
Nachteile:
When searching for shapes, icons, animations, etc., it is incredibly frustrating how often I have to clear my cache in order to view whatever it is I searched. I'll search for something and they'll come up but with no images. I have to click on them and bring them into my project before I can see what they are. It makes creating projects longer than I would like and more frustrating. Resizing images, like an arrow for example, isn't as easy as one would think. Being able to make the arrow longer without changing the overall size should be straightforward, but it isn't. You can't create long and thin arrows (At least I haven't been able to figure out how to). This last "con" is specific to me, and probably not many others, but we needed a fully customizable map that allowed us to break up specific states into sections within the US. As of right now, Visme isn't able to do this and that is ok, but if that were possible we would change how we're creating that map because the other features associated with the map in Visme are significantly better.
In Betracht gezogene Alternativen: Ceros
Gründe für den Wechsel zu Visme: Customer support availability and price compared to our overall needs.