Was ist Geckoboard?
Schnell und einfach zu installierendes Live-Dashboard-Tool, mit dem Unternehmen wichtige Kennzahlen überwachen und ihre Ziele erreichen können. Mit Geckoboard legen Teams Ziele für ihre wichtigsten Kennzahlen fest und überwachen ihre aktuellen Fortschritte auf dem Fernsehgerät im Büro. Dadurch bleiben sie fokussiert und optimieren ihre Aktivitäten, um wichtige Kennzahlen zu verbessern, die schnelleres Wachstum fördern. Konzipiert für Teamleiter in kleinen und mittleren Online-Unternehmen.
Wer verwendet Geckoboard?
Konzipiert für Teamleiter in kleinen und mittleren Online-Unternehmen, um schnell Live-TV-Dashboards einzurichten, die ihr Team darauf fokussieren, ihre Ziele zu erreichen und schneller auf Probleme zu reagieren.
Wo kann Geckoboard bereitgestellt werden?
Cloud, SaaS, webbasiert
Über den Anbieter
Geckoboard
Ansässig in London, UK
2011 gegründet
24/7 Live-Support
Chat
Über den Anbieter
Geckoboard
Ansässig in London, UK
2011 gegründet
24/7 Live-Support
Chat
Geckoboard – Videos und Bilder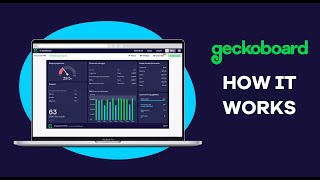 Kosten ähnlicher Produkte wie Geckoboard vergleichen
Geckoboard Funktionen
API
Aktivitäts-Dashboard
Anpassbare Berichte
Anpassbares Dashboard
Dashboard
Daten-Connectors
Daten-Import / -Export
Datenvisualisierung
Drag-and-Drop
Drittanbieter-Integration
Echtzeit-Analytik
Echtzeit-Daten
Echtzeitüberwachung
Geplante / automatisierte Berichte
KPI-Überwachung
Leistungskennzahlen
Mehrfache Datenquellen
Suchen / filtern
Veröffentlichung / Teilen
Visuelle Analytik
Visuelle Entdeckung
Wichtige Leistungsindikatoren (KPI)
Widgets
Alternativen für Geckoboard
Bewertungen über Geckoboard
Esa R.
QA & Junior Product Owner in Finnland
Verifizierter Nutzer auf LinkedIn
Computer-Software, 11-50 Mitarbeiter
Verwendete die Software für: 6-12 Monate
Chat-based customer support second to none - friendly and inviting app
Kommentare: Stellar customer support, easy to use user interface, a lot of support for 3rd party analytics apps. App that keeps getting more features - app is alive development-wise and trustworthy.
Vorteile:
I believe the best aspect of the app is the in-browser chat support. I've received so much support and suggestions and advice from them that I've never experienced such prompt and helpful customer support before with any app. I've been asked to check out new features in a demo, too, which was wonderful - after a few months, the features in the demo were added to the app itself. I feel like there is a good reason to reach out to the customer support team and ask for features, as they seem open to them - this is not a company run by shark-like salesmen/saleswomen, but a developer-led company - where things that are difficult to do are eventually made easier to accomplish, and so on. I've received such stellar customer support from people and all others that I'm really quite awed. You're doing very, very well. I know Geckoboard will keep on becoming a better app, little by little, and that is a good feeling to have.
Nachteile:
There are limitations to Geckoboard - I might not always be able to find a solution that suits me the best way - there are always some ways to improve the workflow - but the way the customer support listens to use and implements features or provides help pretty much negates any cons I might have with it. One thing maybe is that I'm not able to "park" a dashboard so that it's settings are kept safe even though I have downgraded from two dashboards to one dashboard. And another is that there is no way to select multiple objects and copy them to another dashboard quickly. But my experience overall has been that if I ask for something, and it's not there, it might get implemented in the future. Another thing is that I was getting errors from MixPanel, but was not able to see what the error was - this is another thing that can be improved from Geckoboard aspect, it's not a con it's just a missing feature that could be implemented in the future.
Eliel B.
CRO Specialist in Schweden
Marketing & Werbung, Selbstständig
Verwendete die Software für: Mehr als 1 Jahr
In Betracht gezogene Alternativen:
A cool looking dashboard creator
Kommentare: Mostly good.
Vorteile:
Definitely how the dashboards look. The information can be seen in a compelling way, which is super important considering that sometimes you need to communicate hard to understand KPIs. Dashboards are easy to create and deploy, there are some very pretty prebuilt ones. Another positive thing is how the Geckoboard Team constantly adds new data sources to increase compatibility.
Nachteile:
When I was using it, the integration with Google Analytics was relatively limited, unfortunately, I needed to add a calculated metric on the dashboard and Geckoboard didn't allow me to do it.
Douglas K.
Verifizierter Nutzer auf LinkedIn
Marketing & Werbung
Verwendete die Software für: Mehr als 1 Jahr
Quelle: GetApp
Fantastic Selection of Integrations But Not Responsive and Lacks Customization
Kommentare: We've got all of our clients set up on our board so that we can monitor how well they're performing each month. It's a great dashboard that we have on display in our office and have set as a desktop for our executives.
Vorteile:
Incredible selection of integrations.
Nachteile:
Lacks responsiveness. It's a fixed layout for width and height so difficult to resize for different viewports. Lacks any color scheme customization. We'd love to build our own color palette but there's no option.
Alejandro P.
CEO in
Verifizierter Nutzer auf LinkedIn
Computer-Software, 11-50 Mitarbeiter
Verwendete die Software für: Mehr als 1 Jahr
Quelle: GetApp
Enabling a data driven culture!
Kommentare: At some point almost 2 years ago we realized that we needed to make the information from our 30+ systems (used on a daily basis by different teams) accessible to everyone. It made no sense asking people to go into individual apps to run reports and/or look at data. After digging around for a while and toying with different solutions we can into Geckoboards which proved to be the best app for this. Why? Well because it solved our problem right then and there and required a minimal time to setup and to connect with our current systems (we have 10 that have direct integration with Geckboards and for the others we use custom widgets). We now have 14 TVs (48") scattered across the office displaying strategical information about our system, customers, performance, etc. Each dashboard is created taking in mind the teams that are around so that we can show the most relevant information. For example around the customer service team we display metrics from ZenDesk (customer service), Salesforce (sales / implementations), Basecamp (current implementations) and New Relic (application health). This has enabled our customer service team to know what's going on at any given point. On top of this Geckoboard has some great case studies (https://www.geckoboard.com/learn/case-studies/#.Vjy3b66rQUE) that you can use to learn more about how other organizations are reaching a higher employee engagement by using dashboards and a data driven culture. From a technical perspective we use Raspberry Pi (the newer ones) to power the dashboards on the TVs. In conclusion this is a great tool that has brought big changes to the company. I would strongly recommend it to anyone that's serious on sharing data with their team. Disclaimer: I have no relationship to Geckoboard other than being a VERY happy customer.
Vorteile:
- Out of the box integration with some of the most popular systems out there (almost 70 as of now). - Ease of use to setup the dashboards. Basically point and click. - Beautiful widgets that make looking at a dashboard enjoyable (if seen some things out there that give you nightmares when you look at them). - Advanced options that allow integrations with your own in house systems via simple JSON pushes or pulls. - Easy to setup rotation between different dashboards (they call them loops). - Excellent customer service.
Nachteile:
- I think that it's gotten a bit pricey (we signed up early on so we have a better price) for newer companies to jump onboard. - The documentation can be improved. Sometimes you add a Widget but you don't really know what parameters are used to pull the data behind the scenes. - Need to have more granular options in times between loops. Currently offer 10s, 20s, 30s, 1 min, 5 min. Should have an option to setup X minutes (or at least every minute for the first 10 minutes).
Kevin V.
Software Architect in USA
Verifizierter Nutzer auf LinkedIn
Internet, 11-50 Mitarbeiter
Verwendete die Software für: Mehr als 2 Jahre
Quelle: GetApp
Nice one stop solution for dashboard metrics
Vorteile:
Geckoboard has a variety of really nice integrations with third party products. Most SaaS solutions you would be interested in tracking have integrations which makes it pretty easy to get going with displaying relevant metrics. The website interface is also pretty easy to use and you can get a dashboard together pretty quickly.
Nachteile:
The interface for getting custom metrics uploaded could be a bit easier to use but overall it is a good solution and not bad to get started with it!