Was ist Aimsio?
Aimsio bietet eine cloudbasierte Betriebsmanagementlösung für Außendienstmitarbeiter. Die intuitive Nutzeroberfläche und leistungsstarke Internetfunktionen maximieren die Effizienz und den Gewinn. Verbessere die betriebliche Produktivität mit einem Tool, das die effiziente Ausführung komplexer täglicher Arbeitsabläufe gewährleistet.
Wer verwendet Aimsio?
Branchen: Bau- und Auftragsgewerbe Lastkraftwagen und Transport Außendienstservices Geräteverleihe und Flottendienste Professioneller Handel/Auftragsvergabe
Wo kann Aimsio bereitgestellt werden?
Cloud, SaaS, webbasiert, Mac (Desktop), Windows (Desktop), Linux (Desktop), Chromebook (Desktop), Android (mobil), iPhone (mobil), iPad (mobil)
Über den Anbieter
Aimsio
2014 gegründet
Telefon-Support
24/7 Live-Support
Erhältlich in diesen Ländern
Kanada, Vereinigte Staaten
Über den Anbieter
Aimsio
2014 gegründet
Telefon-Support
24/7 Live-Support
Erhältlich in diesen Ländern
Kanada, Vereinigte Staaten
Aimsio – Videos und Bilder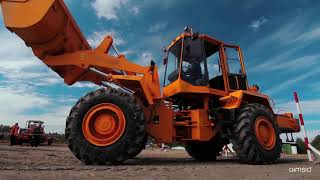 Kosten ähnlicher Produkte wie Aimsio vergleichen
Aimsio Funktionen
Abrechnung & Rechnungsstellung
Aktivitäts-Verfolgung
Anpassbare Felder
Anpassbare Vorlagen
Arbeitsauftragserstellung
Arbeitsauftragsverwaltung
Auftragnehmer-Management
Auftragskostenrechnung
Berichterstattung und Statistik
Bestell-Management
Budgetverfolgung / Auftragskostenrechnung
Compliance Management
Daten-Import / -Export
Datensynchronisation
Datenvisualisierung
Dokumentenmanagement
Drittanbieter-Integration
Echtzeit-Aktualisierungen
Echtzeit-Benachrichtigungen
Echtzeit-Daten
Echtzeitüberwachung
Elektronische Unterschrift
Formularverwaltung
Geräte-Management
Gerätenachverfolgung
Instandhaltungsmanagement
Integration in die Buchhaltung
Job-Management
Kontakt-Datenbank
Kundendatenbank
Kundendienst-Historie
Kundenhistorie
Logistik-Management
Mehrere Standorte
Mobiler Zugriff
Online-Zeiterfassung
Projekt-Nachverfolgung
Projektmanagement
Schätzung
Standortverfolgung
Terminplanung
Timesheet Management
Versandmanagement
Workflow-Management
Zahlungseinzug im Außendienst
Zeit & Kosten Verfolgung
Verifizierter Rezensent
Executive Assistant in USA
Verifizierter Nutzer auf LinkedIn
Öl & Energie, 51-200 Mitarbeiter
Verwendete die Software für: Mehr als 1 Jahr
Easy to use! Good way to keep organized with people in the field
Kommentare: It is easy to keep the projects in the field organized without having to track the employees down. We can communicate through the software. We get the footage and weekly hours and it keeps it very organized.
Vorteile:
It is very user friendly. We have not had a problem with communicating and getting what we need back in the office from the field.
Nachteile:
There is honestly nothing I do not like about this software. I have yet to run into an issue. The guys in the field use it to send in hours and it is the easiest way for us to keep in contact.
Kayla
Process Improvement Specialist in Kanada
Öl & Energie, 51-200 Mitarbeiter
Verwendete die Software für: Mehr als 2 Jahre
Outstanding
Kommentare: I have had the pleasure of working with the Aimsio platform for over 2 years and have not been disappointed. Several features have significantly reduced annoying administrative work that used to severely affect overall efficiency. For example; the ability to add our own Work Rules to Field Ticket entry which minimizes costly data entry errors. We were able to apply standard rules that data entry should follow and any data that does not follow these rules issues a warning to the user. Additionally, the system completely syncs with our ERP (Spectrum) which reduces data entry in many ways! Now, equipment, manpower, projects and clients only need to be entered in one system and then they are available in Aimsio for Field use. And it goes both ways; now Field Tickets, which were previously easily lost/misplaced or hard to read are synced back into our ERP for Payroll and Invoicing. No duplicate entry required. The overall experience with Aimsio has been top notch! Customer support is always quick to respond to questions and the learning curve for Field Users is next to none! Thanks Aimsio!
Vorteile:
User Interface Easy Learning Curve Configurable Data Rules Friendly Customer Service Web App iOS App Flexibility
Verwendete die Software für: Mehr als 1 Jahr
Personal Thoughts
Kommentare: I have missed most of the experience while this new software was actually put into place. Using the software is easy, but could be more efficient in terms of having to go back and forth between screens when something is new. For me, I am in accounting and find that the only accounting option with this is to export the information into the accounting program - I am not totally comfortable with this. Importing and Exporting in an accounting program has always made me nervous, like you have to really check everything. I have had a poor experience with that in the past. Computers are great - but not 100% trustworthy. However, I can't really comment on it in this program as we have not yet put that into play. We will be though, and I am really hoping it will go smoothly. The way we do use the program seems to be working, with a few tweaks to be made here and there. I find everything entails a lot of steps, which was something I was trying to get away from but....
Overall it is user friendly and simple to learn, seems to keep the data in check and do what it is supposed to do. As far as pricing goes - I think it is very expensive for what it is.
The staff I have worked with are great people. I have worked closer to Abbas Sarraf and I find him to be very smart. He is very helpful and wants very much to make sure you are a happy customer. When it comes to the accounting stuff, his ambition to learn what he needs to learn to understand what you are looking for so he can provide that for you is fantastic.
Vorteile:
User friendly
Nachteile:
Too many steps
Taylor
Administrative Supervisor in Kanada
Öl & Energie, 2-10 Mitarbeiter
Verwendete die Software für: Mehr als 1 Jahr
The product they offer is good. We are still refining it to work for our company, but strong bones.
Kommentare: Our experience has been good. It took a while to get to where we are, but it is still pretty good. We had to refine it and tweak it to our standards, but it has become easier to use. I like how simple it is.
Vorteile:
I like how simple it is to create invoices. Just a few clicks and its done. It is nice how it includes JHA's and work orders as well.
Nachteile:
It has taken a while to get up to the standards we need. It has been a process in figuring out what works, and what doesn't. We also get charged lots of the time when we need changes which is not good.
Nick
Systems Engineer in Kanada
Verifizierter Nutzer auf LinkedIn
Öl & Energie, 201-500 Mitarbeiter
Verwendete die Software für: 6-12 Monate
Function but a bit slow and requires modifications
Kommentare: Time entry and tracking is greatly improved from any paper or Excel manual entry process
Vorteile:
The ability to enter and manage time tickets is great and when set up with standard equipment assigning cost to a job is quick and easy. Getting customer signatures on work tickets directly in the field let's us turn work tickets into invoices much more rapidly.
Nachteile:
The interface is extremely slow at times and simple features like employee work summaries requires a bunch of customization.