Was ist Missive?
Kollaborativer E-Mail- und Threaded Group-Chat für produktive Teams. Eine einzige App für deine gesamte interne und externe Kommunikation.
Wer verwendet Missive?
Für Startups, Agenturen, Beratungsfirmen.
Wo kann Missive bereitgestellt werden?
Cloud, SaaS, webbasiert, Mac (Desktop), Windows (Desktop), Android (mobil), iPhone (mobil), iPad (mobil)
Über den Anbieter
Missive
2015 gegründet
Chat
Erhältlich in diesen Ländern
Kanada
Über den Anbieter
Missive
2015 gegründet
Chat
Erhältlich in diesen Ländern
Kanada
Missive – Videos und Bilder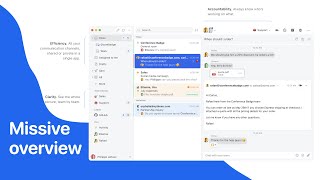 Kosten ähnlicher Produkte wie Missive vergleichen
Missive Funktionen
Aktivitäts-/Newsfeeds
Aktivitäts-Dashboard
Aktivitäts-Verfolgung
Alarmfunktion / Benachrichtigungen
Anpassbare Vorlagen
Aufgabenmanagement
Automatische Antworten
Bearbeiten in Echtzeit
Berichterstattung / Analyse
Berichterstattung und Statistik
Brainstorming
CRM
Chat / Messaging
Dokumentenmanagement
Dokumentenspeicher
Drittanbieter-Integration
E-Mail-Management
Echtzeit-Chat
Etikettierung
Filesharing
Gemeinsamer Posteingang
Inbox-Management
Kalender-/Erinnerungssystem
Kalenderverwaltung
Kommunikationsmanagement
Kontaktmanagement
Kundendatenbank
Kundenhistorie
Live-Chat
Meeting-Management
Mehrere Benutzerkonten
Mitarbeiter-Datenbank
Mitarbeiterfotos
Mobiler Zugriff
Multi-Channel-Kommunikation
Problem-Nachverfolgung
Routing
Social-Media-Integration
Suchen / filtern
Supportticket-Management
Ticket-Management
Unterschriften-Management
Videokonferenzen
Vorlagen-Management
Warnungen / Eskalation
Werkzeuge zur Zusammenarbeit
Workflow-Management
Zugriffskontrollen / Berechtigungen
Elizabeth
Freelance Social Media Writer in USA
Verifizierter Nutzer auf LinkedIn
Gewerbeimmobilien, 11-50 Mitarbeiter
Verwendete die Software für: 6-12 Monate
In Betracht gezogene Alternativen:
Loving and Growing with Missive
Kommentare: Overall Missive has exponentially improved out workflow and operations. Our team is much more connected and communicative than ever.
Vorteile:
We love the collaborative email features, chatting, assigning, and observer features in Missive. Missive allows managers to supervise employees and make sure that no lead or email is missed but also isn't so intrusive that employees feel creeped out by it. Though we're sharing emails, everyone has their own Missive account and tasks they can have ownership of. The chatting allows our team to communicate so much better than before when we all had different google hangouts.
Nachteile:
Missive is still growing so sometimes we run into technical or feature limitations of things they haven't worked out yet. I also don't like how only the owner of the account can do certain things. As an administrator I hate to have to bother the owner of the company every time I need to add a new alias.
Isaak
CEO in Australien
Verifizierter Nutzer auf LinkedIn
Informationstechnologie & -dienste, 2-10 Mitarbeiter
Verwendete die Software für: 6-12 Monate
In Betracht gezogene Alternativen:
Missive for the win!
Kommentare: Love, love, love Missive. The lads are excellent with their onboarding and support. I have no idea how such a little team does so much at such a high level - it is truly inspirational.
Vorteile:
We reviewed this alongside Front. It was attractive to me as it is a small team that is bootstrapped, and I like to support that. But most critically when doing the technical review of Missive v Front (and others) we found that they had the deepest integration with Gmail and an excellent API that allowed us to build a custom integration with our internal tooling. We were driven to find a common collaborative inbox tool for the team as Intercom wasn't working as well as we needed (we still use it for outbound messages), plus we get lots of messages from other channels and for other reasons beyond support - like sales. It also works well with PipeDrive - seeing that PD was using it themselves was reassuring, although it would be *excellent* if they shared some of the internal integration learnings with the PD integration off the shelf (it does the job, but only just)
Nachteile:
There is still some confusion about how to best handle closing and archiving with team emails - so it is closed from an individuals box but not the shared box and similar when trying to hand over an email and removing the email from your inbox - we still have a fear we will archive it for everyone. This is the most confusing part of the platform. We tend not to use Tasks as we have Pipedrive, Trello, TidyHQ all generating tasks which makes it confusing - I do wish we could push all tasks centrally to one of the above tools.
Dylan
Operations Manager in Australien
Verifizierter Nutzer auf LinkedIn
Fotografie, 51-200 Mitarbeiter
Verwendete die Software für: Mehr als 1 Jahr
Our team adores missive
Kommentare: We found traditional email programs had far too many gaps. We were losing conversations and context. We were also having to double and triple-handle conversations with an awkward combination of email and chat. Missive puts chat and email together into one intuitive space. Clients have a better experience, our staff find their customer workload easier to handle, and I have much better oversight over our company communication.
Vorteile:
Without exaggeration I spent two years testing out various email/help-desk solutions for our team before eventually settling on missive. It ticks so many boxes for us: imap synch, effortlessly colloborative, customisable rules, easy escalation pathways. It is also the first tech tool that I've introduced to our team that most staff actually love. In less than 24 hours we went from missing Thunderbird to happily moving everything across. Missive just works, and I love it.
Nachteile:
I would love to see some more integrations. Missive has some nifty features built around iframes - but better integration with some of the common integration tools would make this even easier.
Laura
Design Coordinator in Kanada
Immobilien, 201-500 Mitarbeiter
Verwendete die Software für: 6-12 Monate
Missive Review
Kommentare: A great resource when working with many different types of email platforms and communication platforms.
Vorteile:
My favourite part of missive was that we were able to integrate other programs and platforms into our Missive. Giving us more abilities than if we were just using one program.
Nachteile:
Because of the fact that we were integrate other platforms into our Missive use we would sometimes run into troubles if one platform upgraded and the functionality stopped between the two.
Madelyn
Lead Placement Coordinator in USA
Unternehmensberatung, 2-10 Mitarbeiter
Verwendete die Software für: Mehr als 1 Jahr
Missive Has Increased Productivity
Kommentare: Missive has been phenomenal, and has changed the way our team collaborates. We are over the moon about the service that Missive provides for us, and are always excited to see the different updates and news letters that they provide. We recommend Missive to many friends in colleagues in all different industries.
Vorteile:
The collaborative nature of Missive creates easy and smooth connections between teammates, and productive workflows that we use daily to quickly connect with our clients. There are plenty of ways to assign/delegate/organize correspondences, and we could not provide the level of quality customer service we are able to without Missive being a part of our day-to-day. Missive's customer service team is top notch, and they are quick to get back and/or resolve any issues that I run into on a day to day basis, as well as help answer my questions. It's also a very visually appealing software, with simple icons and logos that clearly communicate their purpose.
Nachteile:
There are a ton of the features, a few of which seem to be somewhat similar or redundant, however, I think that is more than likely because I am not fully educated on all of the bells and whistles. So the cons that I find to be most prevalent are more so surrounding an overall lack of up front education on the software itself. I would appreciate the ability to hop on a call or get a quick run down on how things work. It's highly likely that I'm not aware of the fact that I could set something like this up, but to my memory I don't believe I've seen if it's possible to set up a Zoom or general talk through of Missive's program with a Missive team member to chat through the software, and see if they have suggestions on streamlining anything that we do on a day to day basis.