Was ist Missive?
Kollaborativer E-Mail- und Threaded Group-Chat für produktive Teams. Eine einzige App für deine gesamte interne und externe Kommunikation.
Wer verwendet Missive?
Für Startups, Agenturen, Beratungsfirmen.
Missive – Details
Missive
2015 gegründet
Missive – Details
Missive
2015 gegründet
Missive – Videos und Bilder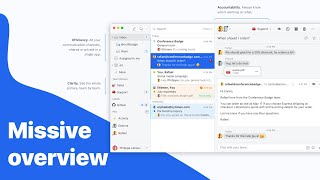 Kosten ähnlicher Produkte wie Missive vergleichen
Startpreis
10,00 $/Monat
19,00 $/Jahr
8,00 $/Monat
19,00 $/Monat
Missive – Bereitstellung und Support
Einsatz
Cloud, SaaS, webbasiert
Mac (Desktop)
Windows (Desktop)
Android (mobil)
iPhone (mobil)
iPad (mobil)
Funktionen von Missive
@mentions
API
Aktivitäts-Dashboard
Aktivitäts-Verfolgung
Alarmfunktion / Benachrichtigungen
Aufgaben-Fortschrittsverfolgung
Aufgabenliste
Aufgabenmanagement
Aufgabenmanagement
Aufgabenplanung
Aufgabenplanung
Bearbeiten in Echtzeit
Berichterstattung und Statistik
Bildschirm teilen
Brainstorming
Chat / Messaging
Content-Management
Datei-Verwaltung
Dateitransfer
Diskussionen / Foren
Dokumentenmanagement
Dokumentenspeicher
Drag-and-Drop
Drittanbieter-Integration
E-Mail-Management
Echtzeit-Aktualisierungen
Echtzeit-Benachrichtigungen
Einmalige Anmeldung
Etikettierung
Filesharing
Fortschrittsverfolgung
Kalenderverwaltung
Kommentare / Notizen
Kommunikationsmanagement
Kontaktmanagement
Kundenspezifisches Branding
Live-Chat
Mobiler Zugriff
Priorisierung
Prognosen
Projektmanagement
Projektplanung
SSL-Sicherheit
Sichere Datenspeicherung
Statusverfolgung
Versionskontrolle
Videokonferenzen
Werkzeuge zur Zusammenarbeit
Workflow-Management
Zugriffskontrollen / Berechtigungen
Phil L.
Co-founder in Kanada
Verifizierter Nutzer auf LinkedIn
Bekleidung & Mode, 2-10 Mitarbeiter
Verwendete die Software für: 6-12 Monate
In Betracht gezogene Alternativen:
One software to rule them all
Kommentare: Thanks to Missive, we've been able to use only 2 softwares for all our communications. Internal communication (team members interacting with each others) is done through Basecamp, and external communication (team members interacting with customers, suppliers, media, bizdev, etc.) is done through Missive. This really helps to keep our focus at the right place in the correct software. Disclaimer: We still have to use other softwares to send our newsletter, for example, but that wasn't the point in my review.
Vorteile:
The team inbox feature is simply incredible. It allows our team to chat between responses to our customers or suppliers to make sure we say the correct things and that we have all the information needed before sending those emails. It's much better than Zendesk for the workflow and the fact that Missive doesn't break all the time (like it happened to us on Zendesk back then, before we switched). As a small business, Missive allows us to centralize all our "external communication" (Customer service, BizDev, Media/Press contacts) into one software, instead of scattering our team between a help desk, a CRM, and some other tools and software to make it all work. We have different e-commerce websites, so we can actually have all our projects and different emails on the same software for a single price.
Nachteile:
Since this isn't a help desk, there are no "ticket numbers", where everything has a clear number attached to it (Customer request ticket #1001, #1002, etc.). But that's understandable because Missive isn't built only for being a help desk. What I also like the least about Missive is the lack of hierarchical structure implemented in the pre-built responses our team created. It's already great (the search tool for searching through your quick responses is already great, but the lack of visual structure can be hard for beginner employees when you have 50+ quick responses for every possible situation when dealing with customer service. This is something that I miss from Zendesk, when we could separate our quick responses (aka macros) into different folders/categories
Isaak D.
CEO in Australien
Verifizierter Nutzer auf LinkedIn
Informationstechnologie & -dienste, 2-10 Mitarbeiter
Verwendete die Software für: 6-12 Monate
In Betracht gezogene Alternativen:
Missive for the win!
Kommentare: Love, love, love Missive. The lads are excellent with their onboarding and support. I have no idea how such a little team does so much at such a high level - it is truly inspirational.
Vorteile:
We reviewed this alongside Front. It was attractive to me as it is a small team that is bootstrapped, and I like to support that. But most critically when doing the technical review of Missive v Front (and others) we found that they had the deepest integration with Gmail and an excellent API that allowed us to build a custom integration with our internal tooling. We were driven to find a common collaborative inbox tool for the team as Intercom wasn't working as well as we needed (we still use it for outbound messages), plus we get lots of messages from other channels and for other reasons beyond support - like sales. It also works well with PipeDrive - seeing that PD was using it themselves was reassuring, although it would be *excellent* if they shared some of the internal integration learnings with the PD integration off the shelf (it does the job, but only just)
Nachteile:
There is still some confusion about how to best handle closing and archiving with team emails - so it is closed from an individuals box but not the shared box and similar when trying to hand over an email and removing the email from your inbox - we still have a fear we will archive it for everyone. This is the most confusing part of the platform. We tend not to use Tasks as we have Pipedrive, Trello, TidyHQ all generating tasks which makes it confusing - I do wish we could push all tasks centrally to one of the above tools.
Laura B.
Design Coordinator in Kanada
Immobilien, 201-500 Mitarbeiter
Verwendete die Software für: 6-12 Monate
Missive Review
Kommentare: A great resource when working with many different types of email platforms and communication platforms.
Vorteile:
My favourite part of missive was that we were able to integrate other programs and platforms into our Missive. Giving us more abilities than if we were just using one program.
Nachteile:
Because of the fact that we were integrate other platforms into our Missive use we would sometimes run into troubles if one platform upgraded and the functionality stopped between the two.
Groߟhandel, 11-50 Mitarbeiter
Verwendete die Software für: 1-5 Monate
Refreshing & Unique Software
Kommentare: When it comes to using shared inboxes with most email clients, things don't really sync up properly and you'll find someone already responded to an email or moved it, yet it's setting in someone else's inbox as if nothing has been done. This is not the case with Missive. I also like how I can create signatures for each person in my company and apply them to each person's account, per inbox. This is really helpful and unique. Lastly, it's amazing how I can log into missive anywhere and still have all my settings, inboxes, etc intact.
Vorteile:
I like how fast emails send and receive. Everything is synchronized and up-to-date at all times.
Nachteile:
The livechat abilities need some work. We tried it out but it didn't have all the features we were looking for. I'm sure in time, it'll get better.
Elizabeth G.
Freelance Social Media Writer in USA
Verifizierter Nutzer auf LinkedIn
Gewerbeimmobilien, 11-50 Mitarbeiter
Verwendete die Software für: 6-12 Monate
In Betracht gezogene Alternativen:
Loving and Growing with Missive
Kommentare: Overall Missive has exponentially improved out workflow and operations. Our team is much more connected and communicative than ever.
Vorteile:
We love the collaborative email features, chatting, assigning, and observer features in Missive. Missive allows managers to supervise employees and make sure that no lead or email is missed but also isn't so intrusive that employees feel creeped out by it. Though we're sharing emails, everyone has their own Missive account and tasks they can have ownership of. The chatting allows our team to communicate so much better than before when we all had different google hangouts.
Nachteile:
Missive is still growing so sometimes we run into technical or feature limitations of things they haven't worked out yet. I also don't like how only the owner of the account can do certain things. As an administrator I hate to have to bother the owner of the company every time I need to add a new alias.