Was ist Pixpa?
Pixpa is an all-in-one platform for creators and small businesses to create beautiful professional websites. Whether you want to showcase your portfolio, start your business website, set up your online store, or publish a blog - Pixpa empowers creators to manage their whole web presence from one location, saving time and money.
With built-in tools such as an Online Store, Blog, SEO Manager, Marketing Pop-Ups, and much more, Pixpa offers you all the tools you need to create your website easily.
Wer verwendet Pixpa?
Pixpa empowers creators and small businesses to create their online presence. Pixpa is used by thousands of photographers, designers, creators, stores and small businesses, around the world.
Wo kann Pixpa bereitgestellt werden?
Cloud, SaaS, webbasiert, Mac (Desktop), Windows (Desktop), Linux (Desktop), Chromebook (Desktop)
Über den Anbieter
Pixpa
2011 gegründet
24/7 Live-Support
Chat
Über den Anbieter
Pixpa
2011 gegründet
24/7 Live-Support
Chat
Pixpa – Videos und Bilder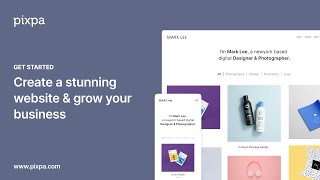 Kosten ähnlicher Produkte wie Pixpa vergleichen
Pixpa Funktionen
Anpassbare Vorlagen
Auftragsmanagement
Automatisches Aktualisieren
Bearbeiten in Echtzeit
Content-Management
Drag-and-Drop
Einkaufswagen
Inventarverwaltung
Katalogisierung / Kategorisierung
Mobiler Zugriff
Online-Shop-Designer
SEO-Management
Versand-Management
Vorgefertigte Vorlagen
Vorlagen-Management
WYSIWYG-Editor
Website-Management
Zielseiten / Web-Formulare
Dana R.
Creative Director in USA
Verifizierter Nutzer auf LinkedIn
Design, 2-10 Mitarbeiter
Verwendete die Software für: Mehr als 2 Jahre
In Betracht gezogene Alternativen:
Exceptional Platform With Exceptional Service
Kommentare: Pixpa is a "Wordpress Be Gone" answer for me. I was on the prowl for something less bulky, less time consuming, and better customer support for those rare issues/questions. Pixpa came through like a mega-god, seriously. They've been superior since day one and continually show their superiority through their reliability, reasonable pricing and flexibility.
Vorteile:
Pixpa is wonderful, easy to use, speedy and allows you the flexibility and creative freedom to build a site (basic or advanced) that fits your individual needs. They offer an e-commerce solution, as well as the ability to blog and host client galleries for creatives. My business wouldn't be where it is without Pixpa and I owe them a huge debt of gratitude for making things so simple and streamlined while keeping it professional and unique.
Nachteile:
If anything, I think, it's just the templates. But even so, they've come a long way since I signed up and they keep releasing new updates, templates/sections/snippets, etc. I've not once needed anything they don't offer.
Antwort von Pixpa
vor 2 Wochen
Hi Dana! We are thrilled to know that Pixpa was able to make a positive impact for you business. We keep our users' needs and satisfaction first and it makes us very happy to hear that we could provide you exceptional professional service! Thank you very much for taking the time to leave us your review! - Team Pixpa
Jeremy B.
Artist in Australien
Kunst & Handwerk, Selbstständig
Verwendete die Software für: 1-5 Monate
In Betracht gezogene Alternativen:
Pixpa is a no brainer
Kommentare: Aaa+ highly recommend to anyone!
I actually emailed Pixpa shortly after signing up just to congratulate them for doing an awesome job and letting them know they had big cartel beat! I was that excited 😆
Vorteile:
Pixpa super easy to use and customise, it does everything I need and so much more. It's the same price as the previous software I was using, otherwise there's no comparison.
Nachteile:
My only problem is that I didn't find it sooner!
David J.
Photographer in USA
Fotografie, Selbstständig
Verwendete die Software für: Mehr als 2 Jahre
DO NOT USE WASTE OF TIME
Kommentare: Lots of complications that will appear out of nowhere, for no reason. Constantly having to check to see if my site has somehow gotten a new problem without me editing it.
Vorteile:
It easy to get very simple stuff started, but a waste of time
Nachteile:
They suck. I've been using Pixpa for 2 years and it just keeps getting worse. I just had hours of work deleted, and because they're based in India and not all of their employees have a good command of english I got the report "Have made the changes" regarding a page being deleted and replaced with a months old backup. They're rarely available for normal US business hours, don't waste your time. Headache generator should be the name of their site editing software.
Antwort von Pixpa
vor 12 Monaten
Hi David, We are sorry that you had a negative experience. You have been using Pixpa for several years now and we value your feedback. Our team will reach out to you to resolve any issues that you have faced. Thank you for continuing to use Pixpa.
Rizvi R.
Project Manager in Kanada
Verifizierter Nutzer auf LinkedIn
Marktforschung, 2-10 Mitarbeiter
Verwendete die Software für: 6-12 Monate
In Betracht gezogene Alternativen:
Powered a desire in me to have a bigger web presence with great UI, designs and SEO.
Kommentare: My experience with Pixpa has been emotionally very satisfying, largely because of their excellent customer service. The entire team has always been excellent at handling all my concerns and answering all my questions with detailed feedback, sometimes simply making the changes how I envisioned them. It is a brand that consistently exceeds expectations.
Vorteile:
Simple, fast, visually appealing, functional, and easy to use. Outstanding customer service is an added bonus. I have created two personal websites and plan to make some for clients.
Nachteile:
There are no real negatives. I have used many platforms so I have a good background to compare this platform with others. Pixpa offers the best value for the money, and the customer service is better than any of their competitors; better than Squarespace, Wix, and WordPress from my experience. I suggest maybe allow templates that is geared towards a funnel landing pages. It can be achieved with some advanced customization and coding but this platform would be a game changer if they had templates that simply allowed you to create that.
Antwort von Pixpa
vor 2 Monaten
Hi Rizvi! It's great to see that Pixpa has been able to meet your needs and requirements in so many different ways! We love to see our user's have the best experience possible with us! Thank you for your kind review and detailed feedback. It is invaluable to us in our quest to grow constantly and improve our platform to adapt to our users' needs! - Team Pixpa
Jennifer noemi G.
artist in USA
Kunst & Handwerk, Selbstständig
Verwendete die Software für: 1-5 Monate
Good choice for affordable, easy to use site with great templates.
Kommentare: Excellent. I finally made a professional website for my artwork portfolio that was in my limited budget and it looks very professional like I had been envisioning. Pixpa helped me realize this long standing goal very easily with lots of assistance.
Vorteile:
Price was the best considering that the templates were much better for what I wanted for an artist portfolio, than the other more popular web builders in the same price range. The templates are very good visually. Customer service is fantastic! They helped me with every detail when I got stuck, the time zone difference makes it so that sometimes there was a delay in response, but they usually respond right away, and always solve the problem and give good attention. The customer service really helped me so much and helped me customize some nitty gritty details whenever it was possible. I felt they went the extra mile for me. I think it is a site that is easy for people who are not tech savy like me, and again customer service helps you when you get stuck.
Nachteile:
There were some minor limitations in the customizations that were possible that I would ideally want for my site, but I am still satisfied with the final site. Also I have yet to figure out the tax configuration for the web store, so the shop seems a little more complicated than I hoped. I'm sure the customer service may be able to help me, although because they are based in India I think I'm not sure how expert they will be in U.S state taxes, so worst case I may have to use another site for my shop and link to it in my website.
Antwort von Pixpa
vor 2 Wochen
Hi Jennifer Good to know you found Pixpa to be a good choice for your needs! We consider customer service to be our foremost priority. It's great to hear that our Customer Support team was able to help you iron out any issues that you had. We encourage you to contact our wonderful Customer Support team for any queries or issues you may have. It is wonderful to have you onboard with us! Thank you for the review. - Team Pixpa