Was ist Later?
Hilft dir beim Planen, Verwalten und Terminieren deiner visuellen Social-Media-Posts und Marketingkampagnen.
Later – Details
Later
2014 gegründet
Later – Details
Later
2014 gegründet
Later – Videos und Bilder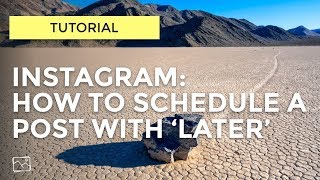 Kosten ähnlicher Produkte wie Later vergleichen
Startpreis
15,00 $/Monat
15,00 $/Monat
49,00 $/Monat
11,00 $/Monat
Later – Bereitstellung und Support
Kundenbetreuung
E-Mail/Helpdesk
FAQ/Forum
Wissensdatenbank
Chat
Einsatz
Cloud, SaaS, webbasiert
Android (mobil)
iPhone (mobil)
iPad (mobil)
Funktionen von Later
AB-Tests
API
Aktivitäts-Dashboard
Aktivitäts-Verfolgung
Angebot in sozialen Medien
Anpassbare Berichte
Anpassbare Vorlagen
Automatisierte Terminplanung
Automatisiertes Veröffentlichen
Berichterstattung / Analyse
Berichterstattung und Statistik
Bildbibliothek
Content-Management
Daten-Import / -Export
Datenvisualisierung
Drag-and-Drop
Drittanbieter-Integration
E-Mail Marketing
Echtzeit-Analytik
Echtzeit-Daten
Engagement-Tracking
Etikettierung
Filtern nach Keyword
Inhalt-Bibliothek
Kalenderverwaltung
Kampagnen-Segmentation
Kampagnenanalysen
Kampagnenmanagement
Kampagnenplanung
Kampagnenplanung
Klick-Tracking
Kommentare / Notizen
Kontaktmanagement
Konversion-Tracking
Kundensegmentierung
Kundenspezifisches Branding
Leistungskennzahlen
Mehrere Kampagnen
Multichannel-Management
Multichannel-Marketing
Nachterminierung
Social Media-Überwachung
Social Performance Management
Social-Media-Integration
Soziale Werbung
Trend-Analysen
Verwaltung mehrerer Konten
Visuelle Analytik
Workflow-Management
Überwachung
Danielle M.
Director Of Operations in USA
Verifizierter Nutzer auf LinkedIn
Design, Selbstständig
Verwendete die Software für: 6-12 Monate
I enjoy using Later, it's a great social poster with limits
Kommentare: Overall I enjoy using it better than most social media schedulers. It's reliable, it autoposts to IG as long as you have an IG business account. It's super easy to use and sort of has a built in content calendar.
Vorteile:
I like that you can house your unused photos and that it lets you know how many posts you've used a certain photo in. So if I post it to say Pinterest, FB, and Twitter it will say it's been used 3 times. This helps me manage a huge bucket of content. I really enjoy being able to see the whole upcoming week's posts at a glance and move them around easily if needed.
Nachteile:
Sometimes uploading photos glitch out. You are limited by file size so often times I have to go to the internet to edit them using Pixlr etc. Also you can't see further back than a few weeks on the calendar on the free plan. That is tough.
Monique K.
Social Media Manager in USA
Fotografie, 2-10 Mitarbeiter
Verwendete die Software für: Mehr als 1 Jahr
The best scheduler for instagram and twitter posts
Kommentare: I have to batch create content. I work for a photographer and I do one post a day for him. Later has helped grow the following by scheduling posts at good times of day to get a lot of engagement and it offers hashtag suggestions too. the best solution for a social media content creator.
Vorteile:
I love how easy it is on Later either via browser or mobile app to simply upload your media and drag it into a day and write the post. it's easy to add a link in bio. you can also see the best times to post, and put the posts in that slot. it has been helpful to batch create weeks worth of posts at a time.
Nachteile:
sometimes later "loses connection" with the social profiles for no reason and you need to reconnect and every now and then, the reconnect fails.
Julian O.
Co-Founder in Niederlande
Verifizierter Nutzer auf LinkedIn
Professionelles Training & Coaching, 2-10 Mitarbeiter
Verwendete die Software für: Mehr als 1 Jahr
In Betracht gezogene Alternativen:
Overall good program
Kommentare: Overall I would recommend later for most small/medium businesses as it is easy to use and most functionalities needed are in place.
Vorteile:
The content scheduler works great and is easy in use. It makes your social media marketing less time consuming. Later has most important social media accounts in house which is a big plus compared to some other competitors. Price is oke
Nachteile:
Almost none analytics in the lower tiers. And to expensive to just upgrade for that aspect.
Laura P.
Production Coordinator in UK
Medienproduktion, 2-10 Mitarbeiter
Verwendete die Software für: 1-5 Monate
In Betracht gezogene Alternativen:
More a scheduling app that anything else
Kommentare: I think it's a good tool to schedule posts os stories that you have previously designed and edited. It'd not very helpful when it comes to tag or mention a large number of people which is quite important if you collaborate with lots of different teams and accounts in your business.
Overall, it'd be more helpful if the usability was a bit more similar to what you find on Instagram, however I guess it's just a question of getting used to it (although the predictive keyboard would be a great help).
Vorteile:
Later is quite useful to have an idea of what your progression is in terms on followers and reactions. What I like the most about it is the preview option that lets you have a better idea of how your posts would look like . There aren't many other apps that offer you such a useful view. Obviously we also like the fact that lets you schedule all your posts and in general is very intuitive and easy to use. I like how it relays on visual structures to plan your feed. It doesn't overcomplicate things which is very handy. Customer service is also really good.
Nachteile:
All the analytics part of it is really helpful. However, I think it would improve if it could give more details about the overall engagement of our profile. This means it would be great if we could have graphics that sum up all the reactions ( reactions for our stories, posts and clicks on our link all together). One thing I would also improve is to allow the option of uploading more than one still per post. At the moment every time we want to post a few pictures together we need to do it through out phone. I'd also add predictive text when it comes to tag or mention any of our contacts (at the moment you have to enter the full name of everyone, an it takes way longer than doing it though Instagram, specially when you need to tag a lot of people). I'd also like to have the option for adding text to our stories. At the moment Lates lets you crop or apply filters to your stories but it doesn't let you add text or gifs as you would do directly on Instagram.
Karel R.
Founder in Frankreich
Kunst & Handwerk, Selbstständig
Verwendete die Software für: 6-12 Monate
In Betracht gezogene Alternativen:
Really useful app to autopublish on social media
Kommentare: This app is really usefull. Its really easy to manage. You will save lot of time with this app and you will be able to post more frequently with that.
Vorteile:
Easy to use even the first time The functionnality to preview your feed is really helpful on instagram The freemium version is already enough if you only have one account to manage. One of my Instagram account is exclusively manage with this freemium saas
Nachteile:
Not easy to manage the carrousels in the freemium app. Every time i have to planned one i have difficulties. Except that, I'm fully satisfied