Was ist Lightspeed Golf?
Chronogolf bietet innovative cloudbasierte Club-Management-Lösungen, die von der Online-Buchung über elektronische Abschlagzettel, Point of Sale für deinen Pro-Shop und dein Restaurant, Inventarmanagement, Mitgliederverwaltung, Turnierverwaltung, Kundenloyalität und vieles mehr reichen.
Wer verwendet Lightspeed Golf?
Golfplatzbranche
Wo kann Lightspeed Golf bereitgestellt werden?
Cloud, SaaS, webbasiert, Mac (Desktop), Windows (Desktop), Android (mobil), iPhone (mobil), iPad (mobil)
Über den Anbieter
Lightspeed
Ansässig in Montreal, Kanada
2012 gegründet
Telefon-Support
24/7 Live-Support
Chat
Erhältlich in diesen Ländern
Kanada
Sprachen
Englisch, Französisch, Italienisch, Niederländisch, Spanisch
Lightspeed Golf Kosten
Startpreis:
200,00 $/Monat
Lightspeed Golf bietet keine Gratisversion. Die kostenpflichtige Version von Lightspeed Golf ist ab 200,00 $/Monat verfügbar.
Preismodelle
Kostenlose Testversion
Über den Anbieter
Lightspeed
Ansässig in Montreal, Kanada
2012 gegründet
Telefon-Support
24/7 Live-Support
Chat
Erhältlich in diesen Ländern
Kanada
Sprachen
Englisch, Französisch, Italienisch, Niederländisch, Spanisch
Lightspeed Golf – Videos und Bilder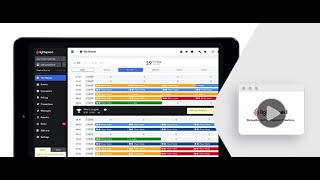 Lightspeed Golf Funktionen
Abrechnung & Rechnungsstellung
Buchhaltung
CRM
Marketing-Automatisierung
Mitgliedschaft-Management
Online-Buchung
Spielplanmanagement
Terminplanung
Verfolgen der Teilnahme
Verkaufspunkt POS
Alternativen für Lightspeed Golf
Bewertungen über Lightspeed Golf
Jenifer
General Manager in Kanada
Verifizierter Nutzer auf LinkedIn
Verwendete die Software für: Mehr als 2 Jahre
Chronogolf is a tee-sheet management system that actually cares about their clients!
Kommentare: When we partnered with Chronogolf they were still a young company and not all of the features we needed were there, but they have been great at growing with us and constantly upgrading to provide a better product.
Vorteile:
I love how easy it is to use, it's pretty much fool proof! It's very intuitive and all of my employees pick up on it quickly, especially all the millennials joining the work force. The super clean and tidy interface is also very easy to explain to customers and we have found our web-based bookings have increased due to this. I also love that they are continually in touch with updates and take the time to ask what feature their clients need or want to see next. The personal touch goes a long way! That's what we as golf course operators provide for our customers so it is nice to see a tee-sheet management company who does the same for their clients.
Elizabeth
General Manager in USA
Erholungseinrichtungen & -dienstleistungen, 11-50 Mitarbeiter
Verwendete die Software für: 6-12 Monate
Lightspeed is the perfect solution for all our golf course needs.
Kommentare: I'm so grateful that we chose Lightspeed as our new partner for tee sheet and POS management. Our new website is incredible and our PitchCRM campaigns are very successful. We look forward to continuing our partnership with Lightspeed.
Vorteile:
Lightspeed software is incredibly easy to use and offers tremendous features to help you manage your business. The dynamic pricing tee sheet feature is key for our business and the Business Intelligence and POS reporting gives us the data we need to analyze our revenue. The added value you find with website management, CRM, and other tools are great to maximize the value of partnering with Lightspeed. Every piece of the Lighspeed puzzle offers dedicated support teams that assist with any question quickly and with almost immediate responses for tee sheet and POS management. I'd highly recommend Lightspeed to any golf operation of any size.
Nachteile:
As with any change, there are growing pains and challenges. While Lightspeed training is excellent, there are a couple features on occasion that we have requested specifically to improve upon or add for an even better experience. The biggest hurdle is the same as you would face in making this kind of transition with any new software program and that is simply the learning curve involved and time it takes to setup all of the tools and items needed to start operating normally again. The good news is that Lightspeed makes it about as painless as possible for such a significant transition.
In Betracht gezogene Alternativen: foreUP
Warum Lightspeed Golf gewählt wurde: We needed an operating system that had dynamic pricing as well as multiple other improvements that CPS simply could not offer. Lightspeed gave us the tools we needed to bring our club into the modern era for golf course management.
Zuvor genutzte Software: CPS Point of Sale
Gründe für den Wechsel zu Lightspeed Golf: Lightspeed was an all-encompassing product that was not overly complicated. It offered all the features we needed at a fair price.
Bailey
Marketing Director in USA
Freizeit, Reisen & Tourismus, 51-200 Mitarbeiter
Verwendete die Software für: 6-12 Monate
Worst Reporting System I've Ever Seen
Kommentare: Switching after 11 months, if that tells you!
Vorteile:
Not much to say, not much was good. Restaurant software was OK, but barely.
Nachteile:
The reports Lightspeed provides are a joke. There is no rhyme or reason to how reports are carried through to accounting systems, and total amount NEVER match, leaving the client to sort through an accounting nightmare all on their own. They offer literally no help in terms of navigating the system, simply stating that "they can't tell you how to handle your money". When you have to ask for help over and over again, you eventually receive short, smart-alek responses, as if you're not worth their response in the first place.
chris
Golf Course Manager in USA
Erholungseinrichtungen & -dienstleistungen, 11-50 Mitarbeiter
Verwendete die Software für: 6-12 Monate
We are extremely pleased with the Chronogolf system. Best System out there!
Kommentare: The experience working with Chronogolf has be very positive. The are a great team player with golf facilities. We are looking forward to seeing the growth of best of business relationships to further our business and no trade times! We feel we have found a long term partner to help grow our business by providing an open platform to provide better services to our customers.
Vorteile:
It is a modern cloud based system that is simple or as complex as you would like. If you are coming from an older style point of sale system it will take a little while to get up to speed, but don't worry the support services are prompt, competent and patient. The ability to work from home to manage the system has been great for our management team. Reports are detailed and easy to run. Collecting customer information is straight forward. Different modules are available as your comfort level with the product increases that will help differential your golf facility from the crowd. The system works seamlessly with Lightspeed and has resulted in improved bottom line performance in every department category. It is easy to make informed decisions on performance as you go along.
Nachteile:
There is so much capability with this system you can get overwhelmed in the first peak season. We are really looking forward to the off season to strategically go through the system for improved performance. It is a intuitive system but there is a lot of potential to challenge your team.
In Betracht gezogene Alternativen: GolfNow und Teesnap
Warum Lightspeed Golf gewählt wurde: Time to modernize our system and personal skill sets to better reflect the modern golf market.
Zuvor genutzte Software: Eighteen
Gründe für den Wechsel zu Lightspeed Golf: We really appreciated the open ended nature of there software company. They are willing to partner with the best of breed companies to improve the overall value of there product. No Trade Times was another option we truly appreciated!
Tim
Clubhouse Manager in USA
Erholungseinrichtungen & -dienstleistungen, 11-50 Mitarbeiter
Verwendete die Software für: 1-5 Monate
Chronogolf has been the best by Far
Kommentare: All that said, Chronogolf is an excellent program that my golf course plans to use for years to come.
Vorteile:
I've used a few different tee sheet management software programs throughout my time working at golf courses, and Chronogolf has been the best by far. This program has great, very intuitive features that I felt the other services I used were lacking. Some of my personal favorites are included below: - A very nice way to price out golf per individuals, or groups of golfers (we have many different price points and golfer "types" here, and the ability to set the daily pricing by the hour, and easily change a golfer's specific pricing by changing his or her "type" makes it very easy and quick checking in golfers) - The ability to click and drag a tee time to change the time is awesome. So much easier than going into the reservation and changing the time, or deleted and recreating - Having a way to set colors to different types is great and gives a quick way to see the demographic of golfers on any given day - The tournament module is awesome (still needs a few minor tweaks) But as a course that hosts many tournaments, I use this module very frequently and it provides a very easy way to manage the tee sheet on a tournament day - Probably the biggest feature is that it is cloud-based. I can access any information I need to at any time I need which is very useful and important to me.
Nachteile:
This program, like all others, does have a few minor flaws, and some bugs (sometimes runs very slowly, or just glitches tee times out) but all that is very minor and usually does not cause any lastly problems.