Lightspeed Golf
Was ist Lightspeed Golf?
Chronogolf bietet innovative cloudbasierte Club-Management-Lösungen, die von der Online-Buchung über elektronische Abschlagzettel, Point of Sale für deinen Pro-Shop und dein Restaurant, Inventarmanagement, Mitgliederverwaltung, Turnierverwaltung, Kundenloyalität und vieles mehr reichen.
Wer verwendet Lightspeed Golf?
Golfplatzbranche
Lightspeed Golf – Details
Lightspeed
2012 gegründet
Lightspeed Golf – Details
Lightspeed
2012 gegründet
Lightspeed Golf – Videos und Bilder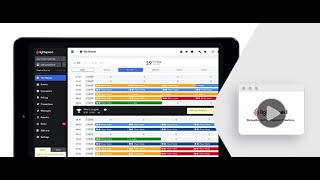 Lightspeed Golf – Bereitstellung und Support
Kundenbetreuung
E-Mail/Helpdesk
FAQ/Forum
Wissensdatenbank
Telefon-Support
24/7 Live-Support
Chat
Einsatz
Cloud, SaaS, webbasiert
Mac (Desktop)
Windows (Desktop)
Android (mobil)
iPhone (mobil)
iPad (mobil)
Training
Persönlich
Live Online
Webinare
Dokumentation
Videos
Funktionen von Lightspeed Golf
API
Abrechnung & Rechnungsstellung
Aktivitäts-Dashboard
Alarmfunktion / Benachrichtigungen
Anpassbare Berichte
Anpassbare Formulare
Anpassbare Vorlagen
Anwesenheitsmanagement
Automatisierte Terminplanung
Berichterstattung und Statistik
Besuchermanagement
Daten-Import / -Export
Drittanbieter-Integration
E-Mail-Management
Elektronische Zahlungen
Erinnerungen
Eventplanung
Instruktor-Management
Inventarverwaltung
Kalenderverwaltung
Klassenterminplanung
Kreditkartenbearbeitung
Kreditplanung
Kundendatenbank
Kundenkonten
Kundenmanagement
Kundenportal
Kundenspezifisches Branding
Marketing-Automatisierung
Mitarbeitermanagement
Mitglieder-Buchhaltung
Mitglieder-Portal
Mitgliedschaft-Management
Mobiler Zugriff
Online-Buchung
Registrierungs-Management
Reservierungs-Management
SMS-Nachrichtenversand
Self-Service Portal
Social-Media-Integration
Team-Management
Terminverwaltung
Veranstaltungskalender
Veranstaltungsmanagement
Verfolgen der Teilnahme
Verkaufspunkt POS
Webseitenintegration
Website-Management
Wiederkehrende- / Abonnement-Abrechnung
Zahlungsabwicklung
API
Aktivitäts-Dashboard
Anpassbare Kategorien
Anpassbare Vorlagen
Barcode / Tickets scannen
Benutzer-Management
Berichterstattung und Statistik
Bestandsverfolgung
Buchhaltung
CRM
Daten-Import / -Export
Drag-and-Drop
Drittanbieter-Integration
E-Mail Marketing
E-Mail-Management
E-Mail-Vorlagen
Echtzeit-Aktualisierungen
Echtzeit-Berichterstattung
Elektronische Zahlungen
Eventplanung
Inventarverwaltung
Kalenderverwaltung
Kampagnenanalysen
Kampagnenmanagement
Kundendatenbank
Kundenportal
Kundensegmentierung
Kundenspezifisches Branding
Marketing-Automatisierung
Mehrere Standorte
Mitglieder-Buchhaltung
Mobile App
Online-Buchung
PCI-Compliance
Personalisierung
Preis- / Margen-Management
Registrierungs-Management
Reservierung-Management
Reservierungs-Management
SMS-Nachrichtenversand
Social-Media-Integration
Spielplanmanagement
Terminplanung
Treueprogramm
Veranstaltungsmanagement
Verkaufspunkt POS
Website-Management
Wiederkehrende- / Abonnement-Abrechnung
Zahlungsabwicklung
Zusammenfassende Berichte
Jenifer W.
General Manager in Kanada
Verifizierter Nutzer auf LinkedIn
Verwendete die Software für: Mehr als 2 Jahre
Chronogolf is a tee-sheet management system that actually cares about their clients!
Kommentare: When we partnered with Chronogolf they were still a young company and not all of the features we needed were there, but they have been great at growing with us and constantly upgrading to provide a better product.
Vorteile:
I love how easy it is to use, it's pretty much fool proof! It's very intuitive and all of my employees pick up on it quickly, especially all the millennials joining the work force. The super clean and tidy interface is also very easy to explain to customers and we have found our web-based bookings have increased due to this. I also love that they are continually in touch with updates and take the time to ask what feature their clients need or want to see next. The personal touch goes a long way! That's what we as golf course operators provide for our customers so it is nice to see a tee-sheet management company who does the same for their clients.
Chris G.
Golf Course Manager in USA
Erholungseinrichtungen & -dienstleistungen, 11-50 Mitarbeiter
Verwendete die Software für: 6-12 Monate
We are extremely pleased with the Chronogolf system. Best System out there!
Kommentare: The experience working with Chronogolf has be very positive. The are a great team player with golf facilities. We are looking forward to seeing the growth of best of business relationships to further our business and no trade times! We feel we have found a long term partner to help grow our business by providing an open platform to provide better services to our customers.
Vorteile:
It is a modern cloud based system that is simple or as complex as you would like. If you are coming from an older style point of sale system it will take a little while to get up to speed, but don't worry the support services are prompt, competent and patient. The ability to work from home to manage the system has been great for our management team. Reports are detailed and easy to run. Collecting customer information is straight forward. Different modules are available as your comfort level with the product increases that will help differential your golf facility from the crowd. The system works seamlessly with Lightspeed and has resulted in improved bottom line performance in every department category. It is easy to make informed decisions on performance as you go along.
Nachteile:
There is so much capability with this system you can get overwhelmed in the first peak season. We are really looking forward to the off season to strategically go through the system for improved performance. It is a intuitive system but there is a lot of potential to challenge your team.
In Betracht gezogene Alternativen: Teesnap und GolfNow
Warum Lightspeed Golf gewählt wurde: Time to modernize our system and personal skill sets to better reflect the modern golf market.
Zuvor genutzte Software: Eighteen
Gründe für den Wechsel zu Lightspeed Golf: We really appreciated the open ended nature of there software company. They are willing to partner with the best of breed companies to improve the overall value of there product. No Trade Times was another option we truly appreciated!
Chad S.
Director of Golf in Kanada
Erholungseinrichtungen & -dienstleistungen, 51-200 Mitarbeiter
Verwendete die Software für: Mehr als 1 Jahr
Great cloud based system with clean UI
Vorteile:
Cloud based! Can be accessed from any device from anywhere. Tee sheet and booking procedure is easy and looks great. Pleasing to the eye and very intuitive in nature. Creating tee times and rates are a bit of a process but once you get the flow it becomes second nature. Creating tournaments and events are simple and can be accessed online. Reporting and statistical information is wonderful and easy to access. Has wonderful features for promotions that work great especially if you have punch cards or multiple round deals. Customer service response is timely and helpful.
Nachteile:
UI on a phone is buggy. Needs it's own dedicated app. Limited features compared to other golf software. Lightspeed POS has limitations and isn't tailored towards a golf operations unique set of requirements. Online booking procedure for guests differs from other software but still does the job.
Antwort von Chronogolf
vor 4 Jahren
Hey Chad! Thank you for taking the time to review Chronogolf - it means a lot to us. We're getting great feedback on our punchcard/package features, and we're rolling out some exciting features over the summer that you'll appreciate. As for the UI on the phone, we're actually releasing a native app in the coming weeks. We'll make sure to include you in the private beta launch!
Tim H.
Clubhouse Manager in USA
Erholungseinrichtungen & -dienstleistungen, 11-50 Mitarbeiter
Verwendete die Software für: 1-5 Monate
Chronogolf has been the best by Far
Kommentare: All that said, Chronogolf is an excellent program that my golf course plans to use for years to come.
Vorteile:
I've used a few different tee sheet management software programs throughout my time working at golf courses, and Chronogolf has been the best by far. This program has great, very intuitive features that I felt the other services I used were lacking. Some of my personal favorites are included below: - A very nice way to price out golf per individuals, or groups of golfers (we have many different price points and golfer "types" here, and the ability to set the daily pricing by the hour, and easily change a golfer's specific pricing by changing his or her "type" makes it very easy and quick checking in golfers) - The ability to click and drag a tee time to change the time is awesome. So much easier than going into the reservation and changing the time, or deleted and recreating - Having a way to set colors to different types is great and gives a quick way to see the demographic of golfers on any given day - The tournament module is awesome (still needs a few minor tweaks) But as a course that hosts many tournaments, I use this module very frequently and it provides a very easy way to manage the tee sheet on a tournament day - Probably the biggest feature is that it is cloud-based. I can access any information I need to at any time I need which is very useful and important to me.
Nachteile:
This program, like all others, does have a few minor flaws, and some bugs (sometimes runs very slowly, or just glitches tee times out) but all that is very minor and usually does not cause any lastly problems.
Bayley R.
Owner in Kanada
Einzelhandel, 2-10 Mitarbeiter
Verwendete die Software für: Mehr als 1 Jahr
LIGHTSPEED IS A GAME CHANGER
Vorteile:
I like how you can easily monitor your store at anytime, so easily.. on your phone, computer, I pad. It has a number of super helpful reports, easy inventory tracking. Overall lightspeed is just the best POS software out there, hands down.
Nachteile:
Anything I've come across to be difficult or that I've struggled to figure out, I've called support and been helped immediately. We've had a couple errors with the payment machine, which refreshing the webpage fixed.