Was ist NutriAdmin?
NutriAdmin ist eine All-in-one-Software für die Ernährungswissenschaft und -beratung, die die Leitung deiner Praxis mühelos gestaltet. Mit NutriAdmin kannst du Fragebögen, Termine und Online-Zahlungen von Kundschaft automatisieren und vereinfachen. Kundendaten werden in anpassbaren elektronischen Patientendatensystemen gespeichert und du kannst Ernährungspläne, Rezepte und Berichte für sie erstellen. Deine Kundschaft kann sich in ihrem eigenen Portal anmelden, um alle ihre Daten anzuzeigen. Tausende Ernährungsforschende haben NutriAdmin getestet und sie mit 5 Sternen bewertet.
Wer verwendet NutriAdmin?
Hauptsächlich für Fachleute in der Ernährungswissenschaft und -beratung gedacht, jedoch auch für Gesundheits-Coaches, Personal Trainer und andere Personen, die mit Ernährung (z. B. Übungsleitende von Teams) zu tun haben, vorteilhaft.
Wo kann NutriAdmin bereitgestellt werden?
Cloud, SaaS, webbasiert
Über den Anbieter
Nutriadmin
Ansässig in Manchester, UK
2016 gegründet
Chat
Erhältlich in diesen Ländern
Australien, Kanada, Vereinigte Staaten, Vereinigtes Königreich
Über den Anbieter
Nutriadmin
Ansässig in Manchester, UK
2016 gegründet
Chat
Erhältlich in diesen Ländern
Australien, Kanada, Vereinigte Staaten, Vereinigtes Königreich
NutriAdmin – Videos und Bilder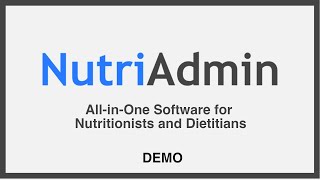 Kosten ähnlicher Produkte wie NutriAdmin vergleichen
NutriAdmin Funktionen
Allergenverfolgung
Diätanalyse
Essensplanung
Kundenmanagement
Nährstoffdatenbank
Rezept-Management
Alternativen für NutriAdmin
Bewertungen über NutriAdmin
Tracey v W.
Manager in UK
Verifizierter Nutzer auf LinkedIn
Krankenhausversorgung & Gesundheitswesen, Selbstständig
Verwendete die Software für: 1-5 Monate
Extremely happy making the switch to NutriAdmin
Kommentare: Excellent. Customer service have been very quick in dealing with all my queries to date.
Vorteile:
It was whilst researching the different nutrition software design management programmes that I kept coming back to comparing other programmes to this one. I really gained confidence having read the background of the developers. The software covered everything I needed to start my newly formed nutritional service. The trial period was very useful in helping me get accoustomed to and work my way through the various different options the software had to offer before making the commitment with them. I have to say the customer service has really surpassed my expectations. No,issue has been too big or small for them to deal with immediately. I am both confident and very pleased that I have chosen the best software for my business.
Nachteile:
Hasn't the exact functionality as previous software used.
Antwort von Nutriadmin
vor 2 Jahren
Thanks for your kind words, Tracey, we really appreciate it
Shigufta H.
Health Coach in UK
Gesundheit, Wellness & Fitness, Selbstständig
Verwendete die Software für: 1-5 Monate
In Betracht gezogene Alternativen:
Just what I needed.
Kommentare: I am trying to add widget. NutriAdmin have been extremely supportive.
Vorteile:
I am very new in my business and soon to launch my business ! I have checked many nutritional software sites - the others were missing major components that I needed! The templates, the nutritional database, meal planner, recipe database - my favourite! In depth questionnaires which you can customise to suit your needs. The client portal is such a good idea and a safe way to send and receive documents. I love the report where you can personalise it with your own logo as it looks very professional. It does take a little time to get used to- but [SENSITIVE CONTENT HIDDEN] will help you! I would say make the most of the trial period and if you can just sign Up to basic until you are used to the software- unless you are super tech savvy- go for the package to suit you. It is the most advanced software in my opinion with everything you need. I do need to use video calling with clients as I will be mainly an online coach and NutriAdmin does not have this feature but fear not- you can simply use some well known video calling apps and do your consultation! It is still far better than other software websites out there. The deciding factor to use NutriAdmin was the recipe database! This feature will help me with time! Time = money. I want easy, quick and a professional service.
Nachteile:
The software design - maybe if it was a little more pleasing to the eye- I love colour and for me it's important for it to feel wow! Maybe if we could personalise our own colours? I would love it. I have found adding widget to my website slightly difficult - although [SENSITIVE CONTENT HIDDEN] has been super helpful! I wish it was just a lot easier to integrate the software with my website. I think an app would be excellent for use for clients.
Antwort von Nutriadmin
vor 2 Jahren
Thanks for your kind words, Shigufta, we are very happy that you are finding the software useful as you start your business. You can always reach out if you need any help. The people that do tech support in NutriAdmin are the same that develop the software, so we know the system in depth. Hope you continue to derive value from NutriAdmin
Kelly F.
Owner / Nutritionist in USA
Gesundheit, Wellness & Fitness, 2-10 Mitarbeiter
Verwendete die Software für: 6-12 Monate
We would highly recommend NutriAdmin!
Kommentare: The NutriAdmin team is so responsive and helpful, and we have really appreciated all of their support! A+ in customer service!
Vorteile:
The meal planning function and features of this part of the software are so important to effectively work with our clients. We also appreciate what a comprehensive client management system it is as well.
Nachteile:
There is no automatic calculation field in the various spreadsheets. Text reminder options would be nice to have. There is room for improvement on recipe images in quality and size. When customizing a form, when there is an Other box, it would be nice if there was a fillable box for answers.
Antwort von Nutriadmin
letzten Monat
thanks so much for your kind words, Kelly. We are glad to have you as part of our platform. I've added your feature suggestions to our list of user requests and will let you know when we can work on them
Barbara K.
Holistic Nutritionist MSc. in Zypern
Gesundheit, Wellness & Fitness, Selbstständig
Verwendete die Software für: 1-5 Monate
NutriAdmin a Nutritionist's Right Hand
Kommentare: It has made my meal plans more accurate with regards to calorie, macro and micro nutrient content. The other enjoyable benefits were the semi-automation options for questionnaire submission and adding your own recipes with just a URL.
Vorteile:
The features I enjoy using most with NutriAdmin are the meal planning and recipe section. I really loved the way that you can just enter the recipe URL and presto it adds it into your list of recipes with the nutrient content. Another feature I use with every meal plan creation is the macro and micronutrient content. The meal plans are more accurate and can be adjusted accordingly to each and every client's individual needs. Also integrating the widget on my website was super easy, even for a non-tech person like me !
Nachteile:
I feel like the autogenerated meal plans could be improved. A large number of the meals in the autogenerated meal plans were repeated over and over again if you chose a 7-day option.
Antwort von Nutriadmin
vor 2 Wochen
Thanks so much for your review, Barbara!
Sondra H.
Nutritionist in Katar
Gesundheit, Wellness & Fitness, Selbstständig
Verwendete die Software für: Kostenlose Testversion
Excellent balance between Admin and Nutrition planning
Kommentare: Very good product. Affordable and excellent support.
Vorteile:
Most products I used, is either strong as a CRM system for nutrition, but lacks on the meal planning. Nutriadmin is strong on both and highly customizable.
Nachteile:
I would have liked the ability to edit food items as they are entered into the menu. For example, if you add Feta, crumbled, reduced fat, it has the brand and added information on the same line. This confuses clients and I usually just remove that additional info. This is not possible unless you recreate the food and change the name.
Antwort von Nutriadmin
vor 4 Monaten
Thanks so much for your kind words! Customization is at the root of NutriAdmin, we have designed the software so that every user can adapt it to their needs since we are aware people work in different ways within nutrition. Regarding the "editing food as it's added", although we don't have that exact feature yet, one thing you can do that can help is to create meal presets and recipes for foods you use often. If you create a meal preset, you can customize the name and group common ingredients together. Then, once you add the item to a plan, it will use your customized naming instead of the default name from the database. Hope this helps,