Was ist NutriAdmin?
NutriAdmin ist eine All-in-one-Software für die Ernährungswissenschaft und -beratung, die die Leitung deiner Praxis mühelos gestaltet. Mit NutriAdmin kannst du Fragebögen, Termine und Online-Zahlungen von Kundschaft automatisieren und vereinfachen. Kundendaten werden in anpassbaren elektronischen Patientendatensystemen gespeichert und du kannst Ernährungspläne, Rezepte und Berichte für sie erstellen. Deine Kundschaft kann sich in ihrem eigenen Portal anmelden, um alle ihre Daten anzuzeigen. Tausende Ernährungsforschende haben NutriAdmin getestet und sie mit 5 Sternen bewertet.
Wer verwendet NutriAdmin?
Hauptsächlich für Fachleute in der Ernährungswissenschaft und -beratung gedacht, jedoch auch für Gesundheits-Coaches, Personal Trainer und andere Personen, die mit Ernährung (z. B. Übungsleitende von Teams) zu tun haben, vorteilhaft.
NutriAdmin – Details
Nutriadmin
2016 gegründet
NutriAdmin – Details
Nutriadmin
2016 gegründet
NutriAdmin – Videos und Bilder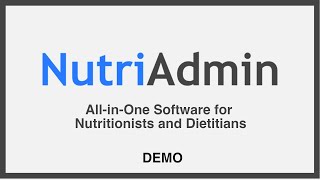 Kosten ähnlicher Produkte wie NutriAdmin vergleichen
Startpreis
29,99 $/Monat
35,00 $/Monat
Nicht verfügbar
20,00 $/Monat
NutriAdmin – Bereitstellung und Support
Kundenbetreuung
E-Mail/Helpdesk
FAQ/Forum
Wissensdatenbank
Chat
Funktionen von NutriAdmin
Aktivitäts-Dashboard
Aktivitäts-Verfolgung
Alarmfunktion / Benachrichtigungen
Allergenverfolgung
Anpassbare Vorlagen
Automatisierte Terminplanung
Barcode / Tickets scannen
Benutzer-Management
Berichterstattung und Statistik
Compliance Management
Diätanalyse
Dokumentenmanagement
Drittanbieter-Integration
Echtzeit-Daten
Erinnerungen
Ernährungs- & Zutaten-Etiketten
Essensplanung
Etikettendruck
Etikettierung
FDA-Compliance
Fortschrittsverfolgung
Integrierte Datenbank
Kalenderverwaltung
Kostenanalyse
Kundenmanagement
Kundenspezifisches Branding
Lebensmittel Kosten
Menü-Planung
Mobile Benachrichtigungen
Nährstoffdatenbank
Personalisierung
Planungs-Tools
Preis- / Margen-Management
Rezept-Management
Sichere Datenspeicherung
Suchen / filtern
Terminverwaltung
Zielsetzung / Nachverfolgung
API
Abrechnung & Rechnungsstellung
Aktivitäts-Dashboard
Aktivitäts-Verfolgung
Aktivitätsmanagement
Alarmfunktion / Benachrichtigungen
Anpassbare Formulare
Anpassbare Vorlagen
Anwesenheitsmanagement
Automatisierte Terminplanung
Barcode / Tickets scannen
Berichterstattung und Statistik
Beurteilung-Management
Chat / Messaging
Diagramm-Erstellung
Diätanalyse
Dokumentenmanagement
Drittanbieter-Integration
Echtzeit-Aktualisierungen
Echtzeit-Berichterstattung
Echtzeit-Daten
Elektronische Zahlungen
Erinnerungen
Ernährungsanalyse
Essensplanung
Fortschrittsverfolgung
HIPAA konform
Historische Berichte
Integrierte Datenbank
Kalender-Synchronisierung
Kalenderverwaltung
Kontakt-Datenbank
Kreditkartenbearbeitung
Kundendatenbank
Kundenmanagement
Kundenportal
Kundenspezifisches Branding
Mehrere Standorte
Mobile Benachrichtigungen
Nährstoffdatenbank
Patientenmanagement
Patientenportal
Planungs-Tools
SMS-Nachrichtenversand
Self-Service Portal
Terminplanung
Terminverwaltung
Umfragen & Feedback
Vorlagen-Management
Webseitenintegration
Zielsetzung / Nachverfolgung
Tracey v W.
Manager in UK
Verifizierter Nutzer auf LinkedIn
Krankenhausversorgung & Gesundheitswesen, Selbstständig
Verwendete die Software für: 1-5 Monate
Extremely happy making the switch to NutriAdmin
Kommentare: Excellent. Customer service have been very quick in dealing with all my queries to date.
Vorteile:
It was whilst researching the different nutrition software design management programmes that I kept coming back to comparing other programmes to this one. I really gained confidence having read the background of the developers. The software covered everything I needed to start my newly formed nutritional service. The trial period was very useful in helping me get accoustomed to and work my way through the various different options the software had to offer before making the commitment with them. I have to say the customer service has really surpassed my expectations. No,issue has been too big or small for them to deal with immediately. I am both confident and very pleased that I have chosen the best software for my business.
Nachteile:
Hasn't the exact functionality as previous software used.
Antwort von Nutriadmin
vor 2 Jahren
Thanks for your kind words, Tracey, we really appreciate it
Shigufta H.
Health Coach in UK
Gesundheit, Wellness & Fitness, Selbstständig
Verwendete die Software für: 1-5 Monate
In Betracht gezogene Alternativen:
Just what I needed.
Kommentare: I am trying to add widget. NutriAdmin have been extremely supportive.
Vorteile:
I am very new in my business and soon to launch my business ! I have checked many nutritional software sites - the others were missing major components that I needed! The templates, the nutritional database, meal planner, recipe database - my favourite! In depth questionnaires which you can customise to suit your needs. The client portal is such a good idea and a safe way to send and receive documents. I love the report where you can personalise it with your own logo as it looks very professional. It does take a little time to get used to- but [SENSITIVE CONTENT HIDDEN] will help you! I would say make the most of the trial period and if you can just sign Up to basic until you are used to the software- unless you are super tech savvy- go for the package to suit you. It is the most advanced software in my opinion with everything you need. I do need to use video calling with clients as I will be mainly an online coach and NutriAdmin does not have this feature but fear not- you can simply use some well known video calling apps and do your consultation! It is still far better than other software websites out there. The deciding factor to use NutriAdmin was the recipe database! This feature will help me with time! Time = money. I want easy, quick and a professional service.
Nachteile:
The software design - maybe if it was a little more pleasing to the eye- I love colour and for me it's important for it to feel wow! Maybe if we could personalise our own colours? I would love it. I have found adding widget to my website slightly difficult - although [SENSITIVE CONTENT HIDDEN] has been super helpful! I wish it was just a lot easier to integrate the software with my website. I think an app would be excellent for use for clients.
Antwort von Nutriadmin
vor 2 Jahren
Thanks for your kind words, Shigufta, we are very happy that you are finding the software useful as you start your business. You can always reach out if you need any help. The people that do tech support in NutriAdmin are the same that develop the software, so we know the system in depth. Hope you continue to derive value from NutriAdmin
Gesundheit, Wellness & Fitness, 2-10 Mitarbeiter
Verwendete die Software für: Mehr als 2 Jahre
Couldn't run our business without this!
Kommentare: I cannot say enough about this software…I feel incredibly fortunate to have found Nutriadmin! It provides everything we need for our business and it puts us on top of our competitors because of the quality content and products! Lastly, since the day we started the service which I believe is now five years - the customer service is unreal. Whenever we send an email for help, we immediately get a response and it is always detailed and incredibly helpful. This kind of service and quality deserves recognition!
Vorteile:
Very advanced and user-friendly. It allows us to provide our clients with quality content and information that will help them succeed and hit their goals.
Nachteile:
Nothing at all! We are very happy with this software.
Antwort von Nutriadmin
vor 4 Wochen
Thank you, Audrey, you are very kind with your review. We really appreciate you taking the time to leave us such a positive feedback. We are really happy you are finding the software and support useful and hope to continue to provide you with value in the future
Magda J.
Nutritional Therapist in UK
Gesundheit, Wellness & Fitness, Selbstständig
Verwendete die Software für: 1-5 Monate
Makes admin tasks easier and faster
Kommentare: It's a great software, saves much time usually spent on admin.
Vorteile:
The customer support is incredible, every one of my questions was answered within hours. It has good features such as calendar bookings, payment requests and many more that I haven't even explored. The online questionnaire can be created in any way possible making it easier for clients to fill in forms prior to consultation.
Nachteile:
It would be benefit from being more intuitive and easier to navigate. I am still trying to figure out how to make my logo shown the outgoing messages a bit smaller, and how to edit default emails - it would be great if default emails sent to clients at booking was editable while booking the appointment making them more individualised. I would also like to see a feature which enable me to me make notes on completed questionnaires while I am doing my prep. It would also be great to have a feature which make it easy to copy and paste some sections for writing plans, maybe it's there but I haven't found it.
Antwort von Nutriadmin
letztes Jahr
Hi Magda, thanks for your review. I think we have all - or almost all - of the features/functionality you have mentioned in the "cons" section. I will write you separately via email with tips/advice on how to use the features listed. We have a lot of customization options and productivity techniques (e.g. copying/reusing content, automating tasks, etc) but it's true that since there are so many ways of doing things it can be easy to overlook some of these options when you are still learning the software. Will reach out to you separately and answer any questions you have.
Ellie S.
Nutritionist in Australien
Gesundheit, Wellness & Fitness, Selbstständig
Verwendete die Software für: Kostenlose Testversion
Best software I've tried
Kommentare: Great! I also had a technical problem with an incorrect email, I needed help so emailed the team and they got back to me the same day with a solution.
It has been great to use! Thank you for making this so easy'
Vorteile:
I have tried a few different softwares, this one has been perfect! It is organised and is quick and easy to work. I love that I can use templates for questionnaires as well as tweak them or create my own and easily send them to my clients. I was a bit hesitant to start with as I had tried a few that I thought were good And found out they had glitches or did not offer everything i needed. This software allows me to do everything with the one software! the more I use it the more I love it!
Nachteile:
Nothing everything has been easy to use and great! Maybe an added feature in The food diary. It would be handy if it accepted photos as I find this helpful as some clients don't write everything down. But just a suggestion and wouldn't say this is anything I don't like!
Antwort von Nutriadmin
vor 3 Monaten
thanks so much for your kind feedback, Ellie. We are happy to hear that you find the software easy to use and that you can customise it to meet your needs. We have added your suggestion of picture records to our list of feature requests and will let you know if we can implement this in the future.