Was ist ApparelMagic?
Vollständige Buchhaltung, Vertrieb, Einkauf und Produktion, Berichte, EDI, kostenloses Training, kostenloser Support zu günstigen Preisen. Weitere Planoptionen und Preise findest du auf der Website.
Wer verwendet ApparelMagic?
Bekleidungsunternehmen, Bekleidungshersteller, Bekleidungseinzelhandel, Bekleidungsgroßhandel, Modeindustrie und Großhandelsunternehmen.
Wo kann ApparelMagic bereitgestellt werden?
Cloud, SaaS, webbasiert, iPhone (mobil), iPad (mobil)
Über den Anbieter
ApparelMagic
Ansässig in West Palm Beach, USA
1984 gegründet
Telefon-Support
Chat
Erhältlich in diesen Ländern
Australien, Kanada, Vereinigte Staaten
Über den Anbieter
ApparelMagic
Ansässig in West Palm Beach, USA
1984 gegründet
Telefon-Support
Chat
Erhältlich in diesen Ländern
Australien, Kanada, Vereinigte Staaten
ApparelMagic – Videos und Bilder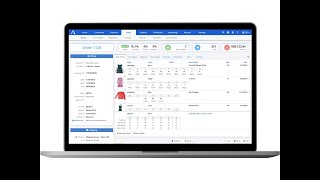 Kosten ähnlicher Produkte wie ApparelMagic vergleichen
ApparelMagic Funktionen
Abrechnung & Rechnungsstellung
Auftragsmanagement
Berichterstattung / Analyse
Bestell-Management
CRM
Finanzmanagement
Integrierter Geschäftsbetrieb
Inventarverwaltung
Lagerhaus-Management
Lieferanten-Management
Materialwirtschaft
Produkt-Management
Produktdatenmanagement
Produktions-Management
Projektmanagement
Supply-Chain-Management
Versand-Management
Alternativen für ApparelMagic
Bewertungen über ApparelMagic
Jim
Chief Operating Officer in USA
Verifizierter Nutzer auf LinkedIn
Groߟhandel, 11-50 Mitarbeiter
Verwendete die Software für: 1-5 Monate
Great Cloud ERP System
Kommentare: Overall our experience is great. With the exception of the customization limitations, we are generally happy with the software. Support has been amazing in getting back to us in a timely manner. Migration from our old system (Apparel Magic Desktop) was smooth and with only a couple of issues.
Vorteile:
Ease of use Very Intuitive Design Great Performance
Nachteile:
No facility for customization of forms. Reports are customizable but only to a certain degree. New report layouts cannot be created.
Yoshan
Creative Director in Frankreich
Bekleidung & Mode, 2-10 Mitarbeiter
Verwendete die Software für: Mehr als 1 Jahr
Powerful Software with a Ton of Features
Kommentare: When I first signed up for Apparel Magic, I balked at the annual price. I'd never paid for such an expensive software before. But after a few months using it I had no regrets - Apparel Magic has made running my small fashion brand so much easier. The software saves so many hours of work each month. I have multiple locations and work with manufacturers around the world. Before using Apparel Magic I kept track of my inventory and orders using spreadsheets but I always ran into inventory shortages because of errors. Now I can easily see if my manufacturers have enough materials to make my designs so there isn't any delay in the manufacturing process.
Vorteile:
So many features! From inventory forecasting, inventory management, creating manufacturing projects, purchasing raw materials, and sales management and commission payments, Apparel Magic has a ton of features that make this software an excellent choice for any size Apparel company. It makes managing everything much easier. I can see from the Orders dashboard which orders I don't have enough inventory for and make manufacturing projects for those. Before using Apparel Magic I always ran into problems managing inventory. Using their inventory report system, now I get a weekly report mailed to me showing how much I have in stock. The reports feature is very powerful - you can run reports on a myriad of categories from Inventory to outstanding orders with manufacturers. All the tools this software provides helps me stay on track and organized with my brand
Nachteile:
There is a steep learning curve in getting accustomed to using the software. It took me about a month of using it before I understood everything. The onboarding video conference sessions are instrumental to learning how to use Apparel Magic- it's not a software you can just use without learning the features first. Their support staff is incredibly helpful though and responded quickly to any questions I had.
Ethan
Product in Australien
Einzelhandel, 2-10 Mitarbeiter
Verwendete die Software für: Kostenlose Testversion
Limitations
Kommentare: It was a real shame that we were not able to find a solution for importing our product as Apparel Magic ticked all out other boxes.
Vorteile:
The ease of navigation and setup was refreshing. The customer support team were super helpful.
Nachteile:
We found a major drawback in Apparel Magic. We are a Sunglass and Accessories brand, and to import our products from Shopify we NEEDED 2 variations of the product. Which is all well and good when it comes to clothing ie. Size and Colour. However with Sunglasses we do not having sizing, and we have create different "product" for each colour meaning we have no variations and therefore not able to import any items from our store into Apparel Magic. Even if we were to find a workaround for this, we could not then input any historical data for the products as they also needed 2 variations for Apparel Magic to allow the import.
Verifizierter Rezensent
Product Development - Designer in Sri Lanka
Verifizierter Nutzer auf LinkedIn
Bekleidung & Mode, 51-200 Mitarbeiter
Verwendete die Software für: Mehr als 1 Jahr
Best inventory management system for all your sales avenues..!!!!
Kommentare: ApparelMagic is currently being used to control all the inventory and production. Software is well utilized to maximize the income by meeting best demand products. Graphics and charts produced by ApparalMagic is used to make progress presentations and decision making effective. Availability of products are updated wp to the second and proposal for future plannings are the best features of the software.
Vorteile:
ApparelMagic is the best apparel management software to supervise product design, it's development and manage the costing. The software keeps record about the raw materials, production, purchases, customers and demand. This helps us to improve profit margins by producing the best demand items for the market. The product runs in all operating systems(Windows, Mac) without any hassle.
Nachteile:
Software price is very high. Basic software which is the cheapest of their developments can be shared only among two users and in one division. Other than that everything is great.
Bekleidung & Mode, 2-10 Mitarbeiter
Verwendete die Software für: Mehr als 2 Jahre
Almost Perfect ERP
Kommentare: Excellent experience, quick learning curve compared to other ERP software. Very responsive tech support. Very flexible subscription options and simple-as-it-gets pricing structure.
Vorteile:
Price to Features ratio Very simple User Interface Powerful and easy-to-use data filters Ease of Import-Export Logical workflow
Nachteile:
Shipping Module too simple, needs more features & auto-pack for multiple-store orders No UPS & FedEx Integration without Shipstation