Was ist Crisp?
Erstelle deine Multichannel-Kundenplattform über Crisp und beginne, nahtlos mit deinen Kund*innen zu kommunizieren.
Mit dem Team-Posteingang kannst du mit Kund*innen chatten und die Dinge für dein geschäftiges Unternehmen einfach machen.
Durch eine Vielzahl von Funktionen wird die Art und Weise vereinfacht, wie deine Kund*innen ihre Ziele erreichen, indem sie viele Abläufe automatisieren.
Wer verwendet Crisp?
Mehr als 100.000 Unternehmen nutzen Crisp, um mit ihren Kund*innen zu sprechen und die Konversionsraten sowie die Kundenzufriedenheit zu erhöhen.
Wo kann Crisp bereitgestellt werden?
Cloud, SaaS, webbasiert, Mac (Desktop), Windows (Desktop), Android (mobil), iPhone (mobil), iPad (mobil)
Über den Anbieter
Crisp
Ansässig in Nantes, Frankreich
2015 gegründet
Telefon-Support
24/7 Live-Support
Chat
Über den Anbieter
Crisp
Ansässig in Nantes, Frankreich
2015 gegründet
Telefon-Support
24/7 Live-Support
Chat
Crisp – Videos und Bilder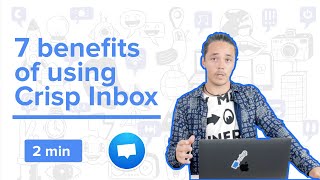 Kosten ähnlicher Produkte wie Crisp vergleichen
Crisp Funktionen
Automatische Antworten
Berichterstattung / Analyse
Drittanbieter-Integration
Echtzeit-Chat für Kunden
Echtzeit-Gespräche
Geotargeting
Human Handover
Kundenspezifisches Branding
Lead-Distribution
Lead-Qualifizierung
Live-Chat
Makros/Antwortvorlagen
Mobiler Zugriff
Multi-Channel-Kommunikation
Offline-Formular
Persönliche Nachrichten
Proaktiver Chat
Remote-Zugriff/-Kontrolle
Self-Service Portal
Ticket-Management
Transfer / Weiterleitung
Transkripte / Chatverlauf
Verfolgung von Interaktionen
Video-Chat
Warnungen / Eskalation
Websitebesucher-Nachverfolgung
Wissensbasis-Management
Workflow-Konfiguration
Zielgruppen-Targeting
Katherine K.
Administrator in USA
Verifizierter Nutzer auf LinkedIn
Schreiben & Editieren, 2-10 Mitarbeiter
Verwendete die Software für: 1-5 Monate
Amazing Customer Service and a Great Chat App
Kommentare: Crisp chat has totally replaced our other chat program for my startup at a very fair price. Their set up was a breeze, according to our Marketer, and I personally think their customer support is excellent. You have the ability to add gifs and customize the chat to whatever degree you want. It has really been good for us!
Vorteile:
They are very fair about pricing and their customer support is amazing. I had an issue with a duplicate account being created, and their support not only walked me through the problem and helped me solve it, but they also were super nice and friendly and made the whole experience lovely. Plus, their docs are amazing and very helpful!
Nachteile:
The only problem I had was an accidental duplicate site being created. When I signed up it sent me to what seemed like the correct site, but was actually a copy of ours. This was fixed very quickly though!
Antwort von Crisp
vor 2 Jahren
Thank you very much for that nice feedback !
Simon H.
Director in Guernsey
E-Learning, Selbstständig
Verwendete die Software für: 1-5 Monate
In Betracht gezogene Alternativen:
Really great product
Kommentare: I am using Crisp for all customer support and queries via website chat and incoming emails. I am also using the Helpdesk for my knowledge base. I have been using Zendesk for quite a while and have also tried Intercom but for my purpose Crisp definitely is the best by far. Those others have their place but for myself, as a small company Crisp is really outstanding in what it does. It is also less than half the cost. The automated bot is fairly easy to configure and a more advanced automated bot with workflow is also available. I am on the most expensive "unlimited" plan and find it very good value for money.
Vorteile:
Very easy to use and friendly user interface. Much more intuitive to configure compared to others.
Nachteile:
It would be nice if the offline app could "remember" the helpdesk articles when offline so they can be quoted in message replies that are composed offline. I am regularly away from data connection and so I receive new messages while connected then often have to compose my reply while away from connection... to be able to quote helpdesk and message shortcuts while offline would be nice.
Einzelhandel, 501-1.000 Mitarbeiter
Verwendete die Software für: Mehr als 1 Jahr
Fraud for the user
Kommentare: We started our service August of 2018. We wanted to integrate with our Shopify store. They promised us that the integration would be done within 1 month and that we should upgrade to the pro plan for that integration and the new version which they called V3 - VERY long story short - they continued lying to us for 1.3 years! They said the upgrade would come in Dec, then Jan, then March, then end of summer, then month by month week by week. when we asked to see the beta - they told us they would not be doing the shopify integration (THE ENTIRE REASON WE STUCK WITH THEM). This is fraud and we are currently taking them to court regarding this. I dont want to come off bitter - however I highly suggest going with another company that is more reputable. Then they gave me attitude , smiley faces when we were upset about the lying. But our attorney stated we have basis to take them to court because of this , apparently they have been doing this to many users. Class action suit - I dunno, I would think that they would care more about fraud... but I am sure in the end they will.
Vorteile:
The software was extremely glitchy - both on the phone as well as the desktop. The "magic browse" literally never works - although they use it as a very large upsel. The support was terrible and they defrauded us as will for an entire year.
Nachteile:
Notifications do not go away, you have to redownload all the time, extremely glitchy poor service and is not user friendly. If you are looking for a chat software - I highly suggest going with someone more stable such as intercom , Gorgias, or another one with excellent reviews.
Antwort von Crisp
vor 3 Jahren
Hey there, I can understand how frustrated you can be regarding the absence of your desired feature. It's not a reason to degrade our image. Our software works really properly and all the other reviews are here to prove it. The support has never defrauded you, we delayed the released of your feature that may come someday. We never forced you to stay with our product (that you've been using for more than a year). Sorry that you feel disappointed. Regards, Crisp team
Viktor N.
CEO in Kanada
Verifizierter Nutzer auf LinkedIn
Marketing & Werbung, 2-10 Mitarbeiter
Verwendete die Software für: 6-12 Monate
Great live chat system, even better help docs
Kommentare: Overall Crisp is an excellent platform, especially for what they charge. Their pricing is one of the things that attracted me to their platform, in addition to all the features. It makes communication easier, especially since it integrates several channels into one platform. Allows us to reply quickly, in many cases, instantly. They just need to fix never-ending conversations, and I'll be 100% happy.
Vorteile:
Crisp is an excellent live chat and communication tool for support and sales. It's easy to use, has a mobile app that I use to reply to queries, and it also integrates other platforms like Twitter DMs, Telegraph, Line. We use Twitter DMs often as prospects and clients tend to DM us sometimes. In addition to chat itself, I really do like their help docs solution (knowledge base). It's very easy to manage, has very nice and clean design, and offers really good JS SDK for integrating with your website/apps. It's nice to be able to display articles in modal on our website.
Nachteile:
My biggest issue with Crisp are never ending conversations. There's no way to have separate conversations with the same customer, old conversations get dragged into new conversations. It really needs a way to keep conversations separate, similar to other platforms like Intercom. For example, it sends out chat transcript after an hour of inactivity in chat. Problem is, that transcript might use subject line from an older conversation and/or include older conversation in the transcript. When I chat with Crisp's support and experience platform as a customer, those things are a bit annoying. Not a deal-breaker, but it definitely needs to be fixed.
Antwort von Crisp
vor 3 Jahren
Thank you for this nice review :) We will try to improve the feature you are talking about !
Timothy T.
Frontend Developer in Südkorea
Verifizierter Nutzer auf LinkedIn
Internet, 2-10 Mitarbeiter
Verwendete die Software für: Mehr als 2 Jahre
Love this product! More features than other LiveChat products
Kommentare: I've used this on 5+ sites and recommended it to many clients. The free tier will do most of what you need, but some of the upgrade options are really worth the price. Great product!
Vorteile:
- Great feature set, even on the free tier - Excellent mobile app - Integration with your favorite tools - Advanced features like liveview for seeing your customers moving through your site live.
Nachteile:
It would be nice to be able to customize the message shown to users without having to upgrade to the paid tier. Besides that, the product is perfect.
Antwort von Crisp
vor 2 Jahren
Thank you so much for your feedback :)