Was ist Flowfinity?
Cloud-Datenbank mit Toolset zur App-Konfiguration ohne Programmieren für Organisationen, die nutzerdefinierte Geschäftsprozesse basierend auf komplexen Datenmodellen unterstützen möchten. Dank Flowfinity konfigurieren IT-Personal und Geschäftsleute flexible, skalierbare Workflow-Lösungen, ohne die zur Programmierung erforderlichen Ressourcen bereitstellen zu müssen. Die intuitive Plattform kombiniert einen webbasierten App-Editor, Cloud-Datenbank, interaktive Dashboards, erweiterte mobile Datenerfassung, Automatisierungen und zuverlässige Integrationen. 14-Tage kostenlos testen!
Wer verwendet Flowfinity?
IT- und Geschäftsleitung, die schnell anspruchsvolle mobile Anwendungen für die Datenerfassung und Geschäftsprozesse bereitstellen möchten. Steigere die digitale Innovationskraft durch Automatisierung und Integration von Workflows ohne Programmieraufwand.
Wo kann Flowfinity bereitgestellt werden?
Cloud, SaaS, webbasiert, Mac (Desktop), Windows (Desktop), Windows (On-Premise), Android (mobil), iPhone (mobil), iPad (mobil)
Über den Anbieter
Flowfinity Wireless
Ansässig in Vancouver, Kanada
2000 gegründet
Telefon-Support
Chat
Erhältlich in diesen Ländern
Australien, Kanada, Neuseeland, Vereinigte Staaten
Über den Anbieter
Flowfinity Wireless
Ansässig in Vancouver, Kanada
2000 gegründet
Telefon-Support
Chat
Erhältlich in diesen Ländern
Australien, Kanada, Neuseeland, Vereinigte Staaten
Flowfinity – Videos und Bilder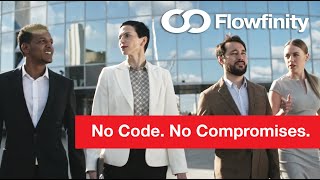 Kosten ähnlicher Produkte wie Flowfinity vergleichen
Flowfinity Funktionen
API
Abrechnung & Rechnungsstellung
Alarmfunktion / Benachrichtigungen
Angebote / Schätzungen
Anpassbare Vorlagen
Arbeitsauftragsverwaltung
Aufgabenmanagement
Automatisierung von Geschäftsprozessen
Barcode / Tickets scannen
Berichterstattung / Analyse
Berichtsvorlagen
Compliance-Verfolgung
Dateispeicherung
Daten-Import / -Export
Datenabruf
Datenerfassung und Übertragung
Datenqualitätskontrolle
Datenreplikation
Debuggen
Designvorlagen
Dokumentenmanagement
Drag-and-Drop
Drittanbieter-Integration
Einsatz-Management
Elektronische Formulare
Elektronische Unterschrift
Entwicklung von Web-Apps/mobilen Apps
Formularerstellung und -design
Formularverwaltung
Für die No-Code-Entwicklung
Grafische Benutzeroberfläche
Inspektions-Management
Integration in die Buchhaltung
Integrationsmanagement
Integrierte Entwicklungsumgebung
Inventarverwaltung
Job-Management
Kompatibilitätstests
Kontakt-Datenbank
Kontrolle des Genehmigungsprozesses
Kundendatenbank
Kundendienst-Historie
Leistungskennzahlen
Mobiler Zugriff
No-Code
Offline-Zugriff
Online-Zeiterfassung
Prozess-/Workflow-Automatisierung
Regelbasierter Workflow
Remote-Support
Remote-Zugriff/-Kontrolle
Scanfunktion
Terminplanung
Terminverwaltung
Versandmanagement
Veränderungsmanagement
Visuelle Modellierung
Vorgefertigte Module
Vorgefertigte Vorlagen
Werkzeuge zur Zusammenarbeit
Workflow-Konfiguration
Workflow-Management
Zahlungseinzug im Außendienst
Zugriffskontrollen / Berechtigungen
für Entwickler
Alternativen für Flowfinity
Bewertungen über Flowfinity
Jonathan P.
Refrigeration Engineer in UK
Verifizierter Nutzer auf LinkedIn
Verwendete die Software für: Mehr als 2 Jahre
Flexible reliable system, easy to adapt and very good value for money.
Kommentare: Flowfinity has drastically reduced our paperwork and allowed us to have a live view of activities across several sites showing the status of jobs and issues found. Also the custom coding developed has reduced the amount of time engineers spend writing reports and given them more time to carry out site work. We use the system to satisfy FGas obligations in the UK HVAC industry and it works extremely well.
Vorteile:
Extremely easy to use and changes can be made and published very quickly. The offline storage of data sets Flowfinity apart from its competitors and permits usage in low signal areas. The support department are very helpful and any issues are dealt with very quickly.
Nachteile:
To fully exploit the system to its full potential a strong background in IT/Programming is extremely beneficial. But anybody can design and publish a basic application to users in less than a hour.
Elliot S.
Director of IT in Kanada
Non-Profit-Organisation Management, 51-200 Mitarbeiter
Verwendete die Software für: Mehr als 2 Jahre
In Betracht gezogene Alternativen:
A great experience
Kommentare: We are using FlowFinity to do several different things. It is our main data capture tool. Our fleet of trucks and drivers enter all delivery and pickup metrics in it on a continual basis. We use it to schedule our work orders and ensure all goods are picked up and delivered. We also use the system to gather general information throughout our business.
Vorteile:
FlowFinity has been a great system and has enhanced our operations. It's easy to set up and seems to be infinitely adaptable to our business. If we have a need we just add it to FlowFinity. The system is light weight and does not take a lot to run. The user interface on the mobile device and the website are great and easy to use and learn. We have had advanced users and novice users all pick it up and use it in very little time
Nachteile:
Not many Cons it has really transformed how we work. If I had to define a least favourite item it would be the reports. I wish we could add more branding to them but that is minor to the rest of the system.
Antwort von Flowfinity Wireless
vor 3 Jahren
Hello Elliot, Thank you, we really appreciate your insight. It's great your team is finding value in the platform. We'll take your request about branding on reports into consideration to include in a future release. - Team Flowfinity
Steve C.
Project Manager in Kanada
Bau, 51-200 Mitarbeiter
Verwendete die Software für: Mehr als 2 Jahre
Review of Flowfinity Products
Kommentare: Data collection from the field is easy and it is able to be audited to suit our clients' needs.
Vorteile:
The apps are very easy to design and provide our customer with the data that is needed through importing
Nachteile:
The ability to be able to designate view/actions are only allowed to be assigned to Admin/Power user/regular user etc. If you could assign each user with permissions per app or tab, it would provide a great benefit
Antwort von Flowfinity Wireless
vor 3 Jahren
Hello Steve, Thank you for your honest review of your experience with Flowfinity. Your comments regarding user permissions will be taken into consideration in future releases. Also, unlimited custom roles are available in Enterprise Edition. In the meantime if you have any questions or issues our support team is happy to help. Sincerely, Team Flowfinity
Konsumgüter, 11-50 Mitarbeiter
Verwendete die Software für: 1-5 Monate
Flowfinity solved our numerous field service challenges with ease and great service
Kommentare: We deployed a cross nation field team to visit outlets and conduct in store activities, collecting data through forms and surveys. We also needed features like gps tracking, mature data storage and extraction, cloud enabled, dashboard creation and performance tracking. Our previous solution - built specifically for our industry - was a disaster - combination of the software and the supporting team. 5-6 months in and it never worked. By contrast, Flowfinity created a partnership, held our hand day and night for 5 weeks, answered all queries in real time round the clock, and best of all - it worked. Took 5 weeks from start to finish. Simply could not be more satisfied and wish we had found the solution 6 months earlier. I highly recommend the solution and the Team.
Vorteile:
Flowfinity is a mature solution. Our sales and on-board team were former clients, highly engaged advocates of the product, very knowledgeable, patient, and very thorough. Though we are not a big client (less than 20 licenses) we were treated with respect, as important, and received amazing round the clock responses to both strategic and technical questions. The solution is highly intuitive and easy to use. Our development team is good, but small and stretched. With flowfinity we were able to get to a solid usage standard, and deployed, in 5 weeks. That's fully operational in 5 weeks. In contrast we worked with previous solution for about 5 months and it never worked.
Nachteile:
Like all solutions this one does not do everything we want. Neither does any other solution we use. What we really like about Flowfinity is that their Team takes on board our inputs, requests, and gives us honest management of our expectations around feasibility, timeframes, costs, etc. This type of honest and transparent handling of what we want that perhaps we cannot have is difficult to find in the market - with Flowfinity we got it.
Antwort von Flowfinity Wireless
vor 3 Jahren
Hello Brett, Thank you for your honest and enthusiastic review of Flowfinity. Thank you for highlighting our commitment to customer service, and the fact that you went from concept to deployment of your app within 5 weeks, congratulations on your success with the platform! We acknowledge that software cannot always meet all "nice to have" requirements, and we try to manage expectations accordingly. It's great to hear that you are reaping benefits from your custom solution over your previous off the shelf system. We look forward to working with you going forward to help drive your success. Best Regards, -Team Flowfinity
Sarah R.
Operations Director in Kanada
Verwendete die Software für: Mehr als 2 Jahre
Built a custom solution for managing a SMB - staff time tracking, client database, invoicing
Kommentare: -Reduced administrative overhead by about 80%
Vorteile:
-Completely flexible to use, lets you build truly customized solution completely tailored to your business processes -Great value, because you get offline mobile forms and apps, a built-in database, cloud hosting, unlimited forms, dashboards and workflows all included -Easy to use and super fast to make changes, so you can always improve your solution and keep updating it based on user feedback -Can build all the BPM apps you need without any coding -After you build an application, you can use it on the web or on your mobile device right away as soon as you publish it -It's easy to set up data lookups from other apps, so you can manage your customers in one app and pull the information into other apps for example -It has nested data which lets you create lists with different levels, which we use for creating items in invoices -You can set up custom searches so it's easy to find whatever data you're looking for -I was able to easily set up automatic emails that alert me based on my own business rules, for example if a client doesn't come to their appointment, or is missing contact information, or if a payout rate is outside a certain threshold -They recently added dashboards, so I can see all of my invoicing and staffing information in charts and I don't have to export any data to Excel or another system to work with it, it's all in Flowfinity
Nachteile:
-Looking forward to new product features that will be coming out, for example being able to launch into apps and activities directly from dashboards