Was ist 1factory Manufacturing Quality?
1factory – einfache, leistungsstarke Software zur Qualitätskontrolle in der Fertigung.
Merkmale: Qualitätskontrollpläne, Explosionszeichnungen, Erstbemusterung (First Article Inspection, FAI). Wareneingangskontrolle, (IQC), Fertigungskontrolle, Fertigproduktkontrolle. SPC, Prozessfähigkeit (Cp, Cpk). CMM und digitaler Messeingang. Berichterstattung und Dashboards. Transparenz der Lieferantendaten in Echtzeit. Prüfmittelkalibrierung. NCRs, CAPAs, SCARs.
Industrien: Luft- und Raumfahrt, medizinische Geräte, Halbleiterausrüstung, Automobilbranche, Präzisionsoptik, Verpackung, Verarbeitung, Metallverarbeitung.
Wer verwendet 1factory Manufacturing Quality?
Entwickelt für Hersteller von diskreten Produkten für die Märkte Luft- und Raumfahrt, medizinische Geräte, Halbleiterausrüstung, Automobile, Feinoptik, Bekleidung und Industrieausrüstung.
1factory Manufacturing Quality – Details
1factory
2011 gegründet
1factory Manufacturing Quality – Details
1factory
2011 gegründet
1factory Manufacturing Quality – Videos und Bilder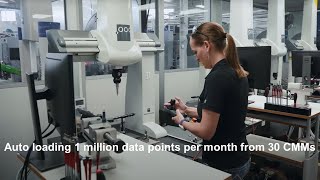 Kosten ähnlicher Produkte wie 1factory Manufacturing Quality vergleichen
Startpreis
15,00 $/Monat
N/A
Nicht verfügbar
1.500,00 $
1factory Manufacturing Quality – Bereitstellung und Support
Kundenbetreuung
E-Mail/Helpdesk
Telefon-Support
Chat
Einsatz
Cloud, SaaS, webbasiert
Windows (On-Premise)
Linux (On-Premise)
Training
Persönlich
Live Online
Webinare
Dokumentation
Videos
Funktionen von 1factory Manufacturing Quality
API
Abrechnung & Rechnungsstellung
Aktivitäts-Dashboard
Angebote / Schätzungen
Arbeitsauftragsverwaltung
Auftragskostenrechnung
Auftragsmanagement
Auftragsverfolgung
Automatisierte Terminplanung
Berichterstattung und Statistik
Bestandsverfolgung
Bestell-Management
CRM
Daten-Import / -Export
Dokumentenmanagement
Echtzeit-Daten
Einkauf & Empfang
Integration in die Buchhaltung
Inventarverwaltung
Job-Nachverfolgung
Kapazitätsmanagement
Kontaktmanagement
Kostenanalyse
Kostennachverfolgung
Kostenschätzung
Kundenaufträge
Kundendatenbank
Lieferanten-Management
Lieferanten-Management
Material-Rechnung
Mehrere Währungen
Mitarbeitermanagement
Produktion-Nachverfolgung
Produktions-Management
Prognose
Prognosen
Projektmanagement
Qualitätskontrolle
Ressourcenmanagement
Rückverfolgbarkeit
Schätzung
Seriennummern-Nachverfolgung
Statusverfolgung
Stempeluhr
Supply-Chain-Management
Terminplanung
Versand-Management
Veränderungsmanagement
Workflow-Management
Zugriffskontrollen / Berechtigungen
API
Aktivitäts-Dashboard
Aktivitäts-Verfolgung
Angebote / Schätzungen
Anpassbare Berichte
Anpassbare Felder
Arbeitsauftragsverwaltung
Auftragsmanagement
Barcode / Tickets scannen
Berichterstattung / Analyse
Berichterstattung und Statistik
Bestandsverfolgung
Bestell-Management
Buchhaltung
Compliance Management
Daten-Import / -Export
Dokumentenmanagement
Drittanbieter-Integration
ERP
Echtzeit-Analytik
Echtzeit-Berichterstattung
Echtzeit-Daten
Finanzmanagement
Instandhaltungsmanagement
Integration in die Buchhaltung
Inventarverwaltung
Kundenaufträge
Lagerhaus-Management
Lieferanten-Management
MES
Material-Rechnung
Mehrere Standorte
Mehrere Währungen
Planung von Materialanforderungen
Planungs-Tools
Produktion-Nachverfolgung
Produktions-Management
Produktionsplanung
Prognose
Prognosen
Projektmanagement
Qualitätskontrolle
Qualitätsmanagement
Rückverfolgbarkeit
Sicherheitsmanagement
Supply-Chain-Management
Versand-Management
Vertriebsmanagement
Workflow-Management
Überwachung
API
Aktionsmanagement
Aktivitäts-Dashboard
Aktivitäts-Verfolgung
Alarmfunktion / Benachrichtigungen
Anpassbare Berichte
Anpassbare Formulare
Anpassbare Vorlagen
Audit Trail
Aufgabenmanagement
Berichterstattung und Statistik
Beschwerdemanagement
Compliance Management
Corrective and Preventive Action (CAPA)
Daten-Import / -Export
Datenvisualisierung
Dokumentenmanagement
Dokumentenprüfung
Dokumentenspeicher
Dokumentkodierung & -kontrolle
Drittanbieter-Integration
Echtzeit-Aktualisierungen
Echtzeit-Analytik
Echtzeit-Berichterstattung
Echtzeit-Daten
Formularverwaltung
Geräte-Management
ISO-Standard-Management
Inspektions-Management
Instandhaltungsmanagement
Kommunikationsmanagement
Kontrolle des Genehmigungsprozesses
Lieferanten-Management
LieferantenQualitätskontrolle
Problemmanagement
Qualitätskontrolle
Qualitätssicherung
Risikobewertung
Risikomanagement
Rollen-basierte Genehmigung
Störfallmanagement
Trainingsmanagement
Verfolgen von Fehlern
Versionskontrolle
Veränderungsmanagement
Warnungen / Eskalation
Wirtschaftsprüfung-Management
Workflow-Management
Zugriffskontrollen / Berechtigungen
Überwachung
Siehe die vollständige QM Software (Qualitätsmanagement) Liste
Gabe M.
Quality Assurance Manager in USA
Verifizierter Nutzer auf LinkedIn
Automotive, 51-200 Mitarbeiter
Verwendete die Software für: Mehr als 1 Jahr
The software has been instrumental in keeping us compliant with ISO 9001 and IATF 16949
Kommentare: The ease of use has allowed our company to quickly scale this sector and provide both Internal and External customers the ability to document from receiving inspection all the way though to production and customer satisfaction. This software is very useful for Quality Assurance implementation, maintenance and documentation.
Vorteile:
The software is easy to use and learn. I have been in the Quality Assurance world for quite some time now and find that both new and seasoned persons would appreciate the simplistic, yet elegant, approach to quality. This software would not only help companies who have never had a CAPA/8D or quality assurance department, it also helps structure and document receiving inspection, supplier CAPA, Internal CAPA. The simplistic way that it produces reporting is a great and useful tool for anyone looking to gain or maintain compliance with regulatory bodies (ISO/AS/IATF) as well as keeping customer satisfaction high with quick reporting/number assisgnments to CAPA/8D reports.
Nachteile:
There are no short comings to this software. Anytime I hit any type of bottleneck, I have been able to reach out to 1Factory and an immediate solution is brought forth by the developers. Great response.
Stephen S.
Dir. of Engineering in USA
Sportartikel, 11-50 Mitarbeiter
Verwendete die Software für: Mehr als 1 Jahr
Critical platform for mfg. business that has a dynamic product mix.
Kommentare: Overall great experience. Customer service is outstanding and they are always open to feedback on features and UX or creating a custom CMM import template. The workflow is also fast which makes creating new plans and updating plans very easy, removing common frustrations when creating quality documentation. Using a system that is cloud based and accessible anywhere has also elevated our user participation within our organization. Users like the workflow, ease of use and the data visibility.
Vorteile:
Ease of use creating and revising inspection plans - the workflow is fast. Easily update a specification or an entire rev change in minutes. The automatic data analytics within the plans is also a huge time saver. Having the non-conforming (NCR) reporting within the QC system and linked to specific dimension(s) is also hugely beneficial within the QC system.
Nachteile:
Data backup doesn't save out ballooned drawings.
Jennifer D.
Digital Marketing Associate in USA
Luft- & Raumfahrt, 501-1.000 Mitarbeiter
Verwendete die Software für: 1-5 Monate
Quelle: SoftwareAdvice
Worth the Investment
Vorteile:
If you work in Quality Control, this will be the most powerful tool you can use day-to-day. Within days our production floor experienced 40% less non-conformances . As a defense contractor, our customers appreciated the AS9102 format and our inspectors now spend more time actually inspecting now that reports are seamlessly generated.
Nachteile:
There is a slight learning curve for this software, but this can be easily overcome even for the most basic user. Just make sure you spend the time reading the tutorials/introduction training - you won't regret it!
Antwort von Nipun
vor 3 Jahren
We welcome user feedback and reviews, but we believe this review is fake. We do not have a record of this customer (The Opl Group), and this user (Jennifer Dado) ever starting a trial or purchasing a subscription to our product.
Nick K.
Quality Engineer in USA
Unterhaltungselektronik, 51-200 Mitarbeiter
Verwendete die Software für: 6-12 Monate
All in one QMS
Kommentare: This software has solved the problem with writing long inspections plans, that are open to human error. Cutting the time to write monthly report which is now done by the click of a mouse. Has helped with task management and driven actions with by dates, which as a QE I love because you are no longer tracking people down for answers.
Vorteile:
The ease of use is definitely a plus when using and training personnel on this software. All inspectors were trained within one business day, which helps with the transition from a dated software to 1factory. As a QE the reporting side is my favorite tool that 1factory has. before one factory it would take a couple days to gather all the information needed to present to the board once a month. Now with 1factory the reports make themselves, just make sure you are filling in all the required information. MSA uses the NCR charts to attack area that need attention, whether it be supplier defects or reoccurring shop floor defects. This drives Corrective Action, which 1factory also as superb CAPA module that has a task management side to drive actions with dates! The time it use to take me to write inspections plans is cut down tremendously with being able to click on dimensions and setting frequencies to check said dimensions at. This also take the human error out of it when looking at drawing with 50+ dimensions. Another plus is the visibility, every that has a seat on the software can see how we are doing as a company whether we are missing tasks, high PPM's (Internally & externally) & supplier performance. The next plus was the customization that Nipun and his team provide. they are always striving to make this software even greater than it already is. Since we have started around a year ago our wish for Gage management, Audit findings & Approved Vendor list has been achieved
Nachteile:
I honestly cannot say I dislike anything about this software. It has been night and day compared to what I was working prior to 1 factory. Nipun and his team are working towards new additions to the software that we have requested and it seems like the sky is the limit with them.
Anthony G.
Supplier Engineering Management in USA
Halbleiter, 1.001-5.000 Mitarbeiter
Verwendete die Software für: Mehr als 1 Jahr
Make your control plans live and breath
Kommentare: Overall we have a very positive experience with the tool which directly ties into the ease of use. The highest benefit is derived from the heavy integration with the supplier to develop a meaningful control plan that both the customer and supplier will monitor with real data. This brings life to control plans that we otherwise find to be 'dusty' We have had success using data from 1Factory to drive process improvement with the supplier, and we see this as a key advantage to proactively manage our high risk parts and suppliers with more rigor. 1Factory is now a key tool in our supplier quality arsenal to manage risk in our supply base.
Vorteile:
Extremely intuitive to use, which results in fast training of internal and external users and quick adoption of the tool. No matter how powerful a tool may be, if it's hard to use or implement, then it fails to get used. 1Factory is elegantly simple.
Nachteile:
Overall we find very little cons with the software. There is a lack of customization which can be frustrating to some team members, but when we do find areas that really need improvement (meaning better suited to our needs) the 1Factory team is quick to discuss our challenges and provide solutions.