Was ist CuroComp?
Curo ist auf den Bedarf und die Vorteile deines Unternehmens zugeschnitten.
Wer verwendet CuroComp?
Unternehmen, die Vergütungsprozesse mit einer hochgradig konfigurierbaren Software verwalten und optimieren oder das vorhandene HRIS, ERP durch die Integration des Systems verbessern möchten.
CuroComp – Details
Curo Compensation
2008 gegründet
CuroComp – Details
Curo Compensation
2008 gegründet
CuroComp – Videos und Bilder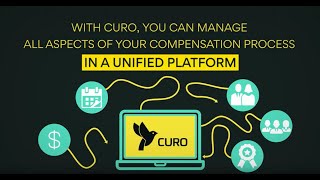 Kosten ähnlicher Produkte wie CuroComp vergleichen
Startpreis
Nicht verfügbar
Nicht verfügbar
Nicht verfügbar
Nicht verfügbar
CuroComp – Bereitstellung und Support
Training
Persönlich
Live Online
Webinare
Dokumentation
Funktionen von CuroComp
API
Aktivitäts-Dashboard
Alarmfunktion / Benachrichtigungen
Anpassbare Berichte
Anpassbare Vorlagen
Audit Trail
Aussagen zu Entschädigungen
Berichterstattung / Analyse
Berichterstattung und Statistik
Bonus-Management
Bonus-Management
Budgetmanagement
Compliance Management
Daten-Import / -Export
Dokumentenmanagement
Dokumentenspeicher
Drittanbieter-Integration
Echtzeit-Analytik
Echtzeit-Berichterstattung
Echtzeit-Daten
Entschädigungsplan-Modellierung
Erinnerungen
Gehaltshistorie
Gehaltsplanung
Kontrolle des Genehmigungsprozesses
Leistungsbeurteilung
Leistungsmanagement
Lohn- und Gehaltslisten-Management
Marktdatenanalyse
Mehrere Währungen
Mitarbeiter-Bonusprogramme
Mitarbeiter-Datenbank
Mitarbeiter-Onboarding
Mitarbeiter-Self-Service
Mitarbeitermanagement
Mitarbeiterportal
Mitarbeiterprofile
Nachfolgeplanung
Organigramme
Personalmanagement
Provisionsmanagement
Rollen-basierte Genehmigung
Self-Service Portal
Verdienst-/Bonus-Management
Verfolgen der Teilnahme
Verwaltung von Unterstützungsleistungen
Workflow-Management
Zielsetzung / Nachverfolgung
Siehe die vollständige Kompensationsmanagement Software Liste
Verifizierter Rezensent
Manager, Compensation in USA
Verifizierter Nutzer auf LinkedIn
Computer-Software, 501-1.000 Mitarbeiter
Verwendete die Software für: 1-5 Monate
Great Tool for Employees and Administrators
Kommentare: We were looking for a robust solution that would take us away from using excel for our annual bonus, equity and compensation cycles. With this solution, we found it. Feedback from our management team has been overwhelmingly positive in a tool that was intuitive, easy to use, but also gave management added visibility which many of them were craving. The overall implementation was smooth and thought out. We had a very tight timeline to execute in, but the team accommodated and we were able to launch the tool within our given time frame with no issues.
Vorteile:
-One of the more progressive tools we reviewed -Intuitive UI and easy for managers to navigate with little / no instruction or guidance -Managers liked the ability to drill down within the teams to see what allocations are being made -Easy for administrators to navigate and review the organization -Implementation team was fantastic to work with and were able to translate all of our needs into the end product -Flexibility of the tool to add / distribute funding, move budgets / employees, etc. proved to be very easy to do within the tool -The team delivered on what was promised
Nachteile:
No cons thus far with the tool - overall, we have been happy with the end result.
Rechtsberatung
Verwendete die Software für: Mehr als 2 Jahre
Quelle: SoftwareAdvice
Existing customer in the UK
Vorteile:
This provides a clear method to collate, accurately record and manage compensation decisions across our business in a simple and effective way, allowing our compensation experts to focus on just that rather than being wholly wrapped up in processes (albeit valuable proceses but not value add). Curo are a very friendly team and are easy to work with, offering a fast growing and developing software solution.
Nachteile:
You will probably find that you need to improve your own processes and your own data before being able to utilise the full functionality - we did and still are!
Computer-Software, 1.001-5.000 Mitarbeiter
Verwendete die Software für: Mehr als 2 Jahre
Easy to use
Kommentare: We use it for our annual merit reviews. It accommodates most of our expectations - easy to use, multiple countries. And then it provides the letters we need to communicate to our staff.
Vorteile:
From a user standpoint, the tool is very easy to use - just like a spreadsheet. As the administrator, it meets most of our requirements.
Nachteile:
In V3, as the administrator, I feel like I had to go to Curo to make many of the changes, corrections or updates. While they were prompt in doing so, it would be easier if I could do certain things myself.
Antwort von Curo
vor 3 Jahren
Hi, Thank you for your review. We are happy to see that the Curo tool is meeting your needs for your Merit reviews. One of the advantages of the V4 platform over V3 is the easier configuration settings and back end usability. We can certainly look at showing you have to do some of the changes within the V4 platform when you move across this year.
Liam B.
Manager Remuneration and HR Analytics in Australien
Hausmeisterservice, 10.000+ Mitarbeiter
Verwendete die Software für: 6-12 Monate
Easy to use remuneration review software
Kommentare: Curo has helped us to put our remuneration review process into the cloud. It has helped us to cut out the multiple versions of excel review sheets going back and forth, and has provided a clear and easy to follow audit trail as to what is happening, and what has happened in previous review. It also makes it very easy to manage the process and see which managers are still to complete their reviews, so we can follow up with the relevant delinquent reviewers efficiently.
Vorteile:
Easy to use and set up. The constant save feature has helped a lot of our managers who have had some poor internet connections avoid losing their work. It's highly configurable, and easy for admins to get around normal issues that occur when conducting remuneration reviews e.g. more people being added/moved/changed last minute, managers going on leave unexpectedly etc, all while having a really robust audit system.
Nachteile:
The system was mainly really intuitive, the only slight drawback being that the filtering system is slightly clunky to use for first time users. However, you can see the logic in setting things up that way, and it's still very easy to learn so it's not too much of an issue - it's overall extremely easy software to use.
Antwort von Curo
vor 3 Jahren
Thank you for your Feedback. We are pleased to see that the benefits of the Curo tool are being seen by your end users as well as making your overall process easier. We are increasing our end user manual portfolio, so it is good to know that filters may be a key topic to include to help your user with their experience.
Jeremy B.
HR Director in UK
Unternehmensberatung
Verwendete die Software für: 6-12 Monate
Quelle: SoftwareAdvice
Review of pay-review system from a global Professional Services firm
Vorteile:
There were many things to like about the service and product offered, but to list a few: 1) CuroComp is a simple tool that does exactly what it is supposed to do and it does it very well. There is no superfluous functionality. 2) Having come from a position where the annual pay-review was a very manual, labour intensive process, Curo enabled us to make the transition from spreadsheets to online system easily and quickly (engagement to roll-out was 4 months). Feedback across the organisation has been very positive - including at our Executive Committee level. 3) The team are fantastic. They were always on hand to answer questions and solve any problems.
Nachteile:
Whilst the system is in its infancy, there is still room for improvements, but the team are pro-actively seeking to improve the software by asking for client feedback so that future iterations will meet their needs.