Was ist Newoldstamp?
Professioneller E-Mail-Signaturgenerator für Teams. Verwalte alle E-Mail-Signaturen von einem einzigen Dashboard aus. Schnelle und einfache Einrichtung der Signatur. Nahtlose Integration mit wichtigen E-Mail-Clients und -Geräten, einschließlich Smartphones. Die technische Abteilung muss nicht involviert werden.
Optimiere markenkonforme E-Mail-Signaturen für alle Mitarbeiter deines Unternehmens, die deinen Richtlinien entsprechen.
Wer verwendet Newoldstamp?
Persönlicher Gebrauch, Kleinunternehmen, Start-ups, Unternehmen mit bis zu 500 Mitarbeitern.
Newoldstamp – Details
NEWOLDSTAMP
2015 gegründet
Newoldstamp Kosten
Startpreis:
1,00 $/Monat
Ja, kostenloser Test verfügbar
Ja, Gratisversion verfügbar
Newoldstamp bietet eine Gratisversion und eine kostenlose Testversion. Die kostenpflichtige Version von Newoldstamp ist ab 1,00 $/Monat verfügbar.
Preismodelle
Kostenlose Testversion
Newoldstamp – Details
NEWOLDSTAMP
2015 gegründet
Newoldstamp – Videos und Bilder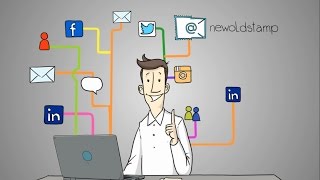 Newoldstamp – Bereitstellung und Support
Kundenbetreuung
E-Mail/Helpdesk
FAQ/Forum
Wissensdatenbank
24/7 Live-Support
Chat
Einsatz
Cloud, SaaS, webbasiert
Mac (Desktop)
Windows (Desktop)
Windows (On-Premise)
iPhone (mobil)
iPad (mobil)
Training
Live Online
Dokumentation
Videos
Funktionen von Newoldstamp
AB-Tests
API
Alarmfunktion / Benachrichtigungen
Analytik / ROI-Verfolgung
Anpassbare Felder
Anpassbare Formulare
Anpassbare Vorlagen
Automatisches Aktualisieren
Benutzer-Management
Berichterstattung / Analyse
Berichterstattung und Statistik
Bildbibliothek
Compliance Management
Datensynchronisation
Digitale Unterschrift
Dokumentvorlagen
Drag-and-Drop
Drittanbieter-Integration
E-Mail Marketing
E-Mail-Benachrichtigungen
E-Mail-Management
E-Mail-Tracking
E-Mail-Vorlagen
Echtzeit-Aktualisierungen
Engagement-Tracking
Integration des aktiven Verzeichnisses (AD)
Kampagnenanalysen
Kampagnenmanagement
Kampagnenplanung
Kampagnenspezifische Signatur
Klick-Tracking
Kundenspezifisches Branding
Lead-Generierung
Mehrere Kampagnen
Multichannel-Marketing
Nutzerprofile
Rich-Text-Bearbeiter
Rollen-basierte Genehmigung
Sichere Datenspeicherung
Signaturerstellung
Signaturvorlagen
Social-Media-Integration
Umfragen & Feedback
Unterschriften-Management
Verkaufsberichte
Vorlagen-Management
Vorschaufunktion
WYSIWYG-Editor
Workflow-Management
Zugriffskontrollen / Berechtigungen
Maryna N.
SMM Specialist in Ukraine
Verifizierter Nutzer auf LinkedIn
Computer-Software, 11-50 Mitarbeiter
Verwendete die Software für: Mehr als 1 Jahr
Professional Tool for Email Signatures
Kommentare: In our company, we use Newoldstamp to increase awareness of our sales emails, and we save a lot of time using this professional email signature generator. Also, we promote our updates, offers, events using banners in email signatures. One of the coolest features is that you can switch banners, logos, and photos automatically by making changes to the main signature.
Vorteile:
First of all, it is simple. I really like that you don't need an IT department or additional software. Each team member receives a signature to copy with detailed installation guides, so it is amazing because you can do it fast. Also, we love the fact that Newoldstamp is able to track clicks and views from your banner or logo. In this case, you can analyze and update your banner to a more attractive one.
Nachteile:
Nothing - we're happy with the service (special thanks to support, they are awesome). We will be waiting for new updates and features in the future.
Sam F.
President in Kanada
Logistik & Lieferkette, 2-10 Mitarbeiter
Verwendete die Software für: 1-5 Monate
My search is over! :)
Kommentare: These signatures are high in quality. It will allow our company to stay true to our brand image, quality and professionalism. We're happy that we can now promote our new services and promotions within emails.
Vorteile:
Luckily I've found NEWOLDSTAMP after several days of trying others. Their website is extremely user friendly and rich in features. There are no gaps in the signature line. It's nice and uniform. Their live chat being 24/7 was a huge help in helping me decide. Although each response did take 10-15min, it's better than nothing, as most of these signature services have awful service. The price also beats the other 2 services. Very affordable. I'm very happy with my decision!
Nachteile:
The ability to add custom social media icons
Esther G.
Business Owner in USA
Verifizierter Nutzer auf LinkedIn
Fotografie, 2-10 Mitarbeiter
Verwendete die Software für: 1-5 Monate
Not Intuitive and Setup is Very Confusing
Kommentare: Overall, it's confusing and limiting. I created my design, but I've only updated a few platforms because I'm not sure what I'm doing and if I created it correctly. I spent way too much time in the software trying to figure it out step by step, and apparently, I messed up when I first logged in by clicking something that was a template or something like that... or, I don't know... it's SO confusing. The point is, I ended up designing a signature I could live with, and then had to start ALL over again because I had checked something incorrectly in the initial sign in? I still don't know how it works. It's so complicated.
Vorteile:
I like that I can add call to actions on my signature and that there are TONS of social icons.
Nachteile:
That I had to pick a template. I really wish there was a feature to pick and choose the portions of the templates and not be strapped to the entire template. I really like the icons, for instance, but those weren't offered very often in the overall layout I wanted... so I spent a ton of time trying to make it look go. I also don't like how in a lot of the templates, the company name and title are both on the same line, smashed together. Also, the custom boxes are limiting in design funcionality. The dashboard is confusing to use when you first log in. I'm still not sure I have it done right. I was really excited about it at first and was looking forward to referring it to my clients, but I had so much trouble designing mine, that I haven't referred anyone... espcially since it's more expensive than some other companies out there. I don't want to refer clients to something that will cost more and be more of a headache. Sorry to unload, but I know you really want to know what it's like for us users. Maybe you should take someone off the street and video them trying to figure it out, and you will see how it's not intuitive. If you have a video tutorial when you first sign up on how to use it, it probably would have been MUCH better for me. :)
Antwort von NEWOLDSTAMP
vor 3 Jahren
Great feedback. Thank you for diving a lot of details. This is very important. We will work on making the onboarding easier
Verifizierter Rezensent
Client Relationship Manager in Neuseeland
Verifizierter Nutzer auf LinkedIn
Finanzdienstleistungen, 2-10 Mitarbeiter
Verwendete die Software für: 1-5 Monate
Newoldstamp
Kommentare: Good
Vorteile:
Appearance on outlook emails and phone settings.
Nachteile:
No ability to amend banners, restricted with banner designs.
In Betracht gezogene Alternativen: WiseStamp
Warum Newoldstamp gewählt wurde: Was unable to figure out email settings for outlook application.
Zuvor genutzte Software: WiseStamp
Vova C.
Marketing Specialist in Ukraine
Verifizierter Nutzer auf LinkedIn
Marketing & Werbung, 2-10 Mitarbeiter
Verwendete die Software für: 6-12 Monate
Promote your social profiles with email signatures
Kommentare: I don't have anything negative to say about our experience with Newoldstamp. We have been using them for a couple of months and we never had a bad experience with signatures. Everything works fine and we really enjoy having some leads just by sending emails.
Vorteile:
It is so easy to start using, to buy, configure and create signatures. Newoldstamp generator gives us a huge range of customization: a lot of templates with different colors, fonts and fields, buttons, banners, social icons, etc. They also have a great support team.
Nachteile:
Some UX things are a little confusing at first time of using, but when you stick with it, becomes easier.
In Betracht gezogene Alternativen: WiseStamp
Gründe für den Wechsel zu Newoldstamp: The best product to get more followers to your social media from your emails