Was ist Segment?
Segment sammelt Nutzerereignisse von jedem Kundenkontaktpunkt (deine Website, Web- und mobile Apps, Tools) und stellt jedem Team in deiner Organisation ein komplettes Daten-Toolkit zur Verfügung.
Das Unternehmen kümmert sich um die redundante und sich wiederholende Arbeit, die mit der Integration neuer Tools, der Pflege von Datenpipelines und der Verwaltung der Datenqualität einhergeht.
Erfahre in einer Produktdemo mehr darüber, wie Segment deinem Team helfen kann, Wachstum und Umsatz zu steigern.
Wer verwendet Segment?
Segment ist für fast jedes Unternehmen hilfreich, das Cloudservices für den Geschäftsbetrieb benötigt. Von mobilen Anwendungen über SaaS-Startups bis hin zum stationären Einzelhandel.
Wo kann Segment bereitgestellt werden?
Cloud, SaaS, webbasiert, Android (mobil), iPhone (mobil), iPad (mobil)
Über den Anbieter
Segment
Ansässig in San Francisco, USA
2011 gegründet
Telefon-Support
Chat
Über den Anbieter
Segment
Ansässig in San Francisco, USA
2011 gegründet
Telefon-Support
Chat
Segment – Videos und Bilder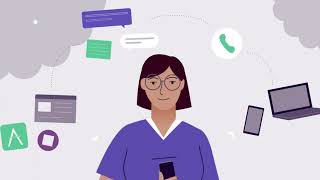 Kosten ähnlicher Produkte wie Segment vergleichen
Segment Funktionen
Berichterstattung / Analyse
Daten-Connectors
Daten-Import / -Export
Datenerfassung und Übertragung
Datenintegration
Datenmigration
Empfehlungen
Engagement-Tracking
Erfahrungsmanagement
Kampagnen-Segmentation
Konten-basiertes Marketing
Kundendatenbank
Kundenprofile
Kundensegmentierung
Match & Merge
Personalisierung
Verhalten-basiertes Targeting
Website-Personalisierung
Zielkontoerkennung
Jonny
Head of Sales Operations in UK
Verifizierter Nutzer auf LinkedIn
Finanzdienstleistungen, 51-200 Mitarbeiter
Verwendete die Software für: Mehr als 2 Jahre
Segment - The Data Layer to Have
Kommentare: Segment solves the problem of add script once. Enable quickly.
Data flows and needs a pipe to steer it in the right direction. Segment makes this easy.
Create a data science team in seconds and connect to a wide and vast number of tools and connections from Adwords to Facebook all the way through to iOS and Android. This covers many bases.
Vorteile:
Segment have built a best in class data layer and data management tool. The tool is easy to set up and creating destinations and understanding sources is simple. Add the code for Web, Mobile or a data warehouse. Then enable product and marketing teams to enable and disable marketing and product tools easily. The new personas feature is also incredibly powerful. Make collecting analytics .track and .page and .identify easy.
Nachteile:
Segment does make data easy and because of the quality of the tool it does come at a cost. The benefit is it does scale with you because the price plan works on MTUs. But it really depends on the size of your business. Beware not to over enable and connect too much if you are not using it. This will add un-necessary load which can impact mobile page speed.
Lewis
Director of Operations in USA
Verifizierter Nutzer auf LinkedIn
Chemikalien, 11-50 Mitarbeiter
Verwendete die Software für: 6-12 Monate
In Betracht gezogene Alternativen:
This CDP is great if you have a plug & play website, more tricky if you have a custom built website.
Kommentare: The customer service team, while fast and responsive, was not particularly knowledgeable about how to get around these issues we were having with visual tagger, and thus we had to work with a consultant that had the know-how of how to fully integrate Segment with our website through GTM. However, now that we have gotten our custom Segment setup up and running, it is very powerful and we're able to communicate our website event and tracking data with a multitude of analytics and other marketing tools. So overall, it has been a challenging experience, but once you get it working, it is worth the extra effort.
Vorteile:
Segment was easy to setup and integrate with our website, using the Javascript code they provided. Also the Segment interface is well designed and easy to navigate. The settings for your Destinations are all clear and laid out, so you can make changes effortlessly. The neatest feature is the visual tagger, which allows you to create and track triggers/events on your website without having to code anything at all. It's great if you want to track very basic behaviors like button clicks or form submissions.
Nachteile:
The most difficult part of Segment was when we wanted to track more granular data, such as user identities/emails. I believe if you have a typical website, built off of WordPress, or Shopify, you might not have these issues. But if you have a custom built website like ours, you will need some technical know-how in order to capture the finer data. For example, visual tagger did not work for us when we tried to use the identify call analytics.js, because our website stored user ID info on our data layer, not the presentation layer, which is only what Visual tagger can see. In order to access fields in your data layer, you'll need to use something like Google Tag Manager (GTM) to trigger and fire those events in Segment (shout out to McGaw.io for helping us with this!). So, if you have a more complex website, triggering certain events or getting fine granular data in Segment is not intuitive.
Volodymyr
Front-End Engineer in USA
E-Learning, 501-1.000 Mitarbeiter
Verwendete die Software für: Mehr als 2 Jahre
Powerful system!
Vorteile:
Love the range of applications Segment can be integrated into
Nachteile:
Notifications if there is any abnormality with the events usage
Or
CTO and Co-founder in
Verifizierter Nutzer auf LinkedIn
Internet, 11-50 Mitarbeiter
Verwendete die Software für: 1-5 Monate
Quelle: GetApp
Data loss and bad customer support
Kommentare: At first it sounds great, one stop shop for all you analytics needs. What they don't tell you is:
1. Segment API is far less reliable than any of the underlying analytics tools. I've never had any data loss with mixpanel, since I switched to segment I had 3 severe data loss incidents, one was a segment server failure, one was a result of Segment's API and the 3rd is still under investigation.
2. It's literally impossible to get proper support for urgent issues. no matter how much I emphasize the urgency, they'll send 1 reply a day, with the most useless information and ask the same basic questions over and over and over again.
Vorteile:
Reduce the amount of code that handles analytics and tracking No real alternative
Nachteile:
Unreliable. Bad customer support.
Giovanni
Marketing manager in Italien
Verifizierter Nutzer auf LinkedIn
Marketing & Werbung, 51-200 Mitarbeiter
Verwendete die Software für: Mehr als 2 Jahre
Useful marketing tool
Kommentare: great, it helps a lot in collecting customer's information
Vorteile:
Segment is a great platform that allows a lot of different functions in customer's data collection. The best thing by my point of view is that a lot of marketing tools are ready to use, you have only to connect them to Segment and all the data will flow.
Nachteile:
if your marketing tool is not on the list you have to code: that is not a bad thing, only you need a developer