Was ist ProPet?
Die nutzer*innenfreundlichste und anpassbarste Lösung zur Rationalisierung deines Haustiergeschäfts. Verwalte deine Tierpension, deine Tagesstätte, deinen Hundefriseurladen, deine Hundeschule oder deinen Tiereinzelhandel ganz einfach und flexibel online. ProPet bietet ein Kund*innenportal, Online-Buchung, Terminplanung, sichere Datenspeicherung, Online-Zahlungen, CRM, Impfmanager, Nachrichten und vieles mehr. ProPet lässt sich in QuickBooks Online, MailChimp, Stripe, Payfirma und Twilio für SMS-Texting integrieren.
Wer verwendet ProPet?
Tierpensionen, Hundetagesstätten, Hundefriseursalons, Haustierresorts, Hundeschulen, private Tierpensionen, Catteries usw.
Wo kann ProPet bereitgestellt werden?
Cloud, SaaS, webbasiert, Android (mobil), iPhone (mobil), iPad (mobil)
Über den Anbieter
ProPet Software
Ansässig in Ottawa, Kanada
2014 gegründet
Chat
Über den Anbieter
ProPet Software
Ansässig in Ottawa, Kanada
2014 gegründet
Chat
ProPet – Videos und Bilder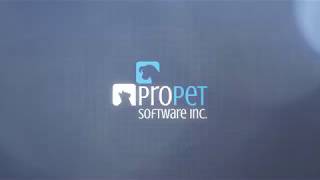 Kosten ähnlicher Produkte wie ProPet vergleichen
ProPet Funktionen
Abrechnung & Rechnungsstellung
Alarmfunktion / Benachrichtigungen
Erinnerungen
Haustiergeburtstag-Tracking
Haustierpflege
Kalenderverwaltung
Kundenmanagement
Terminverwaltung
Warwick
Co-Owner in Neuseeland
Verifizierter Nutzer auf LinkedIn
Verbraucherdienste, 2-10 Mitarbeiter
Verwendete die Software für: Mehr als 1 Jahr
Fully featured with constant improvements
Kommentare: ProPet has made it so easy for us to run our business, while the lack of Xero support has created a couple of hurdles for us, we're very happy with the overall result we've been able to achieve using it.
Vorteile:
Above all other training, daycare, boarding or grooming software - this stands tallest. ProPet is the cleanest, fully featured solution out there. While it can be very detailed and time consuming to set up, this customisability is what makes it great when you're looking for it later. The support is super helpful and always willing to hear out suggestions and feedback.
Nachteile:
The training module was heavily based on the boarding/daycare module. This is understandable as it required a starting point, but has still borrowed far too much from these modules instead of rethinking how it should work for training and building the module from a different perspective.
Tierarzt, 2-10 Mitarbeiter
Verwendete die Software für: 6-12 Monate
In Betracht gezogene Alternativen:
Not the best
Kommentare: When you have an idea or need something fixed within the software, the customer service reps are programmed to tell you that your idea is wonderful and that it will be placed on their list of great ideas, but nothing ever gets done. There is no tracking of open support tickets or follow up to help requests. There is no searchable help screen from within the software. You can search and external, ProPet knowledge base but it is very out-of-date and clunky. To me, the annual price I paid is no longer worth the value of the product/service I receive. However, once you have used ProPet for a period of time, it's hard to make the switch to another program.
Vorteile:
It does help me manage my kennel space well. With ProPet I can avoid double bookings. Clients seem to find it easy enough to use.
Nachteile:
While there is some room to customize the major and standard functions for my business, not all functions are that useable. We don't use the words "colour" and "cheque" in the US, it would be nice to have an American version of the software. What should be standard functions, you must create your own "rule" for to enable them to work properly. For example, there is no way to block clients from submitting reservations when you are going to be closed for a period of time. You can show on the calendar (X'd out dates) when you will be closed, but a client can still submit a reservation as long as their dates are on either side of your closed dates. You can't easily indicate when you kennel is completely full to clients and can no longer take reservation requests. You simply have to "cancel" every request as it comes in for the period you are full. If you like reports, ProPets has tons of reports, I think I use 2 -3 of them.
Gastgewerbe, 11-50 Mitarbeiter
Verwendete die Software für: Mehr als 2 Jahre
Great but needs work
Kommentare: It's great but a lot of the issues we have they just say
They are working on it Things we have asked for 4+ years ago
Vorteile:
It's really easy to use and to train people to use. Very straightforward and user friendly. Customers use it easily too
Nachteile:
So much needs to be done - main complaint is customers book even if you are full We have to manually tell them we're full Causes confusing and overbooking
Alyssa
General Manager in USA
Krankenhausversorgung & Gesundheitswesen, 2-10 Mitarbeiter
Verwendete die Software für: 6-12 Monate
Floppy Dog Daycare- us and our customers love it!
Kommentare: The ability to schedule online has been such a life changer. Before our customers would have to get on our website, send us an email via "Contact us" form, then it would go to the business owner who would then forward it to our general email. From there we would have to either email or call the pet owner to let them know they have confirmed. Now, its 4 buttons and its done! We have gotten amazing feedback on the portal, and we adore Propet & its ease of use. When we first got our demo we asked a few of our best customers if they minded trying it for us and giving feedback. They loved it on their end, and we loved it on ours! So incredibly happy we made the switch!
Vorteile:
We ADORE the ability for clients to schedule appointments online. It has cut down on our phone calls and encourages people to make appointments instead of just walking in. The automatic emails are fantastic, as our regulars don't really need to look at every email! Going from Kennel Connection to Propet has been one of the best decisions we have made! Propet is incredibly easy to learn, use, and grow. It keeps us incredibly organized and easy for anyone look at and understand what is going on.
Nachteile:
The phone app could use some work. I would love to see availability for the day (kennel view) on the app. Having an app for customers would also be awesome! I've had a few people ask about it. If there was a way you could turn off customers being able to make their own accounts that would help as well. We are afraid to put the link for the portal on our website, as someone did make their own account and sign their dog up for boarding without speaking to anyone. It made for a very confusing time when they showed up and we didnt know the dog. Would also love if there was a way to make a dog Bold, or red, or underlined on the dashboard for specific things. Right now we are using the High Priority note (adds a red star next to the dog name) but it is easy to overlook. Something obvious would be nice for dogs that can't go into the daycare yards or are dog aggressive. But overall, we absolutely love the software, and you guys are doing fabulous things!
, 11-50 Mitarbeiter
Verwendete die Software für: 6-12 Monate
Unmatched!
Kommentare: I've searched through and tried countless software programs that would work for us. Some offered a promising hope, but in the end, would not support the variety of services and client care we wanted to provide. Propet has renewed my hope that we FINALLY have the chance to transfer everything to computers instead of the manual system we have used for 15 years! ProPet customer service has been incredible! If we hit a snag somewhere along the way, they are right there to assist and have even accommodated certain things by reprogramming their software. AMAZING folks at ProPet continue to help us during our transition. The online portal for our clients is fantastic and is receiving high marks from our clients as well. Save yourself the trouble and disappointment of trying any other software. Head straight to the Checkout and purchase ProPet today! -Colleen Combs, King's Kastle Dog Rehabilitation and Socialization Center & Green Dog Rescue Project
Vorteile:
Ease of use, the variety it offers, the financial tracking, ease in billing... there is too much to list to choose just one or two features. Not to mention the great customer service!
Nachteile:
If you forget to hit 'send' on the original introductory email for a new client, you can't go back and send it to provide the client their portal invitation. It's easy enough to delete the client and re-enter, but it would be better if we could just opt to send the letter at a later date. That problem, however, has minimized if you set your default to "send".
Antwort von ProPet Software
vor 6 Jahren
Hi Colleen, Thank you so much for your glowing review and recommendation of ProPet! It really means a lot to us. I also wanted to let you know what you actually can resend an introductory email! In order to do this, please go to the customer's account, edit customer, and click on the Actions drop down link in the top right corner. Here you can send out a new welcome email.