Was ist NumXL?
NumXL ist ein nutzerfreundliches Statistiktool, das als Excel-Add-in verfügbar ist. Mit NumXL kannst du über eine intuitive Nutzeroberfläche direkt in Excel eine erweiterte ökonometrische Analyse schnell und einfach durchführen. Mit wenigen Klicks kannst du deine Modelle analysieren, erstellen, validieren, Backtests durchführen und prognostizieren. Du kannst auch deine Daten verfolgen und ändern sowie Modelle mit anderen teilen. NumXL bietet eine umfassende Palette statistischer Funktionen, mit der du alles erhältst, was du für die Datenanalyse und -grafiken benötigst.
Wer verwendet NumXL?
Wirtschaftsanalytiker, Berater, Universitäten, Forschungseinrichtungen, Behörden, Produktion, Energie, Lieferkette und Finanzdienstleistungen
Wo kann NumXL bereitgestellt werden?
Windows (Desktop), Windows (On-Premise)
Über den Anbieter
Spider Financial
2008 gegründet
Telefon-Support
Chat
Erhältlich in diesen Ländern
Vereinigte Staaten
Sprachen
Englisch, Spanisch
Über den Anbieter
Spider Financial
2008 gegründet
Telefon-Support
Chat
Erhältlich in diesen Ländern
Vereinigte Staaten
Sprachen
Englisch, Spanisch
NumXL – Videos und Bilder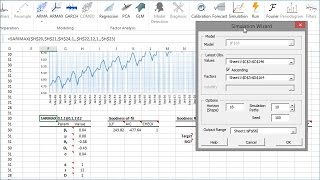 Kosten ähnlicher Produkte wie NumXL vergleichen
NumXL Funktionen
Datenvisualisierung
Multivariate Statistik
Prognose
Regressionsanalyse
Statistische Simulation
Zeitreihenanalysen
Martyn
Founding Principal in Australien
Finanzdienstleistungen, Selbstständig
Verwendete die Software für: Mehr als 1 Jahr
In Betracht gezogene Alternativen:
NUMXL is the genuine article and delivered with first-class user support.
Kommentare: Superb. Not only is the software leading edge, but our interactions with NUMXL staff have been excellent. We have been lucky enough to work with the owner, Mohamad, who not only has advised us about how to use their product most efficiently but has also helped us integrate NUMXL into our VBA scripts! Customer service from NUMXL is second-to-none and personalised in a way that the bigger players can't match. I'd rather deal with people I can speak to and build a strong working relationship than being a number to a large multi-national.
Vorteile:
While NUMXL naturally presupposes an understanding of statistics, it is intuitive to use, accurate and powerful given it is native to Microsoft Excel. Competitor products tend to require the user to learn a whole new software language, e.g. Matlab, whereas NUMXL easily integrates into Excel; meaning that it is easy to deploy to all our staff and clients without the need for time-consuming training or changes in our modelling architecture.
Nachteile:
Nothing. The product is first-class. While we would like to see more statistical functions that suit our individual purposes, NUMXL combined with Excel allows us to create formulae or even user-defined formulae and macros that suit our needs. If NUMXL could somehow make VBA multi-threaded, that would be great given we call NUMXL within VBA scripts. This is probably more a job for Microsoft, however.
Lawrence
Founder and Head of Research in USA
Vermögensverwaltung, 2-10 Mitarbeiter
Verwendete die Software für: Mehr als 2 Jahre
Great product and wonderful support team
Kommentare: Love it. Been a long time user and expect to be a user forever. The founder, Mohamad, has built a wonderful product and his support team is very responsive and knowledgeable. We use the tool everyday and I love it.
Vorteile:
Easy to use, reliable, lots of functionality.
Nachteile:
1. I wish the product could accept longer time series without losing backhistory. 2. I would love to make this country specific. It would be amazing if we could define a parameter which uses each countries holiday calendar. Asia and China specifically come to mind and could be very helpful to deal with Chinese New Year data distortions.
Antwort von Spider Financial
vor 3 Jahren
Thank you Lawrence for kind words, I have added your feedback to our features request forum for the upcoming X13ARIMA-SEATS model. Here's the post: https://support.numxl.com/hc/en-us/community/posts/360055256592-Enhancement-for-X12ARIMA
Medizinische Praxis, 501-1.000 Mitarbeiter
Verwendete die Software für: Mehr als 2 Jahre
excellent
Kommentare: quick review of models
Vorteile:
explanation of methods used and ease of altering graphics
Nachteile:
Correction of errors in data selection and choice of graphic displays
Antwort von Spider Financial
letztes Jahr
Thank you, Clive. I truly appreciate the feedback.
LADISLAV
PROFESSOR in Slowakei
Bildungsmanagement, 51-200 Mitarbeiter
Verwendete die Software für: Mehr als 2 Jahre
EASY TO USE
Kommentare: The NumXL is not the only product I use. However, it is fully functional and sufficient for many of my statistical operations.
Vorteile:
I use this product frequently when preparing the support material for my classes. I also like to present my students various software products in order to show them the broad spectrum of possibilities in selecting out of these products those, which are the most convenient for their special needs.
Nachteile:
I did not identified such components. I always consider the product in relation to their price.
Antwort von Spider Financial
vor 2 Jahren
Thank you Professor for your feedback! What components are you most interested in? How can we improve? We are striving to improve NumXL to better serve our users.
Tian Khean
Retiree in Singapur
Finanzdienstleistungen, 11-50 Mitarbeiter
Verwendete die Software für: 1-5 Monate
Why NumXL is a good tool for individual investors in the financial markets
Kommentare: Its a great software, and I can build my own models easily.
Vorteile:
1. Its focus on times series analysis which is what investors in the financial markets . 2. Its ease of use. 3. Has facilities and features that incorporate the latest advances in techniques for time series analysis.
Nachteile:
Maybe a need for them to review their technical Help files to ensure that every word, every instruction is absolutely clear. This is because I think those who gravitate to NumXL are not experts . NumXL should be positioned as a tool for those who have been using Technical Analysis Indicators and chart patterns for investment decision. They can with NumXL do better forecasting and risk management , with statistical probability and Confidence Intervals to back up. There is a big market for this kind of product. Many technical analysis users realize that Indicators like MACD, RSI, Chart Patterns etc are not useful except for those doing high frequency or forex trading.
Antwort von Spider Financial
vor 2 Jahren
Thank you, Ng Tian! I have conveyed your feedback to our team, and we are constantly working on revising and improving the user's guide and other support material.