Was ist Radware Bot Manager?
Radware Bot Manager (formerly ShieldSquare) is a non-intrusive API-based Bot Management solution to detect, eliminate, and manage bot traffic from websites, mobile apps, and APIs in real-time. Our solution leverages Intent-based Deep Behavior Analysis, device fingerprinting, and domain-specific detection technologies to identify and eliminate invalid traffic with zero false positives. We protect against automated attacks such as account takeover, application DDoS, API abuse, card fraud, content
Wer verwendet Radware Bot Manager?
Our target markets could be online marketplaces, Property Portals, E-commerce, Digital Publishing, Classifieds, Travel Sites, Auction & Gaming sites, etc.
Radware Bot Manager – Details
Radware
2013 gegründet
Radware Bot Manager – Details
Radware
2013 gegründet
Radware Bot Manager – Videos und Bilder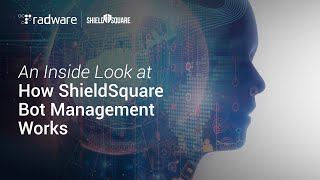 Kosten ähnlicher Produkte wie Radware Bot Manager vergleichen
Startpreis
Nicht verfügbar
99,00 $/Monat
2.990,00 $/Monat
339,60 $/Jahr
Radware Bot Manager – Bereitstellung und Support
Einsatz
Cloud, SaaS, webbasiert
Android (mobil)
iPhone (mobil)
iPad (mobil)
Funktionen von Radware Bot Manager
Suyash K.
CTO in Indien
Verifizierter Nutzer auf LinkedIn
Internet, 201-500 Mitarbeiter
Verwendete die Software für: Mehr als 1 Jahr
My experience with Shieldsquare has been very good. They are very proactive & cost effective.
Kommentare: Prevention from bad bots at a very cost effective way.
Vorteile:
Easy to use & integrate - The integration process is very smooth and it hardly adds any overhead in the response time. Frequently updated documentation & language wise ready to use libraries make it even easier. They also have various modes of integration (server side only / server + client side / active mode/ monitoring mode). So one can pick and choose according to their business and comfort. Fantastic Customer Support - Shieldsquare team is very proactive for in their support mechanism. They respond to tickets very diligently. They also take up custom development requests if they feel that the requirement will add value to many others. Always up to the mark with the latest - Being in the bot prevention industry, the rules of the business commands you to be always abreast with the latest patterns and attack mechanisms of bots. Shieldsquare has exhibited that really well in the tenure that we have worked together.
Nachteile:
Evolved Reporting - The reporting panel is very basic & strictly functional. It would be great if we could dive deep into the patterns & learn about the most vulnerable times / kind of bad bots / clustering of kind of attacks Frequent Communication regarding Case studies - Educating the users about the latest improvements & the expectations one can have from the company based on those improvements.
Verifizierter Rezensent
Founder / Editor-in-chief in Polen
Verifizierter Nutzer auf LinkedIn
Automotive
Verwendete die Software für: Mehr als 1 Jahr
Anti-bot and anti-scrapping service for an automotive website with over a million monthly users.
Vorteile:
I'm using a ShieldSquare service over a year now. I always had a problem with individuals trying to harvest data from my website, using programmatic methods, hiding behind proxies, VPNs, etc. Plus the usual bad-bots activity of various content scrapers. It was a constant cat-and-mouse play, of course quite annoying and tiring. ShieldSquare now helps me now to filter bad traffic and to detect and block the scraping activity in real time. I'm still monitoring the traffic closely and from time to time I can see that someone again tries to harvest the data, often using tens of proxies at once, but this time ShieldSquare usually blocks it quickly.
Nachteile:
I understand the costs and investments required for such service, but I believe it should become more affordable, so it could be used by any website owner as a standard security feature - something like an anti-virus software for home computers - everyone uses it these days.
Unternehmensberatung, 2-10 Mitarbeiter
Verwendete die Software für: 1-5 Monate
Wonderful so far
Kommentare: We are able to publish a lot of data online to generate organic leads without worrying about losing our competitive advantage
Vorteile:
Good value for money. Amazing support. they work with us to tailor the solution to our needs. Successfully detects and blocks bots.
Nachteile:
The admin dashboard should show more data and insights. having a bit more control for advanced users will also help.
Rene M.
Owner in Niederlande
Computer-Vernetzung, 2-10 Mitarbeiter
Verwendete die Software für: Mehr als 1 Jahr
Awesome against bots
Kommentare: Not worrying anymore about bot detection, it's great to outsource this.
Vorteile:
There are two things that I really enjoy about shield square. First of all, their detection method is a lot more sophisticated than something we could come up with ourselves. It goes far beyond just checking for user agents or the number of hits from a certain IP address. The other thing that is great is that there are a lot of integration options. There are some solutions where you have to change your DNS so that the bot detection sits in between your website and visitors, similar to how Cloudflare works. With shield square, you don't have to. You can add a connector to your website code or in your web server, that's all. Nothing changes to your DNS and how you serve web pages to your visitors. Shields square support went above and beyond to help us with our custom nginx integration.
Verwendete die Software für: Mehr als 1 Jahr
ShieldSquare is an awesome Anti-Bot, Anti-Scraping solution
Kommentare: lower cost, better performance, nicer provider
Vorteile:
ShieldSquare gets a top score from our team - it provides top capabilities, service and performance at a great price. Their core approach of making market-leading tech available through a simple integration distinguishes them from the others in the market. We actually switched to ShieldSquare from their main competitor to get better performance, more features and responsive support. They are much easier to contract with than any of their competitors and far more cost effective. We have never regretted our decision to switch to ShieldSquare.
Nachteile:
They are responsive and continually improve their service. No negatives and we look forward to their continued growth.