Was ist Panopto?
Software für Windows und Mac, mit der der Bildschirm mit Audio und Video aufgenommen wird, sodass du diese Aufnahmen bei Bedarf zur Verfügung stellen kannst. Außerdem kannst du deinen Bildschirm und dein Video an Zuschauer weltweit live übertragen. Mit Panopto kannst du Präsentationen, Vorlesungen an Universitäten, Produktdemos, Schulungsvideos, Launches, Meetings und vieles mehr aufnehmen und ausstrahlen. Focus kann von deinem Laptop aus ausgeführt werden, ist in wenigen Minuten eingerichtet und kann mit allen Videoeingabegeräten, von der Webcam bis zum HDV-Camcorder, verwendet werden.
Wer verwendet Panopto?
Universitäten, die eine Vorlesungsaufnahmesoftware benötigen. Große und mittlere Unternehmen, die Videoaufnahme- und Webcasting-Software benötigen. Regierungsbehörden, die Videoaufnahme- und Webcasting-Software benötigen.
Wo kann Panopto bereitgestellt werden?
Cloud, SaaS, webbasiert, Mac (Desktop), Windows (Desktop), Windows (On-Premise), Linux (On-Premise), Android (mobil), iPhone (mobil), iPad (mobil)
Über den Anbieter
Panopto
2007 gegründet
24/7 Live-Support
Chat
Erhältlich in diesen Ländern
Kanada, Vereinigte Staaten, Vereinigtes Königreich
Über den Anbieter
Panopto
2007 gegründet
24/7 Live-Support
Chat
Erhältlich in diesen Ländern
Kanada, Vereinigte Staaten, Vereinigtes Königreich
Panopto – Videos und Bilder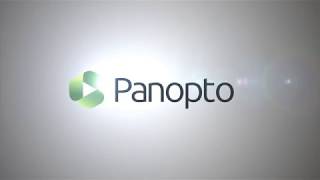 Kosten ähnlicher Produkte wie Panopto vergleichen
Panopto Funktionen
API
Asset Sharing
Asset-Kategorisierung
Berichterstattung / Analyse
Bibliothek von Vermögenswerten
Bildschirm teilen
Echtzeit-Übertragung
Interaktion mit Zielgruppen
Kundenspezifisches Branding
Leistungsüberwachung
Livestream-Produktion
Mehrere Kamera-Feeds
Metadata-Management
Optionen zur Inhaltsveröffentlichung
Publikumsanalysen
Sitzungsaufzeichnung
Social-Media-Streaming
Suchen / filtern
Teilen in sozialen Medien
Volltextsuche
Werkzeuge zur Zusammenarbeit
Workflow-Management
Zugriffskontrollen / Berechtigungen
Jonathan D.
Flexible Learning Coordinator in Kanada
Verifizierter Nutzer auf LinkedIn
Bildungsmanagement, 501-1.000 Mitarbeiter
Verwendete die Software für: Mehr als 1 Jahr
Panopto has met all of my needs and then some and the support is phenomenal.
Kommentare: We were able to give faculty one tool for all of their video creation and editing and storing needs instead of all the various tools they had to use previously to accomplish the same thing. All of the content is now stored on our server so we don't lose access to it if an employee leaves the college. We can live stream our events with it. We can manage all of our video and caption it as well. It provides us a secure way to stream 3rd party video we have an agreement with to share with specific users. Allows for adding quizzes in the video.
Vorteile:
I love how it manages our video content. The ability to manage 1000's of videos with ease and update user permissions or move content around all without breaking the link to the video was the biggest selling point for me. Other products I've evaluated managed video very differently and left things more up to the user. If the user were to leave their content would be difficult to hand over to the next person that may need it. The LMS Integration is excellent. Biggest workflow saver is when an instructor makes a recording in class the hit stop and upload and the video automatically goes into the course it needs to be in and even gives students a progress bar for it. Other products required the instructor to go in after they made the recording and move the video into the course manually or move it into a specific playlist. When an instructor finishes class they don't have time to go moving their recordings around. They need to finish up and leave before the next class starts coming in. It has so many bells and whistles. Live broadcasting, quizzing that integrates with the LMS Gradebook, scheduled recordings, so many great video player features, the mobile app. It's overall an excellent product and I couldn't find anything else that checked all my boxes.
Nachteile:
The recorder has a lot of options in regards to setting the quality when we always encourage our faculty to set it at the highest possible. I wish the recorder could be streamlined so I could start up recordings faster and have a share link go right to my clipboard so I could send it out like how Jing does it. There is value to all of the options on the recorder but I wish they had a lighter weight version.
Diego Y.
Information Technology Support Analyst in USA
Verifizierter Nutzer auf LinkedIn
Hochschulbildung, 201-500 Mitarbeiter
Verwendete die Software für: Mehr als 2 Jahre
Panopto is very easy to use and has many great features.
Kommentare: The ability to make instructional videos and to share them with others.
Vorteile:
What I like most about Panopto is how easy it is to choose what you want to record, with what source of audio you want to use, and where to save it. Another good thing is that when your video is all done, there is the ability to edit the video down in case you want to cut out some parts.
Nachteile:
The only thing I noticed was that when you would start the recording and then decide to switch to a different audio source, the program would freeze and would have to be restarted.
Verifizierter Rezensent
Teaching Assistant in Australien
Verifizierter Nutzer auf LinkedIn
Bildungsmanagement, 501-1.000 Mitarbeiter
Verwendete die Software für: 6-12 Monate
Video platform for online lectures and presentations
Kommentare: Ease of use tampered by long uploads but once it works - it works.
Vorteile:
It was fairly easy to use for asynchronous and live classes and presentations, especially for E-learning. Easy to upload the videos. Good integration with Moodle
Nachteile:
Took some time to upload videos and would like to have some control over settings on permissions and viewing.
Paul Q.
Assistant Manager of Educational Technology in USA
Hochschulbildung, 501-1.000 Mitarbeiter
Verwendete die Software für: Mehr als 2 Jahre
A solid option
Kommentare: We worked with them to get through some issues our institution had with them. Our success manager was responsive and helpful. I believe they refined some of their support protocols based on our conversations. If mobile is a requirement, we've found it useful in our purposes, but personally I find the app a bit clunky and outdated in UI
Vorteile:
The structure is easier to navigate than others we've used Integration is pretty straightforward
Nachteile:
limited upload quality compared to our current platform the mobile app is not very user friendly the editor is good, but as it turns out it doesn't truly edit, just hides portions of the video and automatically includes a fade at every cut (doesn't allow a straight cut)
Verifizierter Rezensent
Director of the Global Studio in USA
Verifizierter Nutzer auf LinkedIn
Bildungsmanagement, 1.001-5.000 Mitarbeiter
Verwendete die Software für: Mehr als 2 Jahre
PanOpto for lecture recording, media collections, class engagement, and more
Kommentare: My overall experience with PanOpto has been favorable. It's brought about increased self-reflection in teaching, and my students love ability to circle back and review collected class proceedings prior to papers and tests.
Vorteile:
I most like the collection folder organization and customizable sharing permissions. It's great for lecture recordings to help document class proceedings for subsequent reflections and student engagement strategies. The picture-in-picture recordings, the automatic tagging of timestamps with the progression of PowerPoint slides, and the versatility of downloaded outputs make this a great product for education.
Nachteile:
The connection between the desktop client and browser-base interface that we've integrated into our LMS is not easy to navigate, especially for newcomers. Consequently, the tool is predominately used by seasoned instructors. I've found it productive to give students creation access to class media collections, but there is definitely a nominal learning curve in place, where students at first use, lack the confidence to configure input and output sources. Also, it continues to frustrate me that capturing screen audio has been in beta for so long. If there is a process for multiple video inputs, then should also be a way to include multiple audio inputs, as well.