Was ist MyTime?
MyTime Scheduler ist ein leistungsfähiges Business-Management-Tool, das Online-Planung, Kundenhistorie (CRM), automatisiertes Marketing, Point-of-Sale und vieles mehr umfasst. MyTime erfreut sich rasch wachsender Beliebtheit bei lokalen Geschäftsinhabern, die die Verwaltungszeit verkürzen, die Betriebsabläufe vereinfachen und den Umsatz steigern möchten. Mit MyTime kannst du Kunden ganz einfach anwerben, planen, binden und durch den Zahlungsvorgang führen.
Wer verwendet MyTime?
MyTime ist bei über 100 verschiedenen Arten lokaler Dienstleistungsunternehmen wie Salons, Spas, Massagetherapeuten, Haustierpflegern, Autohändlern, Hauswirtschaftlern und vielen anderen beliebt.
Wo kann MyTime bereitgestellt werden?
Cloud, SaaS, webbasiert, Android (mobil), iPhone (mobil), iPad (mobil)
Über den Anbieter
MyTime
Ansässig in San Francisco, USA
2011 gegründet
Telefon-Support
24/7 Live-Support
Chat
Erhältlich in diesen Ländern
Vereinigte Staaten
Über den Anbieter
MyTime
Ansässig in San Francisco, USA
2011 gegründet
Telefon-Support
24/7 Live-Support
Chat
Erhältlich in diesen Ländern
Vereinigte Staaten
MyTime – Videos und Bilder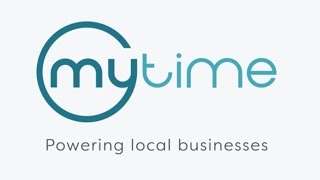 Kosten ähnlicher Produkte wie MyTime vergleichen
MyTime Funktionen
Abrechnung & Rechnungsstellung
Alarmfunktion / Benachrichtigungen
Anpassbare Felder
Automatisierte Terminplanung
Barcode / Tickets scannen
Berichterstattung / Analyse
Berichterstattung und Statistik
Bestätigung / Erinnerungen
E-Mail Marketing
Echtzeit-Planung
Einzelhandel-Management
Elektronische Unterschrift
Erinnerungen
Für Salons und Spas
Geschenkkarten-Management
Integration in die Buchhaltung
Inventarverwaltung
Kalender-Synchronisierung
Kalenderverwaltung
Kundendatenbank
Kundenkonten
Kundenmanagement
Kundenprofile
Lohn- und Gehaltslisten-Management
Mehrere Standorte
Mitarbeiter-Management
Mitarbeitereinsatzplanung
Mitarbeitermanagement
Mobiler Zugriff
Online-Buchung
Online-Zahlungen
Preismanagement
Rabattmanagement
Reservierungs-Management
Retourenmanagement
Rückgaben nachverfolgen
Service-Katalog
Terminplanung
Terminverwaltung
Touch-Screen
Treueprogramm
Verkaufsberichte
Verkaufspunkt POS
Vorlagen-Management
WYSIWYG-Editor
Wiederkehrende Termine
Zahlungsabwicklung
Fiona Noelle
Managing Member in USA
Verifizierter Nutzer auf LinkedIn
Erholungseinrichtungen & -dienstleistungen, 2-10 Mitarbeiter
Verwendete die Software für: Mehr als 2 Jahre
In Betracht gezogene Alternativen:
The Best Salon Software Ever!
Kommentare: The porting over of our data was quick and seamless and we have 99% of what we need. It made our lives so much easier.
Vorteile:
Very user-friendly! We can text clients, send scheduled and automated emails. Collect reviews, etc. Love the simple interface.
Nachteile:
Time stamps on notes, tracking of packages more easily and extension of expiration dates
Jaret
Verifizierter Nutzer auf LinkedIn
Buchhaltung
Verwendete die Software für: 1-5 Monate
Quelle: GetApp
Love this company!
Kommentare: I've been with MyTime for about a month now and have been thoroughly impressed with this company. Their customer service is phenomenal! They have a quick link to send feedback on the app/software that makes it easy to either report an issue or suggest a feature. I've submitted several ideas and had a couple of glitches and have been pleasantly surprised to either receive a response by email or even a telephone call! MyTime has literally called me four or five times to discuss either my ideas or understand a small issue I'm experiencing. Who does that anymore?! I love it! I have direct phone numbers and email address to real people who answer the phone. Awesome. I could go on forever about the customer service but I actually love the software and app as well! App: We have tried several different scheduling software options only to find that none of them could form to what we need for our home based business or they didn't have a mobile app to use on the go. We own an on the go business with no store front so 100% of our customer interaction is in their homes or through technology. With the app we can schedule appointments and input client information, call and message clients and check out analytic info. The software adds that much more to the software possibility. You can customize automatic, and professional looking emails/text messages to be sent as reminders or thank yous. You can ask for reviews automatically. You can check on the customers profile to see what type of communication they've received through the app. You can also schedule employees and easily manage their time. I don't know a lot about how this works, but each time you schedule on MyTime it helps with SEO. They do stuff to help you show up better in the search engine...I don't know all the details but it sounded really good for small business trying to get their names out there :) There's plenty more that can be said, but just experience it for yourself. You wont be disappointed!
Vorteile:
User friendly. App runs pretty quickly for scheduling. Reschedule button, quick call and mapping at the touch of a button. Message customers from app. Exceptional customer service.
Nachteile:
I would love a widget to see my calendar at a glance (they said they are in the process of creating this) and It would be awesome to color coordinate appointments by type and color coordinate blocked out time.
Jasmin
Salon Manager in USA
Tierarzt, 11-50 Mitarbeiter
Verwendete die Software für: 1-5 Monate
Frustrating Booking System
Kommentare: Overall it's not a very efficient Booking System when there's other things out there that have far more useful features. In a small scale Salon this should be fine, but anything over 20 dogs a Day for Capacity this is just outdated.
Vorteile:
Automated Alerts for Customers for their future Appointment the next Day. Can disable online booking for Customers
Nachteile:
Very outdated technology, has no alert icons, has no indication if you have multiple pets from the same owner expected, same issue occurs at checkout with multiple pets. Long wait times for Customers to Book while you're following up with any manually inputted Staff notes on Pet Profiles at the bottom of the profile. Issues with Retail POS items and trying to process a return
Peter
Web Developer in UK
Verifizierter Nutzer auf LinkedIn
Hochschulbildung, 501-1.000 Mitarbeiter
Verwendete die Software für: Mehr als 2 Jahre
Quelle: GetApp
One of the best time management applications out there
Vorteile:
I've been using My Time for as long as I can remember to manage everything from work to personal life. Its very easy to use, both as a newbie and an experienced user. Brilliant price point, compared to other applications that offer similar features this is a steal! My Time also integrates very well with other applications, such as Google and Facebook, allowing me to sync contacts across services. Both the desktop and mobile applications work very well, offering basically the same user-experience across various devices.
Nachteile:
Over time some of the free features of My Time have been moved to only be available to premium users. The frequency in which they release bug fixes is pretty terrible, there are some bugs that were reported some time ago that still haven't been fixed!
Jovan
Chief Operating Officer in USA
Verifizierter Nutzer auf LinkedIn
Verwendete die Software für: Mehr als 2 Jahre
I can't say enough good things about my time. They are so present in ready to offer Solutions& suppo
Kommentare: I truly believe that my time is on my side they want to see me when and want my business to thrive. I love how the CEO will chime in to get clarity from me firsthand. #priceless
Vorteile:
Everything that I could think of to be helpful for me and my business, my time is already thought of. And if they have not and I made the suggestion nine times out of 10 is implemented within that week.
Nachteile:
As their business evolves some things that were free in the beginning now cost money. For example it used to be free to call in for support but because I don't have the package that includes phone support I have to email / chat for support. Which is not a major issue but I did like in the past that I could just call