Was ist ROI360?
Die ROI360 Software hilft Marketing-Teams, ein lokales Netzwerk von Nutzern mit sofortigem Zugriff auf korrekt gebrandete Marketing-Vorlagen zu unterstützen und zu befähigen, und zwar innerhalb eines einfach zu bedienenden Portals. Rationalisiere den Prozess zur Erstellung von Kunstwerken und ermögliche deinem Netzwerk, innerhalb weniger Minuten qualitativ hochwertiges Marketing zu produzieren, das den Best Practices folgt. Von der Sicherstellung der Einhaltung von Vorschriften bis hin zur Versionskontrolle kannst du garantieren, dass jedes Mal die richtigen Dokumente produziert werden.
Wer verwendet ROI360?
ROI360 bietet Web-to-Print und Lösungen zur Erstellung von Druckvorlagen für Druckereien, Agenturen und Marketingteams. ROI360 hilft Unternehmen, ihre Effizienz zu verbessern, Kosten zu senken und die Markenkonsistenz zu kontrollieren.
Wo kann ROI360 bereitgestellt werden?
Cloud, SaaS, webbasiert, Mac (Desktop), Windows (Desktop)
Über den Anbieter
ROI360
Ansässig in March, UK
2001 gegründet
Telefon-Support
Chat
Erhältlich in diesen Ländern
Irland, Vereinigte Staaten, Vereinigtes Königreich
Über den Anbieter
ROI360
Ansässig in March, UK
2001 gegründet
Telefon-Support
Chat
Erhältlich in diesen Ländern
Irland, Vereinigte Staaten, Vereinigtes Königreich
ROI360 – Videos und Bilder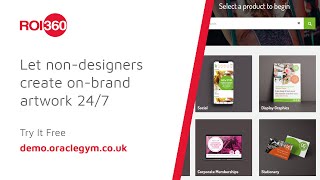 Kosten ähnlicher Produkte wie ROI360 vergleichen
ROI360 Funktionen
Angebote / Schätzungen
Auftragsmanagement
Brand Guidelines
Content-Management
Distribution von Vollziehungen
Drucken an mehreren Standorten
Genehmigungs-Workflow
Katalogisierung / Kategorisierung
Kunstwerk-Management
Mehrere Ausgabeformate
Produktkonfigurator
Projektmanagement
SEO-Management
Vorlagen
Workflow-Management
Michael P.
Marketing Manager in UK
Verifizierter Nutzer auf LinkedIn
Einzelhandel, 201-500 Mitarbeiter
Verwendete die Software für: Mehr als 2 Jahre
As Marketing Manager I promote and approve all activity on Right Market for our company.
Kommentare: I currently take on everything promotional-wise for the galleries, from brochures / invitations for new product launches, artist appearance and exhibitions to the mailing data used to market the event, and the POS to support the event. (Plus 'POS solutions') Whether that be in house or working with external sites to promote an event or encourage / increase footfall. Anything and everything that is being placed on a gallery wall or plinth that is not a painting or a print comes through me. Including how it should be displayed. Anything customer facing, such as gift vouchers, comp slips and business cards to the aftersales pack (websales included), this is all written and briefed in to the studio by me. Since using the software, our work load has eased, the galleries have also benefited from quicker turn-around for promotional material such as business cards or comp slips. Everything has been consistent across the estate. All price tickets, bios and nameplates now look exactly the same. Errors on pricing have also been eliminated as they all work from a central spreadsheet that can be uploaded to the software. It has also opened more doors to help me enforce our luxury retail status, making sure it's all on brand and printed to a high standard through ROI360's print partner Acorn Press.
Nachteile:
Currently there is not much that I don't like, if I was being picky I would remove a few extra steps from the process to streamline it for the galleries.
Matthew P.
Director in UK
Druck, 11-50 Mitarbeiter
Verwendete die Software für: Mehr als 1 Jahr
Flexible Software Product, Great support from the ROI360 Team.
Kommentare: We approached ROI360 with a need for a more advanced solution for a large client requirement. Our existing web-to-print system wasn't flexible enough to suit our customer's needs. It was a great experience working with ROI360 from initial exploration of the software through to purchasing and ROI360 helping deploy the project for our customer. Due to challenging customer requirements we needed to think outside the box and the ROI professional services team were able to customise the software to a more bespoke fit. Throughout the portal launch the team at ROI supported us throughout and even post launch with helping with client adoption of the system. We are now working on deploying more customers onto the software as well as recently we have adapted a solution to help provide value during the COVID-19 crisis with a one stop shop to purchase PPE and social distancing equipment.
Vorteile:
Very flexible software, advanced features and great support from the ROI360 team throughout the whole process.
Nachteile:
Not the cheapest on the market but to be honest, you get what you pay for and if you are looking to solve problems for your clients then the cost is somewhat irrelevant as its value all round.
Verwendete die Software für: Mehr als 2 Jahre
I have been using ROI360 Storefront for a range of client interfaces for 4 years.
Kommentare: We used the software to give clients an easier way to order rather than e-mailing files and instructions. This has saved us a huge amount of time and allowed us to provide a much faster and more reliable service. The software has also allowed us to win new business because of what benefits it can bring to customers streamlining their own processes.
Vorteile:
The platform is very easy to set up and maintain and offers a very robust solution once in place for the end user. As a SAAS model the uptime is excpetionally good and the support team is fast and knowledgeable.
Nachteile:
There are some limitations when it comes to flexibility in offering a different type of interface to different markets or customers. But if you use the strengths of the platform to build specific solutions for key customers then it t is not an issue.
Rachelle P.
Senior Creative Designer in UK
Essen & Trinken, 5.001-10.000 Mitarbeiter
Verwendete die Software für: Mehr als 1 Jahr
The site is quick and easy to use, saving us time and money.
Kommentare: - Saves designers time
- Ensures brand consistency globally
- Allows staff to understand the brand and any constraints within it
- Incorporates a PO process allowing the company to keep track of all expenditure
- A site that we can consistently add products to to help various teams around the business
Vorteile:
- The software is saving designers time by creating templated products that are regularly ordered within the business. - Members of staff internally feel more involved with the brand when they get to experience it for themselves. - We are now starting to add products on to the system on a global scale, which is going to be a massive help for our designers around the world. - The software is enabling us to implement brand consistency all around the business. - The customer service team at ROI are fantastic, and always on hand to help out whenever needed.
Jef O.
European Marketing Manager in UK
Verwendete die Software für: Mehr als 2 Jahre
Great product with good after sales support
Kommentare: It has provided us the ability to add a whole new dimension of marketing support to our dealer network.
Vorteile:
Storefront has enabled us to gain an advantage over our competitors. It is intuitive to use and provides many features (such as the resizing of PDFs) that we've not seen anywhere else. Without question, the deployment of storefront to our dealer network has helped us increase brand awareness and the overall reach of our marketing campaigns.
Nachteile:
At times, the admin area is difficult to navigate. However, after a while of using the software, we can usually overcome any difficulties we face. There is also good aftersales support available from ROI360.