Wir helfen Unternehmen in Deutschland
seit 15 Jahren bei der Softwareauswahl
Was ist My Hours?
Cloudbasierte Zeiterfassungssoftware für kleine Teams und Freiberufler*innen.
Verfolge die Zeit für Projekte mit Aufgaben, erstelle aufschlussreiche Berichte und sende Rechnungen an Kund*innen. Kostenlose Apps für iOS- und Android-Handys.
"Nutzerfreundliche Zeiterfassung" ist der häufigste Ausdruck, den Kunden seit 2002 für My Hours verwenden.
Starte kostenlos und aktualisiere auf PRO, wann immer du möchtest.
Wer verwendet My Hours?
Kleine Teams und Freiberufler*innen, die die geleisteten Arbeitsstunden pro Kund*in oder Projekt nachverfolgen und abrechnen müssen. Dafür stehen dir Aufgaben-, Bericht- und Rechnungserstellungsfunktionen zur Verfügung. Starte kostenlos.
Wo kann My Hours bereitgestellt werden?
Cloudbasiert
On-Premise (vor Ort)
---
Über den Anbieter
Spica
Ansässig in Ljubljana, Slowenien
1989 gegründet
My Hours Kosten
Startpreis:
8,00 $/Monat
Ja, kostenloser Test verfügbar
Ja, Gratisversion verfügbar
My Hours bietet eine Gratisversion und eine kostenlose Testversion. Die kostenpflichtige Version von My Hours ist ab 8,00 $/Monat verfügbar.
Über den Anbieter
Spica
Ansässig in Ljubljana, Slowenien
1989 gegründet
My Hours – Videos und Bilder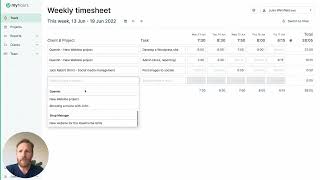 My Hours Funktionen
Abrechenbare & nicht abrechenbare Stunden
Abrechnung & Rechnungsstellung
Aktivitäts-Dashboard
Aktivitäts-Verfolgung
Aufgabenmanagement
Berichterstattung / Analyse
Berichterstattung / Projektverfolgung
Für Kreativagenturen
Für kleine Unternehmen
Kontrolle des Genehmigungsprozesses
Mitarbeiter-Datenbank
Mitarbeiterzeiterfassung
Mobile Zeiterfassung
Online-Zeiterfassung
Projektzeiterfassung
Timesheet Management
Urlaubsverwaltung
Werkzeuge zur Zusammenarbeit
Workflow-Management
Zeit & Kosten Verfolgung
Alternativen für My Hours
Bewertungen über My Hours
Klaus
Programmierer in Deutschland
Programmentwicklung, Selbstständig
Verwendete die Software für: Mehr als 1 Jahr
Herkunft der Bewertung
Bewertung
Kommentare: Zeiterfassung ist prima
Vorteile:
Einfache und jederzeit erreichbare Zeiterfassung
Nachteile:
Nichts. Alles gut. Da gibt es nichts zu meckern. Man kann parallel am Handy und am Computer abeiten
Kim
Consultant in Kanada
Verifizierter Nutzer auf LinkedIn
Pharmazeutika, 2–10 Mitarbeiter
Verwendete die Software für: Mehr als 2 Jahre
Herkunft der Bewertung
MyHours - great way to track my time
Kommentare: Great way to help me prepare my invoices for clients
Vorteile:
It is really easy to set up. Day to day it works great! And I love that it is free - for 1 person and not a team to use, the free version makes the most sense.
Nachteile:
They often upgrade things and then I have to figure out what the changes are Sometimes the changes are not for the best.
Nadege
Freelance in Portugal
Verifizierter Nutzer auf LinkedIn
Vorstandsbüro, Selbstständig
Verwendete die Software für: Kostenlose Testversion
Herkunft der Bewertung
If you don't need integration with an external app, this is the best time tracker I've seen
Kommentare: Response time of MyHours is amazing. You click, it starts. Some other software are simply too slow to process information or start tasks and I'm always wondering if the task timer has started or not. Also, this UI actually incites you to take notes which is never something you do naturally because, at that moment, you KNOW what you are working on. However, two months down the line, when the client says "what is this 4h30 log there ??", you can respond clearly "Oh you called me and you procrastinated for hours before making a decision, that's why it took so long dude !" :))
Vorteile:
- Its user interface is pretty, fast-reacting, intuitive. It takes no time to understand how it works. - You can assign the same task to various projects, which is pretty cool : the fact that I have several projects where the same tasks apply (I manage a client's clients and for each of them, I have translations, website audit, profile analysis to do... So it's great to create the task once and for all and assign it to each sub-client). - With the invoicing feature, you can see immediately what's been invoiced, what's to be invoiced. As a freelancer, this is great as you don't necessarily invoice all your clients at the end of a month. Some yes, but some are invoiced at the end of a project. No looking around, exports, calculations, to see who needs to be invoiced. - Because of how it's set up, unless you are really not focused, it's pretty impossible to have logs that don't correspond to a project and a client. My previous time tracking softwares were leaving me with unidentified logs that kept me wondering for hours on what project / task I worked three weeks ago, at 1.21am !! :) I ended up deleting logs because I had no clue if it was a mistake or a real work log... - You can set up hourly rates per task or per project or per team member. That comes in handy because, in my case, I have different clients that I charge differently. And within the same client, I also have different rates depending on the project. - Pricing is spot on.
Nachteile:
Liking "least" is not how I would define it... I would say there is room for improvement in a couple of areas that are, right now, not critical for me (but might be for others): - No integration (that I know of) with productivity software / project management software (Asana, Basecamp, Monday, Slack, Airtable, etc...). For some, it will prove a bit wasteful to have tasks in those apps and to have to repeat them in MyHours. - Filtering is limited. For example, I have two clients that are close partners and even though I invoice them separately, projects are intertwined. I need to group those two clients together when I report and analyze time spent on projects. Right now, I can only filter one client at a time and I would appreciate filter where you can multiple select. - Like all time trackers I know, MyHours also doesn't provide a really great to have feature : providing a read only view for clients of logs applying to them. For example, one of my clients for whom I work on a daily basis needs to know my "count" for the month at any given time, so he knows if he can give me more work or not, since we are on an hours package basis... Having a permanent URL where he can check on his own where I'm at and what I've worked on and how long would avoid time wasted for him asking me and time wasted for me telling him :)
In Betracht gezogene Alternativen: Harvest
Warum My Hours gewählt wurde: I had a lot of logs without clients, without projects and I wouldn't be warned until I was doing my invoicing and couldn't remember what I was doing. Lately the product became very unstable and I wasted hours just trying to start tracking and ended up tracking on my book with a pen... Frustrating. Overall, Tracking Time had way more filtering options where you could end up producing any report of any data, which was really cool but, at the end of the day, what you need is a very reactive time tracking software, which it was no longer.
Zuvor genutzte Software: TrackingTime
Gründe für den Wechsel zu My Hours: I imported my logs into Harvest but there was a mistake with the date format and all ended up being a mess. I wanted to delete all those old logs and re-import and was never able to do that, even with admin rights. I suppose it's possible to do it, I guess, but after 30 minutes of looking in vain, I thought that it was a pretty bad start so I decided to give up and look for something else. Glad I did, that's how I found MyHours !
Antwort von Spica
vor 4 Jahren
Hi Nadege, thank you so much for your kind review. Below are my short comments: 1. We are indeed slow on the integrations part. Will improve on this front very soon. 2. You can, in fact, select multiple projects or clients in reports. Maybe it is not straightforward enough. Please, contact support to learn how. 3. Shared reporting would make total sense, thanks. Thank you for your suggestions and kind words. Miha My Hours Team
Kambrie
Sound Designer in USA
Musik, Selbstständig
Verwendete die Software für: 1-5 Monate
Herkunft der Bewertung
Best Option Available
Vorteile:
I like that it's easy to use and mostly user friendly. Being able to use tags is paramount for me, as I like to categorize my projects, so that I can give more accurate pricing quotes to my clients.
Nachteile:
Features I'd love to see:-I wish there was a feature to input how long you've worked on a project (when making backlogs) in decimals (like if I could input "3.15" instead of "3 hours, 9 minutes". I can calculate it out, but that obviously takes me much longer)-When ticking off tasks, I'd love if the tasks added up to 100% and you could see a meter/circle of how much you've completed as you tick things off!-I'd love to be able to have projects be BOTH billable and non-billable, but still with the "project-based rate" setting.The following are for the DETAILED REPORTS feature (which is honestly my favorite feature):-I wish there was an option to click "all time" instead of manually going to the right year I started to now.-I wish the page kept my settings instead of reverting to default every time. I like to keep the tags visible, but I hate having to go into the settings and change that every time I need it.-With the tags, I'd love to toggle an option between "any of the chosen tags" and "all of the chosen tags". Sometimes I need to deepen or further specify my search, but I'm unable to have the parameter that the search results need to match ALL of the tags rather than any of them.
Shawn
IT Manager in Trinidad und Tobago
Paket- & Frachtlieferung, 11–50 Mitarbeiter
Verwendete die Software für: Kostenlose Testversion
Herkunft der Bewertung
Nice Time Tracker
Vorteile:
Simple and easy to use interface. The application is very responsive and reports are easily generated.
Nachteile:
limited customisation especially when it comes to the invoicing platform