Was ist tab32?
tab32 ist die einzige cloudbasierte All-in-one-Software (Browser) für Zahnarztpraxen. Die Software bietet ein umfassendes Patientenkommunikations- und Online-Buchungssystem, einschließlich Echtzeit-Zweiwege-SMS, Praxismanagementsystem, Röntgenstudio in der Cloud, e-Ansprüche und e-Anhänge zu einem günstigen Preis ohne Überraschungen.
Es sind keine Downloads, Aktualisierungen, Sicherungen oder Wartungsarbeiten erforderlich. Lege bei Bedarf sofort mit dem erfahrenen Einstellungstraining und -support los.
Wer verwendet tab32?
Zahnarztpraxen Mobile Zahnarztpraxen Große Gruppenpraxen Ein Unternehmen mit mehreren Standorten – geteilte Patientendatenbank.
Wo kann tab32 bereitgestellt werden?
Cloud, SaaS, webbasiert, Mac (Desktop), Android (mobil), iPhone (mobil), iPad (mobil)
Über den Anbieter
tab32
Ansässig in Sacramento, USA
2012 gegründet
Telefon-Support
Chat
Erhältlich in diesen Ländern
Vereinigte Staaten
Über den Anbieter
tab32
Ansässig in Sacramento, USA
2012 gegründet
Telefon-Support
Chat
Erhältlich in diesen Ländern
Vereinigte Staaten
tab32 – Videos und Bilder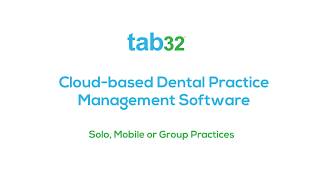 Kosten ähnlicher Produkte wie tab32 vergleichen
tab32 Funktionen
Bestätigung / Erinnerungen
Bildgebung und Röntgenstrahlung
Diagramm-Erstellung
Kundenmanagement
Medizinische Abrechnung
Terminverwaltung
Verwaltung von Patientenakten
Eva
Founder & CEO in USA
Verifizierter Nutzer auf LinkedIn
Gesundheit, Wellness & Fitness, 11-50 Mitarbeiter
Verwendete die Software für: 6-12 Monate
Everything you need in one place
Kommentare: Using the system I am able to run a teledentistry operation, which is a big win. The software is able to handle our processes and the way we interact with patients as well as hygienists and dentists working asynchronously. Customer Rep did a great job in responding to any questions we have in a timely way. I would highly recommend them.
Vorteile:
The software includes many features that I need and is highly configurable, which makes me feel like I can do anything and allows me to make processes unique to my company. My favorite feature are the ability to link clients customized forms and not require them to make an email or password, which helps reduce the obstacle of patients booking with us while still capturing all the needed data.
Nachteile:
There are very many icons, which requires some upfront training.
Gesundheit, Wellness & Fitness, 2-10 Mitarbeiter
Verwendete die Software für: 1-5 Monate
In Betracht gezogene Alternativen:
Amazing Product
Vorteile:
Customer service is impeccable. Always willing to assist with any problems I've had. Additionally, they are frequently updating the software, making changes or adjustments based on the user likes or dislikes. The layout of the software is also very intuitive and easy to learn.
Nachteile:
Nothing I can think of. Haven't been using the software long enough yet to have any issues. However, any issues I would have could be easily changed by the developers.
Edward
Dentist - Owner in USA
Medizinische Praxis, 2-10 Mitarbeiter
Verwendete die Software für: Mehr als 1 Jahr
Quelle: SoftwareAdvice
Don't be fooled!
Kommentare: I don't generally leave negative reviews, but this one is warranted. I hated almost every day I had to use Tab 32. I used it for three months from June to Aug, 2021, but have paid for it now 19 months. Tab 32 did not provide a tool that allowed me to diagnose and track my patients. The x ray portion of the software took way too many clicks. When doing endodontic procedures it was another click nightmare to use. The quality of the radiography was archaic. My staff was angry, I was angry. It was so bad I went back to paper. We continued to pay for it so we could access the data from those three months.
I contacted them in February 2022 asking to terminate and receive a data dump as I was starting a different online software. I was told that I needed to pay the remaining 8 months left on my contract to get the data. I asked to speak to someone who could help -- after many emails from me, and two unkept appointments, I gave up. If you are the leading customer service software, you should want to make sure your customers are satisfied. I am anything but satisfied. I've now paid for Tab 32 for 19 months, and used it for only three. Now I can't get a return phone call from them.
Vorteile:
The integration with front office was good; claims, etc, but the x-ray quality was horrible.
Nachteile:
Maneuvering through the program was one of the biggest downfalls. It took way too many clicks to get where I needed to be. The X-rays were very poor quality. To get help took several hours. It was difficult to move from patient to patient. We used it for 3 months solid, trying to give it the best chance. Couldn't make it work. Front office liked it, back office all hated it.
Gesundheit, Wellness & Fitness, 2-10 Mitarbeiter
Verwendete die Software für: Mehr als 1 Jahr
tab32 review
Kommentare: I have a lot of recommendations, but I ultimately like this product a lot. I think it has potential to be much better. I hope that this company lasts because I really don't want to have to transition my charts again.
Vorteile:
It is great to have everything in one place and to be able to access everything remotely. The software is intuitive and comprehensive. Its also nice to be able to communicate easily with patients.
Nachteile:
Some of the features are unnecessarily disorganized. It would have been ideal to copy the features of other EHR's that are doing their thing well. For example, the chart notes are not organized at all- just copy Open Dental. The billing is also not straight forward. The reports are easy to run, but there is no option to compare things. It would be great to be able to compare monthly production for date of service and monthly collection for date of service. Also, why would anyone need to know when a date a service was entered? This is an unnecessary report option. I think you need more dentists and billers to consult with and to implement these changes. Lastly, you need to develop a phone app, at least for the doctor. For example, I had a patient text me yesterday and I couldn't respond until late last night; then she texted me back at 7 am this morning but I didn't check the site until 9 pm tonight and I'm pretty sure she is going to be angry about that. But on days when I'm not in the office it isn't always possible for me to get on my computer. Patients expect a response earlier when its a text. And this app should not be an added fee.
Marium
Receptionist in USA
Krankenhausversorgung & Gesundheitswesen, 2-10 Mitarbeiter
Verwendete die Software für: 6-12 Monate
Tab Review
Kommentare: Overall, Tab32 is very easy to use & very self explanatory. However , unfortunately the system slows down tremendously at 3 pm when the internet starts to get slow . Also, the appoint scheduled box (in orange) always gets frozen on the screen so you have to go back to the schedule to remove it .
Vorteile:
This software system is very easy to use . I enjoy the router slips to help all staff members be on the same page as of what's being done for the day & what doctor is preferring for the next appointment. It's pretty self explanatory if you're new to the system , and making new features easy to find and use .
Nachteile:
There's a few features I wish the software system had , for example; something we can use to dictate who's on a cancellation list & who's not , to see how many appointments a patient has no called / no showed , rescheduled, etc. without having to look into their appointment history . It would also be beneficial to get the insurance information on the appointment pop-up so We wouldn't have to go to the patient profile to see what type of insurance they have .