Was ist Simvoly?
Erstelle deine Website, deinen Online-Shop oder deine Trichter mit Simvoly. Damit kannst du mehr als mit einer herkömmlichen Website konvertieren und verkaufen. Die erste Plattform, die Websites und Trichter kombiniert, um deine Produkte zu bewerben und zu verkaufen. A/B-Tests deiner Seiten, Analysen, Bump-Angebote, Upsells und Downsells.
Wer verwendet Simvoly?
Kleine/mittlere Unternehmen, Freiberufler, Blogger, Agenturen, Webdesigner, Grafikdesigner, Entwickler, Fotografen, normale Nutzer, Unternehmen, Telekommunikationsunternehmen, Hosting-Unternehmen
Wo kann Simvoly bereitgestellt werden?
Cloud, SaaS, webbasiert
Über den Anbieter
Simvoly
2016 gegründet
24/7 Live-Support
Chat
Erhältlich in diesen Ländern
Australien, Bulgarien, Vereinigte Staaten
Über den Anbieter
Simvoly
2016 gegründet
24/7 Live-Support
Chat
Erhältlich in diesen Ländern
Australien, Bulgarien, Vereinigte Staaten
Simvoly – Videos und Bilder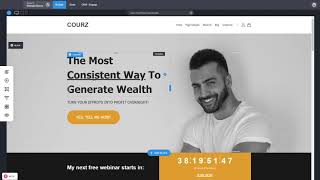 Kosten ähnlicher Produkte wie Simvoly vergleichen
Simvoly Funktionen
Anpassbare Vorlagen
Automatisches Aktualisieren
Bearbeiten in Echtzeit
Berichterstattung / Analyse
Daten-Import / -Export
Drag-and-Drop
Formular-Generator
Medienbibliothek
Online-Shop-Designer
SEO-Management
Vorgefertigte Vorlagen
Zielseiten / Web-Formulare
Jon A.
Founder & CEO, Google Adwords Expert & Google Ad Grants Specialist, Needing Help Managing Your Ads? in UK
Verifizierter Nutzer auf LinkedIn
Internet, 11-50 Mitarbeiter
Verwendete die Software für: Mehr als 2 Jahre
Would I Recommend Simvoly "YES"
Kommentare: Extremely Positive and I would highly recommend the builder due to the ease of use the price and the support
Vorteile:
Ease of use and learning curve, it's too hard to get your head around, it is a perfect web builder with many options available for the Lay Person to get set up and built asap with a smooth professional feel and look. Plus it's super easy to modify changes bits as and when needed, so it makes it super easy to maintain and set and forget. And finally the support I have received over the years have always been A+ from start to finish.
Nachteile:
The learning curve but that's to be expected, especially with me as I like to jump straight in all guns blazing, but after a day or two, you are able to get your head around it, and then that's it your off to the races.
Verifizierter Rezensent
Funnel Specialist in Schweden
Verifizierter Nutzer auf LinkedIn
Onlinemedien, Selbstständig
Verwendete die Software für: Mehr als 1 Jahr
In Betracht gezogene Alternativen:
Feature rich, easy to use and packed with possibilities
Kommentare: From day one I have loved the Simvoly system and their great support and service team. As a web developer and funnel creator it's important for me to work with systems that not only suits my needs but also my clients needs. Simvoly fills my customers and my own needs very well. It provides me with tools to make reality of my customers ideas and wishes.
Vorteile:
Great system with many useful features. It's easy and quick to work with. The time from an idea to a product to show my client is short. That gives me freedom and the client gets a good picture of what we can achive together.
Nachteile:
Looking forward to the integrated email system and the web shop update the Simvoly team are working so hard on.
Darrius S.
CEO in USA
Verifizierter Nutzer auf LinkedIn
Informationstechnologie & -dienste, 2-10 Mitarbeiter
Verwendete die Software für: 1-5 Monate
Quelle: GetApp
Terrible Experience
Nachteile:
I will try and make a very long and terrible story short. I signed up for their white label website builder program...which is where my troubles started. Communication is very up and down..they reply every now and then but not consistently. The website builder has a lot of bugs. Honestly, they should not even have a website builder reseller program. The core website builder functionality is broken and the reseller program functions are even worse. But lets put all that to the side to address why I decided to leave this review (I NEVER leave reviews). I was fed up and decided to go to PayPal to escalate it and try and get my money back. They told me they don't do refunds because of the terms and conditions I signed. Well, I went back to read those and guess what...the page COULD NOT BE FOUND! That's right no terms and conditions. After they threatened me over escalating it, I showed them a screenshot of these blank pages and guess what happened then...magically the link was changed with all these in-depth terms and conditions. These guys are the most FRAUD I have ever seen. Do not use them. And for whoever is reviewing my comment, I can verify any information you need to show in a real customer. If you guys don't post this because you want to be "liked" by this company then it shows a lot of today's businesses. Just disgusting..do not use these guys, please. They sacrificed their entire reputation over a couple of hundred bucks. No integrity what so ever.
Antwort von Simvoly
vor 4 Jahren
Hello Mr. Darrius, I believe we already won our 3 cases in PayPal against you for your false claims. You continued to lie in front of the PayPal support and you got quickly punished for that sketchy behavior. You've tried to commit a fraud on our platform and I think there is a reason for us to even press legal charges against you. We do not appreciate partners who are using our platform for the wrong reasons, lying to companies like PayPal and trying to talk bad about a company that tried to help you every step of the way. Wish you all the best.
Lili M.
Graphic Designer in USA
Marketing & Werbung, 2-10 Mitarbeiter
Verwendete die Software für: Mehr als 1 Jahr
In Betracht gezogene Alternativen:
Great features and easy to use! Just a few problems
Kommentare: Very good if you are designing a simple business website that needs features such as a blog, scheduling, forms, a store, etc. They are so easy to customize that anyone can figure them out, even with no design or coding experience. If you are looking for a website with a very custom design and not just the templates they provide, things can get difficult. It can be done but there are a lot of glitches and problems that come with trying to design it yourself. And they will eventually help you solve these problems but it can take weeks or months for them to do so.
Vorteile:
We absolutely love all of the features that come with Simvoly, especially the blog, forms, and scheduling. They are so easy to use and customize and they work very well. The design templates are great for those with no experience in design or for those who want a faster option. Even without the templates, there is lots of customization for the design which is great. Also, the tutorials are nice and quick, and very informative.
Nachteile:
Customer service is great for answering questions, but very slow if you have an issue that is hard to fix. It can take over a week for them to respond on some things if they are not simple fixes. Sometimes it takes multiple weeks depending on what the issue is, which is a huge problem. Also, they often expect me to know how to write custom code, and ask me to put it in myself to fix simple issues even though they are capable of putting the code in themselves. I believe this platform was designed for people who don't know how to code, so this is a problem. Additionally, the website design often does not come out looking the same as it does on the website builder. Most of the time it is minor differences but it makes it hard to design sometimes and you have to be very careful and check everything you do. The way that they have engineered the mobile and tablet editing also needs to be changed. The design on desktop does not carry over well in a lot of cases, and in these cases, you basically need to design the same page three times: one for desktop, one for tablet, one for mobile. And in the future, for every edit you make, you need to make it three different times, one for each device. It is very time-consuming. I believe they should improve the responsiveness of their design so you don't need to make these changes in the first place.
Bella H.
Founder in Australien
E-Learning, Selbstständig
Verwendete die Software für: 6-12 Monate
Simvoly is the best funnel software i've used (i've tried them all)!
Kommentare: This is a new software and overall it's amazing and I know it will get better! I am very happy with them, I hope they continue to do well. Fast and efficient customer service is a BIG deal and I think that in itself puts them ahead of the game!
Vorteile:
I love how professional my funnels look compared to it's popular American rival (you know the name). The price is so good! Especially when you are starting out and need to have a tight budget. The platform is so easy to use, it only took a few days for me to get the hang of it. I love that I can add lots of different payment options without having to add code or do weird things to make it happen. I love that it sends out the customers products (digital) via email instantly with no extra cost. Although it would be better if the link lasted 48 hours or 72 instead of 24. I love the support! This in my view is one of the best things about it. They are constantly working on and updating their software. If I have a problem or question they sort it out for me fairly fast. They are super knowledgeable and friendly too! I love that I can have integrations like Zapier and Active Campaign and it was so easy to set up! Now my customers can be enrolled automatically into the courses they purchase with no glitches or problems so far. I love the fact that there is a lot of customization on the pages itself. I can get it too look how I want it to look without the software freaking out like the uh hem more expensive American rival which I used to use. One of the other feature I LOVE is that when I enter in SEO information (unlike it's rival) it actually indexes for Google search results! It loads fast! Which has brought my bounce rate right down! SIMVOLY IS AMAZING!
Nachteile:
I wish the links to my digital products would last longer than 24 hours. I've been told there's a software update coming soon where I can tag bump orders with Active Campaign - you can't right now. The feature where I can edit for mobile phone and iPad is a bit weird sometimes. Sometimes it doesn't let me change the font on the mobile view - not sure why.