Was ist FindThatLead?
FindThatLead ist ein Unternehmen, das zur allgemeinen Verbesserung von Unternehmen und der Wirtschaft beiträgt, indem es Unternehmern dabei hilft, Kundschaft oder Investitionen zu finden. Keine Prospektionsarbeit mehr. FindThatLead skaliert deine Lead-Generierung für Verkäufe und Wachstum.
Wer verwendet FindThatLead?
Sie wurde für Unternehmen jeder Größe entwickelt und ist eine cloudbasierte Lösung, mit der Leads generiert und E-Mail-Kampagnen mit Lead-Segmentierung, Prospektion, E-Mail-Verifizierung und mehr erstellt werden können.
Wo kann FindThatLead bereitgestellt werden?
Cloud, SaaS, webbasiert
Über den Anbieter
FindThatLead
2014 gegründet
Chat
Erhältlich in diesen Ländern
Vereinigte Staaten
Über den Anbieter
FindThatLead
2014 gegründet
Chat
Erhältlich in diesen Ländern
Vereinigte Staaten
FindThatLead – Videos und Bilder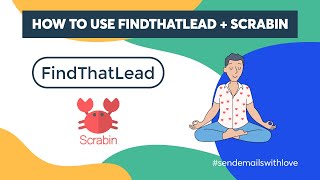 Kosten ähnlicher Produkte wie FindThatLead vergleichen
FindThatLead Funktionen
Catch-all-Servererkennung
Domainprüfung
Lead Segmentierung
Lead-Erfassung
Verfolgung von Interaktionen
Alternativen für FindThatLead
Bewertungen über FindThatLead
Ratko
CEO & Founder in Kroatien
Verifizierter Nutzer auf LinkedIn
Outsourcing/Offshoring, 2-10 Mitarbeiter
Verwendete die Software für: Mehr als 1 Jahr
Amazing tool to find leads and contact info
Kommentare: A really good tool to identify leads and get their contact info. Anyone who's looking to get new clients, partners or similar should streamline their work with it.
Vorteile:
First, ease of use. It's user friendly with a great to navigate layout. Next, their email search is amazing - much better than some of the big guns out there such as Hunter. Feature heavy they cover all the areas of finding a lead and reaching out + they've been progressing so much in the last few years, really fast pace. CSV import saves so much time when you have a list of people and company websites. Chrome extension does wonders.
Nachteile:
Sometimes takes a long time to get the results. Lack of API.
Marketing & Werbung, 2-10 Mitarbeiter
Verwendete die Software für: 6-12 Monate
In Betracht gezogene Alternativen:
Don't Sleep On FindThatLead!!
Kommentare: Amazing! They have been so helpful and quick to respond!
Vorteile:
Everything. Just. Everything. There are some cons and I will get to that in the cons section but the pros greatly outweigh the cons. 1. The price. Compared to every other email verification tool, email collecting/prospecting tool, etc. the amount of credits you get is laughable when you compare it to FindThatLead. That alone is enough for me to tell everyone who is doing email/LinkedIn marketing to get this tool right now. 2. The send emails tool they include is absolutely amazing! You can build a list of leads in their prospector tool then create an email campaign right within the app and send emails (with follow up sequences) WITHOUT using your credits! So you can essentially get thousands of free email credits with that method. AND the data tracking on it is great! I just wish they let you send individual emails because their email tracking and how they've laid everything out on the site is so much better than any other email tool I've used. 3. I have multiple email verification tools because they don't always work but FindThatLead is by far the best. Not perfect, but by far the best. 4. The customer service is amazing! I have had a lot of questions getting to know the platform and all the features and they have been super responsive and very helpful! 5. There are more features than I ever thought. I know this may sound strange but I keep discovering features that I didn't know about that make this tool more and more vital for my business.
Nachteile:
I honestly don't have any true cons when it comes to this software. For me the cons are more just feature requests. For example I wish I could send individual emails within the platform and track higher intent campaigns like that. I wish the prospector had a little more filtering details but that being said FindThatLead's prospector has more targeting options than any other tool I've seen (except LinkedIn sales nav but they don't give you a list of emails like this). So in reality I don't have anything negative to say about them.
David
Founder in USA
Verifizierter Nutzer auf LinkedIn
E-Learning, 2-10 Mitarbeiter
Verwendete die Software für: Mehr als 1 Jahr
Waste of time & money
Kommentare: Extremely disappointing.
Vorteile:
It's really hard to find any pros. But if I have to, the design is good. The tool is unusable, but it's easy to get to the tools at least.
Nachteile:
The prospecting tools simply don't work. I don't mean "sometimes work and sometimes don't", I'd say it's literally around 1% success rate. I gave them now 1 year+ before writing a review like this but as the time progresses nothing changes. Still same unusable software. The support keeps saying they're working on this bla bla, still the same horrible results. Don't buy it, get some of their competitors like snov.io. The quality is unparalleled and the difference is unbelievable.
Antwort von FindThatLead
vor 2 Jahren
Hello David!, we're really sorry to see that you got that bad feelings using findthatlead platform. About Customer Support, i was reviewing your last conversation on February 26th 2020 and support helps you by uploading and generating the list with a ~60% correct emails ratio. About Prospecting/tools, as per the conversation on the support chat we saw that you were using "Social Url Search" basically, or at least you request for it. That tool has a lower success rate than others as it needs 3 steps , 1) look for public information , 2) Match data accordingly , 3)Generate + Verify the email. When our agent recommend to use Lead Search and other tools with First Name, Last Name and Company Name / Company Website the ratio becomes 60% on small test ( usually is 25-30% ) There's no response after that on the chat until this review. If you need further assistance please don't hesitate to contact us again. Warm Regards,
Verifizierter Rezensent
Freelancer in B2B Growth & Operations in Deutschland
Verifizierter Nutzer auf LinkedIn
Versicherung, 51-200 Mitarbeiter
Verwendete die Software für: 6-12 Monate
In Betracht gezogene Alternativen:
One of the most accurate email finding tools on the market. Exceptional value for money.
Kommentare: Very accurate in finding up-to-date emails, at scale. Currently my favorite email finder on the market.
Vorteile:
One of the most accurate email finding tools in the market - which is a top priority for tools of this kind. Apart from that, very easy to use, handy bulk import function and helpful additional features like the prospector. Customer service is VERY quick and helpful.
Nachteile:
Nothing really to improve here. I'd appreciate an add-on for Google Sheets though (similar to the one of their oldest competitor, don't want to drop the name here).
Kartik Ahuja
Co-Founder | Chief Growth Officer in Indien
Verifizierter Nutzer auf LinkedIn
Marketing & Werbung, 11-50 Mitarbeiter
Verwendete die Software für: Mehr als 2 Jahre
One of the most reliable tool for lead gen
Vorteile:
I love FTL for a few reasons: 1. Helps me find leads with the help of the domain name 2. Helps me verify leads - I don't send to catch-all address so that my domain works fine 3. Helps me find leads with the help of LinkedIn or Twitter profile which is great that I get working email addresses only, I do verify them as well as I really take care of the domain reputation
Nachteile:
Nothing as such, support can be faster - but documentation covers for that.