Was ist Automox?
Cloudbasiert und weltweit verfügbar, implementiert Automox BS- und Drittanbieter-Patch-Verwaltung, Sicherheitskonfigurationen und angepasste Skripte für Windows, Mac und Linux – über eine einzige intuitive Konsole. IT und SecOps erhalten schnell die Kontrolle und Informationen über Vor-Ort-, Remote- und virtuelle Endpunkte, ohne teure Infrastruktur bereitstellen zu müssen.
Wer verwendet Automox?
Die Lösung unterstützt IT- und Sicherheitsteams jeder Größe dabei, über eine zentrale Cloud-Konsole Zugriff auf Patching, Softwarebereitstellung und Konfigurationskontrolle der Enterprise-Klasse zu erhalten.
Wo kann Automox bereitgestellt werden?
Cloud, SaaS, webbasiert, Mac (Desktop), Windows (Desktop), Linux (Desktop), Windows (On-Premise), Linux (On-Premise)
Über den Anbieter
Automox
2015 gegründet
Telefon-Support
Chat
Erhältlich in diesen Ländern
Kanada, Vereinigte Staaten
Über den Anbieter
Automox
2015 gegründet
Telefon-Support
Chat
Erhältlich in diesen Ländern
Kanada, Vereinigte Staaten
Automox – Videos und Bilder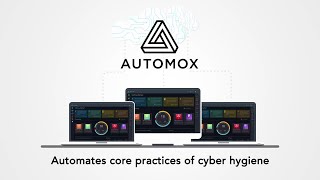 Kosten ähnlicher Produkte wie Automox vergleichen
Automox Funktionen
Aktivitäts-Dashboard
Aktivitäts-Verfolgung
Alarmfunktion / Benachrichtigungen
Anwendungssicherheit
Automatische Patch-Implementierung
Automatische Scans
Berichterstattung / Analyse
Compliance Management
Compliance-Verfolgung
Dashboard
Drittanbieter-Integration
Endpoint Management
Gerätemanagement
IT-Asset-Management
Individuelle Anpassung
Inventarverwaltung
Konfigurationsmanagement
Korrektur-Management
Management des kompletten Netzwerks
Priorisierung
Remote-Monitoring und -Management
Remote-Zugriff/-Kontrolle
Richtlinien Managemen-
Risikomanagement
Sanierungsmanagement
Schwachstellen-Scannen
Schwachstellen-Schutz
Schwachstellenbeurteilung
Self-Service Portal
Wartungsplanung
Workflow-Management
Zugriffskontrollen / Berechtigungen
Nathan
Sr. Network Security Engineer in USA
Verifizierter Nutzer auf LinkedIn
Versicherung, 501-1.000 Mitarbeiter
Verwendete die Software für: 1-5 Monate
Finally a software deployment tool that just works
Kommentare: We had a very successful POC which showed how much time we would be saving using their platform.
Automox can automatically deploy patches endpoints need for OS or third-party applications. I'm also very excited about the features they will be adding to their platform.
Vorteile:
I love how responsive the product is for being agent-based. Multi-platform support makes it easy to use one product for your patching and software deployment needs. Automatic scanning which uncovers which patches are needed for installed applications/OS. Their live dashboard makes it easy to determine the level of compliance. Their built-in live chat makes it easy to connect with Support to resolve issues.
Nachteile:
Their current reporting makes for troubleshooting deployment issues difficult sometimes but their support is top-notch and I've been told this is being addressed as is on their roadmap.
Antwort von Automox
vor 3 Jahren
Thanks for the great review, Nathan! We're glad to hear you're having a great experience with Automox. Reporting updates are absolutely on the roadmap. Stay tuned for exciting reporting updates coming soon!
Telekommunikation, 201-500 Mitarbeiter
Verwendete die Software für: Mehr als 1 Jahr
In Betracht gezogene Alternativen:
Excellent patch management tool, that needs better dashboards and integrations.
Kommentare: It's been a blessing, especially now all our workers are allowed to work remotely as much as they like. Without it, we'd have a real problem managing patches and enforcing certain system settings that used to require a VPN connection (sometimes rarely connected) or being in the office.
Vorteile:
It's really easy to use and configure, which is great when you're a small team with a limited budget, but the thing I love most is that it's cross-platform, so we don't need 3 or 4 tools, scripts, or manual updates to manage all different Operating Systems and applications we use.
Nachteile:
The dashboard is, well, pretty ugly, and doesn't really offer any customisation. I'd love to see UI update and custom charts based off search criteria.
COURTNEY
IT Manager in USA
Regierungsbeziehungen, 201-500 Mitarbeiter
Verwendete die Software für: Mehr als 1 Jahr
Tickets will go unanswered
Kommentare: The tool was great at first but when we tried to patch devices we kept having errors. The help desk takes weeks to respond and they can't seem to get issues resolved. There's too much back and forth and issues not getting fixed.
Vorteile:
The dashboard is nice and allows a user to see what devices need to be patched.
Nachteile:
The Help desk is hard to get in touch with. The help desk takes a long time to respond to issues. They need to manage a better help desk. Tickets go unresolved for weeks or months and devices can't be patched.
Bildungsmanagement, 51-200 Mitarbeiter
Verwendete die Software für: 6-12 Monate
In Betracht gezogene Alternativen:
Automox
Kommentare: Outstanding. Product has done exactly what is advertised (patch management) at a fair price. Support has also been great for the few times I had needed to reach out. They stayed on top of the ticket until it was resolved.
Vorteile:
As a very small department with hundreds of computers with various software packages installed, I needed a way to top-down see the patch cadence. Automox was quick to deploy and quick to start getting results that I could take action on.
Nachteile:
The core patch anagement features are great, but since there's an agent there may be some additional capability that could be added: Send message to user, shutdown computer, uninstall software, etc.
Antwort von Automox
vor 2 Jahren
Thanks for the review Mike! We do actually have the ability to do the things you listed in the Cons section using the Worklets feature. Check out the Worklets category on our community where we have Worklets to send messages, shut down computers and remove unwanted software. If you need help getting a Worklet written to accomplish a task, please reach out to us and we're happy to help.
John
AVP, Information Systems in USA
Versicherung, 201-500 Mitarbeiter
Verwendete die Software für: 1-5 Monate
In Betracht gezogene Alternativen:
Streamlining and simplifying our patching strategy in a "Do More with Less" world.
Kommentare: Automox has significantly reduced our time it takes to patch our systems. We also are patching additional risks that were difficult to cover with other products. The result: A better security position for the company based on the risk reports we present to our executive leadership and risk committees.
Vorteile:
This product is easy to configure, distribute, and use. It has cut down our patching cycle significantly, plus it doesn't require babysitting like many other solutions on the market. The biggest "like" though is that it has significantly reduced the risk of our company based on the reports we run from our vulnerability scanning.
Nachteile:
UI continues to need some improvement; however, they do publish updates regularly.
Antwort von Automox
vor 3 Jahren
Thanks for the great review, John! Time to patch is a critical metric we believe more organizations need to understand and act on to ensure they're reducing security gaps. We agree that the UI needs some attention, and we've been actively working on some pretty cool updates. Stay tuned!