Das könnte dich auch interessieren:
Was ist Soda PDF?
Soda PDF Anywhere ist die erste voll funktionsfähige PDF-Lösung, die sowohl als Desktop- als auch als Web-basierte Anwendung vorhanden ist. Erstelle PDFs von mehr als 300 Dateiformaten. Konvertiere diese in Microsoft Office und PDF / A. Sichere Dokumente. Schütze sensible Daten. Wende digitale Signaturen an. Erstelle professionelle Formulare. Versehe Deine Seiten mit Erläuterungen. Konnektivität mit Dropbox, Google Drive, Microsoft Onedrive, Box & Evernote. Stapelverarbeitung. OCR-Technologie. Starte Deine kostenlose 30-Tage-Business-Testversion!
Wer verwendet Soda PDF?
Soda PDF ist für Profis. Wenn Du ein Unternehmen bist, dann haben wir alles im Griff. Soda PDF bietet erweiterte Sicherheit und Kollaborationsfunktionen, ist einfach zu übernehmen und erhöht die Produktivität.
Soda PDF – Details
LULU Software
2009 gegründet
Soda PDF – Videos und Bilder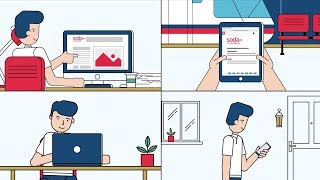 ▶︎
Soda PDF – Details
LULU Software
2009 gegründet
Kosten ähnlicher Produkte wie Soda PDF vergleichen
Startpreis
84,00 $/Jahr
12,99 $/Monat
N/A
99,00 $/einmalig
Soda PDF – Bereitstellung und Support
Kundenbetreuung
E-Mail/Helpdesk
Wissensdatenbank
Telefon-Support
Chat
Einsatz
Cloud, SaaS, webbasiert
Mac (Desktop)
Windows (Desktop)
Linux (Desktop)
Android (mobil)
Training
Live Online
Webinare
Dokumentation
Videos
Andres R.
Senior Operations Analyst in Paraguay
Verifizierter Nutzer auf LinkedIn
Welthandel & internationale Entwicklung, 5.001-10.000 Mitarbeiter
Verwendete die Software für: Mehr als 1 Jahr
Amazing set of PDF tools that includes OCR
Kommentare: After scanning all the physical documentation that I had in my office, I managed to transfer it to digital format through the OCR tool that has Soda PDF, which allowed me to have a better management of my documents, since previously I had to review a large amount of files in search of some document. Also, I can edit PDF files according to what I need and sign them digitally.
Vorteile:
I like the fact that you have an OCR tool to recognize the text in the images, so you can then edit that text in PDF. You can convert PDF files to Word, Excel, RTF and other formats. Another advantage of using Soda is that I receive email updates about its new features, which include instructions for use and video tutorials. Also, I can create a custom toolbar, where I include the tools I use most.
Nachteile:
At times, when trying to print files in batches, the software stops responding and I have to open the documents again.
Deborah B.
Virtual Assistant in USA
Verifizierter Nutzer auf LinkedIn
Professionelles Training & Coaching, Selbstständig
Verwendete die Software für: Mehr als 1 Jahr
In Betracht gezogene Alternativen:
Quality features - Fair Pricing - Watch for VERSION selection while using the software
Kommentare: When creating documents for publication there are processors first, then the PDF export (which needs to be changed depending on the Printer's specification). Then, after the proof is seen and edited, there are changes to make. I am grateful we have this software to easily delete pages that need to be updated, and then merge in the page that is corrected. The time saving, and reducing the possibility of additional issues (no need to export the whole document again). My only suggestion is a clearer path to customer data, integration for updates to plans, and clearer communication when software updates or renewals are due.
Vorteile:
It was difficult to find software that has merging and conversion features. When I first tried Soda PDF I had a limited edition free forever plan. Highly helpful to find out if it was going to work for what I needed. Once I learned how easy it was, I purchased the standard software plan. Merging, Converting, Deleting pages (that have been updated and new ones added). I've created two books and two decks of cards for publishing for clients using this tool ''after'' the documents were ready to export to PDF.
Nachteile:
An improvement I would like to see is the update between plans. For example, I purchased the standard plan after using the free forever plan. When I updated I ended up with both versions (and need to keep both), but, sometimes I'm in the middle of working on something and I get an error saying "Your plan does not include this feature, Update now ..." and the automation tries to sell me a plan I already own (but have not remembered a couple of times thought my plan had expired). It would be helpful if the VERSION of the plan is integrated for each customer using the software. CON: There does not seem to be a customer dashboard where I could see what products I have purchased and when they are due to renew. The problem with this is now I'm back on the free forever version, my standard service expired, but I didn't realize it until I was in the midst of working on a document.
Antwort von LULU Software
vor 3 Monaten
Hello Deborah, Thank you for sharing that you like how our program performs and find it cost-effective. We also appreciate your feedback regarding our upgrade system, we have forwarded it to the corresponding department. You can check your license details by clicking on your name in the right upper corner. Then choose Manage Products. If you need any assistance with your license, please contact our support at info@sodapdf.com and we will surely help you.
Verifizierter Rezensent
Pres. in USA
Verifizierter Nutzer auf LinkedIn
Verteidigung & Raumfahrt, 11-50 Mitarbeiter
Verwendete die Software für: Mehr als 2 Jahre
Quelle: GetApp
Does not work with Avast Virus Protection
Kommentare: For the first several years of using the program I was satisfied, since this issue with Avast came up about 2 years ago, I have not been able to use Soda and have purchases Adobe PDF.
Vorteile:
Early editions were easy to use pdf generation and editing tools that would occasionally crash, but the ease of use compared to Adobe PDF made Soda a superior option.
Nachteile:
After updating to Soda 12, it became impossible to use the software because Avast recognized the adware within the program as malware. It has been a year going back and forth with Customer Service and though they respond with instructions to remove all references of the program, disable Avast and then reinstall, nothing has worker. I even tried to go back to Soda 8, but still Avast detects the adware and it blocks the program. I cannot recommend this product based on my experience
Antwort von LULU Software
vor 8 Monaten
Hello there, Thank you for letting us know about your experience with our support team. Be kindly informed that the issue with Avast was fixed in the recent updates for version 12. Our highly skilled tech agents will be glad to assist you with the issue via the Live hat and one of our agents will assist you (it's available Monday-Friday 3 am - 5 pm EST). To open the Chat, please follow the steps below: 1. Open the support page: https://support.sodapdf.com/hc/en-us/ 2. Click on the Support widget in the left bottom corner of the page 3. Type any word and press Enter 4. Then select the Live Chat option at the bottom of the widget
Verifizierter Rezensent
Director in Australien
Verifizierter Nutzer auf LinkedIn
Finanzdienstleistungen, 2-10 Mitarbeiter
Verwendete die Software für: Mehr als 1 Jahr
Quelle: GetApp
Terribly slow, not easy to set up, regularly asks you to upgrade
Kommentare: Wish you had stuck to the original version without the new release.
Vorteile:
It was initially good because it was easy to use, had all the PDF functionality and quick. Then after 12 months it became terribly slow after version releases. And difficult to set up after I upgraded.
Nachteile:
So horribly slow and painful. I had urgent documents to edit and this was frustrating and stressful. I switched to Adobe PDF Editor and can't believe how much faster it is.
Antwort von LULU Software
letzten Monat
Hello, Thank you for sharing your experience with our software. Thank you for providing your feedback on our newest version. We will certainly look into your case and investigate why the new version was slow. We also want to let you know that our support team is always ready to help you. Please do not hesitate to contact us at https://support.sodapdf.com/hc/ should you have any questions.
Wendy W.
Publisher in USA
Schreiben & Editieren, 2-10 Mitarbeiter
Verwendete die Software für: 1-5 Monate
Soda PDF -- Intuitive and User Friendly Way to Create and Edit PDF Documents
Kommentare: Overall? Excellent! This is a VERY user-friendly way to both create and convert PDFs, edit/fill in a PDF, sign a PDF with a created signature, and then deliver/download/share. If for some reason I need to have a colleague review a document, the review/comment function is great for easily getting document feedback. We don't use that feature as often, but it's nice to have in the available functions.
Vorteile:
It's easy to use with little to no formal training -- very intuitive. I like that it converts documents TO PDF, PDF to MSWord or other types of files, and lets me upload a document for PDF filler access. I think forms are more professional when they're typed instead of being handwritten -- cleaner and neater for sure! We use SODA to upload forms sent to us, then fill in via the PDF filler. I love how easy SODA is to use via Mac/PC, tablets, and phones. Even when my staff and I are outside the office -- at home or on the road -- we can access SODA to ensure our work continues seamlessly. PDFs created can be saved to the Cloud, Desktop, or even e-mailed. I love this software/app!
Nachteile:
My only small complaint is that it can be hard to locate a file once it's complete. That's likely on me instead of SODA. We downloaded the software/app, and have been learning as we go. Perhaps some training on our part would make archiving easier.