Was ist Join It?
Join It ist ein Mitgliederverwaltungsdienst, mit dem Unternehmen ihre Community effektiv verfolgen, verwalten und ausbauen können. Im Kern bietet das Unternehmen eine einfache Datenbank und eine Dashboard-Schnittstelle für Unternehmensleiter, um die Entwicklungen ihrer Mitglieder zu überwachen. Anschließend integriert Join IT diesen Datenbankkontext in Lösungen von Serviceanbietern, um andere wichtige Komponenten einer Organisation wie Zahlungsabwicklung, E-Mail-Kommunikation und Veranstaltungsplanung zu automatisieren.
Wer verwendet Join It?
Join It bedient alle Organisationen oder gemeinnützige Organisationen, die eine leichte und simple Mitgliederverwaltung benötigen. Mit Join It kannst du deine Mitglieder verwalten, deine anderen Plattformen verbinden und Aufgaben automatisieren.
Wo kann Join It bereitgestellt werden?
Cloud, SaaS, webbasiert
Über den Anbieter
Join It
Ansässig in Seattle, USA
2015 gegründet
Telefon-Support
Chat
Sprachen
Englisch, Französisch, Niederländisch, Spanisch
Über den Anbieter
Join It
Ansässig in Seattle, USA
2015 gegründet
Telefon-Support
Chat
Sprachen
Englisch, Französisch, Niederländisch, Spanisch
Join It – Videos und Bilder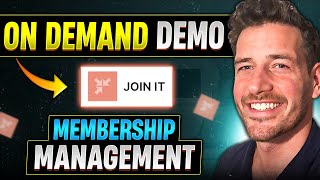 Kosten ähnlicher Produkte wie Join It vergleichen
Join It Funktionen
Abrechnung & Rechnungsstellung
E-Mail Marketing
Gebühren-Management
Kommunikationsmanagement
Kontaktmanagement
Kundenportal
Marketing-Automatisierung
Mitglieder-Datenbank
Mitglieder-Portal
Mitgliederkommunikation
Mitgliederverzeichnis
Mitgliedschaft-Management
Mitgliedschaftsarten
Mitgliedschaftsverlängerung
Mobiler Zugriff
Team-Management
Veranstaltungsmanagement
Verfolgen der Teilnahme
Zahlungsabwicklung
für gemeinnützige Organisationen
Taylor
Vice President, Board of Directors in Kanada
Verifizierter Nutzer auf LinkedIn
Non-Profit-Organisation Management, 2-10 Mitarbeiter
Verwendete die Software für: Kostenlose Testversion
In Betracht gezogene Alternativen:
Highly Recommended
Kommentare: Amazing. We had a few issues with syncing 3rd party items (entirely our fauly for making errors prior to joining this platform). Join IT went out of their way to not only help identify the problem but also recommend a solution. 10/10
Vorteile:
We love using Join It. Their customer service is amazing and goes beyond what was expected and what ive recieved from any other company. My organization loved our free trial so much (30 days. ) we have decided to subscribe on an annual basis.
Nachteile:
Obviously as a nonprofit justifying spending money is really hard. While we always would want things to be cheaper for us, the cost also was the lowest we had found for the best platform/features.
Antwort von Join It
vor 2 Jahren
Thanks for the very kind words, Taylor! It's a pleasure to support you!
Sacha
Founder & Chairman in UK
Gesundheit, Wellness & Fitness, 2-10 Mitarbeiter
Verwendete die Software für: 1-5 Monate
In Betracht gezogene Alternativen:
These JoinIt Folks Thought of Everything
Kommentare: I now know of only 2 membership management companies - JoinIt and Others. I am struggling to name what it didn't solve. I'm normally reserved on reviews but this one deserves a bit more than my normal polite comments. Exceptional experience.
Vorteile:
Incredible simplicity, versatile application across all my services , the digital membership card is what brought me to them and then l found membership management paradise . Best in class for flexibility. 6 stars in my book. You guys are not visible enough, though. It took me 2 months to find you and yet, you are the best thing on the market without the pizzaz. That offline payment toggle is a gem, it fixed my headache for African countries that don't have credit /debit cards. I was contemplating going part manual for offline registration then you cured that by actually allowing me to use joinit as a registration and prospecting tool. [SENSITIVE CONTENT HIDDEN] and team, you guys are geniuses. You actually did think of everything and if it's not yet there, I'm sure you are already thinking it
Nachteile:
Paypal is a necessary evil. You could add that if you can.😔 WhatsApp and telegram integration is a must. I want to see just my brand on my links. Although the effect is minimal, the joinit branding tends to make us look like we are using a freebie. Although i already forgave you for it because you got everything else right. Any chance there will be an offline USSD link to cater for Africa's Wi-Fi-less citizens who would end up spending more than their subscription payment just to register themselves? I know it's there, it's completely whatsapp or SMS based. It would be nice to have that too
Medizinische Praxis, 11-50 Mitarbeiter
Verwendete die Software für: Mehr als 2 Jahre
Quelle: SoftwareAdvice
Prepare for poor to no customer support and significant unannounced changes
Kommentare: Terrible. It started off well, until you got your first proven. By that point you are pretty much committed to trying to make it work. Their customer service is slow and unhelpful, and comes across frankly as uninterested. This year they started making changes to their platform that significantly affected its usability and how our clients interacted. They were unwilling to discuss and the answer we got was essentially "sorry that's how it is". This week we have a seen more changes that are intrinsically linked to how we do business. We've had never parents randomly canceled, we've been unable to set up payments to the future with any confidence and more and more collapses in how it functions. Fortunately e had already found an alternate platform and have started migrating new customers to that. Now we are forced to do a full migration which will costs significant staff hours and embarrassment with clients. Changes to platforms happen I know this but to make major changes without announcement and with a shrug of the shoulders is Damsgaard f for business. The biggest issue we have is their customer service is basically non existent. Do not expect help.
Vorteile:
Initial ease of use and clarity of finctions.
Nachteile:
Unannounced changes effecting payments
Antwort von Join It
vor 4 Monaten
Hi Paul! Thanks so much for providing us with this feedback. We sincerely do care when we miss the mark and fall short of our customer's expectations, and it really sounds like we messed up here. I take full responsibility and apologize for that. I'm going to reach out to you directly to see if there's anything that we can do to make this right. Sincerely, Mitch
Rodney
Member, Board of Directors in Schweden
Non-Profit-Organisation Management, 11-50 Mitarbeiter
Verwendete die Software für: 1-5 Monate
In Betracht gezogene Alternativen:
Very Happy JoinIT User
Kommentare: The key business problems we were trying to resolve in this organisation was to provide a better user experience for people becoming members of the organisation. We wanted a system that was easy to administer and easy for end-users. We also wanted end users to be in control of their own information. Finally, we wanted a system that integrated with other tools that we were using so that we could mix-and-match best-of-breed solutions together. JoinIT provides what we need. We actually implemented JoinIT based on the recommendation of another organisation and we are pleased we did. Implementation and migration were very simple and the people supporting JoinIT are very friendly and helpful.
Vorteile:
Setting up membership types, the integrations with leading tools, and the ability to accept online processing payments via credit card were all big draws for this software. The software is also incredibly easy to use.
Nachteile:
There are some Quality of Live improvements that could be made to the user experience such as the ability to get an invoice directly from an user's membership record (instead of clicking through to the payment processor's website), the ability to store a document in a membership record (some memberships can require verification of eligibility), and having more freedom/flexibility in payment processors (Stripe is okay, but some more competition is never a bad thing). But none of these are deal-breakers.
Melissa
Technology - volunteer in USA
Verifizierter Nutzer auf LinkedIn
Kunst & Handwerk, 2-10 Mitarbeiter
Verwendete die Software für: Mehr als 2 Jahre
In Betracht gezogene Alternativen:
Stellar team and robust product
Kommentare: We needed a highly available, fully hosted solution that provided the ability to integrate with some of the leading software, for example Eventbrite and Constant Contact. Join It does exactly that and with excellent support.
Vorteile:
I absolutely loved the technical support we received during the trial period. Superior technical support since we started using the product. We very rarely have to wait for an answer to any type of question from the Join It team and the answers are always right on target. In addition, they partner with and integrate with the best software providers in their respective business areas (email marketing, events, payment processing, financials).
Nachteile:
Does not automatically remove expired members from a Constant Contact mailing list.