Was ist Risk Cloud?
LogicGate ist eine Plattform zur Erstellung von Unternehmensanwendungen, die es praktisch jedermann ermöglicht, kundenspezifische Geschäftsanwendungen zu erstellen und bereitzustellen, die Menschen, Prozesse und Daten miteinander verbinden, ohne sich auf den Entwickler zu verlassen. Drag-and-Drop, um komplexe Geschäftsprozessabläufe ohne Kodierung zu erstellen. Definiere Regeln und Logik bei jedem Schritt, die deine Geschäfte antreiben und Probleme und Genehmigungen pünktlich an die richtige Person weiterreichen.
Wer verwendet Risk Cloud?
Organisationen, die ihre Prozesse verbessern, Risiken verwalten und ihre Betriebskosten reduzieren möchten.
Wo kann Risk Cloud bereitgestellt werden?
Cloud, SaaS, webbasiert
Über den Anbieter
LogicGate
Ansässig in Chicago, USA
2015 gegründet
Telefon-Support
Chat
Risk Cloud Kosten
Startpreis:
Nicht vom Anbieter bereitgestellt
Risk Cloud bietet keine Gratisversion.
Über den Anbieter
LogicGate
Ansässig in Chicago, USA
2015 gegründet
Telefon-Support
Chat
Risk Cloud – Videos und Bilder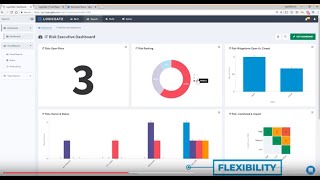 Risk Cloud Funktionen
Alarmfunktion / Benachrichtigungen
Audit Trail
Aufgabenmanagement
Berichterstattung / Analyse
Beschaffungsmanagement
Bescheinigung
Compliance Management
Compliance-Verfolgung
Dashboard
Data Mapping
Datensicherheit
Formularverwaltung
Kontrolle des Genehmigungsprozesses
Kontrollprüfung
Leistungskennzahlen
Lieferanten-Management
Lieferantenstammdaten-Verwaltung
Management by Exception
Mobiler Zugriff
PIA / DPIA
Prozess-/Workflow-Automatisierung
Reaktions-Management
Richtlinien Managemen-
Richtlinien-Metadaten-Management
Risiko-Scoring
Risikoberichte
Risikobewertung
Risikomanagement
Self-Service Portal
Störfallmanagement
Versionskontrolle
Wirtschaftsprüfung-Management
Workflow-Management
Zustimmungs-Management
für das Gesundheitswesen
Alternativen für Risk Cloud
Bewertungen über Risk Cloud
Tish
Chief Compliance Officer in USA
Verifizierter Nutzer auf LinkedIn
Automotive, 1.001-5.000 Mitarbeiter
Verwendete die Software für: 6-12 Monate
Great Tool! Eliminate reliance on spreadsheets and emails to track audit and compliance activities
Kommentare: The LogicGate procurement, implementation and now support process has been amazing. The support team is unbelievable.
Vorteile:
LogicGate is easy to use, flexible, and has many great features. It's perfect for smaller or large corporate environments. We use the tool for 3 key departments right now: Audit, Compliance & Ethics and Business Continuity. We automated several processes that previously required a lot of manual touch points and constant human follow up with emails and spreadsheet tracking. All that is gone - automated! Our teams and our business users love the changes. We use it as a document repository, workflow automation for business request and updates, risk assessments, open issue tracking, etc. Very easy to use with drag and drop functions and the LogicGate support team is amazing. So responsive and helpful.
Nachteile:
No cons from my point of view. It is a fairly new software, so the LogicGate team is actively taking customer feedback and updating their product. Many features we requested have now been added for all users.
Antwort von LogicGate
vor 2 Jahren
Hi Tish, Thank you so much for the wonderful review! We're so glad that you and your team have found LogicGate easy to use and that the automation features have been able to save your team so much time. We really appreciate your partnership! -Chris, LogicGate Customer Success Manager
michael
product compliance engineer in USA
Logistik & Lieferkette, 10.000+ Mitarbeiter
Verwendete die Software für: 1-5 Monate
user of extensive structure and data content
Kommentare: Customer support services have been phenomenal during training and implementation. the tool performs well and contains the modifications and flexibility that our company administrators can address on their own.
Vorteile:
The software tool is very flexible for creating data structures and workflows. Our assigned administrators are empowered to create or modify many aspects of the tool for our own purposes and needs. This includes adding users with specific roles and access levels, modify data structure, modify workflows, change screen layout formats, and add notification jobs. The tool reports can show visual and table outputs for data analysis of content in many ways and can be exported out as well.
Nachteile:
As LogicGate is relatively new company, this software tool has a few minor limitations for our specific needs. These limitations have been easily worked around with different options for solving, and LogicGate has already added many features that companies have requested. The company and software continues to grow and expand with periodic release updates and additional functionality.
Antwort von LogicGate
vor 2 Jahren
Hi Michael, Thank you so much for the great review! We're so glad that LogicGate can empower your team to create the data structure that works for you. Your feedback is much appreciated!
stuart
ISIT Security Compliance Analyst in Schweiz
Sicherheit & Untersuchungen, 1.001-5.000 Mitarbeiter
Verwendete die Software für: Mehr als 1 Jahr
Risk Cloud ... the way to move off Excel
Kommentare: An easy tool to understand and use..
Vorteile:
This tool allows you to either adopt and bring simple processes from your way of working With simple workflows it allows you to develop your processes over time and gives you the tools to be in control to do it
Nachteile:
On the reporting side there are dashboard and reporting which are easy to set up.... it would be nice to be able to set metrics within certain sections
Finanzdienstleistungen, 1.001-5.000 Mitarbeiter
Verwendete die Software für: 6-12 Monate
Incredibly hard to use despite having good features
Kommentare: Governance is necessary, and LogicGate has the potential to make it easier but it's not there yet.
Vorteile:
The features of the software are great and provide what we need. It provides governance structure and record-keeping.
Nachteile:
The features are incredibly unintuitive to access and use. It is hard to find tasks and commitments after they are created. It is like they got halfway through developing the website and stopped.
Eric
Public Safety Manager in USA
Krankenhausversorgung & Gesundheitswesen, 501-1.000 Mitarbeiter
Verwendete die Software für: Mehr als 2 Jahre
Straightforward software
Kommentare: Useful software to keep tickets and the historical follow-up all in once place
Vorteile:
I found it to be pretty simple to use. I was able to keep track of all of the cases that were assigned to me and was reminded when ample follow-up was needed.
Nachteile:
I didn't like that at times the program would duplicate tickets that were created but this was rectified pretty quickly with the customer support team. Also the software could have looked nicer but it was satisfactory in terms of design.