Was ist Cyfe?
Business-Dashboard zum Verwalten der Unternehmensdaten über Berichte, vorgefertigte Widgets und mehr.
Wer verwendet Cyfe?
Cyfe hilft Unternehmen jeder Größe mit KPI-Überwachung, Suchmaschinenoptimierung, Terminplanung, Social-Media-Marketing, nutzerdefinierten Berichten, Datenexport und -archivierung und mehr.
Wo kann Cyfe bereitgestellt werden?
Cloud, SaaS, webbasiert
Über den Anbieter
Traject
Ansässig in Bellevue, USA
2011 gegründet
Chat
Über den Anbieter
Traject
Ansässig in Bellevue, USA
2011 gegründet
Chat
Cyfe – Videos und Bilder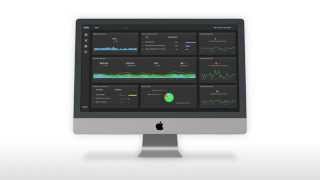 Kosten ähnlicher Produkte wie Cyfe vergleichen
Cyfe Funktionen
API
Ad-hoc-Berichterstattung
Aktivitäts-Dashboard
Alarmfunktion / Benachrichtigungen
Anpassbare Berichte
Anpassbare Vorlagen
Anpassbares Dashboard
Berichterstattung / Analyse
Dashboard
Dashboard-Erstellung
Daten-Connectors
Daten-Import / -Export
Datenvisualisierung
Drag-and-Drop
Drittanbieter-Integration
Echtzeit-Analytik
Echtzeit-Daten
Echtzeitüberwachung
Einzelseitenansicht
Funktionen / Berechnungen
Geplante / automatisierte Berichte
Historische Berichte
KPI-Überwachung
Kampagnen-Tracking
Kampagnenanalysen
Leistungskennzahlen
Mehrfache Datenquellen
ROI-Tracking
Suchen / filtern
Veröffentlichung / Teilen
Visuelle Analytik
Website-Analytik
Wichtige Leistungsindikatoren (KPI)
Widgets
Pranab
Director in Indien
Verifizierter Nutzer auf LinkedIn
Gesundheit, Wellness & Fitness, 11-50 Mitarbeiter
Verwendete die Software für: Mehr als 2 Jahre
In Betracht gezogene Alternativen:
Perfect for quickly putting together an investor dashboard!
Kommentare: When we picked up a round of investment in our startup, we needed a way to keep our investors updated with a few key metrics. Sending an update email monthly is fine, but we wanted a way to let investors do a deep-dive in their own time. Cyfe did the job perfectly for us. I was able to set up individual dashboards for investors within Cyfe, with fine-grained control over the metrics shown. Everything was self-updating, so I never had to worry about making charts in powerpoint and excel for investor updates. This freed me up to focus on growing the business.
Vorteile:
Cyfe has a simple and minimal interface. Getting started is easy, and I had my first dashboard set up within minutes using the built-in Google Analytics integration.
Nachteile:
Cyfe provides a number of built-in integrations from common data sources, but this list could have been more extensive. A dashboard is only as good as the data it can display. And we can only display data if we can access it. Luckily Cyfe does provide a way to build your own custom integration - via MySQL. So when I could not find an integration I needed, I had to create an intermediate mysql database, with the data in a format that Cyfe could then pick up and use with it's built-in MySQL integration.
Cesar
Account Manager in El Salvador
Marketing & Werbung, 201-500 Mitarbeiter
Verwendete die Software für: Mehr als 2 Jahre
In Betracht gezogene Alternativen:
A must have for digital marketers
Kommentare: We love how easy is the dashboard creation and the multiple options to share the reports. We also like how much the software has evolved since 2016 when we first started using it: its looks, functions, data integrations. We love that feeling that the software has matured along us.
Vorteile:
It's very easy to create your dashboard and populate it with widgets from different data sources like social media, e-mail marketing software, CRM, or just custom data in an spreadsheet. You can visualize the data in order to tell a more meaningful story. The process is very user-friendly and soon you will be constantly tweaking you dashboards in order to add even more relevant data.
Nachteile:
Some API's might stop working, but this is not something that Cyfe can control. You just need to be alert in order to keep your dashboards updated.
Sawyer
Marketing Coordinator in USA
Verifizierter Nutzer auf LinkedIn
Industrieautomation, 501-1.000 Mitarbeiter
Verwendete die Software für: 1-5 Monate
In Betracht gezogene Alternativen:
Horrible Customer Service and Too Limited on Customizing Data
Kommentare: In the time using it it was a solid tool that helped our marketing team get a better grip on the vast amount of data we had on all of our platforms. However, the cancelation process has been an absolute nightmare so I would suggest looking at a different provider.
Vorteile:
Cyfe was very easy and quick to set up and build dashboards for reporting across several channels.
Nachteile:
The dashboards were very limited on customization and creating calculated fields that would combine data across different channels and attach CRM data to specific campaigns and channels was not a feature. The customer service was the biggest issue I had, I was billed for 4 months (still being billed) and have attempted canceling my account 4 times and even sent in complaints to their contact us team several times with either no response or a response that said my account has been closed, yet I am still charged on a monthly basis.
Antwort von Traject
vor 5 Monaten
Hi Sawyer, we're sorry to hear you had trouble cancelling your Cyfe account. In looking at your interactions with our team, we see they helped you cancel a subscription in January. When you wrote back in recently, they discovered and helped cancel a secondary account that you'd created with Cyfe. We made an exception to our refund policy and refunded you for the charge on your secondary Cyfe account. If you're still having trouble, please reach out to support@cyfe.com for assistance.
Sarah
Marketing Coordinator in USA
Verifizierter Nutzer auf LinkedIn
Einzelhandel, 2-10 Mitarbeiter
Verwendete die Software für: 6-12 Monate
Great software but needs improvement
Kommentare: Overall Cyfe is great to view historical data at a glance, as long as the software doesn't erase your history due to password changes or glitches. It is a great idea, and the customizable dashboard is great but I feel that it could definitely use some improvements.
Vorteile:
This is a great software to track social media, sales, marketing, and more. We use it to keep track of our social media growth and advertisements. It's nice to be able to see every platform in one spot and it makes searching for information a lot easier. We keep a separate spreadsheet and update it manually each week based on information collected from Cyfe. We like that you can search by date and metric, and it has been great to see our growth over the past few months!
Nachteile:
The Instagram widget is very glitchy, and every time you reset your password for your Instagram account, the Cyfe data erases and resets (hence why we keep a manual record of everything). This can be very frustrating for viewing historical data. Also, it would be awesome if the Twitter widget could be customized since it also will erase your data if you try and change any settings. Overall I think it's a great platform but definitely needs some work when it comes to keeping historical data secure. We're constantly fretting over accidentally erasing our data and don't want to mess with the settings too much. We were hoping to not have to keep manual records at all once implementing Cyfe, but we feel that we still need to just as a backup.
Brian
Marketing Manager in USA
Verifizierter Nutzer auf LinkedIn
Einzelhandel, 2-10 Mitarbeiter
Verwendete die Software für: 1-5 Monate
Beautiful looking app!
Kommentare: I have just inherited the position of being in charge of our social media at work. At the time we weren't utilizing any type of format for seeing where our current engagement was at the time. I opened about 10 or so different options and found Cyfe. It showcases the engagement and stats levels in a beautiful fashion. It gives me a quick glance and I know how things are currently running. If I need to make an adjustment I can do so and see the changes the next day on the graphs. I love to see the changes day by day.
Vorteile:
I really love how beautiful the application looks. I was looking for a dashboard that would provide me some statistics for the performance of my social media accounts. Cyfe can do more things than that, but that is what I needed it for. It integrated with my social accounts without any problem and displays in an easy to understand manner.
Nachteile:
There's not a whole lot to dislike. I wish I had more options for watching MailChimp's stats. I guess the classic gripe is I want more of it. I guess I would love to have more of everything. Get me more integrations so I can get rid of some of the other analytics or dashboards that I am currently using.