Was ist DCatalog?
DCatalog ist ein Technologieanbieter von Lösungen für das digitale Publizieren. Mithilfe dieser Technologie kannst du deine Marketing-Inhalte und dein gedrucktes Material in ein einzigartiges digitales Editionserlebnis verwandeln. Die Inhalte sind auf allen digitalen Plattformen und sozialen Kanälen verfügbar. DCatalog bietet eine Vielfalt an interaktiven Funktionen, die nach Angaben des Entwicklerteams jede andere Softwarelösung in der digitalen Verlagsbranche übertrifft.
Wer verwendet DCatalog?
DCatalog bietet eine Digital-Publishing-Lösung für PDF-Inhalte in allen Branchen, mit Schwerpunkt auf Produktion, Gastgewerbe, Marketing, Universitäten, Einzelhandel und Finanzinstitutionen.
Wo kann DCatalog bereitgestellt werden?
Cloud, SaaS, webbasiert, Mac (Desktop), Windows (Desktop), Android (mobil), iPhone (mobil), iPad (mobil)
Über den Anbieter
DCatalog
2008 gegründet
Chat
Erhältlich in diesen Ländern
Vereinigte Staaten
Über den Anbieter
DCatalog
2008 gegründet
Chat
Erhältlich in diesen Ländern
Vereinigte Staaten
DCatalog – Videos und Bilder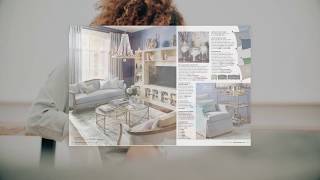 Kosten ähnlicher Produkte wie DCatalog vergleichen
DCatalog Funktionen
Anpassbare Vorlagen
Auftragsmanagement
CRM
Content-Management
E-Mail Marketing
Einkaufswagen
Individuelle Anpassung
Inhalt-Bibliothek
Inventarverwaltung
Katalogerstellung
Katalogisierung / Kategorisierung
Kategorisierung / Gruppierung
Layout und Design
Multichannel-Kampagnen
Multichannel-Marketing
Preismanagement
SEO-Management
Suchen / filtern
Terminplanung veröffentlichen
Vorlagen
Website-Management
Zirkulationsmanagement
Alternativen für DCatalog
Bewertungen über DCatalog
Richard B.
Content Technology Manager in USA
Verifizierter Nutzer auf LinkedIn
Gesundheit, Wellness & Fitness, 201-500 Mitarbeiter
Verwendete die Software für: 6-12 Monate
In Betracht gezogene Alternativen:
A Perfect Fit for Magazines and Catalogs
Kommentare: We were looking specifically for a way to publish a digital magazine on our website that included shopping cart functionality. DCatalog's shopping cart connects to our website's eCommerce platform via API, and thus allows readers to shop throughout the magazine, adding items to their cart along the way, and then check out through our normal website experience for order completion. We simply create product links using the DCatalog page editing tools, and product images then become clickable with a popup modal showing pricing, size selection, available colors/flavors, etc. DCatalog works exactly as we had hoped!
Vorteile:
The admin dashboard is a pleasure to use, which features analytics (both built-in overviews and detailed Google Analytics integration), document upload and edition management features, as well as basic page editing features. The workflow of allowing designers to create PDFs using their software of choice (e.g., Adobe InDesign), and then handing them off to another team for upload to DCatalog, adding links and publication on the website is a perfect fit for us. Another feature we've really come to love is the ability to replace individual pages on a whim, such that typos can easily be fixed, as well as time-sensitive promotions removed after expiration, etc. This allows our magazine editions to remain evergreen and easily maintainable.
Nachteile:
One minor annoyance I've observed is when I've tried using the provided link-building tools for creating circular links. The drawing tool provided is polygonal only–there is currently no ellipse tool–so circles have to be drawn using a series of straight lines, so they end up looking like octagons instead of perfect circles. If DCatalog were to provide an ellipse tool (similar to Adobe Illustrator and others) in addition to the polygonal tool, my only compliant would vanish!
Audrey C.
Solutions Manager in USA
Personalwesen, 2-10 Mitarbeiter
Verwendete die Software für: Mehr als 2 Jahre
User friendly + great customer service!
Vorteile:
Love the ease of use that DCatalog provides in using their software. The DCatalog team is awesome- from setting up our account to the occasional support needs we have, everyone is very friendly, helpful and respond quickly.
Nachteile:
Don't have any complaints about the functionality of this service.
Ryan S.
Marketing Manager in USA
Automotive, 11-50 Mitarbeiter
Verwendete die Software für: Mehr als 1 Jahr
In Betracht gezogene Alternativen:
Great Value
Kommentare: Good experience, hard to beat price for amount of functionality.
Vorteile:
-Fast set-up -Ease of Use -Quality Resolution -Price
Nachteile:
-Had to find the features -Limited human support
Stephanie P.
Marketing in USA
Professionelles Training & Coaching, 11-50 Mitarbeiter
Verwendete die Software für: Mehr als 2 Jahre
DCatalog is AmaZing!!!
Kommentare: Our overall experience has been very good. We are very pleased with DCatalog and will continue to use their services. The customer service staff, [SENSITIVE CONTENT HIDDEN], has always been helpful and kind. She is knowledgeable and friendly and the 1st year her and some of the other support staff went out of their way to assist us when we were new to the digital game and didn't even have our magazine formatted properly for digital. Through the work of the graphic designers we use and the DCatalog team we made it work and we were so grateful. After that it has always been smooth sailing with DCatalog and we are sticking around!
Vorteile:
The fabulous quality of the product. We publish a digital version of our full color 74 page magazine annually and the graphics quality is incredible. Also, the ease of use of the final product is wonderful. With several choices on how to navigate around the magazine's pages, DCatalog has made the digital version of the magazine very popular with our clientele. They can jump straight to our schedule of events or go back to something they just read with ease. We love DCatalog!!
Nachteile:
Ummm...I don't have much input here. Truly the DCatalog platform is very well put together and user friendly. If I had to say anything about what to improve then I would suggest maybe adding some additional tutorials for new users. The first year I uploaded the digital magazine, I had to figure out what I was doing. It took a little time but was not overly difficult. With that being said, maybe just some more obvious "Hey Newbie...over here" type tutorials for those that are brand new to DCatalog. Honestly, once you're using it for a while it's pretty easy.
Andrey T.
Sr. Manager, Product Marketing in USA
Krankenhausversorgung & Gesundheitswesen, 10.000+ Mitarbeiter
Verwendete die Software für: Mehr als 2 Jahre
Great Product & Company
Kommentare: We were working with another provider of a similar software, however, they were not responsive. We switched to DCatalog because from day 1, we had someone we could call directly here in the US. The staff a DCatalog have also listened to our needs and delivered on features.
Vorteile:
We purchased this product because they have US based support team that is responsive, knowledgeable and helpful. Additionally the software is flexible and something we use for external and internal Customer publications due to it's flexibility.
Nachteile:
We have several hundred publications which requires use to manage revisions, but that is the nature of what we do.