Was ist Workflow?
Contentools ist eine leistungsstarke Content-Marketing-Software für mittelständische und große Unternehmen, die mit allem ausgestattet ist, was du für die Planung, Organisation, Verteilung und Messung deiner Content-Produktion und -Leistung benötigst.
Merkmale: Redaktionskalender, Anpassbare Workflows, Ideenspeicher, Content Asset Management, KI-gestützte Inhaltseinblicke, Social Posts mit dynamischen Daten, Auto-Publishing, Rollen mit maßgeschneiderten Berechtigungsstufen, In-App-Editor, SEO-Optimierung, CMS, Zapier-Integration.
Wer verwendet Workflow?
Marketing-Teams und Agenturen, die ihre Content-Abläufe standardisieren und rationalisieren möchten. Von über 1.000 Marketing-Teams verwendet: VTEX, Roche, DoneByFriday, Worthix, RevenueZen, EdenRed, Top5.
Wo kann Workflow bereitgestellt werden?
Cloud, SaaS, webbasiert
Über den Anbieter
GrowthHackers
Ansässig in San Francsisco, USA
2003 gegründet
Telefon-Support
24/7 Live-Support
Chat
Sprachen
Englisch, Portugiesisch
Über den Anbieter
GrowthHackers
Ansässig in San Francsisco, USA
2003 gegründet
Telefon-Support
24/7 Live-Support
Chat
Sprachen
Englisch, Portugiesisch
Workflow – Videos und Bilder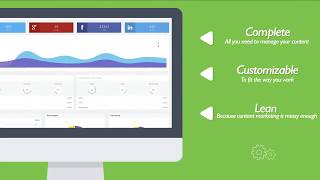 Kosten ähnlicher Produkte wie Workflow vergleichen
Workflow Funktionen
Content-Management
Dokumentenmanagement
Multichannel-Kampagnen
Optionen zur Inhaltsveröffentlichung
Social-Media-Integration
Terminplanung veröffentlichen
Textbearbeitung
Versionskontrolle
Werkzeuge zur Zusammenarbeit
Workflow-Management
Zugriffskontrollen / Berechtigungen
Alternativen für Workflow
Bewertungen über Workflow
Chris
Founder in USA
Verifizierter Nutzer auf LinkedIn
Internet, 11-50 Mitarbeiter
Verwendete die Software für: Mehr als 1 Jahr
Recommend for all our customers
Kommentare: Keep at it Contentools team, you're doing great work helping teams align on their most important work (generating leads)!
Vorteile:
This tool more than doubled our customers' content marketing productivity. We recommend it for any team with 1+ content writers who are trying to align on content planing + execution, as well as deadlines. It also helps teams steramlines the approval process, as well as pushing content to production.
Nachteile:
I know there's some ML/AI based features in the pipeline, very excited to see what will end up looking like.
Tami
asst digital merchandiser in USA
Einzelhandel, 10.000+ Mitarbeiter
Verwendete die Software für: Mehr als 2 Jahre
Workflow Review
Kommentare: Like I said above I use workflow for almost all of my site updates, from small things like re-sorting the order in which product images are on the site to big things like create manually curated links. I also use it to create landing pages and export styles from links & events to use for other reporting purposes.
Vorteile:
I use workflow daily, and the scope of tasks it is vital for ranges from small changes on the PDP to updating entire C links on the live site. What I love most is how intuitive the interface is to use, I get so frustrated with programs that are not instinctive to use, and that is not the case with Workflow. All interfaces and links are laid out clearly, the SAVE button is in a convenient spot and you can easily navigate between 30+ tabs (which i do very frequently) and if you forget to save before closing a tab you are prompted to save or delete changes. This sounds like a small feature but it is a LIFESAVER when you're going through a repetitive task quickly. The updates made in WF flow through to the live site almost immediately and it's very simple to make additional updates quickly.
Nachteile:
The only big con I associate with workflow is that the system glitches out when you are uploading more than 300 lines at a time. Most of the time the files still get uploaded when you receive this error message but occasionally you'l need to clear the job and start over, which literally just takes a few seconds but it's still a feature i wish they would update. I think it would be ideal wo upload at least 1000 lines at once.
Stephanie
VP Content in USA
Internet, 11-50 Mitarbeiter
Verwendete die Software für: 1-5 Monate
Decided against this content production platform
Vorteile:
I liked the price point and overall simple user experience and the very supportive customer team. They were very helpful by email and very quick to respond when I reported an issue. I was looking to set this up to extend to our content production and SEO team, so the features were mostly there for that, but not all the way. The collaboration features were just a little too light.
Nachteile:
For starters, I constantly received broken/errant email alerts. The emails were alternately being sent in Portuguese, despite being English language software, and I don't speak Portuguese. I felt like the product was very much still in Beta, in that regards. Also, I was comparing this tool with DivvyHQ and felt Contentools did not have enough collaboration and SEO features, and that workflow would not be as simple as with Divvy.
Thiago
Content Manager in Brasilien
Verifizierter Nutzer auf LinkedIn
Marketing & Werbung, 11-50 Mitarbeiter
Verwendete die Software für: 6-12 Monate
The ultimate money and time saver
Kommentare: Contentools was, at the time we decided to make the purchase, a life saver. We were having trouble with low performing copywriting personell, and those in house professionals were costing a lot to the agency. We decided to outsource via Contentools and we couldn't be happier: the success we've obtained since then was amazing. We suddenly became able to plan ahead, make content timesheets that spanned months and improve productivity in a level we didn't even realize at the time that we could. Outsourcing comes with problems, though. We didn't want the freelance professionals working with us to receive less than they deserve. Contentools, then, was the best fit for our agency. Their princing system is fair and just to the professionals and reasonable to us, as the employers. In general, Contentools is a great contributor to our growth in the market. We are now able to take on any demand beacuse we know we have a large group of professionals working with us, and a great support (I've never seen such great commitment from the staff in any marketing tool I've been in contact with before) to guide us along the future of our content strategy.
Vorteile:
Very easy to use; Very organized; Full of measurement features; Fair to the hired professionals;
Nachteile:
It ocasionally crashes, though you never lose any work on those cases; The layout could be a little more modern; It's hard to setup non HTTPS blogs (not the platform's fault, really)
Petra
Marketing Team Leader in Libanon
Verifizierter Nutzer auf LinkedIn
E-Learning, 51-200 Mitarbeiter
Verwendete die Software für: 6-12 Monate
Excellent support, good software.
Kommentare: Since we started using Contentools, our content marketing engine has levelled up. We now have everything stored in one place and a pathway to accept incoming content creation ideas from the whole company. This has definitely​ scaled our content efforts, offered visibility over projects, replaced useless spreadsheets and facilitated the daily work of our marketing team!
Vorteile:
What I like most about Contentools, is their excellent support. I have been working with Brunno Schardosin, one of their technical support reps, and he was always very helpful, patient and positive, always ready to help! On top of their support, Contentools is a fairly affordable system that served our needs to manage and schedule content.
Nachteile:
There are the occasional bugs, which can be annoying but once you notify their team, they jump right on it. They do not offer many built-in integrations, as to other software we use and some of the logic/workflows they have can be not very flexible if you're looking for a very customisable solution but there are always workarounds! Other than that there is nothing alarming worth mentioning.