Was ist RapidMiner?
Leichte Mashup-Daten, prädiktive Modelle und operative prädiktive Analytik innerhalb jedes Geschäftsprozesses erstellen.
Wer verwendet RapidMiner?
Nicht vom Anbieter bereitgestellt
Wo kann RapidMiner bereitgestellt werden?
Cloud, SaaS, webbasiert, Mac (Desktop), Windows (Desktop), Windows (On-Premise), Linux (On-Premise)
Über den Anbieter
RapidMiner
Telefon-Support
Chat
Erhältlich in diesen Ländern
Afghanistan, Albanien, Algerien, Angola, Antigua und Barbuda und 164 weitere
Über den Anbieter
RapidMiner
Telefon-Support
Chat
Erhältlich in diesen Ländern
Afghanistan, Albanien, Algerien, Angola, Antigua und Barbuda und 164 weitere
RapidMiner – Videos und Bilder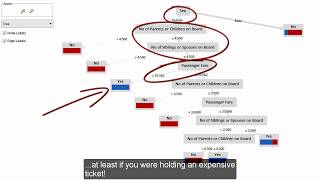 Kosten ähnlicher Produkte wie RapidMiner vergleichen
RapidMiner Funktionen
Berichterstattung / Analyse
Datenextraktion
Datenvisualisierung
Maschinelles Lernen
No-Code
Prozessmodellierung & Design
Sentiment-Analyse
Statistische Analyse
Textanalyse
Werkzeuge zur Zusammenarbeit
Zugriffskontrollen / Berechtigungen
Alternativen für RapidMiner
Bewertungen über RapidMiner
Rashid
Teaching Assistant in USA
Verifizierter Nutzer auf LinkedIn
Verwendete die Software für: Mehr als 2 Jahre
Great tool for data analytics!
Kommentare: Great data analytic and visualization tool!
Vorteile:
No coding skills needed! Rapidminer is a GUI tool that you can connect boxes on a canvas to conduct data anlysis, this serves as a great introduction to data analytics. Free for students! You can get a provisional liscence with a dot edu account. This is a great perk of the software. Data analytics and data visualization tools are available within the software with a plethora of other features!
Nachteile:
Very buggy! The software tends to crash often, this is especially more common with things such as neural networks etc. Limitations of some versions! Even with the student version there is a limit of 10,000 rows of output, so if you are trying to do analysis on a 12,000 point data set , 2000 points will randomly be omitted.
Maynard John
Research Assistant in Taiwan
Verifizierter Nutzer auf LinkedIn
Forschung, Selbstständig
Verwendete die Software für: 6-12 Monate
The data scientist's swiss knife: Fast and Easy Machine Learning through RapidMiner Studio
Kommentare: Overall my experience with using RapidMiner was great. It allowed me to rapidly try out different machine learning models and compare each result with one another. It also allowed me to conveniently address my workflow without having to write code. It is a great tool for students and people without a strong programming background. Its well documented functions and strong community addresses what ever questions I had with the processes.
Vorteile:
One of the daunting requirements for data scientists and data storytellers is learning a programming language such as matlab and python and writing code for their tasks. This is on top of having to analyze and learn complex algorithms needed for the task. This can be a time consuming problem, especially for those who are not adept at programming. However, this is now a thing of the past because of RapidMiner Studio. This is because RapidMiner features are drag and drop visual interface which makes all the difference. Data preparation to the final output and visualization is as simple as dragging blocks of your workflow into a canvas and connecting them altogether. RapidMiner Studio also has most of the machine learning models used in the academe and the industry. One of the difficulties when dealing with code is tweaking the parameters of these models but because of the visual interface, you could simply click on the process and update this. RapidMiner is also well documented. Each of the processes has their description, input, output, and parameters well described. Tutorial videos as well as blogs are available on their website. And finally, RapidMiner Studio has a community of data scientists that can help you when you have a question.
Nachteile:
What I found to be very inconvenient is that the application crashes at times. This may be a problem limited to my own machine. Aside from this I found that the application seems to hog my computers memory and cpu resources. This may be because the application is running on Java (VM). This may not be a problem for people with a higher spec machine. I also found that the application lacks collaboration features which may be something that they could improve on in the future.
Sofia
Student in Portugal
Bildungsmanagement, 5.001-10.000 Mitarbeiter
Verwendete die Software für: 1-5 Monate
Student Review of RapidMiner
Kommentare: I would say that for simple algorithms like Decision Trees, this software is great.
Vorteile:
It has some functionalities that make data analytics much easier than other softwares.
Nachteile:
It can easily crash with more demanding algorithms such as deep neural.
Ambreen
student in Pakistan
Verifizierter Nutzer auf LinkedIn
Computer-Software, 201-500 Mitarbeiter
Verwendete die Software für: 6-12 Monate
Userfriendly Interface for ETL
Kommentare: It's a good platform while applying predictive analytics on any dataset with a user friendly interface to have the true picture of the future.
Vorteile:
Visual workflow designer is the best part for predictive analytics. I really like drag n drop interface for generating models. Prebuilt templates are quite useful.
Nachteile:
It's not always free. You need to purchase it if you wana work with more than 10000 rows. Its processing becomes too slow (almost hangs) while working with terabyte or petabyte of data. Sometimes, it becomes difficult to handle hundreds of models available.
Roberto
Founder in Ecuador
Verifizierter Nutzer auf LinkedIn
Telekommunikation, 2-10 Mitarbeiter
Verwendete die Software für: Mehr als 1 Jahr
In Betracht gezogene Alternativen:
I never had guessed that Data Science software was so easy
Kommentare: As being an old time user of data mining project using open programming languages, I found extremely useful all the features of Rapid Miner. Form preparing the data, creating predictive models and potting them in a visualized presentation.
Vorteile:
The easiness of use, the support team, the video tutorials of the company, the career certification program, the visualization module has been upgraded, the integration capabilities to R, Python and Hadoop.
Nachteile:
Actually the only complaint I have is that the sw didnt make it in the "LEADERS" quadrant of Gardner.