Was ist PDFelement?
PDFelement ist eine kostengünstige und äußerst nutzerfreundliche PDF-Lösung für Unternehmen. Ihre professionellen Tools sorgen dafür, dass der Wechsel von Adobe Acrobat zu einer guten Geschäftsentscheidung wird.
Unternehmen benötigen mehr als je zuvor eine leistungsstarke jedoch intuitive Lösung, die einfach zu implementieren ist und auf Windows- und Mac-Plattformen standardisiert werden kann. PDFelement ist die einzige kostengünstige Lösung, die diese Anforderungen erfüllt.
Wer verwendet PDFelement?
Informationstechnologie und -dienste Immobilien Humankapital Rechtsberatung Staatsverwaltung Finanzdienstleistungen Bankwesen Buchführung Bau und Transport Verbraucherdienste
Wo kann PDFelement bereitgestellt werden?
Cloud, SaaS, webbasiert, Mac (Desktop), Windows (Desktop), Windows (On-Premise), Linux (On-Premise), Android (mobil), iPhone (mobil), iPad (mobil)
Über den Anbieter
Wondershare
Ansässig in Central Hong Kong, Kanada
2003 gegründet
Telefon-Support
24/7 Live-Support
Chat
Erhältlich in diesen Ländern
Kanada, Vereinigte Staaten
Über den Anbieter
Wondershare
Ansässig in Central Hong Kong, Kanada
2003 gegründet
Telefon-Support
24/7 Live-Support
Chat
Erhältlich in diesen Ländern
Kanada, Vereinigte Staaten
PDFelement – Videos und Bilder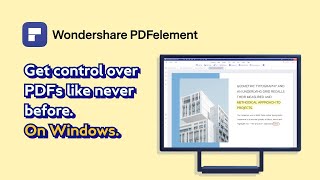 Kosten ähnlicher Produkte wie PDFelement vergleichen
PDFelement Funktionen
Anmerkungen
Archivierung & Aufbewahrung
Authentifizierung
Bildbearbeitung
Datei-Verwaltung
Dateien zusammenführen/anfügen
Dateikonvertierung
Dateitransfer
Digitale Unterschrift
Document Capture
Dokumentenklassifizierung
Dokumentenmanagement
Dokumentenprüfung
Elektronische Unterschrift
Filesharing
In PDF umwandeln
Kommentare / Notizen
Notizen verwalten
Optische Zeichenerkennung (OCR)
Textbearbeitung
Verschlüsselung
Versionskontrolle
Vertrags-/Lizenz-Management
Vertragsgestaltung
Volltextsuche
Vorgefertigte Vorlagen
Wasserzeichen
Werkzeuge zur Zusammenarbeit
Zugriffskontrollen / Berechtigungen
Alternativen für PDFelement
Bewertungen über PDFelement
Shannon
CEO in USA
Verifizierter Nutzer auf LinkedIn
Landwirtschaft, Selbstständig
Verwendete die Software für: Mehr als 1 Jahr
I love this program
Kommentare: It has helped me be able to make brochures for the shops that carry my products. I can help them with advertising and make it work for their settings.
Vorteile:
I love the ease with which I can take apart PDFs, redesign, and put them back together. It is intuitive to use, and I've enjoyed playing with the features! I so appreciate the helpful tips that the company sends through email as well.
Nachteile:
I'm not that techy or design-savvy- it does exactly what I need it to do, and I don't need a lot of experience to figure it out. No cons as far as I am concerned.
Antwort von Wondershare
vor 3 Jahren
Thank you so much for your amazing feedback! :) We do try our best to offer the best support we can, then try improve on it more. Let us know if you need any help! We are here for you.
Tolu
Digital Marketing Strategist in Nigeria
Verifizierter Nutzer auf LinkedIn
Marketing & Werbung, 2-10 Mitarbeiter
Verwendete die Software für: Mehr als 1 Jahr
In Betracht gezogene Alternativen:
A cheaper and Good Alternative to Adobe
Kommentare: Overall, am impressed with this software. It is a solid alternative to Adobe Acrobat. I have had no need for Adobe since I got the license. I really do not like using it as a reader though, I still prefer the adobe reader. But for any pdf editing task, it has worked perfectly fine for me.
Vorteile:
Easily edit text and tables in pdf documents OCR function is really amazing. I did try it for an old book I had and I could easily edit the scanned pdf fast and easy. Easily convert my pdf documents to ppt or word or even jpg files I can merge and combine documents easily I can easily make clean and clear annotations using pdfelement Most importantly I can easily encrypt and protect my files and the batch encrypt features makes it easier to achieve this if you have a lot of d The interface is simple and intuitive. You can easily find your way around all the features without needing any special tutorials.
Nachteile:
No monthly payment, you need to get the 6months plan or the 1 year plan Can't fill out forms on an ios
Hèlia
Scientist in Brasilien
Verifizierter Nutzer auf LinkedIn
Hochschulbildung, 1.001-5.000 Mitarbeiter
Verwendete die Software für: Mehr als 1 Jahr
In Betracht gezogene Alternativen:
Great OCR
Vorteile:
Our office loves the fact we can really trust on the OCR tool. We then sign the documents and keep all the text saved in a external server for AI processing.
Nachteile:
This is a great software that works well in different platforms that I am unable to cite no issue.
Antwort von Wondershare
letzten Monat
Hi Helia. Thanks for sharing your high recognition of the OCR tool and other features. It really encourages us a lot!
Unternehmensberatung, Selbstständig
Verwendete die Software für: Mehr als 2 Jahre
PDFelement 6 has issues
Kommentare: I work with PDF documents every day. I don't use a lot of the advanced features, but when I do need them, I want them to work flawlessly, intuitively and efficiently. PDF Element 6 does NOT meet those requirements.
Vorteile:
The cost was reasonable since I purchased it on sale. It allows up to 15 tabs to be open at one time and allows multiple instances of the program to run simultaneously.
Nachteile:
1. It doesn't retain pinned documents. After a while, they become unpinned. Tech support is of no help. They say they can't duplicate the issue and just STOPPED helping me. Now, they ignore my service tickets for help. 2. It doesn't show all the open "tabbed" documents. They tend to disappear and then reappear. 3. Conversion from PDF to a document if very poor, especially to Word. The documents are unusable. A client used their program (Nitro Pro) for me and it was perfect. It's embarrassing when my client has to do a task that they are paying me to do. 4. Creating and using a "stamp" for a signature if very difficult and doesn't work well. 5. Converting a PDF to a form doesn't work well. It takes a lot of work (an hour or longer) to get it usable. 6. Every time the program is upgraded/updated it wipes out the setting for the default PDF program in Windows 10 (latest build) 7. The vertical scroll bar is very small and difficult to "grab" with my cursor. It would be easier to use if it was wider, or at least expanded when the cursor was close to it. 8. The program can run multiple instances, but still limits the total number of documents to 15. 9. I have a lot of issues trying to edit a PDF. It creates blocks of information instead of allowing free-form data entry/manipulation. 10. In PAGE mode, the images of the pages are so small that it's difficult to find the page I'm looking for. There isn't a zoom function so I spend too much time switching back and forth.
Andrea
Lecturer - Researcher in USA
Hochschulbildung, 501-1.000 Mitarbeiter
Verwendete die Software für: Mehr als 2 Jahre
In Betracht gezogene Alternativen:
A great tool, even if you also have other pro applications.
Kommentare: It's great. I recommend it even if you have other professional applications to manage PDFs. The format conversion is excellent.
Vorteile:
Two things stand out: first, the OCR capability. I always get great results. Second, the conversion from PDF to Word or other formats. Adobe does a good job, but the formatting is unwieldy (you have a text box full of text on every page, so it's a mess to edit). With PDF elements, it is much easier.
Nachteile:
It's not that I don't like it, I just find it much more convenient to work with Adobe in the cloud.
Antwort von Wondershare
vor 2 Monaten
Hi Andrea. Thanks for your recognition of the OCR compatibility and converting function. Regarding the cloud feature, would you please advise more details about the effect you want to achieve or customize? You may drop an email with more details at customer_service@wondershare.com, then our product team can improve it in a more targeted manner. Thanks a lot for your time and patience!