Was ist Solid Commerce?
Mit Preisen ab 399 $/Monat ermöglicht Solid Commerce Online-Einzelhändlern die Verwaltung ihres Inventarbestands über jeden wichtigen Marktplatz und Warenkorb/Einkaufswagen, einschließlich Amazon, eBay, Walmart, Jet, Shopify, Magento und mehr als 30 weiteren. Mit der Cloud-basierten, zentralisierte Software für das Inventarmanagement kannst du dein Inventar über mehrere Lagerhallen und Online-Vertriebskanäle hinweg synchronisieren, Engpässe und Überverkauf vermeiden sowie einen genauen Überblick über die Performance der Produkte und mehr erhalten.
Wer verwendet Solid Commerce?
Solid Commerce ist eine preisgekrönte All-in-one-SaaS-Plattform für Unternehmen, die ihren Online-Verkauf auf wichtigen Online-Marktplätzen wie Amazon, eBay usw. erweitern und optimieren möchten.
Wo kann Solid Commerce bereitgestellt werden?
Cloud, SaaS, webbasiert, Windows (Desktop)
Über den Anbieter
Solid Commerce
Ansässig in Marina Del Ray, USA
2005 gegründet
Chat
Erhältlich in diesen Ländern
Vereinigte Staaten
Über den Anbieter
Solid Commerce
Ansässig in Marina Del Ray, USA
2005 gegründet
Chat
Erhältlich in diesen Ländern
Vereinigte Staaten
Solid Commerce – Videos und Bilder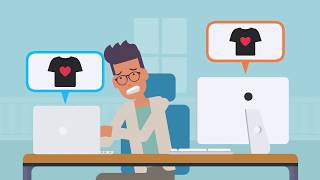 Kosten ähnlicher Produkte wie Solid Commerce vergleichen
Solid Commerce Funktionen
Alarmfunktion / Benachrichtigungen
Artikelverwaltung
Auftragsabwicklung
Auftragserfassung
Auftragsmanagement
Auftragsverfolgung
Barcode / RFID
Berichterstattung / Analyse
Bestandskontrolle
Bestandsoptimierung
Bestandsprüfung
Bestandsverfolgung
Check-in/Check-out
Drittanbieter-Integration
Import- / Export-Management
Inventarverwaltung
Kanal-Analytik
Katalogisierung / Kategorisierung
Kontakt-Datenbank
Kostennachverfolgung
Kundendatenbank
Lieferanten-Management
Lieferpreisberechnung
Luftfracht
Multichannel-Management
Partnermanagement
Produktkennzeichnung
Retourenmanagement
Rückstandsverwaltung
Sendungsverfolgung
Suchen / filtern
Umsatzsteuer-Management
Versand auf dem Landweg
Versand-Management
Wiederkehrende Bestellungen
Alternativen für Solid Commerce
Bewertungen über Solid Commerce
Verifizierter Rezensent
Co-Founder & President in USA
Verifizierter Nutzer auf LinkedIn
Einzelhandel, 11-50 Mitarbeiter
Verwendete die Software für: Kostenlose Testversion
A great startup solution for omni-channel merchandising.
Vorteile:
Easy to use, and integrates well with the key players. Free trial period. Pricing is reasonable. Support is fast and responsive.
Nachteile:
Missing one key element. Does not have a way to create a purchase order for your suppliers, has to be done thru spreadsheets. To be a complete solution, they need to have a way to create an order for your supplier, and a way to process that PO and receive the PO. I do believe this is a project they are working on and I will be back to check them out again.
Verwendete die Software für: Nicht angeboten
Great Software, Great People
Kommentare: I love SolidCommerce and I wouldn't be growing as a business if it were not for this software and these people. My account manager, Jonathan, is amazing: he has given me a tremendous amount of help navigating eBay, setting up feeds from my vendors, introducing me to new marketplaces, and he has even fixed a few issues we caused ourselves. Sometimes he is too busy and I call the support line, people get busy. I love that there are easy ways to use Excel. It means I don't have to train new staff in a software package. I can give them a tool they already know, while having more advanced tools available for trained staff. I started with just myself as a side business three years ago, now I have 8 full time people and 2 part-timers. I credit a lot of that growth to SolidCommerce. I am able to run eBay, Amazon, New Egg, and Sears as well as 5 web stores, all in SolidCommerce. When I started, I was listing on eBay with a single small store. I used the listing and shipping pieces. Today I actually have orders that need management. Orders for my vendors are automatically routed to them, orders for us are organized into easy to read pick-lists, we use some bar coding functionality which is great, when I had an issue with NewEgg my account manager had NewEgg on the phone within minutes, my shipping process is super simple: discounted shipping, easy rules for choosing USPS/FedEx/UPS as needed, we are in the process of adding some additional lines of business because adding new vendors and stores is that easy. When I asked about adding a completely new marketplace, one that they don't support, I was immediately given instructions on a work around with my account manager actively helping me simplify the process. When I was thinking about selling internationally, out popped some training on the good, bad, and ugly that I needed to consider and who could help me. Have there been bumps in the road? Absolutely but far less than I have had with any Microsoft product. Maybe that isn't the best compliment. But the software works. Like any software, every once in a while there is a hiccup.
Antwort von Solid Commerce
vor 8 Jahren
Jack, Thanks for your review! Hopefully we will see you at SEMA/AAPEX next week (given your screen name). I am so happy that you feel that we contributed to your success so far. I am not sure which of our Jonathan's is your AM, we have several but I am sure as a group they will be happy to know they are getting internet loves :) If there is a marketplace that we do not yet support and you find profitable, by all means reach out to any member of the executive team ... we add new marketplaces all of the time and I know I personally love hearing from clients on ways we can better support their business. No doubt your AM already mentioned it, but deeper data is invaluable as we make choices. I hope you are enjoying the improved processing speeds, the (free) discounted shipping, and will enjoy the new UI that is rolling out in the coming weeks. Thanks again for your continued business and if there is anything we can do to make your experience better, please let us know!
Verifizierter Rezensent
Ecommerce Administrator in USA
Verifizierter Nutzer auf LinkedIn
Verbraucherdienste, 11-50 Mitarbeiter
Verwendete die Software für: Mehr als 1 Jahr
Not for High-Volume Sellers, Poor Support, Constant Bugs
Vorteile:
The eBay integration was stable most of the time. There is an Excel COM-add in for processing bulk changes.
Nachteile:
Although they are polite, support is absolutely the worst. Tickets for major functionality issues most of the time are not answered for 7 days or more. Lots of bugs that affect order flow, tracking/shipment information is not uploaded correctly, and updating products is a multi-step process that is very over-complicated. Inventory and pricing automation randomly shuts off and products will go out of stock without your knowledge. Reports that are supposed to be emailed to notify users of low-inventory or errors within the software are not sent. One of our major shipment carriers is not supported by SolidCommerce so tracking does not get validated between Amazon, Walmart, and eBay. Due to this we lost few $ in product because SolidCommerce's system was not acknowledging orders on Walmart - we shipped the orders, but the information was never sent by SolidCommerce to Walmart. Customers received product within two days, Walmart refunded after several days due to the missing shipment info from SolidCommerce. In short, if you're a high-volume seller this service is expensive and the benefits are minimal.
Hiral P.
Ecommerce Marketing Specialist in USA
Verifizierter Nutzer auf LinkedIn
Einzelhandel, 11-50 Mitarbeiter
Verwendete die Software für: Mehr als 2 Jahre
Multi Channel eCommerce Management
Kommentare: Keeping our inventory in-sync with all the channels is our main use, along with keeping the listing data updated across all the channels.
Vorteile:
Integration for many marketplaces Inventory management and sync capabilities Open API for integration with other software
Nachteile:
The UX feels very dated New Marketplace setups can be tricky Kitted products can become a challenge if more than 2 kits are required
Verwendete die Software für: Nicht angeboten
Feedback
Kommentare: I read a few reviews that stated Support no longer exist for Solid Commerce. I was hesitant about signing us for the service, but eventually realized that most companies are set up this way. When you purchase the basic service of Solid Commerce support agents are their via live chat email and service tickets. They can also be reached by requesting a phone call when you submit your ticket. While in my ten day trial period i needed to test this theory because i did not want to be apart of a service that i was not able to get ahold of someone. I am able to still reach support fairly quickly without a problem. Their support team works quickly to resolve all issues that I have. I am giving their team a 10 rating at this point.